Wednesday 28th June
Our second full day turned out to be rather glorious, with sunshine and suitable warmth handicapped by a strong, cold & biting breeze from the south. This was annoying, because the areas I intended to search for the Northern Emerald felt the full blast.
I looked around the burn and loch north of Slatterdale. Under these conditions I didn't walk in as far as I could have done. We stopped at Victoria Falls to take in the view, our eyes always peeled. At the Bridge of Grudie there wasn't an expected car parking area as such, unless you parked where the workmen were, or in the gap on the bridge as we did.
While Sue stayed in the car I looked in the clearing to the north and along the stream to the south, but the wind really was a problem. I found a good few pools which looked ideal, but you would need to camp out and hope, and in this wind there was no chance. Only Large Red were hardy enough to be present here today.
Close to a car park there is a spit of land which juts out from the road towards Loch Maree which contains a few boggy pools, except today they were devoid of shelter and flying creatures. We decided to have a cuppa and a Cornish Cream Tea at Kinlochewe services before we met up again with John and Carol at The Beinn Eighe visitor centre.
In my eagerness I took a quick scout into a clearing and wished I hadn't. The ground was uneven with hidden depths which threatened to swallow me up at every step. Educated by this episode I returned to the car park for John & Carol's arrival and we took a walk south, pausing at a pond to admire the few damsels under what now was the mountain's own generated weather system.
Reaching the section of path we'd been advised was a haven for basking dragonflies we despaired as this angry black beast of a cloud hovering overhead was fringed by perfect sunshine. And that wind! Still, the views were nice, and we did encounter a Golden-ringed situated in a sheltered hollow.
Realising this cloud was here to stay we moved west and took a stroll along the official Woodland Track, passing another perfect dragonfly sanctuary had conditions been more favourable.
By now we were desperate as the day was waning. One more try at Slatterdale where at least we found the sunshine. Taking a walk up the path despondency was setting in, knowing this would likely be the last day we'd have to find our prize.
We found another Golden-ringed and willed it to turn blue before Sue called from back down the path. Well done hun, you'd found them!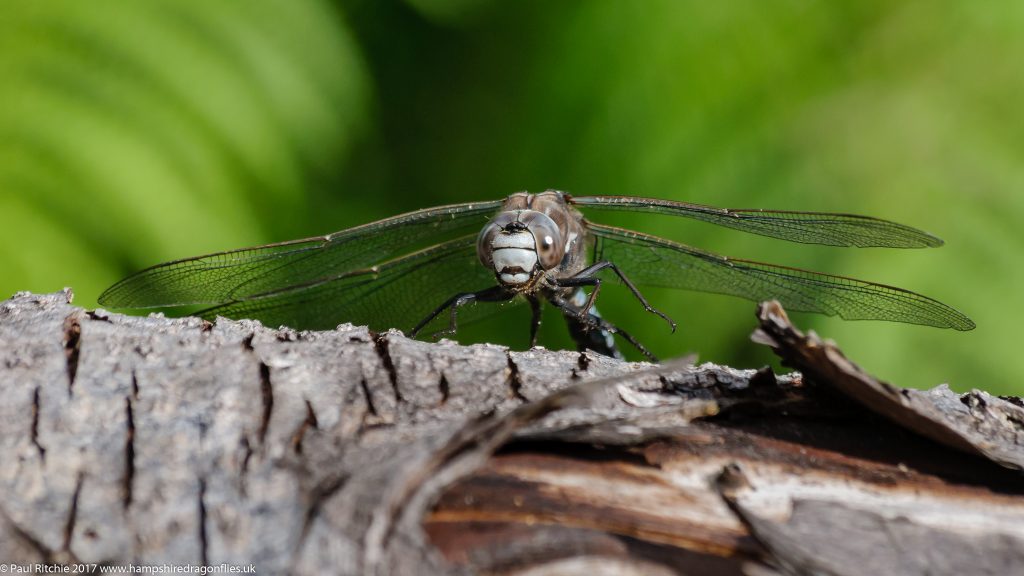 Two male Azure Hawkers were basking on the logs and rose at our presence, giving us a wonderful show before one disappeared, leaving the other male to delight us as he circled us, eventually taking turns to land on each of us before returning to his chosen log or one of the few trees left standing.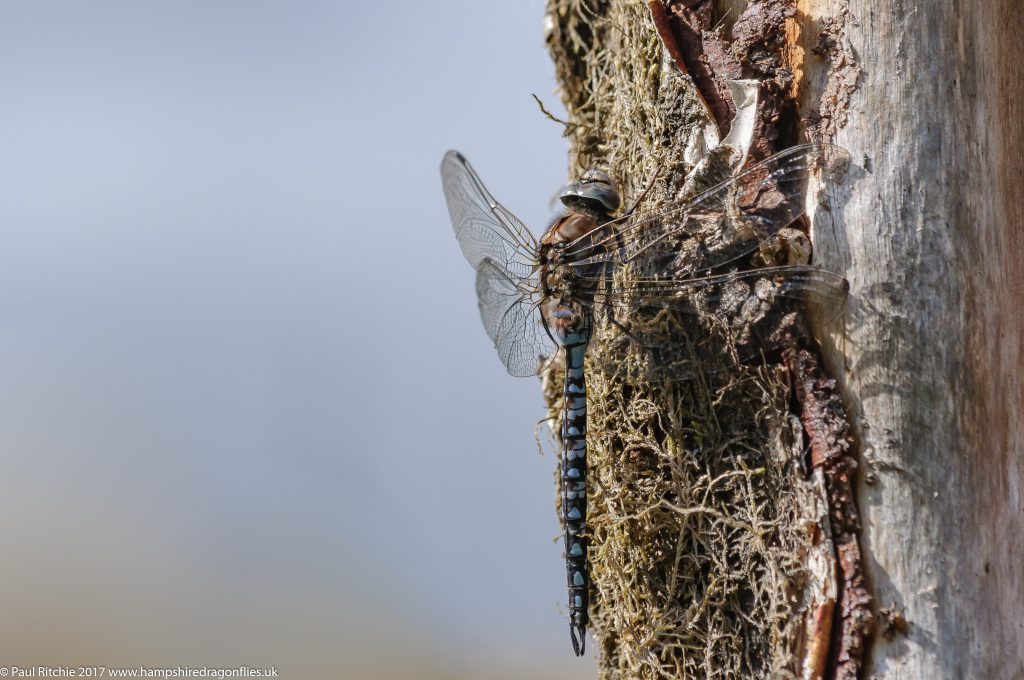 To say we were overjoyed is well short of the mark. We were ecstatic! Considering how hard we had worked we did feel we deserved this encounter.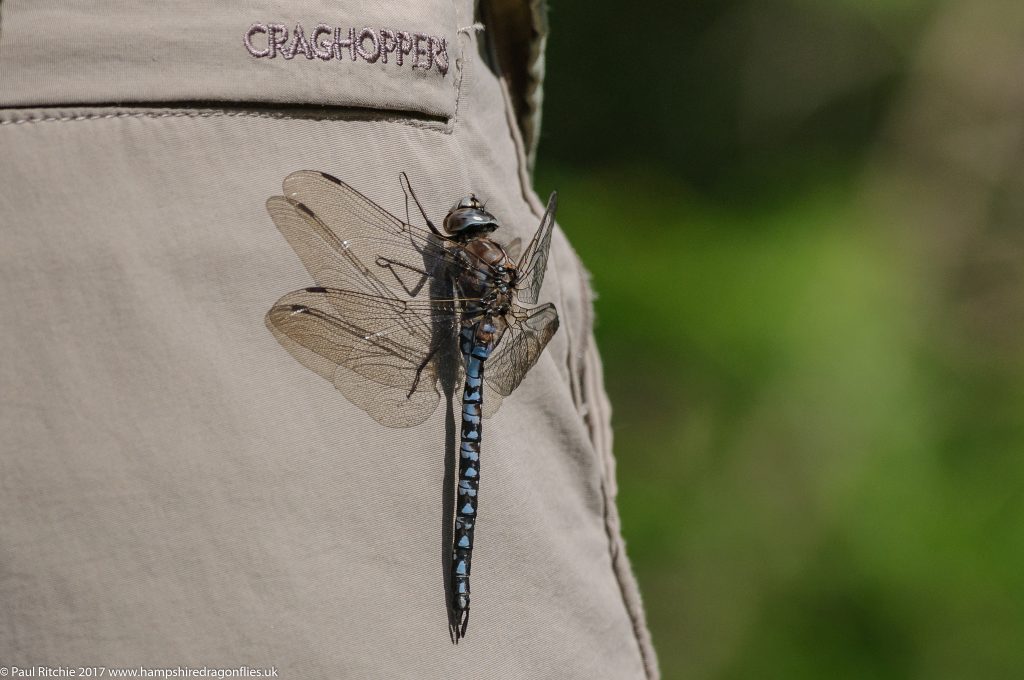 For forty-five joyous minutes we indulged, relishing our time with this fabulously gregarious individual.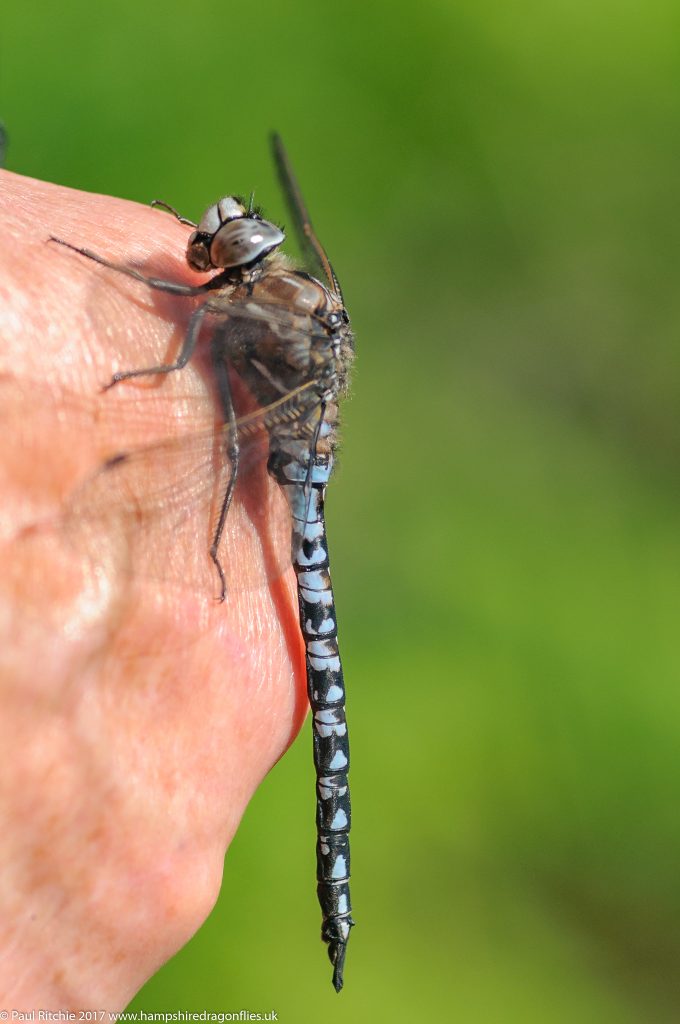 Although we naturally felt honoured that he chose each of us as a perch the reality is he needed our warmth. When he returned to the log, and shortly after this capture, he bent his abdomen down to maximise the contact area.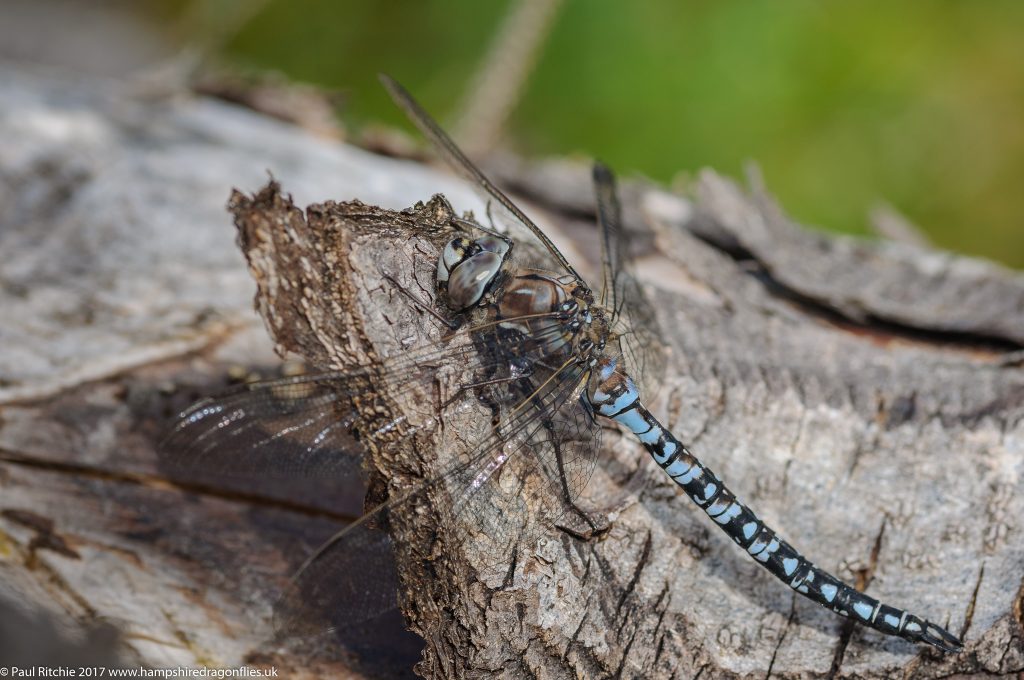 Possibly the best capture was attained when he became a badge of honour for John.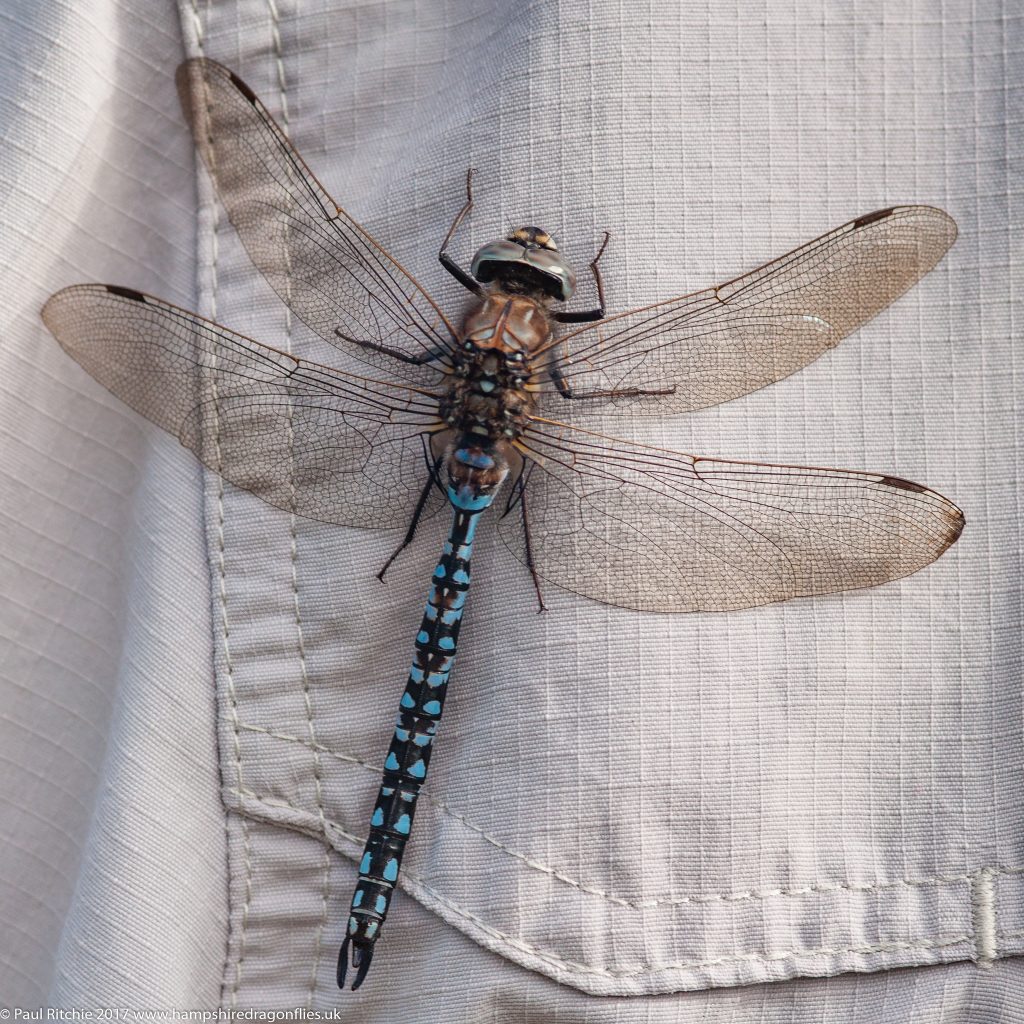 After we fulfilled every opportunity we could we let him be and went our separate ways; John & Carol back to the campsite while Sue & I took a drive to Red Point to take in some glorious Scottish scenery, watching the sun throwing shadows over the Isle of Skye and the mountains of Applecross..
If you can believe it there was actually a Golden-ringed flying around the car park, totally where you wouldn't expect him to be. A bonus, perhaps, to what turned out to be a fraught but eventually fulfilling day.