Ramsdown & Troublefield Wednesday 7th September
Despite the conditions being more than suitable it was surprisingly quiet at Ramsdown. The hidden pond was the first to oblige with a resident Southern Hawker offering some sport.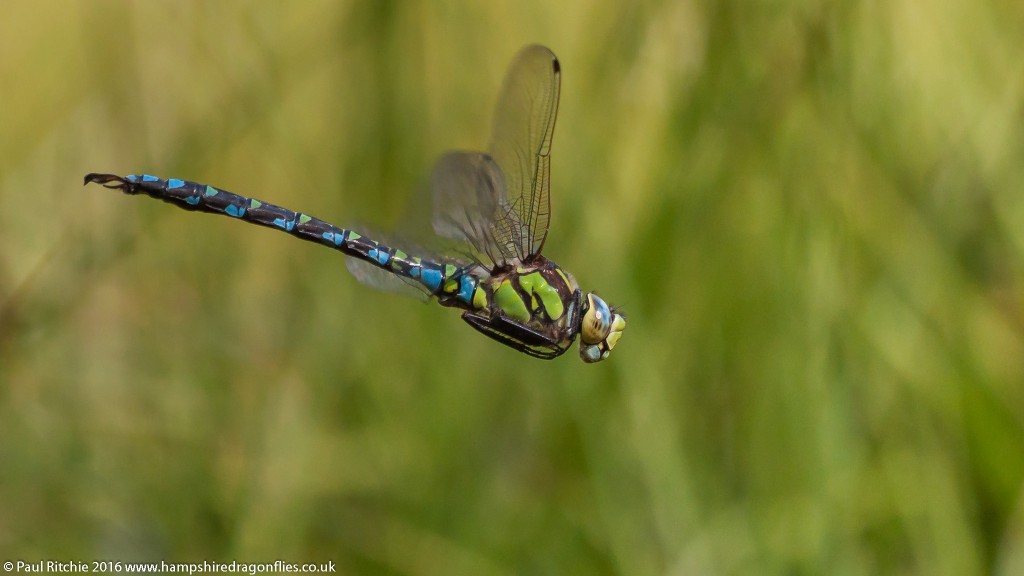 At the hill pond Common Darters engaged in territorial disputes and ovipositing out on the water while Common Emerald and Black Darter decorated the fringes.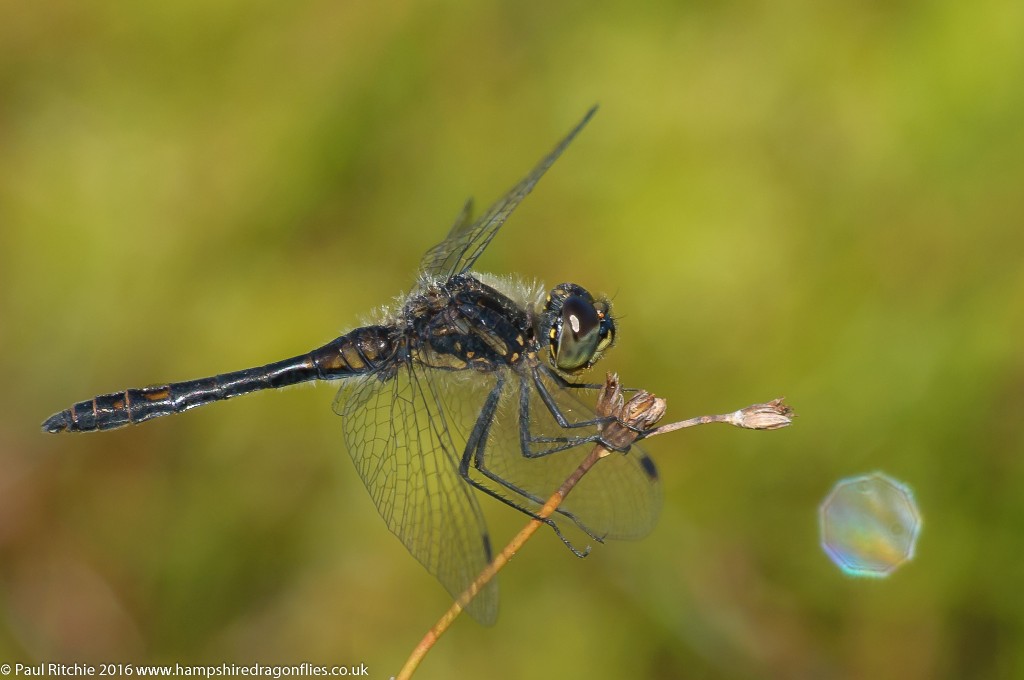 An old male Emperor hung on at the far corner, which was a nice surprise. Perhaps due to his aged condition he spent more time perched deep within the rushes rather than patrolling.
Back at Hawker Alley I had a Southern Hawker perch, albeit deep in the shade of the gorse.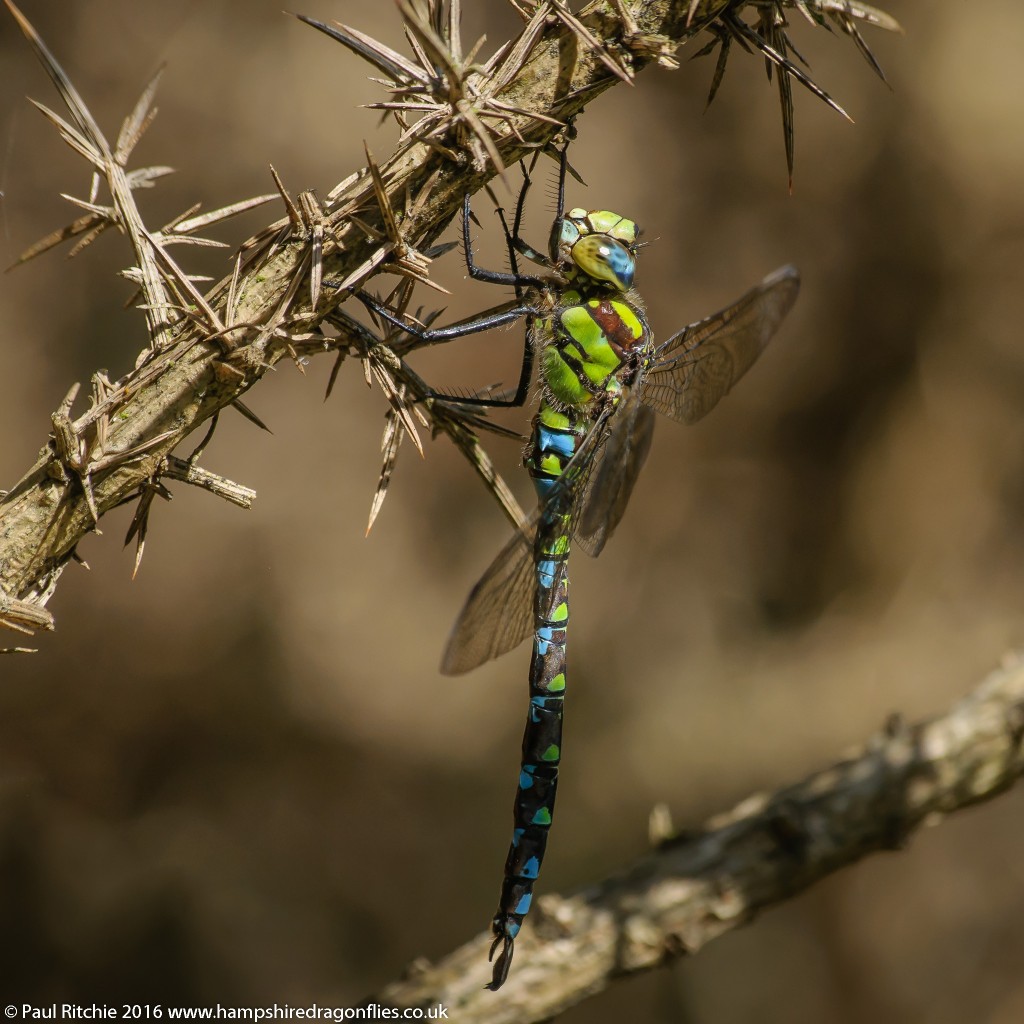 After failing to find any agreeable action at the other ponds I tentatively made my way across to Troublefield where only a couple of Migrant and a selection of Common Darters punctuated an unnecessary stroll through foot-wrenching terrain.
It all seemed hard work for little reward, which shouldn't be the case for either location as in previous years they've more than satisfied in early September.
Bramshill Thursday 8th September
Thursday's visit to Bramshill was much better. Sue had the day off and we were barely out of the car when our first Southern Hawker was spotted patrolling low and feeding along the lane.
At the ponds we bumped into Mike (Barnett) and busied ourselves with the resident Migrants. Having missed one pairing at the first pond I arrived at just the right moment at the second as a pair alighted perfectly on a dead bulrush stem.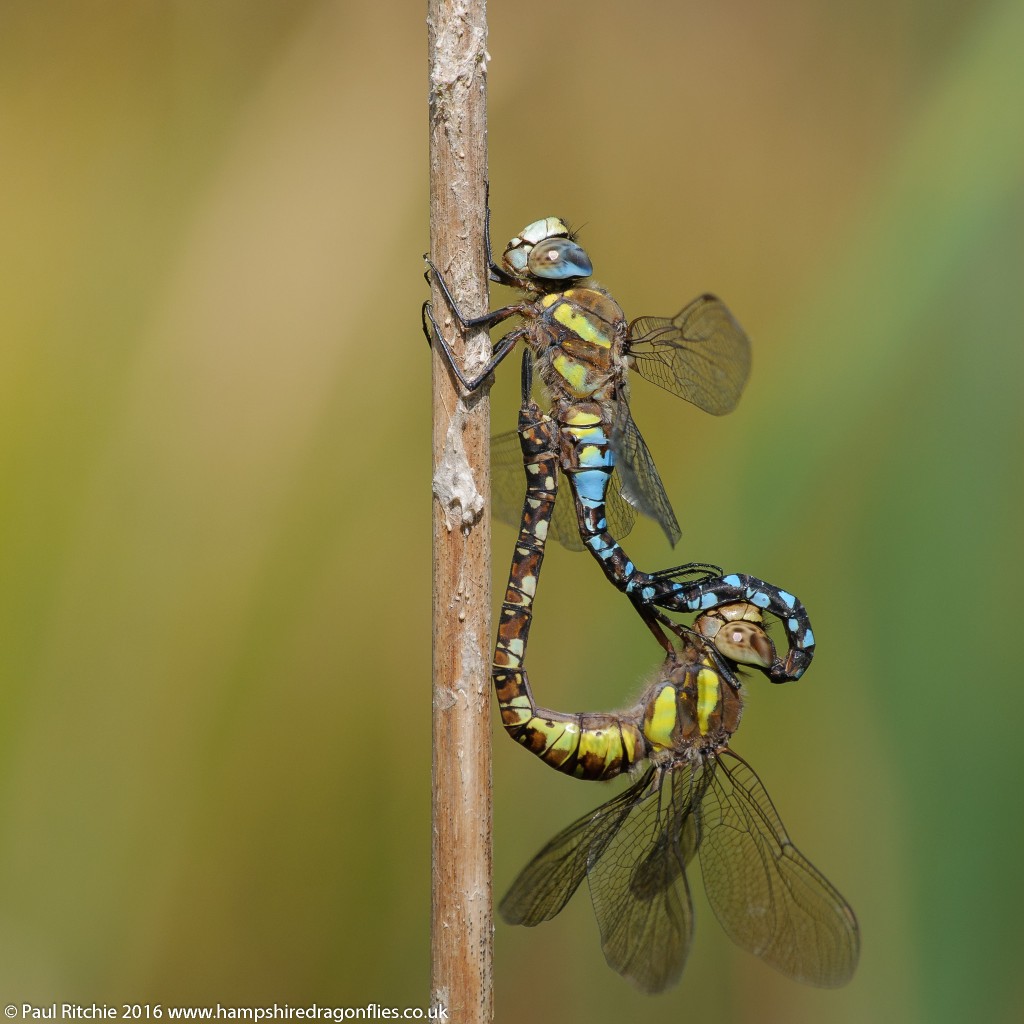 Before Mike could grab a shot they lifted into the trees on the far side and allowed Mike a few shots before he attempted to reposition them, resulting in the perfect opportunity to offer a sense of scale.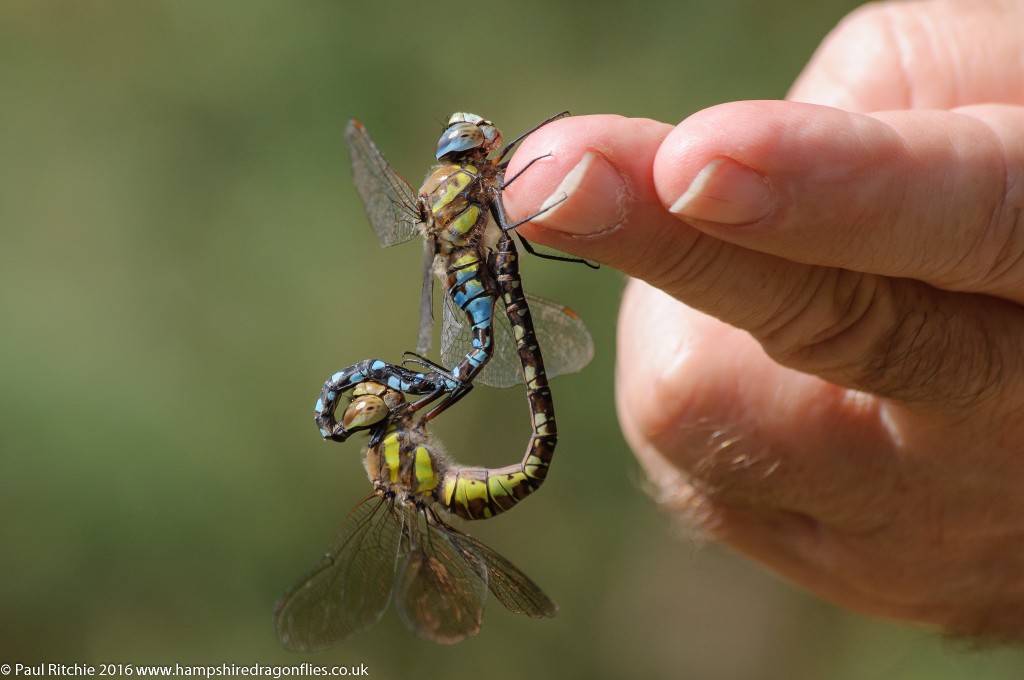 On the way to the mossy pond Sue had encountered a female Southern Hawker ovipositing into bramble. She rose at my approach and lifted into the trees where a little fill flash was needed to make the best of an opportunity.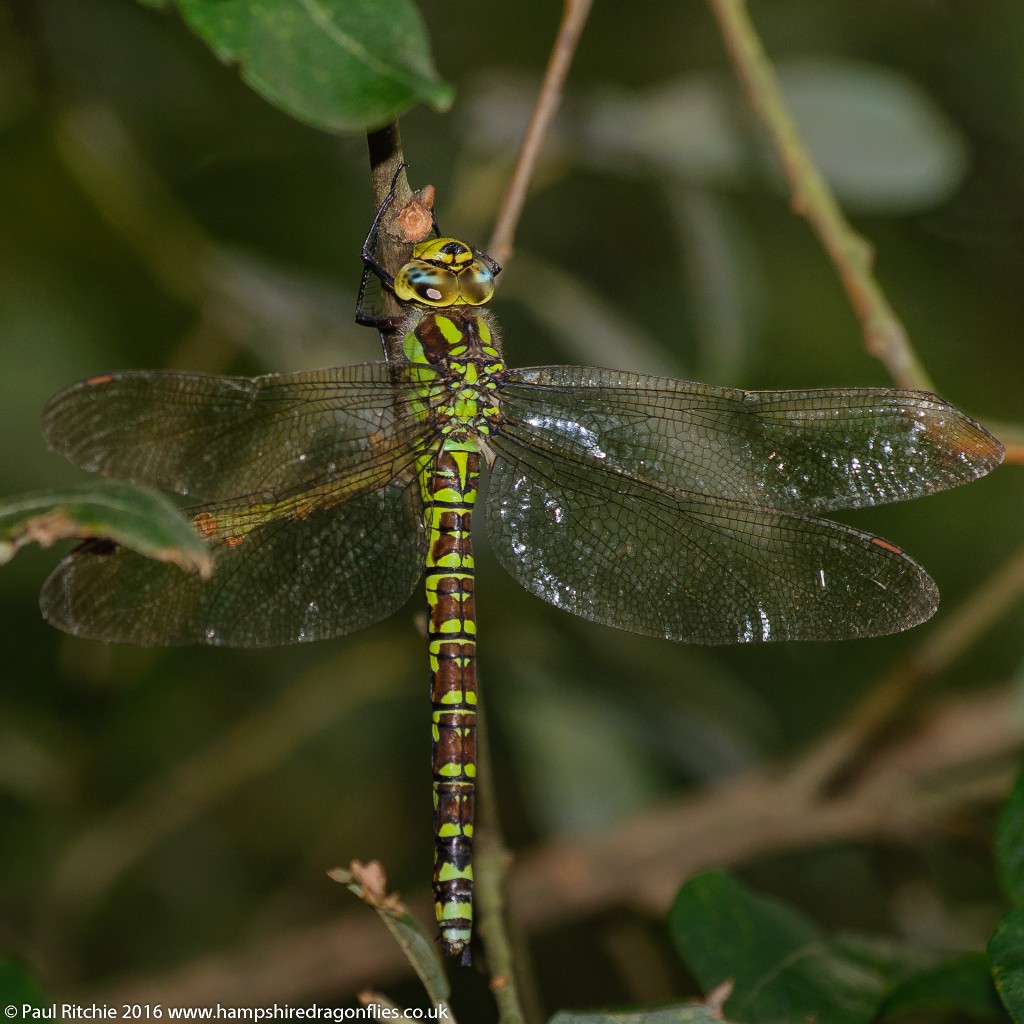 Also present at the pond were a couple of Migrant, being comically bullied by tenacious Common Emeralds rising from the rushes while the Ruddy retained their cool demeanor around the margins.
A young male Southern kept me busy in the shade, typically unpredictable in his youth and frequently too close to capture but tenacity and perseverance resulted in a frame-filling close encounter.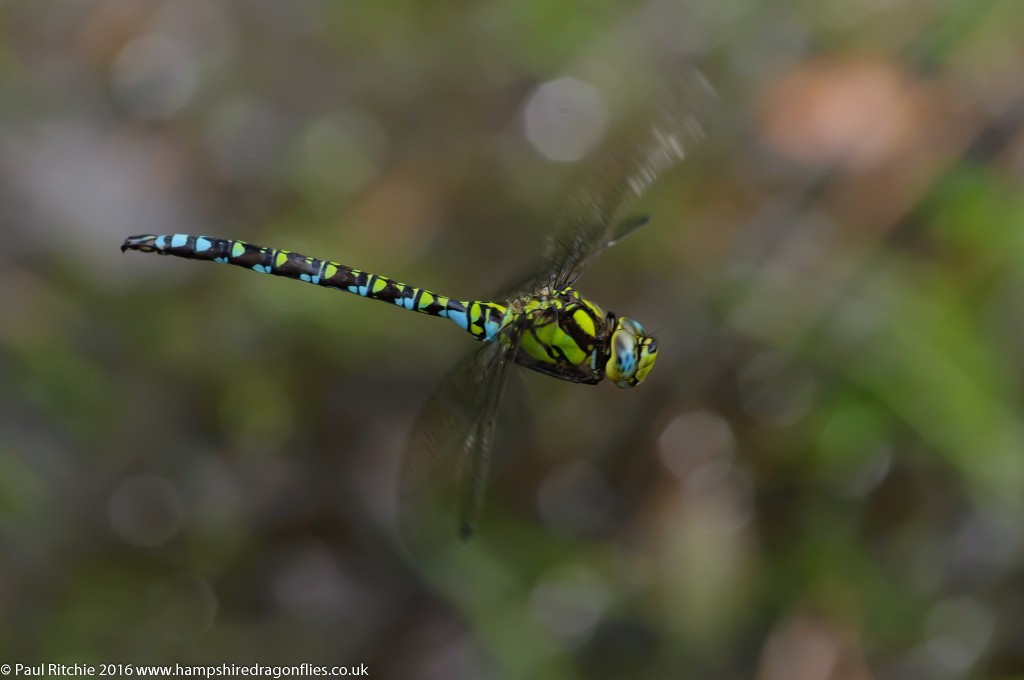 When the temperature started to fall activity slowed and Common Darters took position atop tall stems. It was time for us too to head home to roost until next time.