Altogether a much better week than last week, with some reasonably warm, sunny days to bring out the Hawkers. Migrants are our most plentiful at this time of year which begs the question why not rename this species the Common  and reclassify the Common Hawker as the Moorland Hawker – a more fitting name.
Sunday was a pleasant day with several species on the wing including Migrant, Southern and Brown Hawkers, Common and Ruddy Darters, Common Blue, Blue-tailed, Emerald and Small Red-eyed Damsels.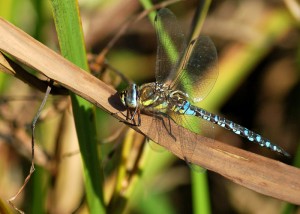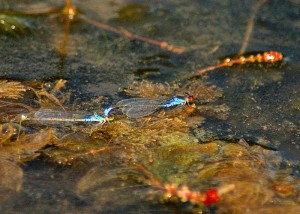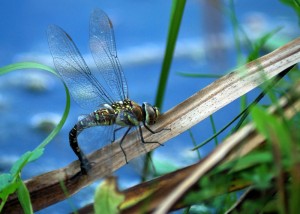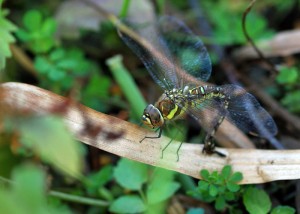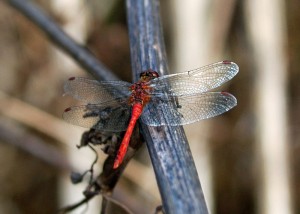 On Wednesday I joined Doug at Troublefield for an hour and was greeted by my first male Migrant perched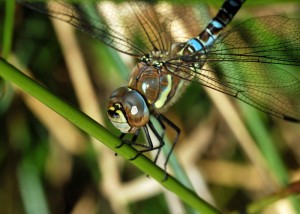 The appearance of some warm, sunny spells brought out more Migrants and a few Southerns providing an excellent aerial display with up to half-a-dozen in flight at a time. Occasionally they would land, in some cases perching reasonably close allowing a shot or two.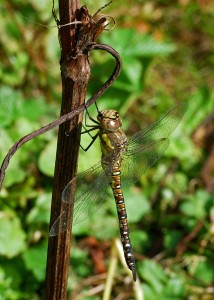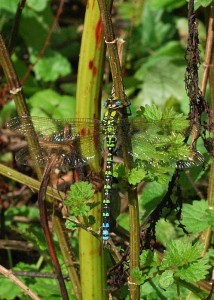 On Thursday I joined Doug again for an hour at Burley. Nothing much was visible over the ponds except a few Common Blue and Blue-tailed Damsels and several Common Darters. We continued over to Whitten Pond and was greeted by a patrolling male Southern Hawker and an ovipositing female Migrant along the lead-in stream.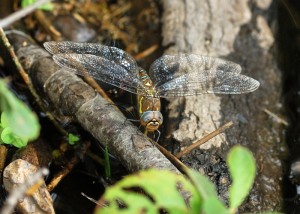 Also present were a few ovipositing pairs of Common Darters, and these provided a real challenge to capture in-flight with their continual bobbing and weaving.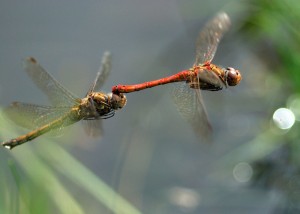 Afterwards I popped over to Pennington and witnessed yet another ovipositing Migrant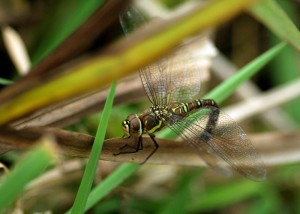 Friday's weather looked promising so I visited Badminston Common where I knew I'd find some action. Surprisingly there wasn't much going on at the pools, but searching the reeds revealed my first Migrant of the day.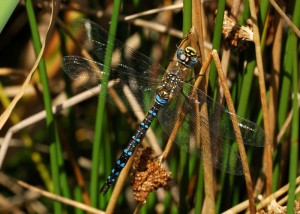 A bleak, dark cloud hovered over the common and took a while to clear, considerably dropping the temperature and putting pay to activity, but there were a few persistent Common Blue Damsels hovering along the margins of the path. I decided to survey the gorse and was rewarded by perched Common Darters and yet more Migrants.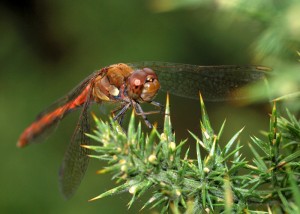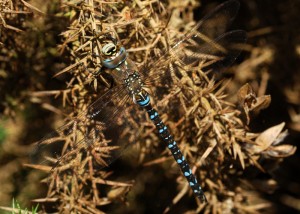 The sun seemed reluctant to reveal itself for much of the time but in those brief sunny intervals I witnessed a further dozen or so Hawkers – both Migrant and Southern – and several more Common Darters.
Better luck was to be found at Pennington where the Migrants seemed to be out in force. Several males were patrolling their territories, occasionally finding a female to mate with. I was determined to get an acceptable in-flight shot so busied myself until I acheived the result I was looking for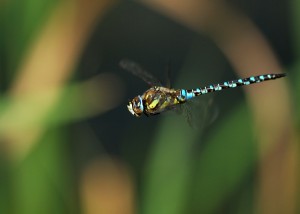 Satisfied, I continued to explore the the margins, witnessing at least 3 mating pairs flying out of range until I found a pair perched among the reeds.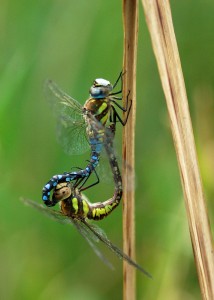 I stayed around the vicinity for the rest of the afternoon honing in on the sound of females ovipositing among the reeds, Occasionally they would hover towards the bank in their quest for suitable laying sites.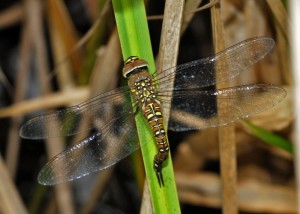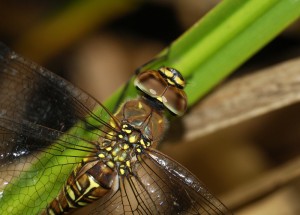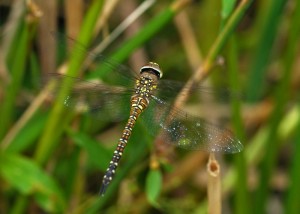 Finally a promising Saturday weatherwise proved a tad disappointing, probably due to the low temperatures overnight. I joined Doug at Delph Woods where we were greeted by a Brown Hawker, a lone Emperor, a few Southerns and the odd Migrant patrolling the pond.
This brief moment of activity was shortlived and it was hard work finding much to photograph besides the profusion of Common Darters. Careful searching did produce more species including Common Blue, Blue-tailed and Emerald Damsels along with a few Black Darters and a beautifully perched Southern Hawker.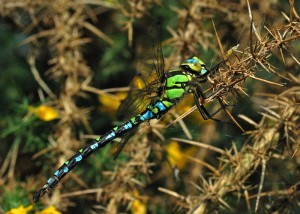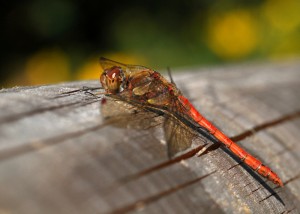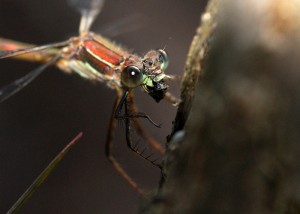 Despite the slow finish to what was a successful week, we should be grateful for any opportunities and sightings with reasonable diversity late in the season. Provided we continue to have reasonable weather without a frost we should continue to observe Migrants, Southerns and of course Common Darters for several more weeks.