With a disheartening forecast bringing cloud & rain for the best part of the week I made the most of last Tuesday morning by exploring the further reaches of Ramsdown Forest. Parking in my usual spot I walked through the woods and out the other side, crossing the busy A338 Dual Carriageway to reach the heath beyond.
I've looked at the scattering of ponds west of the old railway on the OS map wondering if they were worth a visit, and have to report they most certainly are! These are traditional heath ponds surrounded by heather with a mix of sand and peat substrate – pretty much like the New Forest probably was before conifer plantations destroyed the habitat.
First to grab my attention were the sheer numbers of Black Darters, along with a healthy population of Emerald Damselflies – all providing much better photo opportunities with grass & heather perches.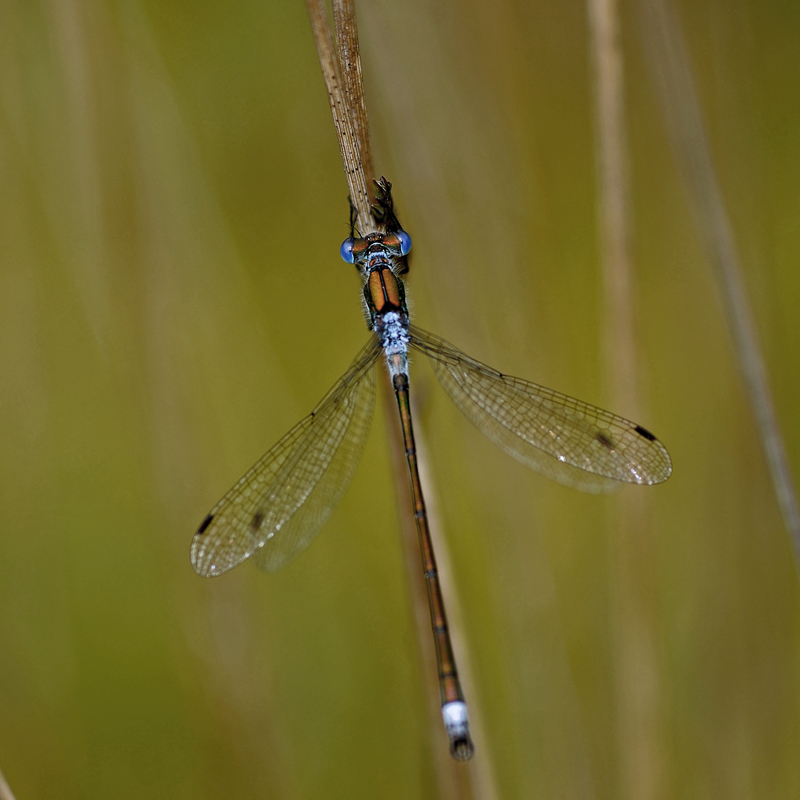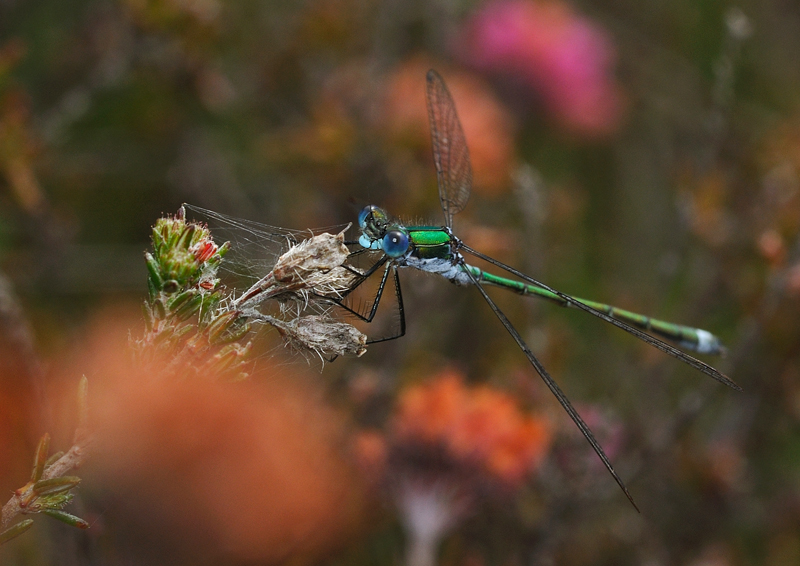 So numerous were the Black Darters that I saw at least a dozen mating pairs.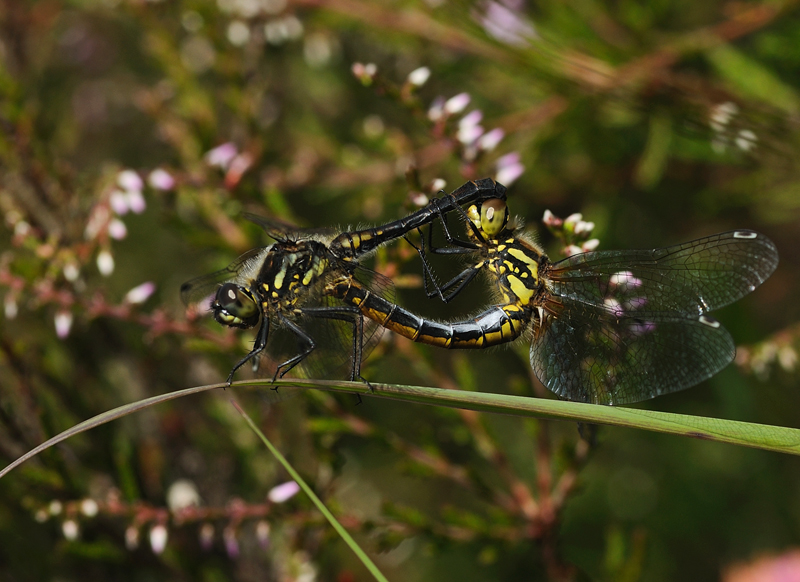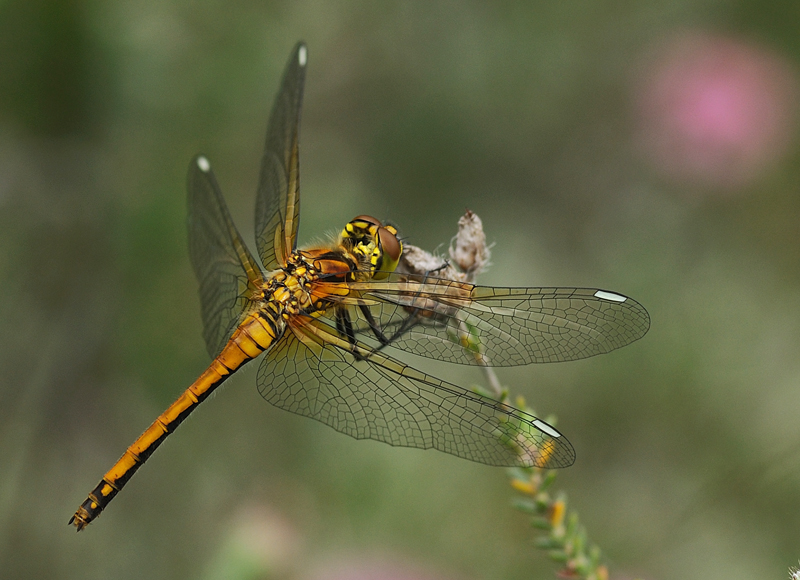 Time was tight and I was anxious to check out every pond for future visits and each had plenty of life. Other species on the wing during the brief sunny spells were Black-tailed Skimmers, Broad-bodied Chasers, Common and even Small Red Damselflies.
No doubt on a hot, sunny day these ponds will be brimming with activity and diversity and are well worth a visit. The surrounding heath is also notable for a fine population of all 6 native Reptile species, including the rare Sand Lizard and Smooth Snake.
On the way back to the car I trod my usual path and disturbed a lone male Golden-ringed, but there were no Brown Hawkers to be seen on this visit.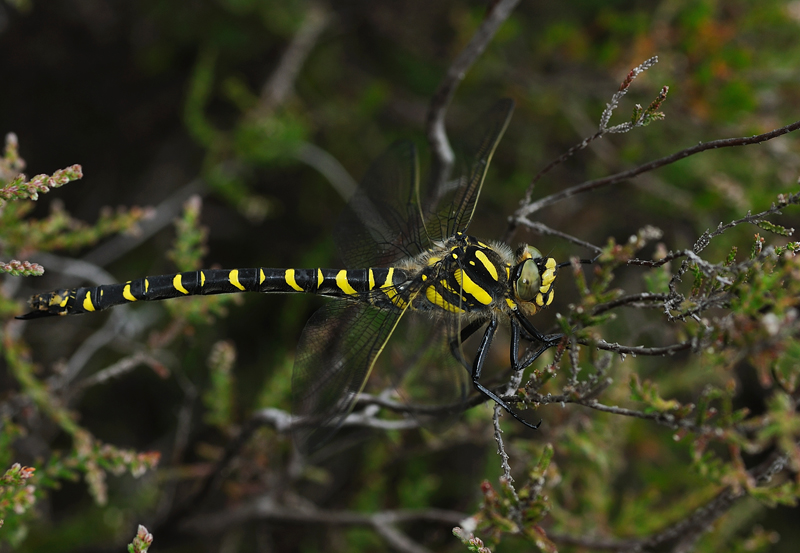 On Thursday 21st I headed over to Dorset primarily for the Brown Hairstreak butterfly – and achieved my objective at Alners Gorse. The only dragon I saw while there was a Common Darter.
Given a couple of extra hours, I headed over to Higher Hyde Heath where there were a few Ruddy Darters, Common Blue and Emerald Damselflies but not much else due to the sun disappearing and the clouds rolling in.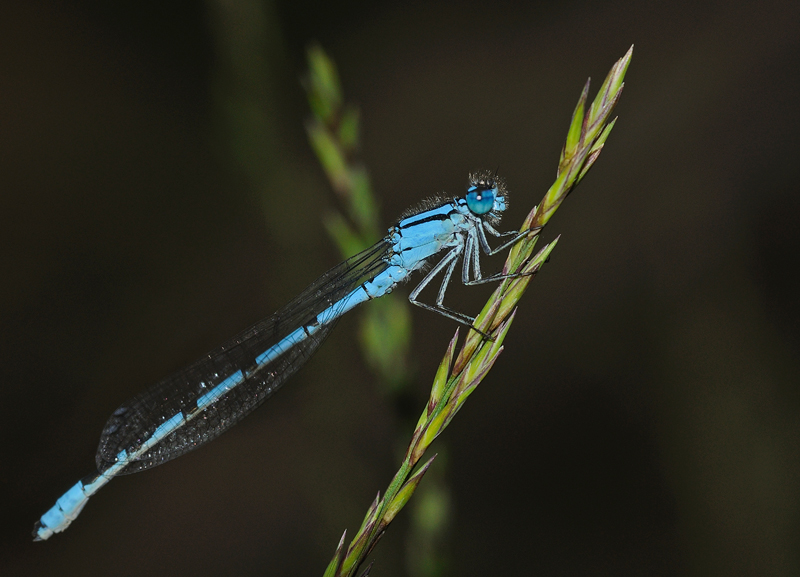 Friday promised fine weather and would have been ideal for dragonflies, but I decided to have a day off  to partake in a kayaking trip around Studland and Swanage bay to clear the cobwebs! Still managed a sighting though – possibly a Southern Hawker flying across Studland Bay towards the heath.
On Saturday afternoon, with a promising forecast, Sue & I headed over to Pennington, but the weather was not as expected and the dull skies with minimal sunny spells meant activity was rather muted. Nothing over the pond except the odd Small Red-eyed Damsel and the surrounding foliage produced a few Blue-tailed including a pair in cop.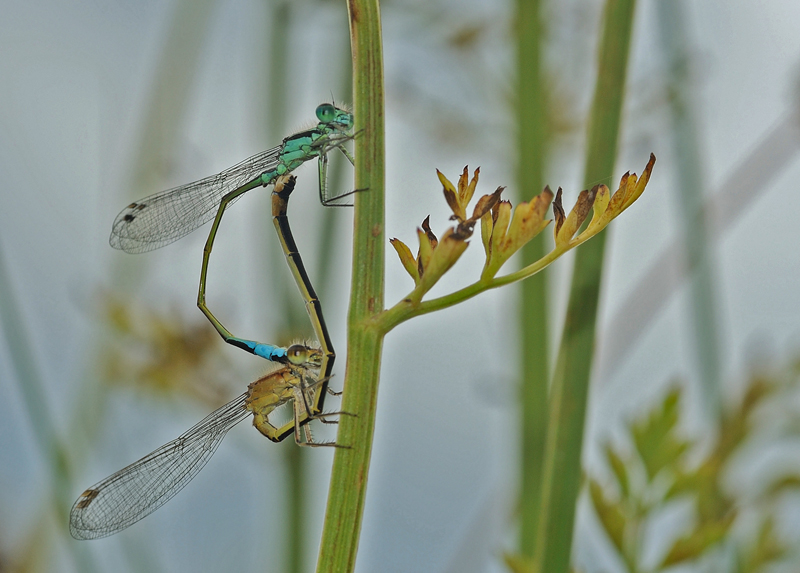 The only other dragons to be seen during our visit were a lone male Emperor and a few teneral Common Darters.
Disappointed with our choice of destination we headed north to Ramsdown Forest and followed a new and safer route to those ponds I found on Thursday. As soon as we reached the first pond we were greeted with Black Darters and Emerald Damselflies.
Moving on to the surrounding ponds we found Black-tailed Skimmers, Four-spotted Chasers, Common Darters and a perfectly-perched male Emperor with superbly vibrant colours who I completely failed to capture on camera!
At least the male Black Darters were more accommodating.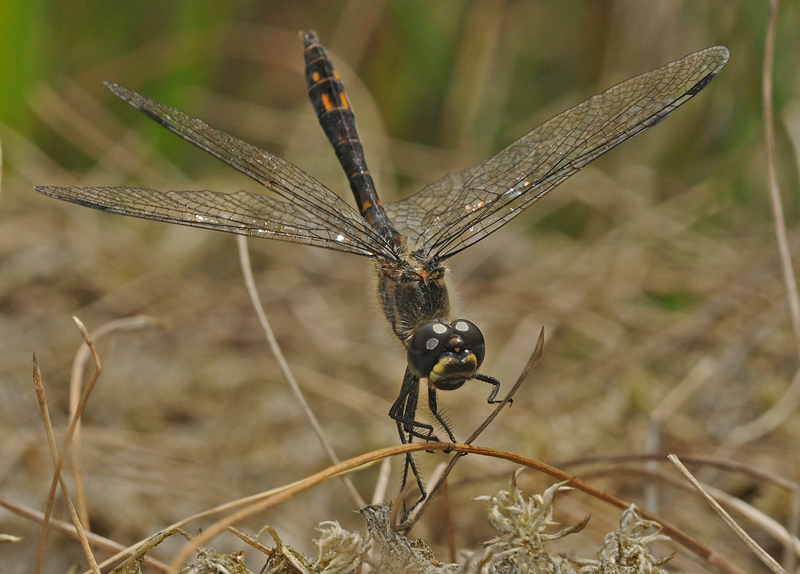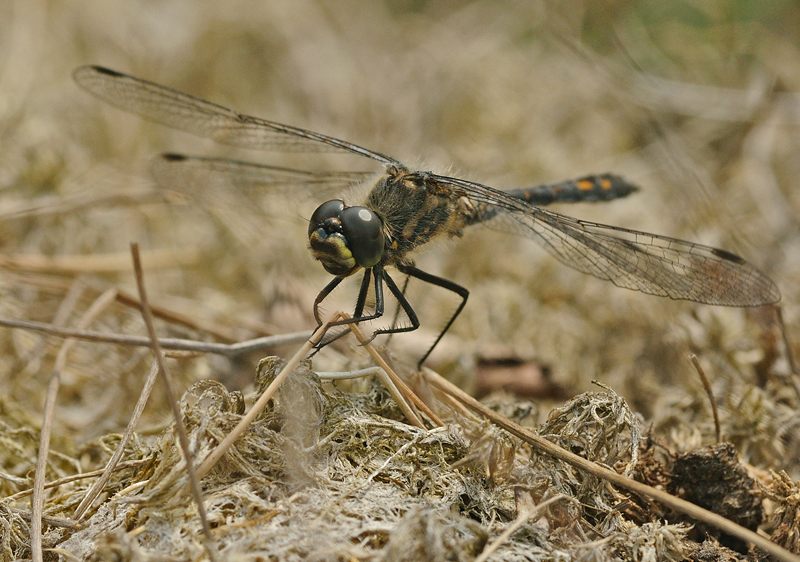 Further along is a larger pond with a good surrounding heather cover which revealed yet more Black Darters, Emerald, Common Blue and Small Red Damselflies.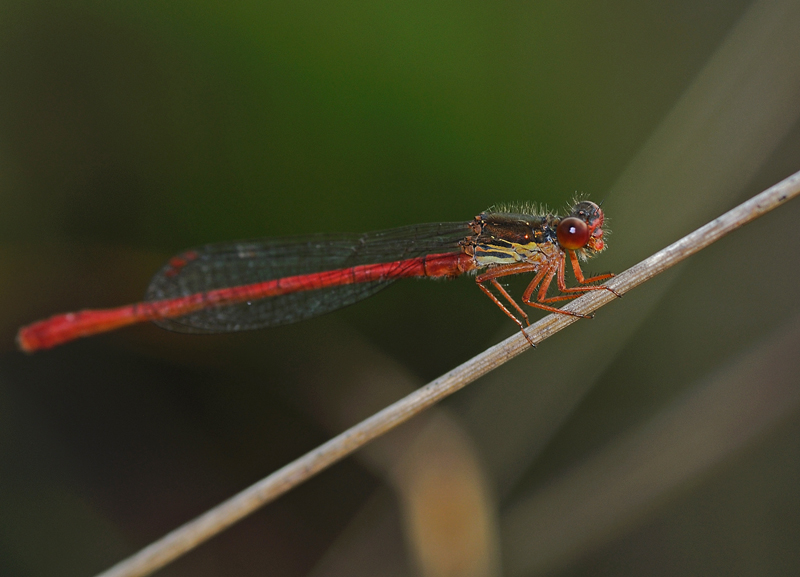 On our walk back we spotted a flighty Brown Hawker who, true to form, flew out of sight. No matter – we decided as we were in the area to pay a visit to Troublefield where we at least found a female who was willing to perch, albeit miles away and up a tree!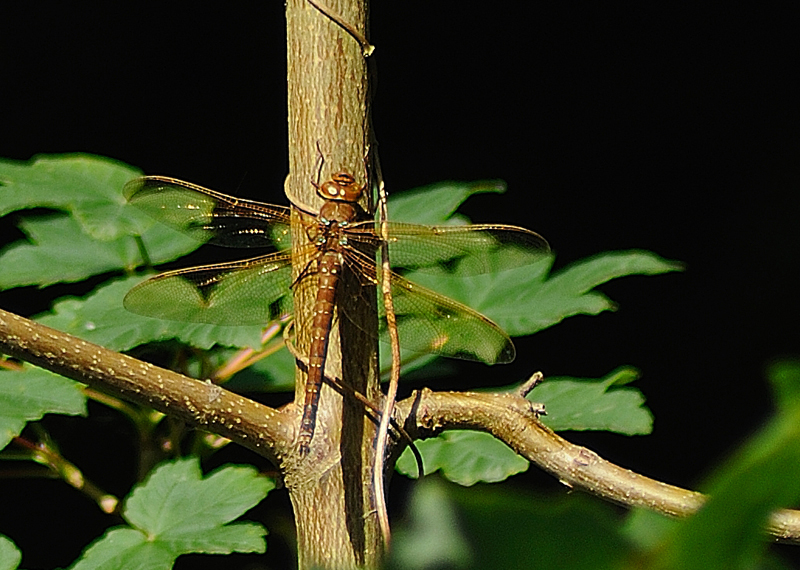 Nothing much else except a lone Beautiful Demoiselle and a Golden-ringed disappearing out of sight into the trees, but at least the butterflies were present in reasonable numbers
Sunday's good weather forecast promised much for the second proper outing with UK Dragonflies, but barely had we arrived at the first pond that the clouds started to appear – and remained for the rest of the day!
The hour at the pond produced the best activity of the day with Emperors, Black-tailed Skimmers, Four-spotted Chasers, Common Darters, Common Blue, Emerald and Small Red Damselflies – but all in small numbers. At least the Emperor perched for a photo opportunity which involved a paddle in the deep mud for a closer shot.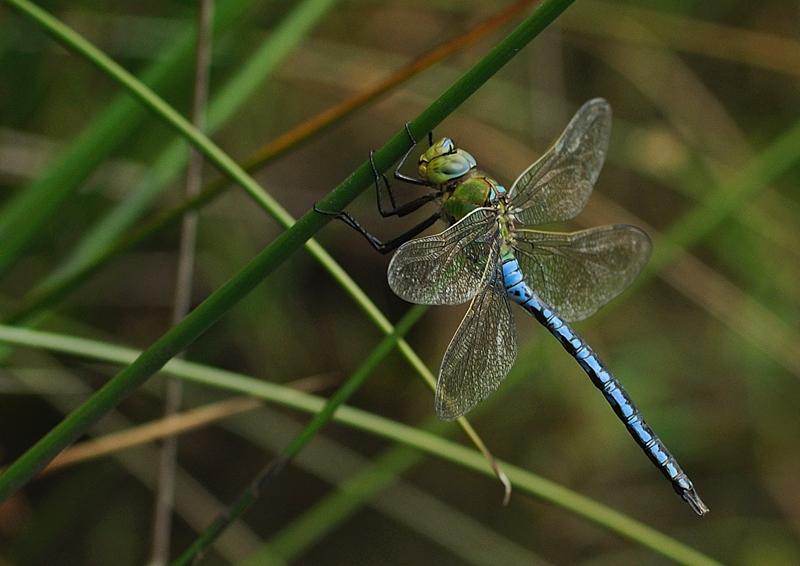 We had long decided on Latchmore Brook as the main site for the day and the car park was already flowing with day trippers. The walk downstream produced little with just a few Beautiful Demoiselles and a fleeting glimpse of a Golden-ringed.
The weather remained dull as we explored the feeder streams and pools north of the far end of the stream, and nothing – not a damsel – was to be seen. Only when we returned after a fruitless search did a few Keeled Skimmers show themselves.
At least back at the stream we had a better chance to photograph a Golden-ringed which appeared 2 feet in front of my chosen resting perch! All in all a very disappointing day.
On Monday I took a morning stroll down Ober Water. Much better weather meant at 9.30am I had my first Beautiful sightings at 9.40am followed by my first Golden-ringed at 9.45am, followed shortly after by a Black-tailed Skimmer. By 10.00am I'd added Keeled Skimmers, Southern and White-legged Damsels and several more Beautifuls.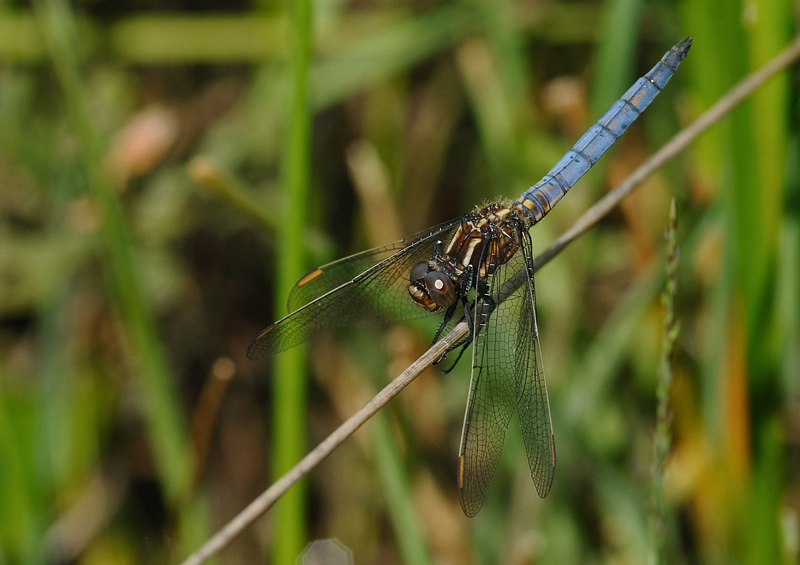 Walking the path south & east to the top of Silver Stream I was surrounded by Keeleds, and at the stream itself I had my second Golden-ringed at 10.30am shortly followed by two more, Keeled's and Beautifuls a-plenty and several Small Reds, including a few in-cop.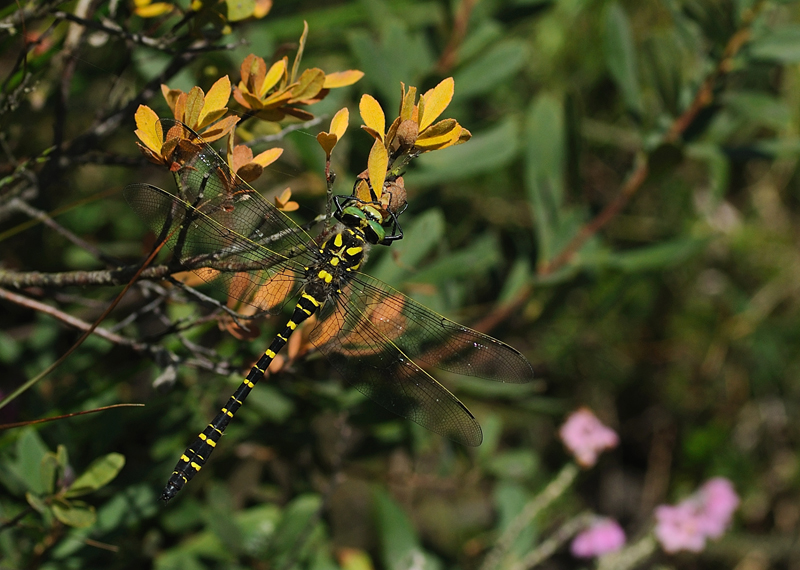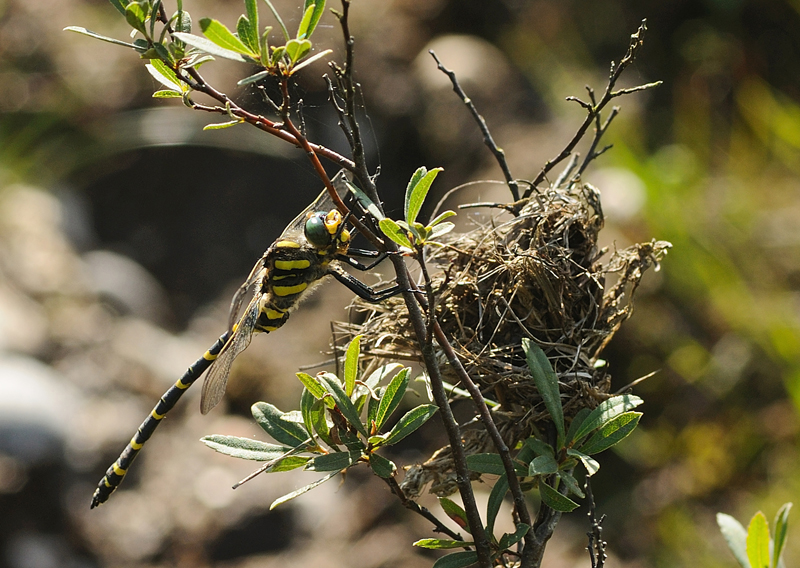 Back at Ober Water things had really started to kick off with the whole length providing endless activity with another 3 Golden-ringed, several Southern, Small Red, Azure, Blue-tailed, Scarce Blue-tailed and White-legged damsels,and well over 100 Beautifuls. These were joined by countless Keeled's and several Black-tailed Skimmers.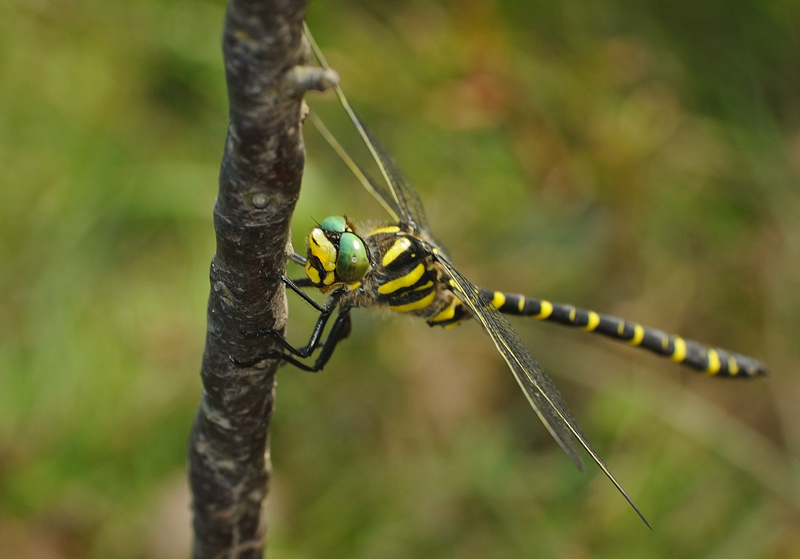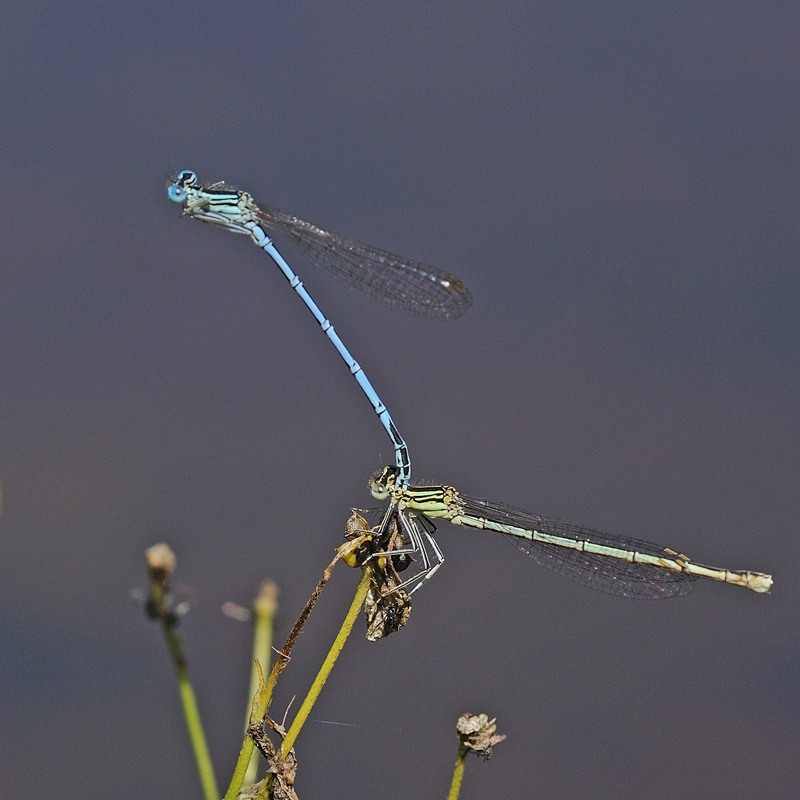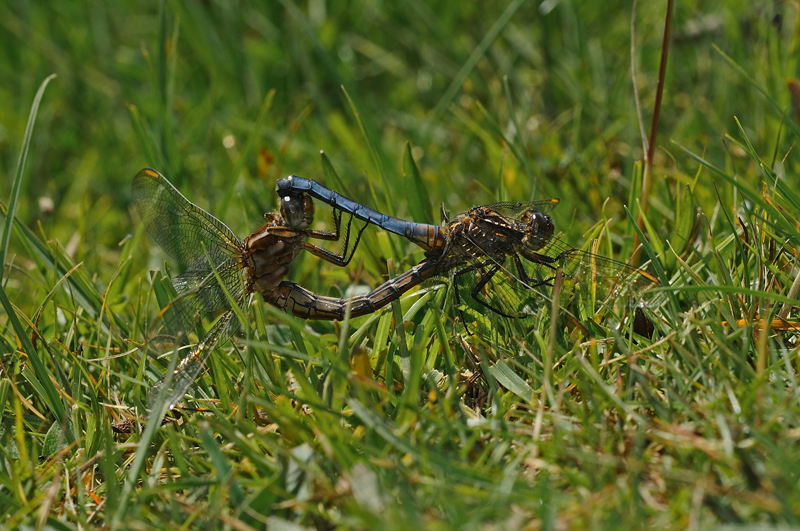 A 4 hour round trip in quiet splendour both soothed the soul and provided the best dragonfly spectacle I've witnessed in weeks, offering plenty of photo opportunities and above all was easy going. My only regret was having to leave so soon.
Save