Thursday 18th saw the New Forest and surrounding area getting a real pelting from the rain, which not only replenished the ponds and streams but produced some 'highly seasonal' ponds!
With a sense of purpose and a spring in my step I took advantage of Friday's sun to scout out a few ponds not previously visited. Unfortunately those ponds were in a fenced-off area, which wouldn't normally bother me, but several rows of barbed wire and a flooded moat-like perimeter prevented further exploration.
At least the walk in provided a couple of roosting Southern Hawkers, one of which returned to perch close enough for a shot. However over the course of the next few days I achieved better.
Onwards to Stagbury Pond, where Common Darters were already waking, coupling and ovipositing along with Common Blue, Blue-tailed, Azure and Emerald Damselflies. Small Reds were probably on the island, but none showing around the perimeter.
During the 2 hours I had a male Emperor wake for breakfast and a tour of his territory and a brief, scouting visit from a female Southern Hawker.
Having received a call from Doug I headed on a stop-gap journey across the forest taking in Slufter's Pond (dull, windy and nothing much to report – no change there then!) and Blashford Lakes, where the ride I'd previously visited produced 3 or 4 flighty Brown Hawkers, a few Common Blue Damsels and a basking Adder.
I arrived at Burbush car park at 2.30pm and did a quick tour around the area, seeing plenty of water & not much else! Doug arrived shortly after and we ventured towards Whitten Pond, spotting a few Common Darters and a couple of Hawkers in the distance around the clearing, but not close enough for an ID confirmation- although they were probably Southerns.
At least the feed-in stream is full again, but – except for the odd Common Darter and Common Blue Damsel, were disappointing – as was the lake itself.
The walk back produced nothing dragonfly-wise, but I did have an unusual sighting of a Kingfisher perched on gorse along the stream before our presence drove him away.
Back at the car park we met Paul Brock for a brief chat before deciding that the continuing cloud and windy conditions weren't going to provide any more opportunities.
So a good start and disappointment from then on.
However Saturday was a different matter. Once the rain had ceased and the clouds had broken up, we were treated to blue shies and warm, uninterrupted sun.
Sue & I decided an afternoon at the pond was in order and as soon as we arrived we had Common Darters, Common Blue, Azure, Blue-tailed and Emerald Damselflies patrolling the pond.
A male Emperor made a brief appearance, but it was the 'temporary' pond (more of a large puddle) at the northern edge which kept me occupied for a good half-hour when a male Southern Hawker decided this was where he wanted to be.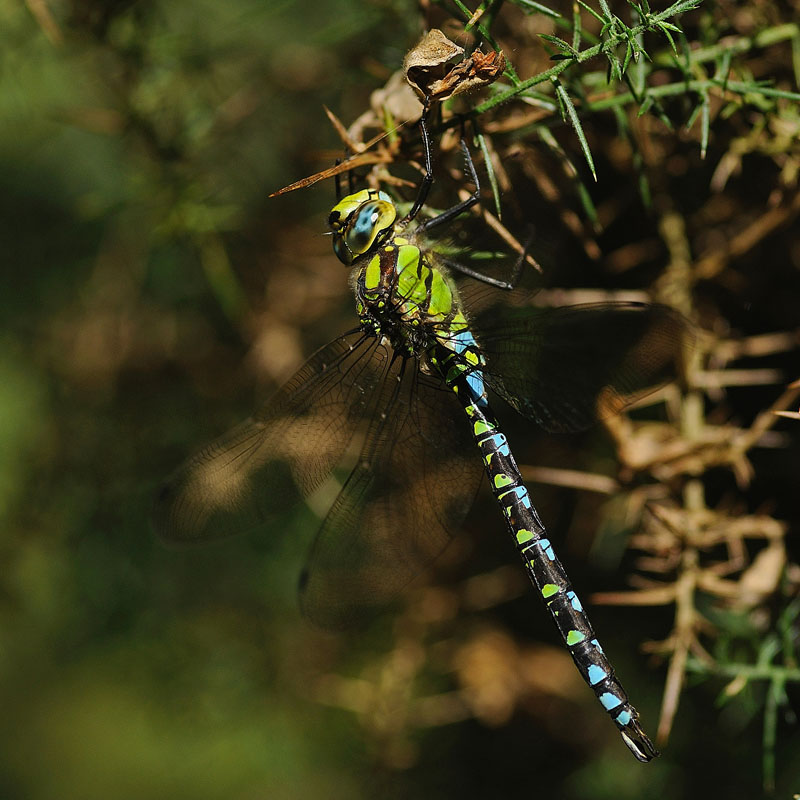 A little caution allowed me to get in close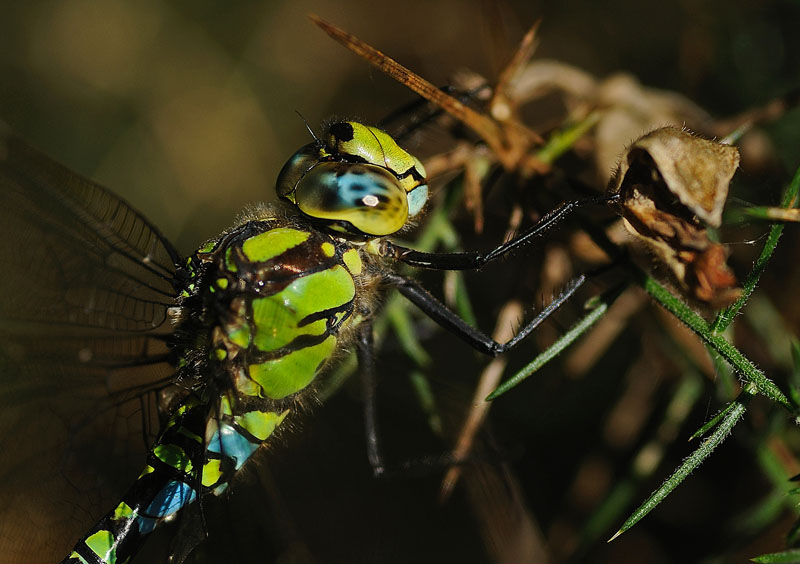 Then it was time for some in-flight practice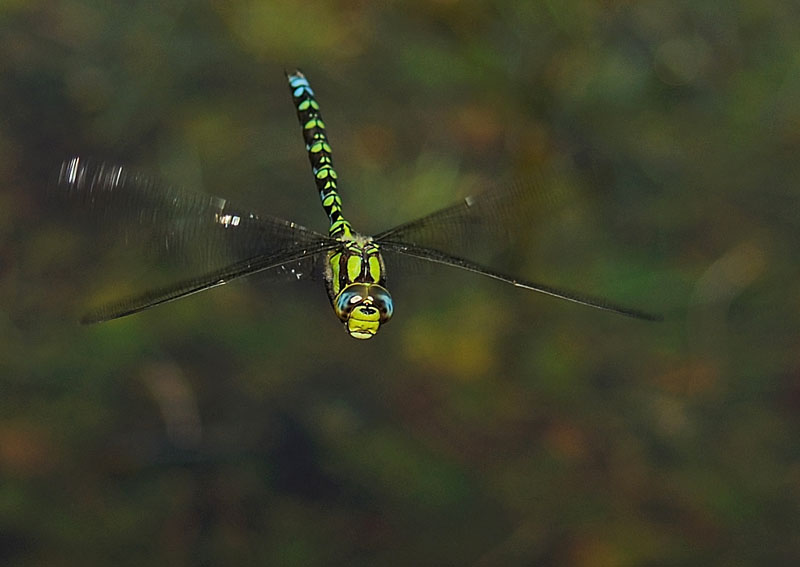 Doug called saying Troublefield was kicking off, so we headed over there to be greeted by the best hawker spectacle we've witnessed so far this year, with Southerns and Migrants of both sexes and even some Golden-ringed to keep us occupied.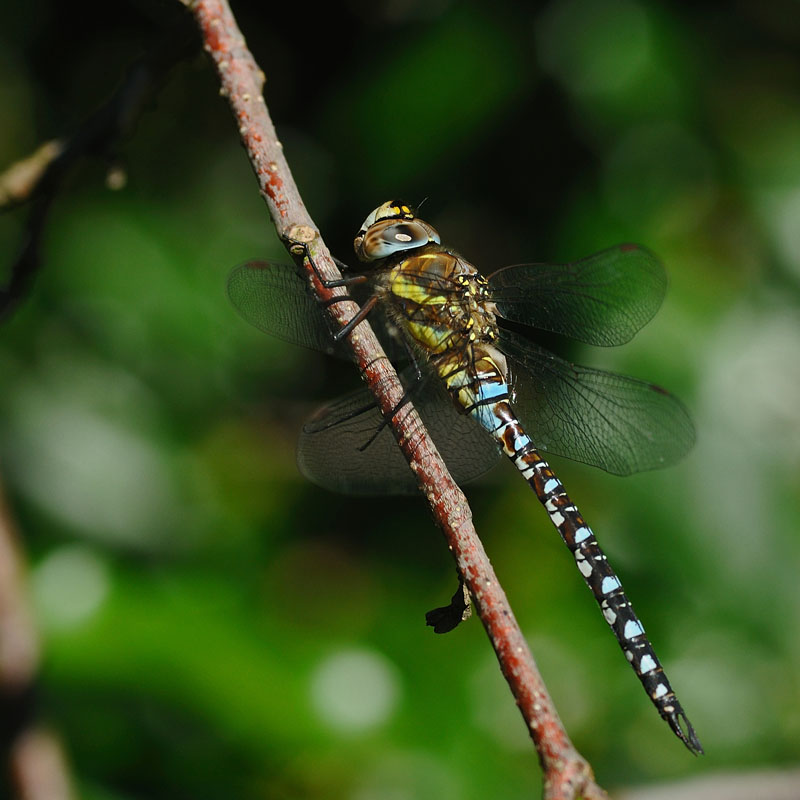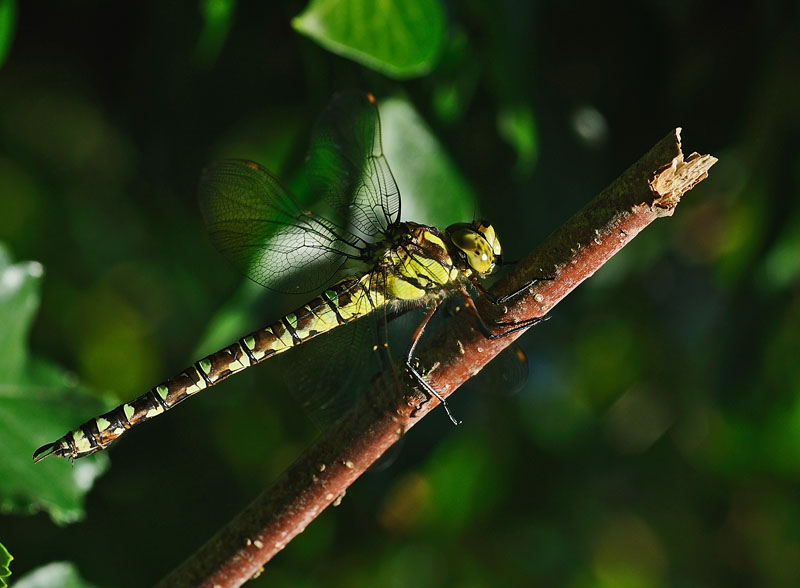 Opportunities were many and at one point we even had 2 Migrants and a Golden-ringed sharing one Cow Parsley plant! A sight to see certainly, yet a day later we had  almost the same encounter. However in an effort to keep this post short I'll just post the Golden-ringed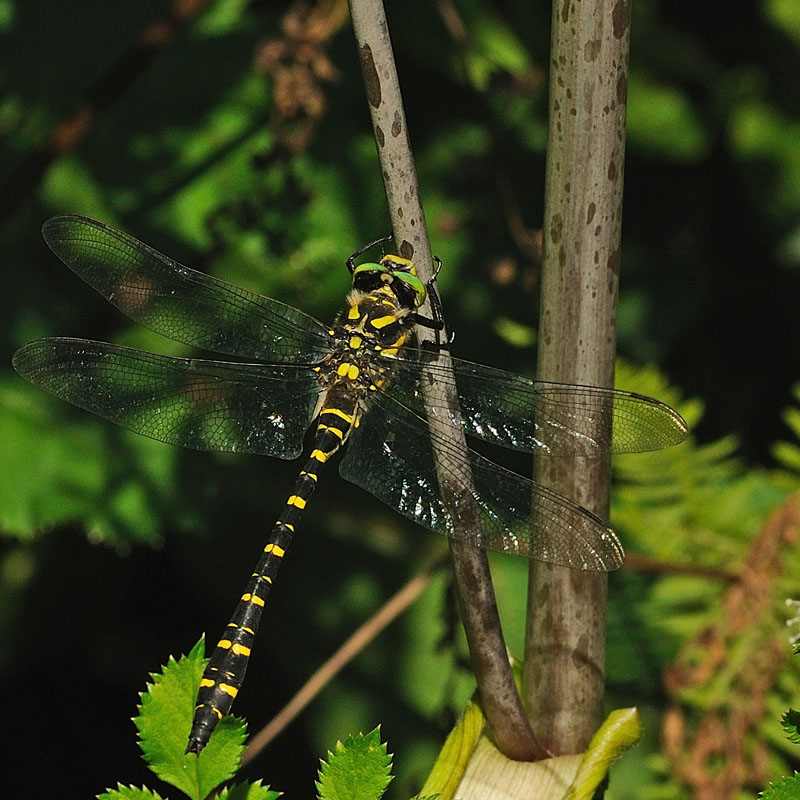 This was the best dragon day I've had since my visit to Crockford at the beginning of the month. The rains had certainly cleared the way and the warm sun had brought them out in swarms.
Other species noted were Common Blue Damsels and Beautiful & Banded Demoiselles. If there had to be a downer, then it was the failure of my long zoom lens. Haven't the faintest idea how it happened, except it appears the zoom mechanism has broken.
On Sunday Doug, Sue & I returned to the Westhay Moor in the hope of witnessing a Hawker spectacular. We arrived at about 12.30pm and met Jerry & Mike along the track. Barely into the walk we were surrounded by Migrants and teased by Brown Hawkers.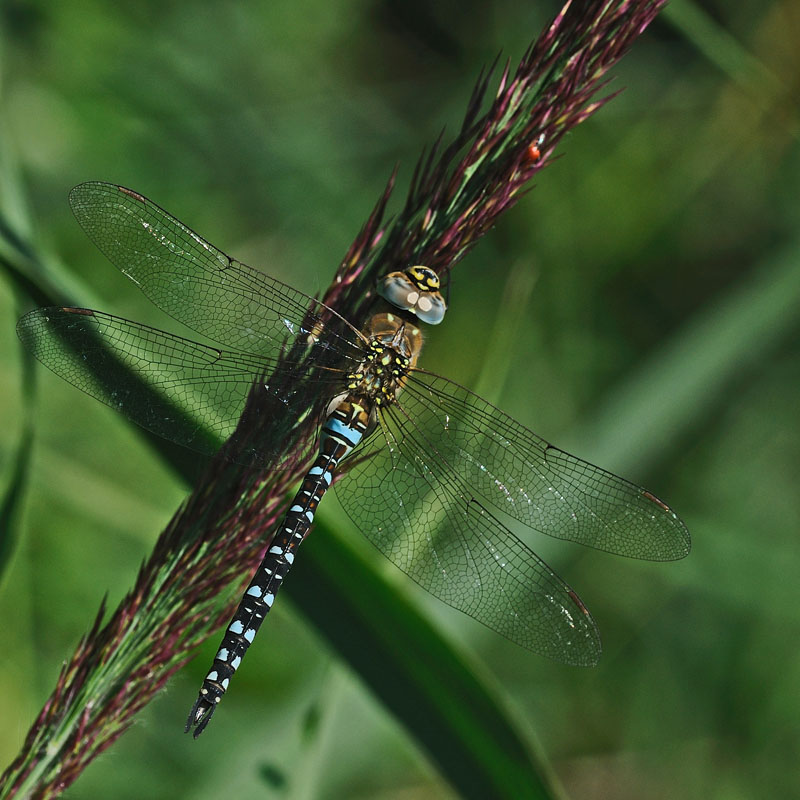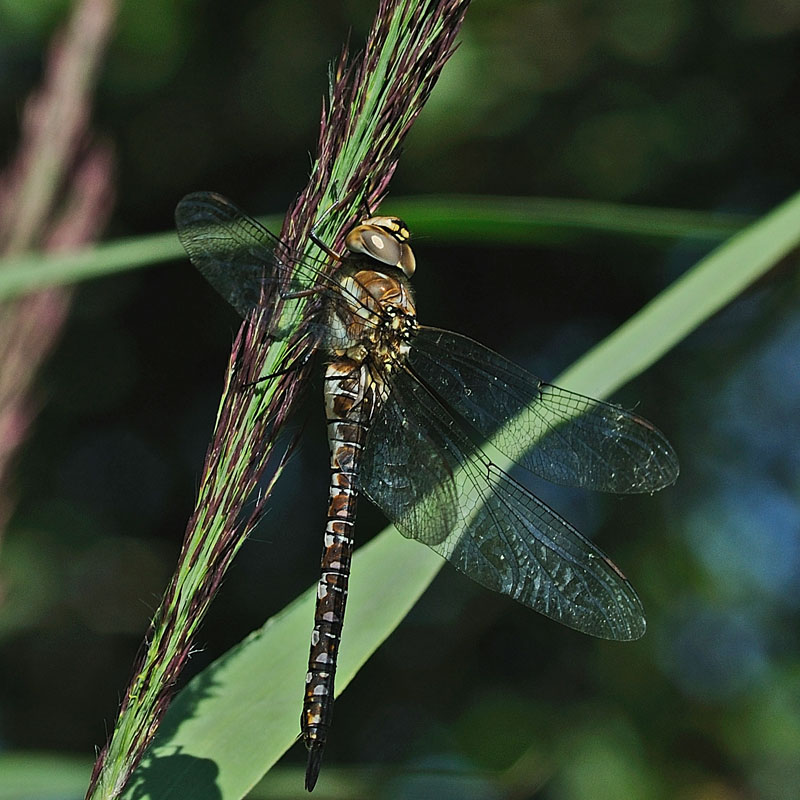 Migrants were certainly the most numerous, surprisingly followed by Brown Hawkers. Southerns on the other hand were few & far between, although careful searching along the treeline of the back meadow revealed a few males and a female
Migrants however kept us more than occupied, with a male and 2 females sharing one stem at one point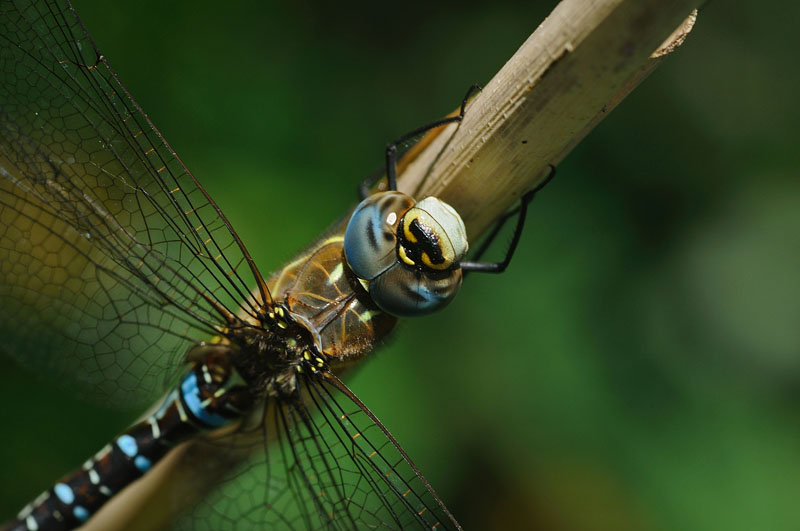 Also in this area we encountered a male Ruddy Darter, which was a bit of a surprise – even though he was a bit tatty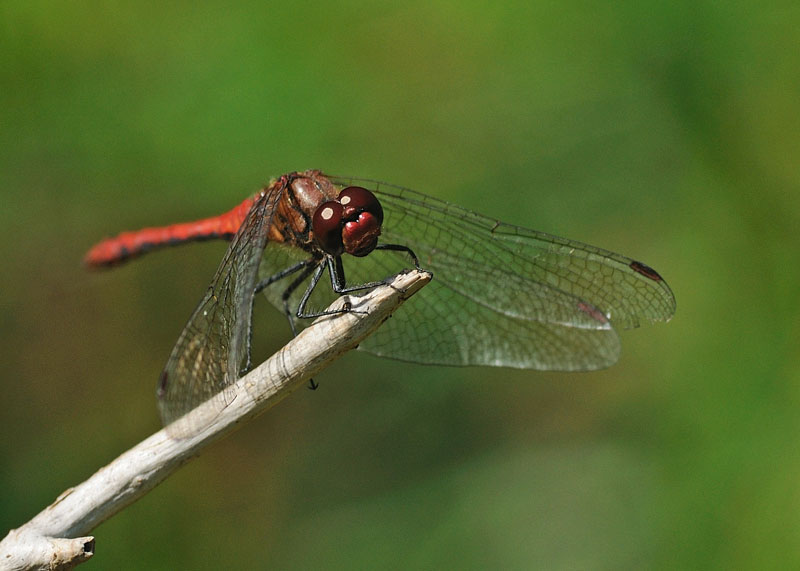 Common Darters however were everywhere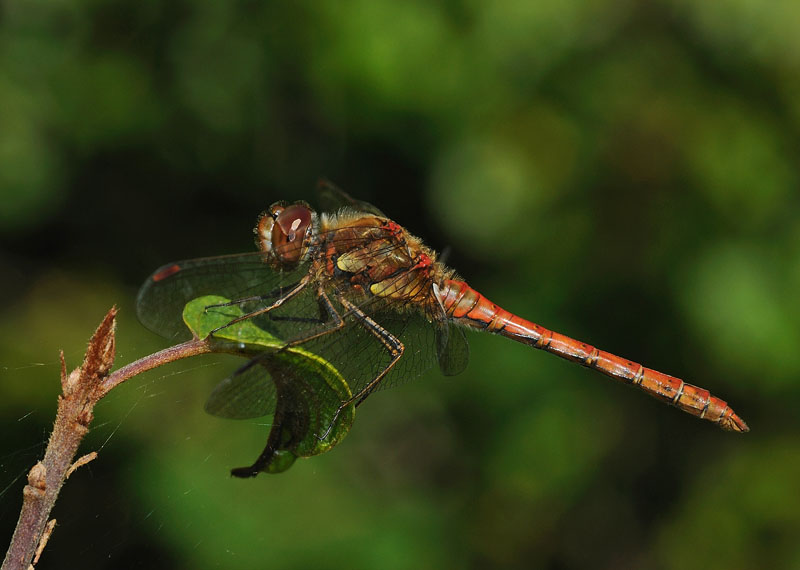 After tiring ourselves out over difficult terrain and cutting ourselves with brambles, Mike joined us and informed us Sue was feeling a little neglected so we returned to the prime area and patiently watched and waited for a Brown Hawker to perch
We didn't have to wait too long for our first female to perch, and in an effort to get a shot in Doug managed a spectacular head-over-heels tumble into the ditch. He got the result though!
I was approaching from another angle, crawling low down and moving in slowly, managing a shot but far too distant to be worthwhile.
Not long afterwards I disturbed another female, who lifted briefly then came down a short distance away. She was more approachable and we took turns lowering the grass stem in an effort to get a decent angle.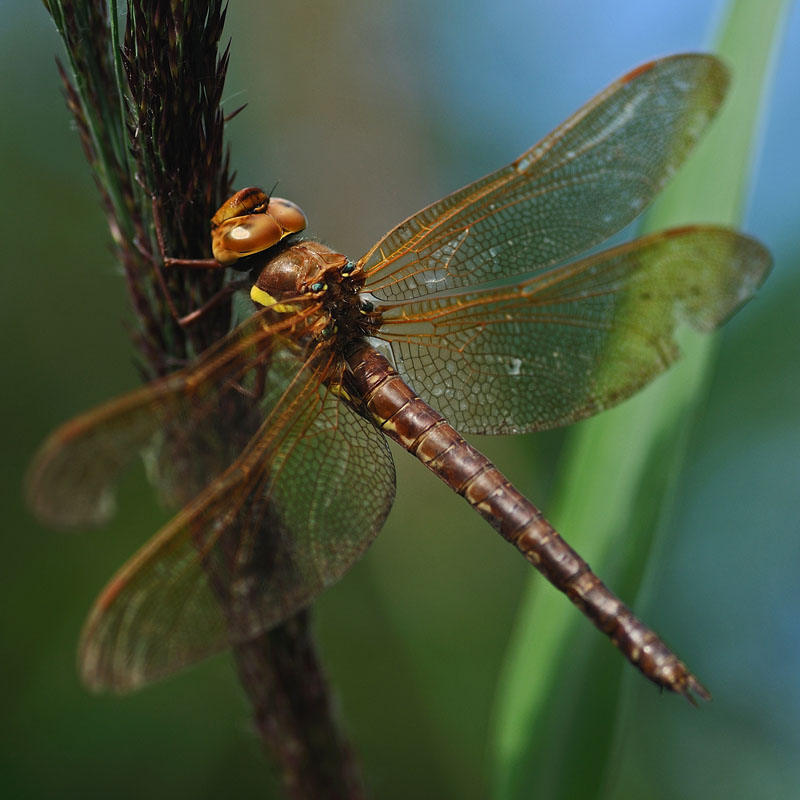 Unfortunately she was badly damaged, but any opportunity to photograph a perched specimen should be appreciated.
Realising we had probably had as good as we were going to get, especially as the clouds were rolling in, we called it a day and prepared ourselves for the long journey home.
A worthwhile journey with a chance to meet up with Jerry & Mike again, plenty of activity, several photo opportunities and most of all a constant blue sky!
Could we have really asked for more?