A ridge of high pressure promised sunshine and warm temperatures to welcome in September, and on Thursday 1st I made the most of it with my first visit to Pennington for a month.
Arriving at just before 10.00am I knew it was going to be a tad early to witness much in the way of dragonfly activity, but I did have the delights of a baby Grass Snake, a family of young toads and a field mouse to entertain me.
I did disturb a few Common Darters and Migrant Hawkers amongst the undergrowth surrounding the pond, but after a couple of circuits I decided to take the path south, knowing there was a woodland ride which could provide some interest. Indeed, perched on the hedgerow were a few male Migrants and a male Southern Hawker to start the day off properly.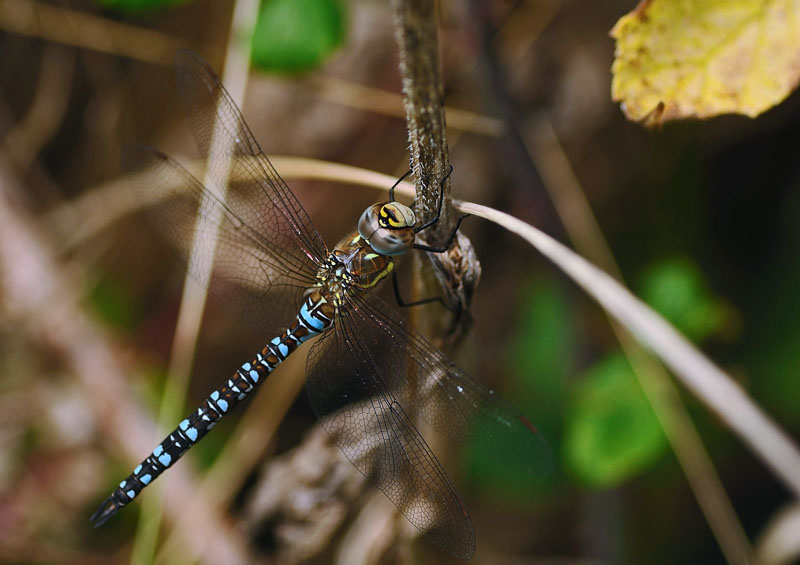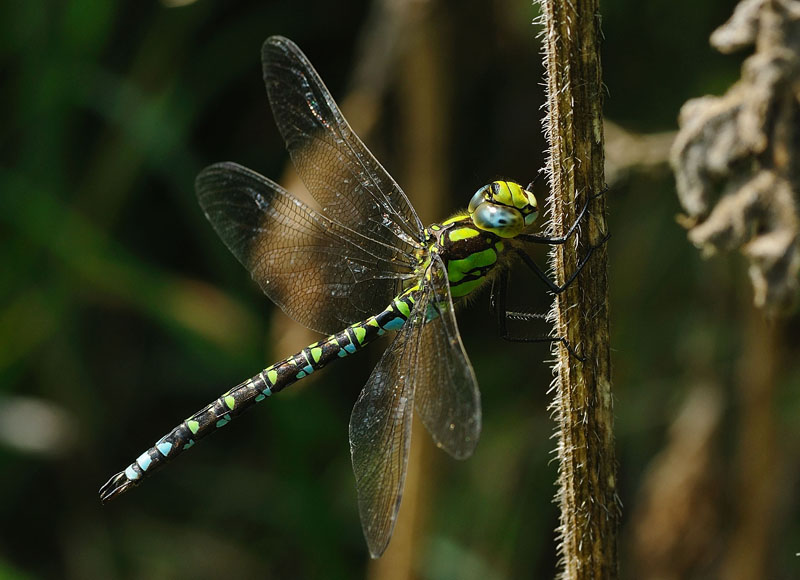 Common Darters were also plentiful, and a golden moment was watching a Roe Deer feed while no less than 5 Buzzards circled overhead!
Back at the pond things were waking up nicely, with a few Beautiful Demoiselles dancing along the stream, Common Darters – including copped pairs – flying over the pond along with Blue-tailed Damselflies and Male Migrant Hawkers.
I chose a spot with plenty of reed and a reasonably narrow span to attempt some in-flight shots of the male Migrant patrolling, and had yet more Common Darters vying for attention and even a Kingfisher!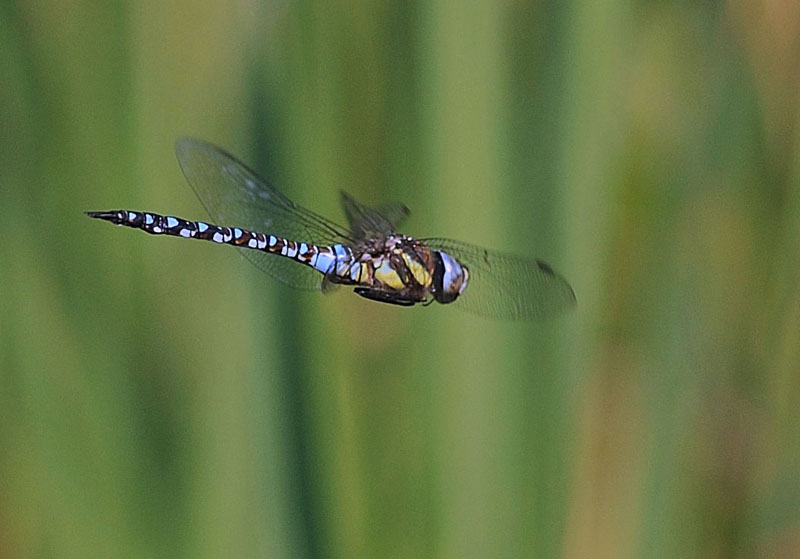 It was while watching for the appearance of the male Migrant that I noticed a copped pair fly into the reeds a few metres away, tentatively trying out perches until satisfied.
Their first choice was a tad too far away, and my heart sank as they flew up & away – only to return to land in quite possibly the best spot about 2 metres away.
In an effort to get closer I went beyond the length of my wellies and ignored the cold water seeping down my calves while I concentrated on my subjects.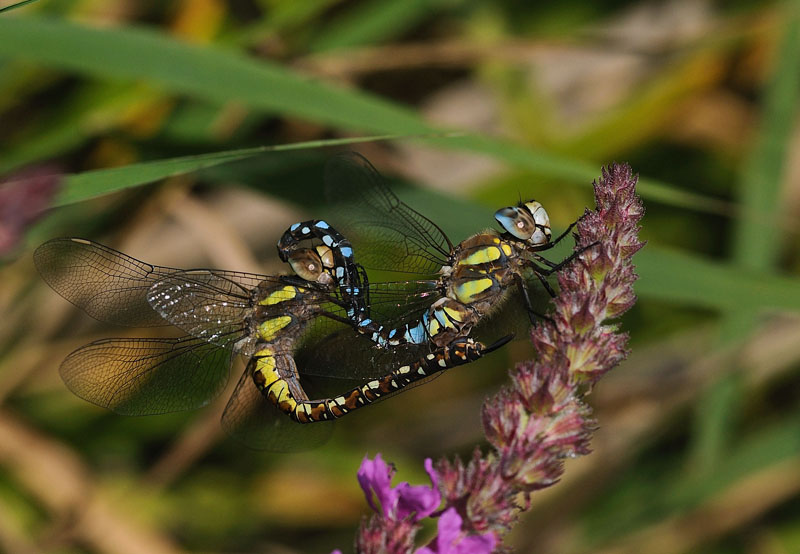 That was it for me – a perfect opportunity and no doubt the best I was going to achieve that day, especially as the cloud started to roll in.
I did another circuit before heading back via Crockford Stream, where pleasingly there were more Beautiful Demoiselles than I've seen there this season cascading around the stream.
A few Migrant Hawkers were flying along the treeline, and about 5 or 6 Golden-ringed made brief appearances with one teasingly perching on heather for half a second before flying off upstream.
I walked back via the top clearing and was rewarded with a male Migrant and several Common Darters parading around the margins.
Lastly I called in to Hawkhill just in case, and didn't see a single Hawker – just a few lost-looking Common Darters for my troubles.
So finally an excellent day and the best I've had for 2 weeks – a great start to September!
The fine weather continued Friday, and the lack of wind made Thursley an ideal choice. I arrived just before 10.30am and saw my first Brown Hawker across the moat pond and a few Common Blue damsels in the reeds before continuing along the back ride where I bumped into Stephen Darlington scouring the heather.
We had a brief chat before continuing in different directions. I had a plan to seek out those distant ponds beyond the treeline. A long & tiring walk across the heath threw up a few Black & Common Darters,. but no more Hawkers.
The ponds were a disappointment, being fenced off and primarily for fishing, but at least I won't have to do the walk again. Back onto the heath Black Darters were everywhere.
By the time I reached the boardwalks I was surrounded by hundreds, so the population must have run into thousands, with several mating and tandem pairs spotted.
A pair of Common Darters landed at my feet, so I grabbed the opportunity.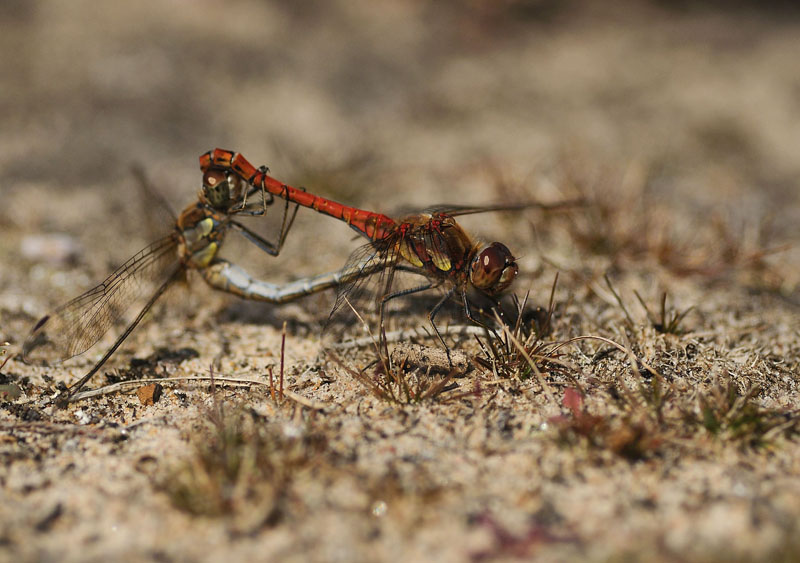 Further along the boardwalk I bumped into Stephen again and we continued around the bog where we spotted Keeled Skimmers and the odd Migrant Hawker across the ponds and – surprisingly – a male Emperor patrolling a boggy area.
There were also quite a few Emerald Damselflies and, again a nice surprise, a few Small Reds.
Once back on the home track more Hawkers showed thenselves, both Migrant and Southern, but none landed anywhere near or provided a photo opportunity.
Back at the moat pond we had no less than 3 Brown Hawkers patrolling at one point, including a female which almost – but not quite – conjoined with one of the males.
We attempted to get some in-flighters of one particularly playful individual.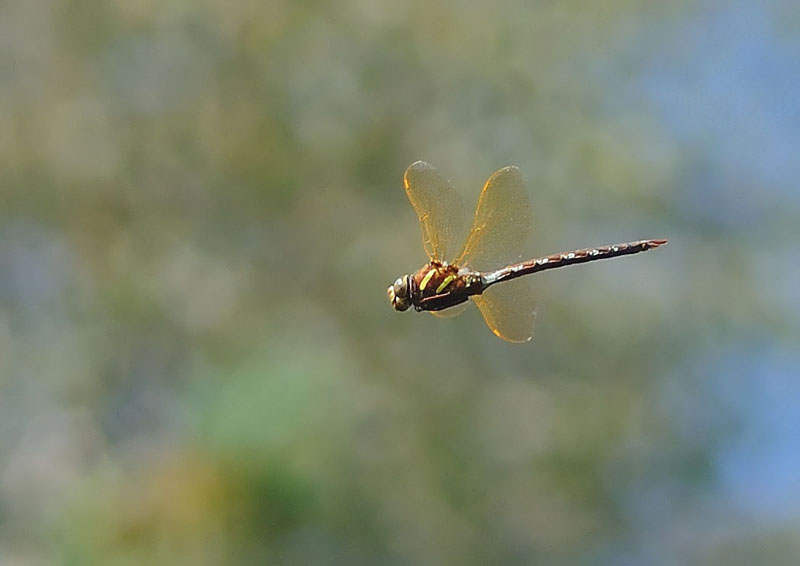 I maintain that the Brown Hawker is 'the' real master of flight – even better than the Emperor. A brief flutter of wings followed by a long, curving glide.
Also on the pond was an Emerald Dragonfly – possibly a Brilliant considering how late in the season it was, but although I obtained a very distant 'record' shot it wouldn't come any closer for a confirmed ID.
In need of a drink we retired to the car park for refills when we spotted a Golden-ringed unusually hawking a shaded area among the trees. We stood and watched for a good 15 minutes before it disappeared over the heath.
Refreshed I returned to explore the part of the boardwalk I'd initially missed, spotting a Southern Hawker not far from the platform.
Continuing on a circular route back to the moat we had another male Southern Hawker patrolling a small boggy pond but all other activity had ceased, with just the odd stray Black Darter still wandering across the heather.
Activity over the moat had ceased too, so we called it a day. For myself not many photos to come home with, but a more than worthy count of 12 species for day.
Saturday was a washout, and Sunday had heavy rain in the morning, but we did manage to get out for a few hours in the afternoon in decent sunny spells, albeit with a horrendous wind!
Regardless, we headed to Pennington, knowing that if we didn't see anything we could at least feed the ponies and forage the sloes for the xmas gin!
We arrived at about 3.00pm and despite the wind had several Common Darters among the brambles. All very flighty.
On the pond were a couple of patrolling Migrant Hawkers before the wind became too strong and they took refuge in the shelter of the brambles.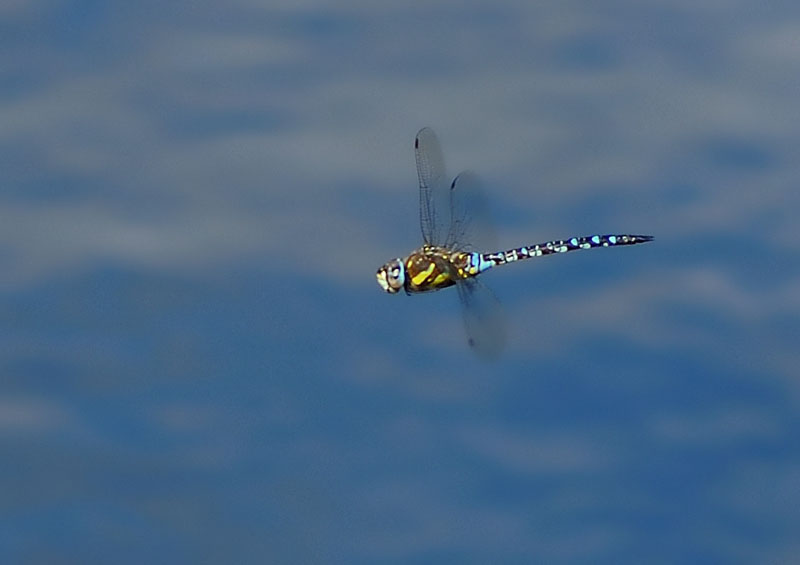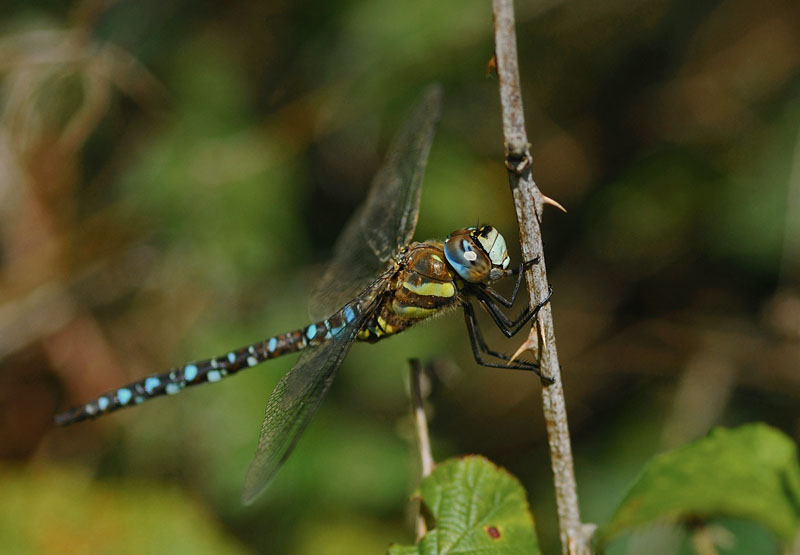 Surprisingly we did see a few Blue-tailed Damsels.
On the way back we called into Crockford for more foraging, while I did a reccie to find yet more Common Darters, a few Beautiful Demoiselles, one Golden-ringed and a male Keeled Skimmer, looking a little worse for wear.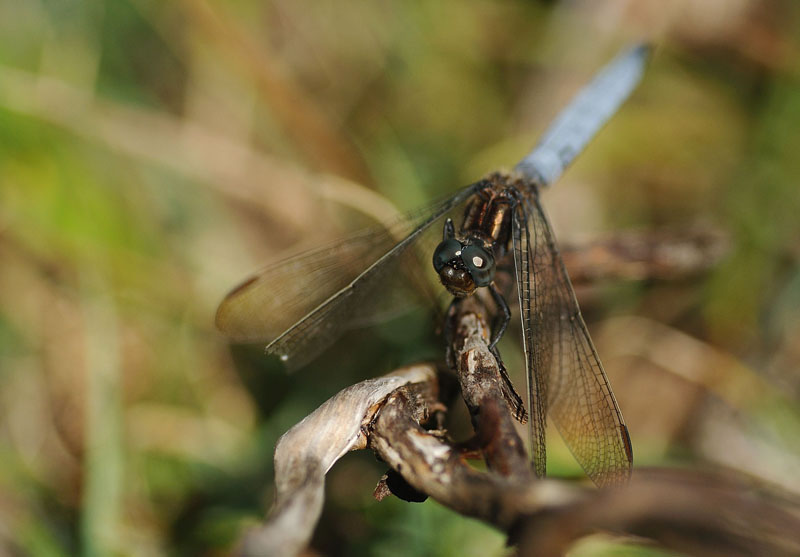 Not bad considering the wind.