Couldn't last! After that brief sunny beginning, September continued this summer's gloomy outlook with torrential rain and gale force winds – neither good for dragon spotting.
Suffice to say I didn't really achieve much until Thursday – and then I had to try hard. I decided to travel across the county border into Wiltshire to check out Langford Lakes = a site recommended to me by Stewart as a good possibility of obtaining some Kingfisher shots.
I didn't, but was nevertheless impressed by the site as a good location for dragonflies. If only I'd visited sooner! Besides being a good birding location, the well vegetated lakes and rides are ideal for many species of odonata. Add to this the close proximity of the Wylie River and a gravel stream, the possibilities are endless.
The novelty of trying a new location is the ability to explore at leisure, following every path, nook & cranny for possibilities. After spending a little time chatting with a fellow photographer in the south hide, I returned along the track and was rewarded by a few Migrant, a couple of Southern and a Brown Hawker.
Neither paused to perch, preferring to take advantage of the brief sunny spells by hunting prey before flying off over the lakes. Besides the hawkers there were a few Common Blue damsels.
A few weeks ago I discovered the zoom mechanism on my Tamron 70-300mm had somehow failed. I could still pull out the lens manually, but the hassle simply wasn't worth it.
The comparatively cheap cost of the lens meant that a repair wasn't worth it, so I decided to step up a rung to the Sigma 70-300mm APO – my original choice, having been so satisfied with the Sigma 105mm macro I exclusively use during the summer.
After exploring the rest of the site and spending time in the various hides taking photos of water fowl to test the lens, I returned to the ride to completely miss a Brown Hawker perched 30cm away from a spider which had grabbed my attention!
Of course, by the time I'd noticed him he was off over the trees. Never mind, there were a few Migrants and Southerns patrolling – unusually low – along the track, but again not one would perch!
After spending 3 hours and having my fill, I headed over to Blashford Lakes in the hope of at least getting a dragonfly photo. Best I could manage was a Common Blue damsel!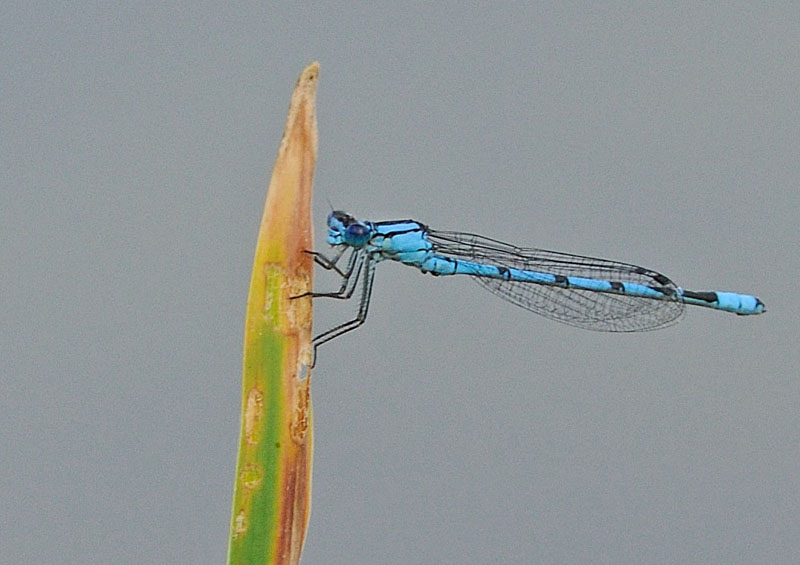 I couldn't go home without a dragon shot, so as a last resort I headed over to Troublefield where I could at least get a Migrant or two.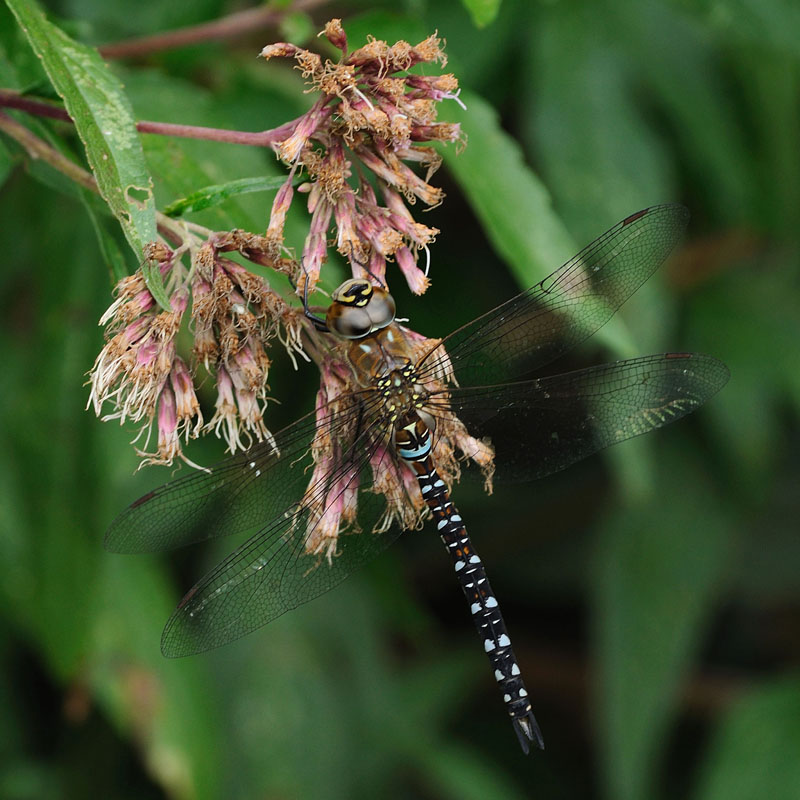 As usual with September, Migrants are the dominant hawker species, but I can't help wondering where all the Southerns are?
I didn't venture out again until Sunday 11th. Despite the threat of gale-force winds, the afternoon looked bright, sunny and reasonably warm, so it was too good an opportunity to miss.
Sue had mentioned she wouldn't mind a coastal walk in the strong winds, so we headed to Pennington first before taking a bracing walk around the sea wall.
I wasn't expecting much but there were a few Blue-tailed Damsels, a reasonable number of Common Darters and a few male Migrant Hawkers braving the breeze over the pond.
I decided to test the new lens further by attempting some in-flight shots of the Migrants – something I never did with the old Tamron, fearing it couldn't hack it. I was quite surprised and more than a pleased with the results.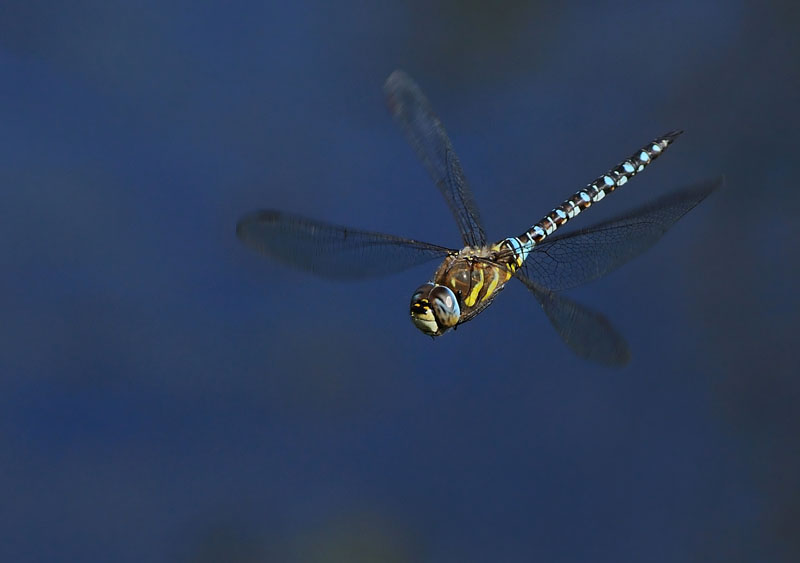 My quarry disappeared so I decided to take the walk south along the rides where I found far more Common Darters than the pond area.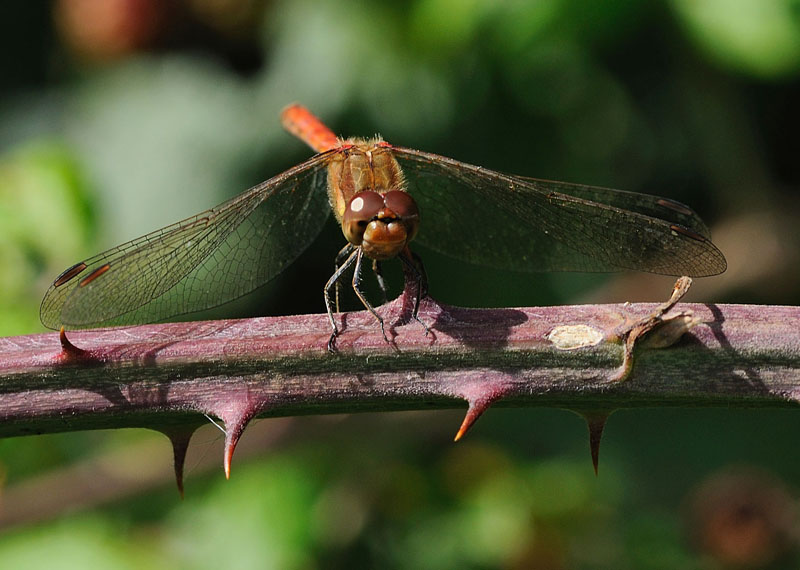 Brambles were popular, but ground-level leaves were not rejected as suitable perches.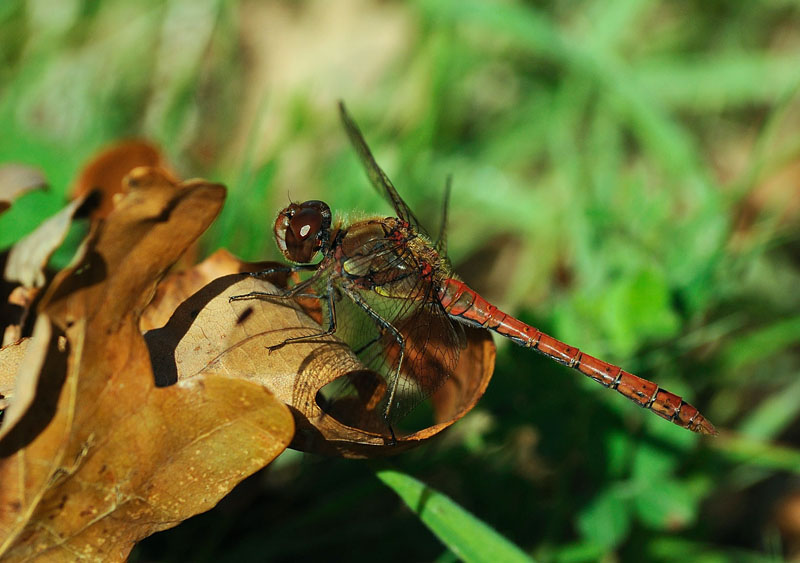 There were a few 'nervous' Migrant Hawkers and – at last – a male Southern to break up the monotony.