I've learned not to rely on supposed predictable behaviour, especially when it comes to visiting a reliable site where even in the coolest weather you could at least hope to see something.
One Azure was all I managed at the pond on Monday – a Bank Holiday Monday when the whole nation was gearing up for Diamond Jubilee celebrations.
Even at the pond this hadn't gone un-noticed, with the small promontory rigged with a beacon. Granted, the summit – albeit rather modest – provides a fabulous view of south Wiltshire.
I was beginning to think the dragons had loped off to a party themselves!
Luckily I had a back-up plan and travelled the short(ish) distance to Bentley Wood to hopefully catch some Small Pearl-bordered Fritillary butterflies settling down to roost.
As soon as we entered the Eastern clearing we were greeted by a Broad-bodied Chaser taking advantage of this sheltered and humid environment, shortly followed by another.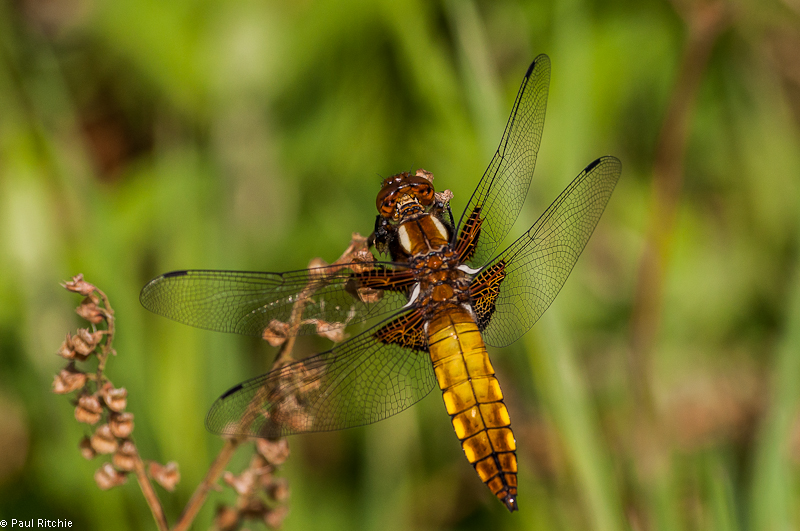 Typical! You go to a pond and find (almost) nothing, and switch your quarry only to find dragons in the realm of the butterfly! Luckily I love both.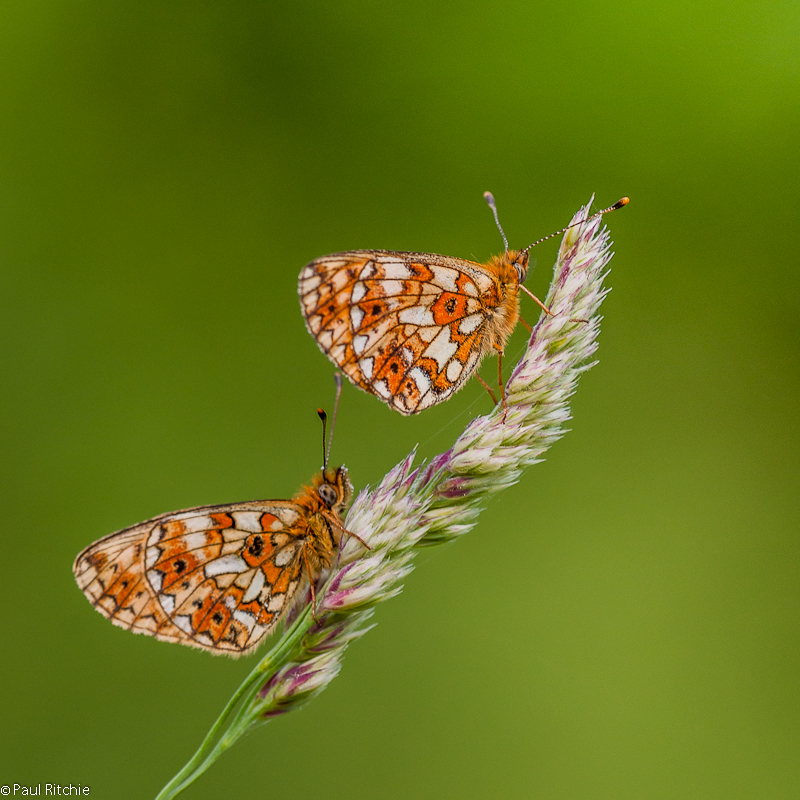 Tuesday was a washout, and Wednesday more of the same, but there was the odd small blue patch breaking through. Unfortunately not enough to raise the temperature sufficiently to tease the insects out of their hiding places.
Regardless I did a little scouting trip just over the county border in Surrey. Last summer I kayaked down a section of the Basingstoke Canal, and paddled through an open, reed-lined sunny stretch populated with damsels and Brown Hawkers.
After doing further research I found out this very stretch is also a prime spot for Brilliant Emeralds earlier in the season, so I had to check it out. The canal is bordered on both sides by small lakes with plenty of lush vegetation and tree cover.
It would be a promising spot for odos on a fine summer's day, and unfortunately this wasn't it. However I did manage Common Blue, Large Red, Blue-tailed and Red-eyed Damselflies.
The close proximity to Thursley means it can easily be included in a day trip, and as it was on the way I had to check out Thundry Meadows Nature Reserve.
Not long into the reserve I spotted a female Broad-bodied Chaser, but this was to be the only larger species spotted in this gloom. At least the Banded and Beautiful Demoiselles were happy to show themselves along the banks of the River Wey.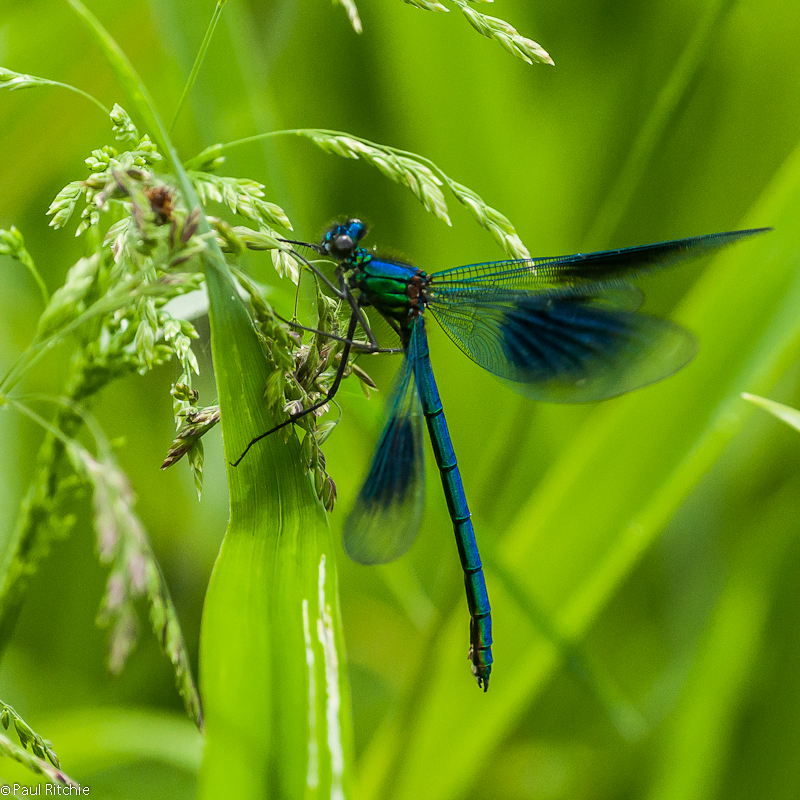 Once again, given a sunny day, I imagine this reserve to be buzzing with insect life. Certainly no excuse to not pay a visit when at Thursley, unless the latter provides the goods and wears you out!
Unfortunately Thursley was a disappointment. A few damsels seen, but not one Four-spotted Chsser, which didn't bode well.
After searching high & low, I returned via the far bank of The Moat and as if to mock the weather, or brighten my day, a Downy appeared. He did a couple of fly-bys before disappearing back into that place where all dragons hide.
Still a reasonable count of 8 species on a dull, rainy day and some promising new locations to add to my agenda.
The unsettled weather reached a peak on Thursday with torrential downpours and gale-force winds. Not a day for venturing out!
Friday brought  a break in the rain, although there were a few small showers blown in by still very strong winds. I decided to give Latchmore Brook and Ober Water a try
Not having spotted one odo at Latchmore I continued on to Ober Water.
Having planned a walk on Saturday, I did a scout and had to give up my usual route at the first crossing. The deluge yesterday had raised the stream to such an extent that the banks were well & truly breached. I couldn't follow my usual course, and ended up having to follow the treeline to reach the boggy areas downstream.
Again, not one odo could be found. Nothing hiding in the reeds, sheltering in the ferns or along the wooded edge. Even the forest rides were devoid of insects.
Being the best day of the weekend, Saturday was devoid of rain (except the odd spot or two), overcast and threatening a sunny spell. Unfortunately the latter wasn't enough to raise the temperature to a comfortable level for good activity.
Good indicators are the amount of Large Red, Azure and Beautiful's enjoying the stream along the length of Ober Water, and considering the previous days flooding I for one was apprehensive. so we were surprised to find the levels had dropped overnight to allow the usual access.
Surprisingly our first sighting of anything was a male Scarce Blue-tailed, just the one, but convenient as this was a 'lifer' for our guest.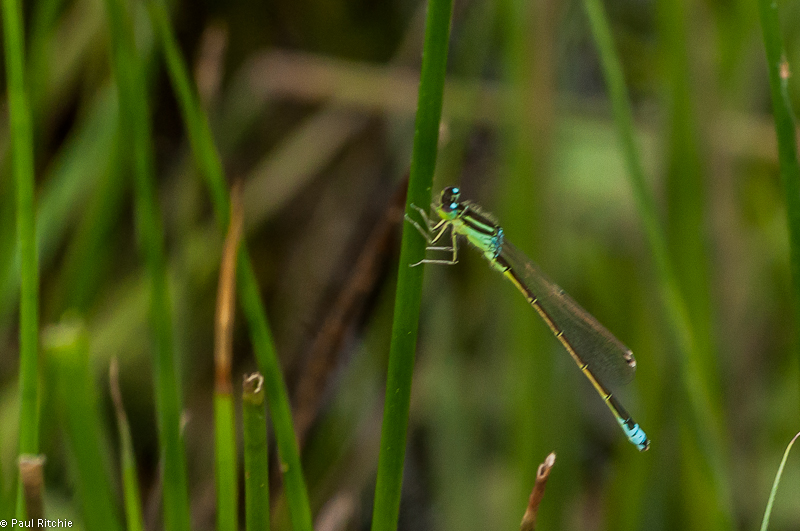 Further downstream we did see the odd Beautiful, a few teneral White-legged, a pair of Large Reds in tandem and a few scattered Azures.
Moving on to Silver Stream, it proved rather barren on the walk up with the full force of the wind blowing from the heath. All but given up, Sue, who had waited near the road called out she had found a Small Red damselfly – a first this season.
Unfortunately this poor individual had began its new life by flying straight into a spiders web. Although rescued, it hadn't had time to mature enough to prevent irreparable damage to its wings.
A first sighting for this season marred by the cruel reality of mother nature. She did provide a few Southerns for us to get our teeth into though.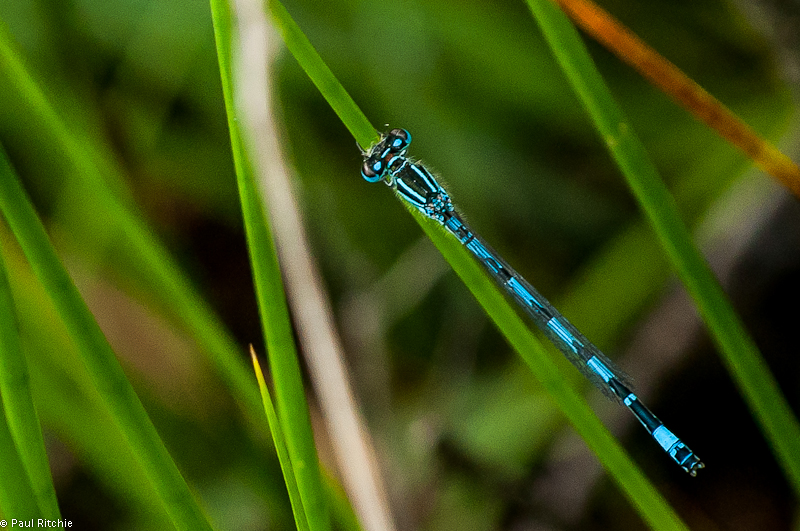 We finished the day at Crockford. Still providing several male & female Broad-bodied Chasers.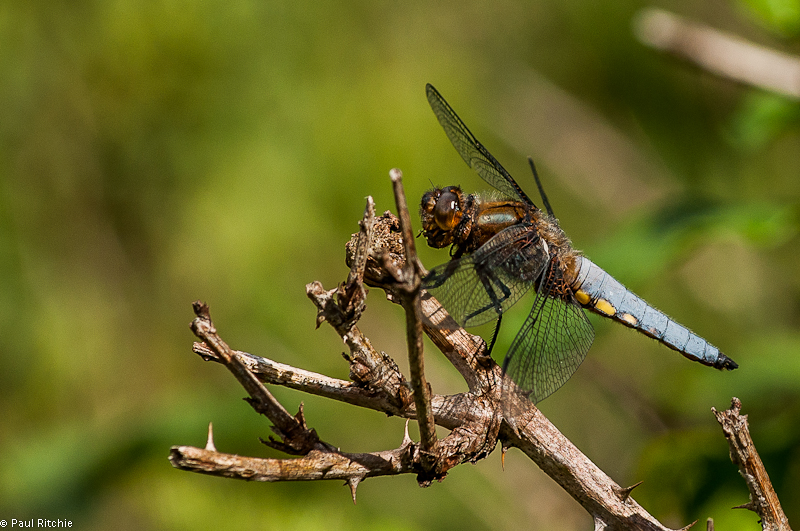 the odd Keeled Skimmer,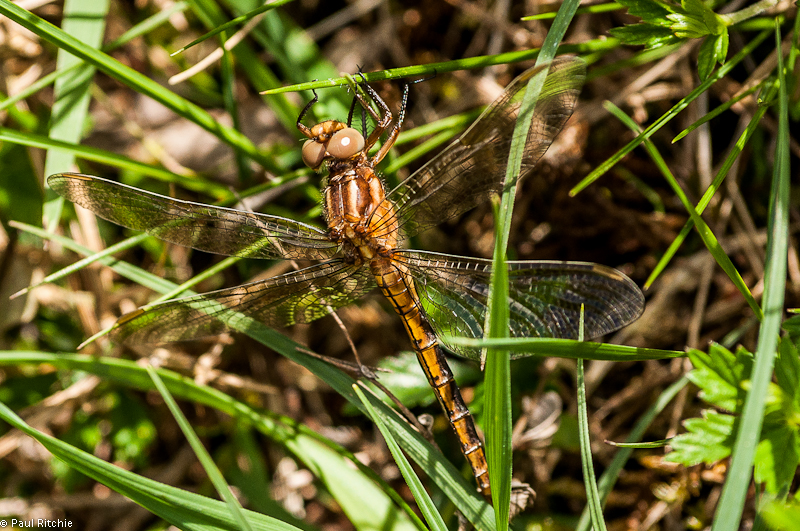 a few Southern, Large Red and Beautifuls. The highlight came with a first sighting this season of the Common Darter, but our individual wouldn't allow a decent opportunity for a photograph, being stuck up in a tree and reluctant to move.
So despite the weather we came up trumps. Sure, a Golden-ringed would've rounded the day off nicely, but I've learned to become grateful with anything during this typical British summer.