After a disappointing weekend pursuing other water sports (it rained), I was anxious to get back in the field on Monday 25th. Still focused on the Brilliant Emeralds I visited Puttenham Heath after a heads up from Linda who had observed and photographed several individuals there during the weekend.
At first site it was another of those gloomy wooded ponds with minimal access, festooned with the odd fisherman – usually a sign that odos are infrequent.
However not far from the car park was one of these filthy, shaded inlets preferred by the Brilliant.
There were a few individuals patrolling this small area, both male and female as on two occasions pairs would link and fly up into the trees.
At one point a fresh teneral rose from the sparse reeds towards the trees. I have no idea what species, but it was large with a bright yellowy-green abdomen.
I stayed for a short while, but only managed a few in-flight Downy shots.
Lack of sun and any better opportunities spurred me on in the direction of Thursley Common. Again the Moat Pond was quiet, with just the one Downy visible along its shores.
This time I did a little flushing through the heather and disturbed a fresh Emerald Damsel, my first for this season.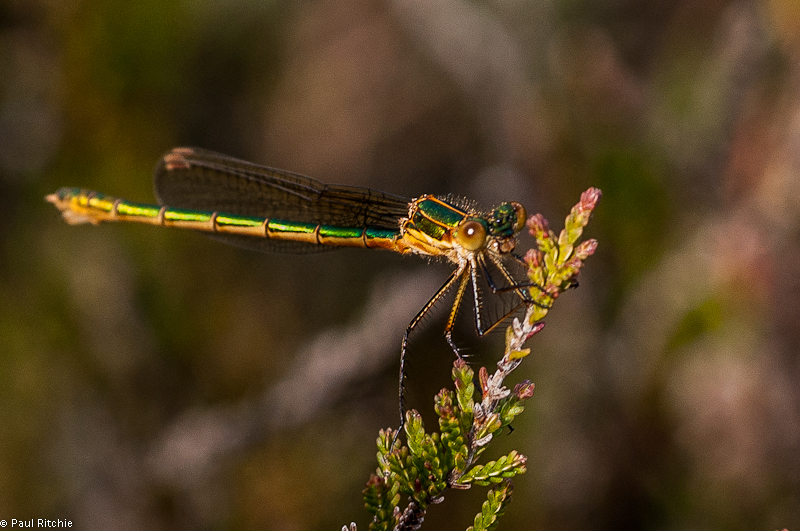 The walk towards the boardwalk was quiet with only the odd damsel or Four-spotted Chaser brightening things up, but a sad reflection on only a couple of weeks ago when there were thousands.
Looking at the options meant another sit down watching the Hobbys was in order, although they kept their distance today.
On Tuesday I scouted another possible Brilliant location – Swinley Forest in East Berkshire, but close enough to the M3 for investigation.
On arrival at the car park/activity centre, my first thoughts were to turn back as this looked to be another urban playground with the added bonus of Go Ape tree climbing. The presence of off-road cyclists were also a put off, however I persevered and headed off in search of Mill Pond.
Classic Brilliant country with limited access and dark, dank tree-lined banks. I had reasonable views of two Emeralds which I'm positive were Downy, the latter being in a better spot with at least some bright areas, but once again the weather wouldn't allow a decent photo opportunity or indeed more activity.
And then I decided to visit Rapley Lake. Because of a series of wrong turns which drove me deeper into the forest, including several switchbacks, it took me 2 hours to find, and only then because I had found it by accident trying to find my way back to the car park!
Exhausted and fed up, I spent an hour at the side of the lake watching FSC's BTS's and one Emerald, by it's flight pattern almost certainly another Downy.
Unfortunately the majority of this hour was taken up conversing on all aspects of life by another lost individual who was either looking for reassurance or company. All I managed was a Four-spotted Chaser for my troubles, but at least it was in-flight for a change.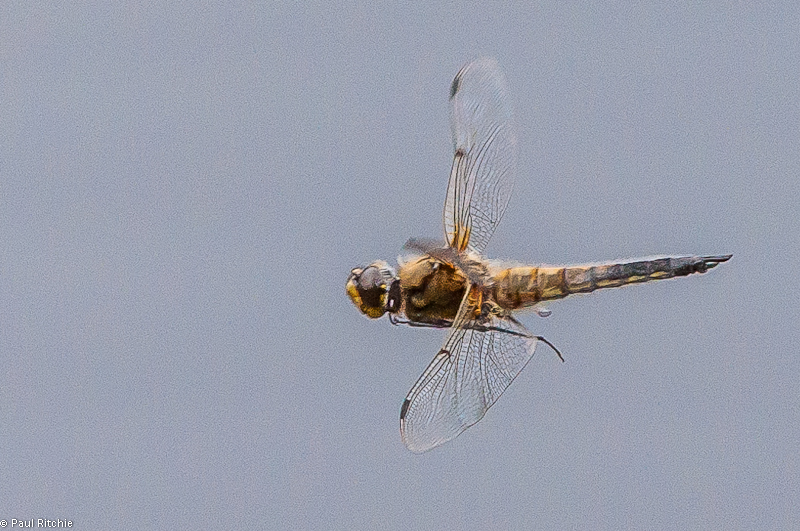 So through sheer exhaustion, and frankly inability to walk, I missed Wednesday and gave another attempt at the Brilliants on Thursday.
Arriving at Puttenhead Moor at just after 10.00am I made my way to 'the spot'. Already there were 4 or 5 'Emeralds' patrolling this…quagmire.
I set the camera and attempted to photograph anything that was flying, which meant ISO 800 which was still too low in this humid gloom.
Knowing I'd return to the spot, I did a quick reccie of the pond just to be sure, but all the action was at this foul, shady inlet with detritus of woodland decay and who knows what else creating a mire which was too treacherous even for me.
I was soon joined by another enthusiast who confirmed with the use of bins that there were indeed both species present, but I still failed to get a shot.
After 3 hours of not getting any other opportunities I went to Thursley Common and spent some time with a Downy on the Moat pond.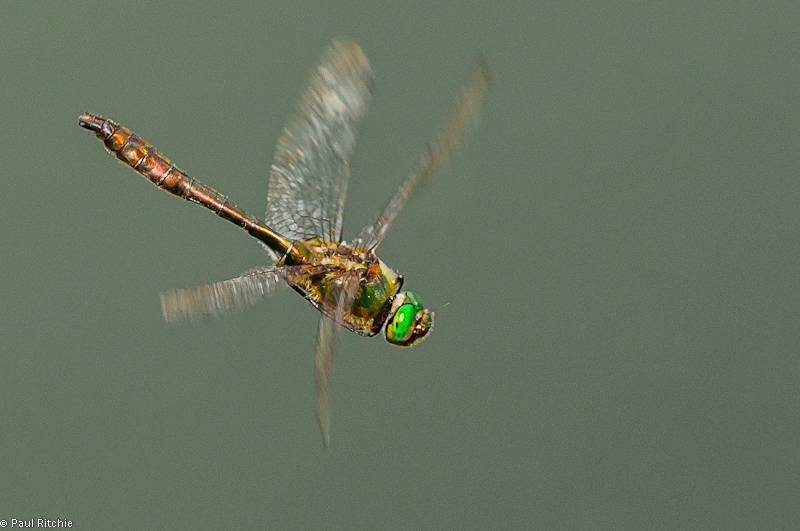 The lighting and surroundings here are better, and I'm hoping the Brilliants will appear here this year to offer some opportunities.
Still cloudy, very breezy but very hot & humid, the boardwalks were mostly empty. Where were the thousands of FSC's seen here just a fortnight ago? The only larger species flying were Black-tailed Skimmers.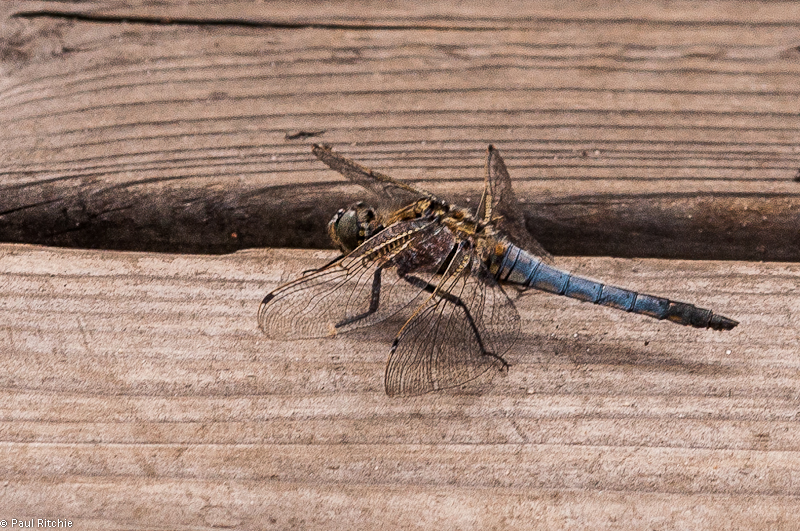 Still suffering exhaustion from Tuesday, I did one quick foray into the heath to flush out a few more Emerald Damselflies and a few teneral Keeled Skimmers.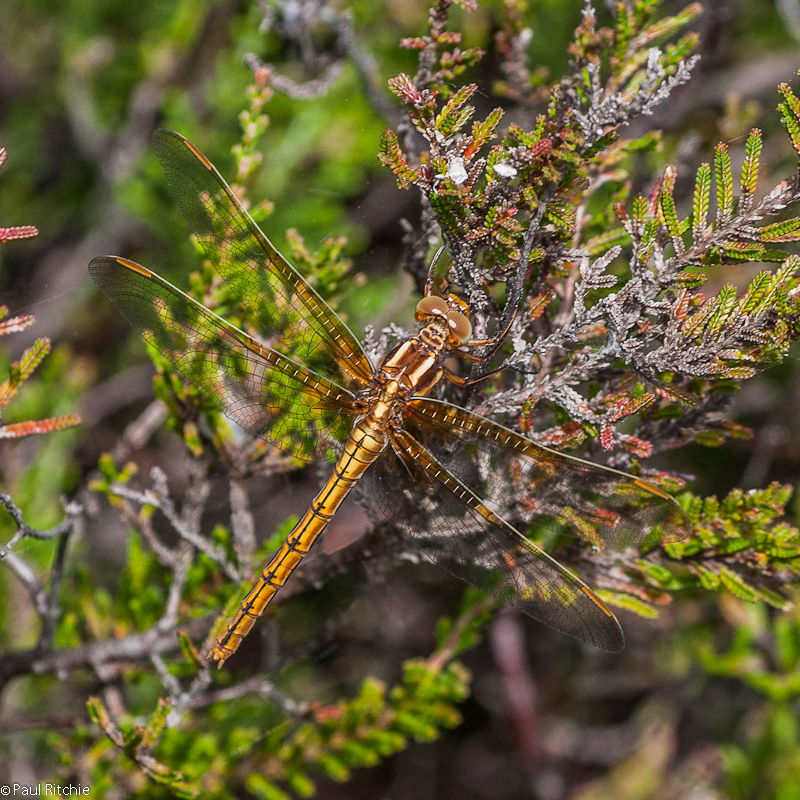 Having to spend time in less-than-favourable spots all week in search of the elussive Brilliant Emerald, I'm anxious to spend time at a couple of favourite spots just drinking in the spectacle and grabbing some in-flighters.
Saturday had sunny spells – quite a few of them. But it also had a strong breeze and several gloomy spells. So we decided on a scout of Eelmoor  on the Basingstoke Canal.
Heading east and just before we reached the flash we spotted our first Emerald, and having had a crash course on them recently I'm certain it was indeed a Brilliant. Unfortunately it was along the opposite bank and didn't venture over our side.
Shortly after we had a male Emperor patrolling his territory, and then nothing big until we walked further on to a small sunny area where we encountered another Emerald, but this time it was definitely a Downy!
And that was almost it for large dragons, until we had a female Broad-bodied Chaser fly by and a male Scarce Chaser settling down for the evening in some brambles.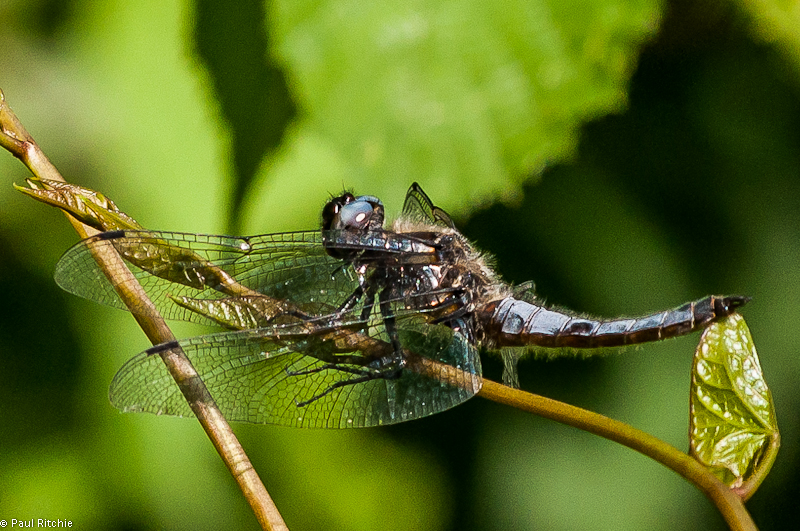 Plenty of Large Red, Azure, Common Blue, Red-eyed and Blue-tailed damselflies to finish the day.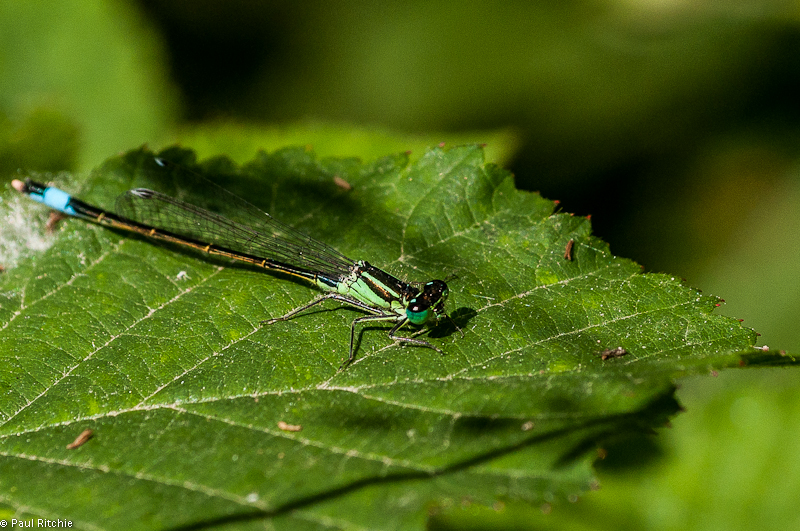 Having ventured a little too far along the path, I at least now know the promising spots, and there aren't a lot of them. Mostly too shadowed by the trees, but those sunny clearings certainly fit the bill.
I will definitely return to this spot as it's more 'photo-friendly' and doesn't irritate my claustrophobia!
Just need that elusive sunny day…