Probably  safe to assume most of us have had to suffer a repeat of unpredictable weather after such a glorious week . So unpredictable that I didn't venture out again until Wednesday 1st August.
A 'brief' visit to Troublefield proved a waste of time. If the perches inside the gate didn't hold anything, then you can almost guarantee the rest of the site is just as barren. A few Azures and Banded Demoiselles were all that showed themselves.
With a possibility of rain I declined open areas and decided on a visit to Blashford Lakes in the hope that I might find a roosting Brown, Southern or Migrant Hawker.
I didn't. Neither did I see any large species flying around the rides..
There were however a reasonable number of Common Blue and Blue-tailed Damselflies, but to be honest rather lousy compared to previous years.. You can normally expect to find swarms of both.
The summer rains had fed the brambles to the extent that the usual hidy-holes are all impossible to access, so I did a circular walk finishing along the shores of Ellingham Pound, one of the only lakes where you can actually access the shoreline, albeit at your own peril on a sloping pebble base.
Familiar with the lake after several hours spent there last season on the trail of the Lesser Emperor, I knew the best places to look.
At the far corner there were no less than 3 female Emperors sharing a short section to oviposit. Provided you stayed reasonably still and non-threatening, they were reasonably accommodating.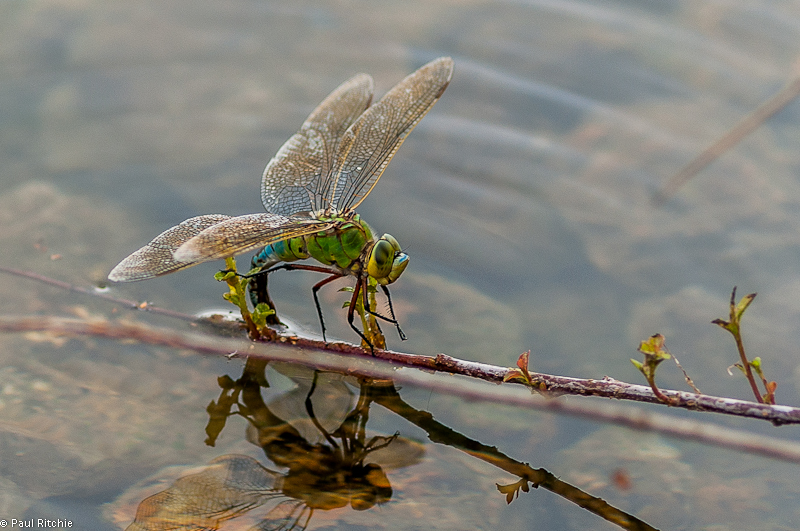 Further around the shore were another pair of females and a patrolling male who attempted a (failed) coupling with one of the busy females.
Besides these welcome sightings on the water were a few Common Blues but not much else, except several teneral Blue-tails rising with every footfall along the path.
Alas that was it as shortly after the heavens opened and put an end to the day.
On Friday I took a scouting trip to Esher Common, long championed by Stephen, and after a recent correspondence with Mike Waite – due for a scout.
My initial impression was just another of those 'urban' nature pockets filled with dog-walkers I feel rather uncomfortable with. However, if it wasn't for the help of one dog-walker I probably would've failed to find Middle Pond, the first one on my list.
I followed the bank as far as I could and didn't see anything of note – too shaded and innaccesable for my liking, but probably ideal for a Brilliant?
I stopped and watched for 15 minutes and, seeing nothing, continued on across the A3 to find Black Pond. This was better – a large pond surrounded on 3 sides by a reeded border.
To the right of the main path I found access to the shoreline, which provided several Common Blue, Red-eyed and Azure Damselflies flying over the water, or flitting through the reeds.
I stayed for a while and witnessed one female Brown Hawker looking for a place to lay her eggs., a Black-tailed Skimmer holding territory over a small island and a very brief passing of an Emerald – but I'm almost sure it was a Downy.
I'll return to this spot later.
I walked along the causeway and noticed on the left a superb boggy area with a few scattered ponds which deserved further exploration, but I was more intent on circling the main pond.
To the right of the main path was a beautiful heath area festooned with heather, with access to the reeds in a few spots if you were prepared to explore.
Only a few Black-tailed Skimmers showed themselves and I continued along the heathland paths, long bereft of people and dogs, until I found the meadow to the south which proved to be a dragonfly-watchers heaven.
I say watchers because every time I attempted to nail a photo my subject would rise and fly beyond my reach. Mostly Brown Hawkers.
The prize for me though was my first Ruddy Darter of the year.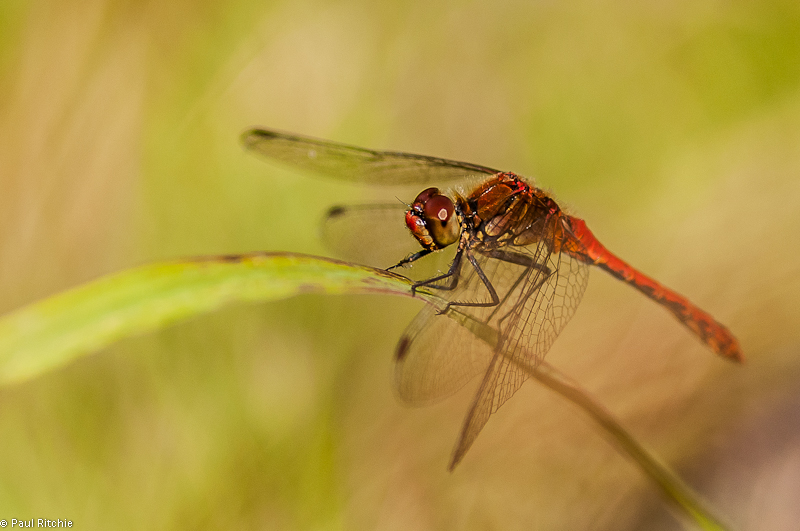 To the south of the pond is an area of heath which serves as a feeding and roosting ground, and I had at least another half dozen Brown Hawkers rise from the foliage.
Walking back via Middle Pond, I did see one Brown Hawker along the furthest bank. Better though was a Southern Hawker patrolling the cul-de-sac near the car park, until he disappeared out of site in the trees.
I did call in briefly to Thursley on the way back, but it was getting rather late. A Downy over the pond, some Common Blue & Emerald Damselflies and aven fewer Black-tailed & Keeled Skimmers along the boardwalk.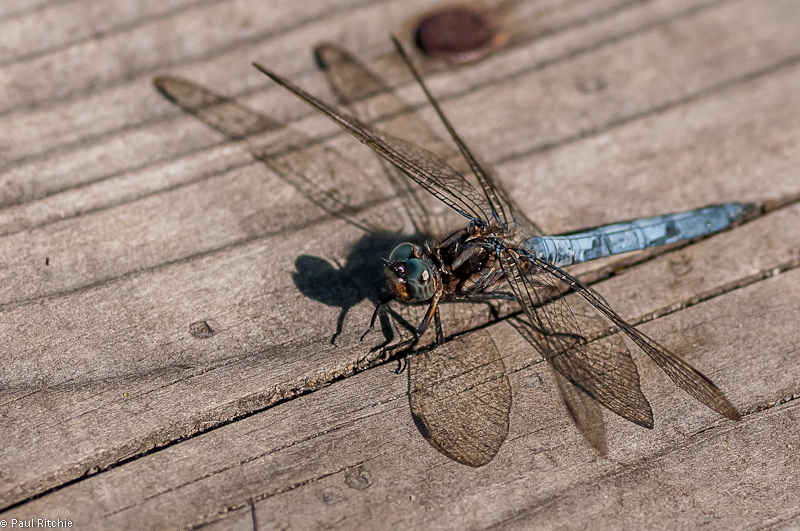 I shouldn't forget the half-a-dozen or so Brown Hawkers disturbed along Hawker Alley. To me it appears to be a bumper year for this species, but they still don't get any easier to pin down!
Despite strong gusts of wind, Sunday was reasonably pleasant with some rather pleasant sunny spells. A chance then for a look at Pennington where we were guaranteed some peace from the tourists.
Over the pond, Red-eyed,Small Red-eyed, Blue-tailed and Azure Damselflies were present in reasonable numbers.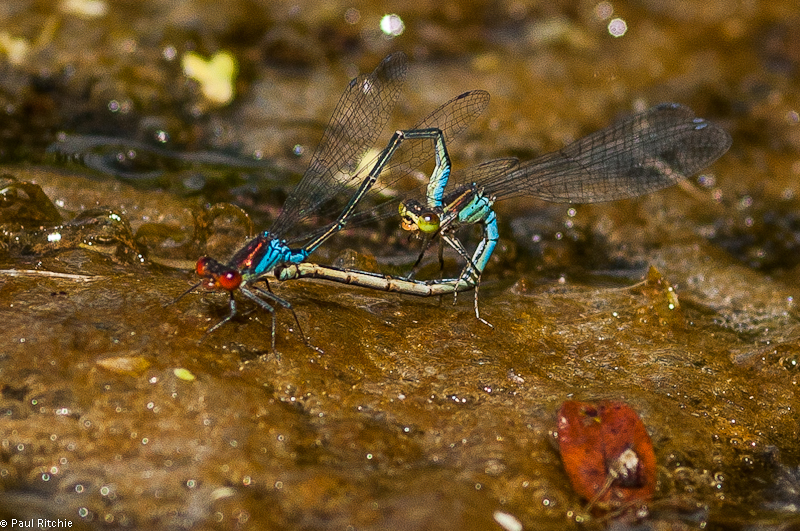 Three or four male Emperors were joined by a female at one point, and there were several ariel clashes – this male looking somewhat worse for wear.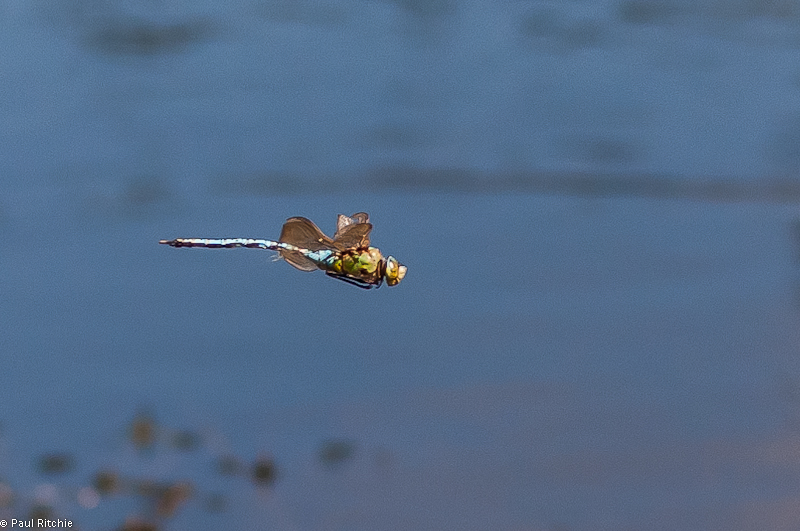 The only other larger species were a few Common Darters.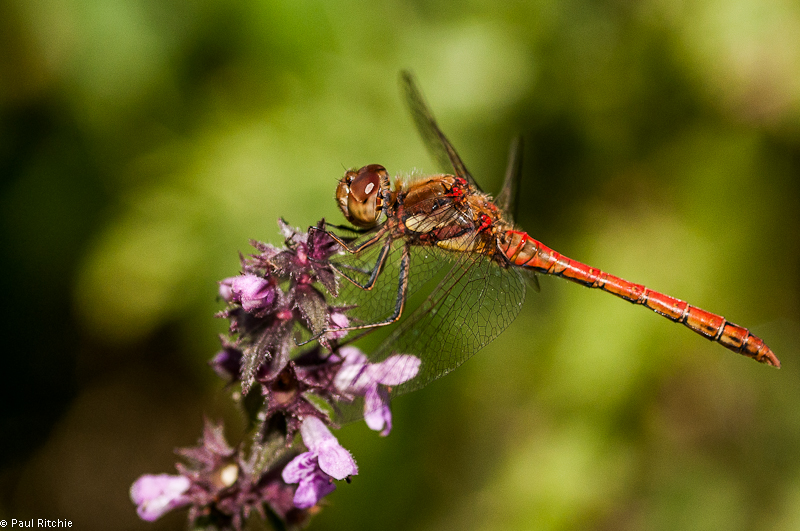 Over on the river we had Banded & Beautiful Demoiselles and more Common Darters, but not much else.
Over to the 2 smaller ponds where we had better success. Black-tailed Skimmers joined the Emperors over the water, while in the reeds and meadow were several Common Darters.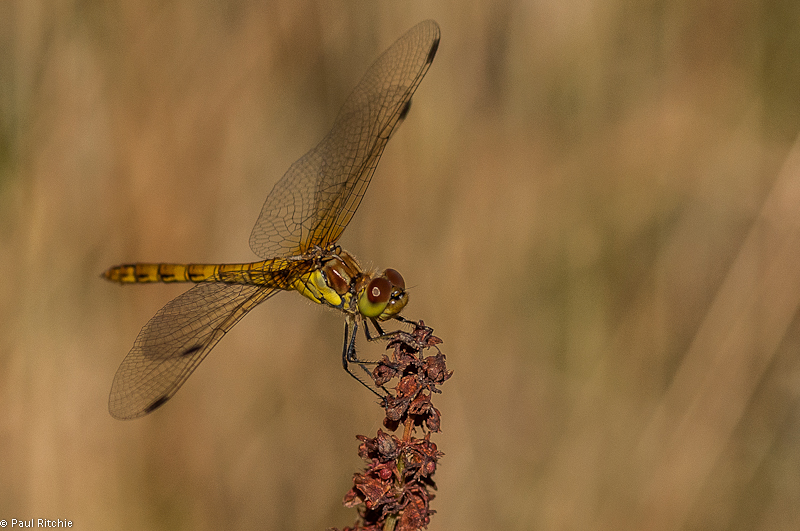 Damsels were well represented by hundreds of Blue-tailed – always prolific at this site.
Besides disturbing a vixen with 3 cubs hiding out in the grass, my best find was an immature male Migrant Hawker – the first I have managed to photograph this year.