The fleeting glimpse of a teneral flying over Rushbush Pond yesterday fed my hunch. It was going to be another glorious day with warming sunshine and little cloud, just the occasional stiff and biting breeze blowing in from the north-west – and tomorrow's even better! What better opportunity for the Large Reds to emerge.
The one place I didn't visit yesterday was my favourite pond; partly because it's usually a week behind Broomy, but more because it was getting late in the day. Today however it was the first stop – and it didn't disappoint!
The ground is still pretty much saturated, but it is showing signs of drying out. The wind direction was a bonus – any tenerals were going to be blown towards the gorse thicket rather than towards the scrub leading up the hill.
No sooner than I arrived at just before 1.00pm I saw the first teneral fly out across the pond from under the bank towards the thicket, closely followed by two more.
After negotiating the muddy bridge, I searched the South shore and island for more signs and found this rather colourful individual clinging onto an emerging stem.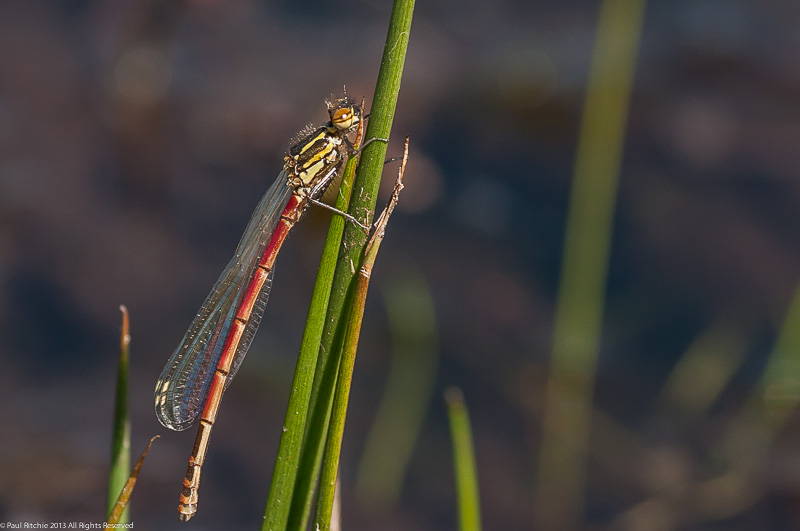 A thorough search of the gorse thicket revealed a few more well-coloured individuals and several fresh tenerals. I should imagine the numbers will be a great deal higher tomorrow!
I took the short trip to Bentley Wood afterwards – mainly to look for butterflies, but to also check out the ponds. I'm pleased to say they've done a great deal of work over the winter, with several areas now cleared to provide more insect-friendly habitat.
The past two years have been disappointing at the ponds, excepting the emerging Southern Hawkers later in the season. The sheltered position should've shown signs of Large Reds, especially considering it is only 8.75 miles as the damsel flies. But it wasn't to be.
Surprisingly the small pond with the bench seemed a little dry? There was a constant babbling indicating outflow. Maybe an accumulation of debris? Both ponds are certainly due for some attention, but having seen the promising work already during my stroll I'm cautiously confident they can attend to both ponds and bring them back to a better life.
Other (LR) sightings have been recorded in Kent, Berkshire, Devon and Dorset as I post…