This season I've made an effort to update the blog frequently in bite-size chunks rather than doing a weekly round-up. I'm taking a similar approach in the field; trying not to cram too much into a day and being economical with travel.
I'd already had a plan to visit a couple of local sites on Sunday until Doug's invitation suggested an alternative, so with the promise of sunshine, at least until late afternoon, I headed over to Swanwick Nature Reserve – only three miles from me and a site I failed to visit at all last season.
My main reason for a visit was to re-familiar myself with the location, using the knowledge I've gained since my last visit to re-appraise its lakes and meadows and the resident dragonfly fauna. Remembering this was a prime spot for Blue-tailed Damselflies I had hoped to engage myself photographing a selection of the various female colour forms, and knowing the Downy Emerald was resident sealed the deal – although finding the latter in the confusion of woodland paths would rely more on luck than judgement.
I quick glance at the centre lake confirmed there was nothing large flying, so I inspected the small reeded dipping pond for signs of emergence. Several spent Large Red and Azure exuvia adorned the reeds and a few tenerals were sheltering from the breeze.
Back to the main pond, I noticed they have built viewing platform along the western shore. This is incredibly helpful as access to the shore is mostly difficult. I checked all edges for signs of emergence knowing that the Downy isn't fussy about using man-made structures as a means to emerge. Not to be, although the pontoon made it much easier to observe the damsels congregating along the shore.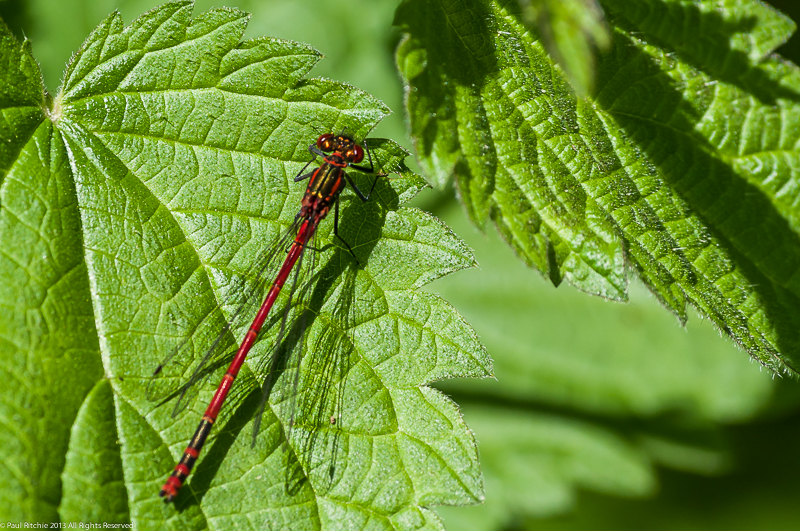 Onto the fishing lake where nearly every shoreline access point was occupied by anglers eager to end their weekend in their solitary pursuit. The usual spot for damsels was the small, open area of meadow along the southern shore. Not today though, just a few found along the edges of creeks. Even the reed-filled pontoon was devoid of Odo activity.
The adventurous (and familiar) visitor can take the narrow, muddy paths along the shores of connecting lakes to the northern meadows; usually alive with invertebrates, although pickings were slim until I reached a small area of shelter close to the meadow pond (more of a puddle) where there were very few Blue-tailed but reasonable numbers of Large Red and Azures.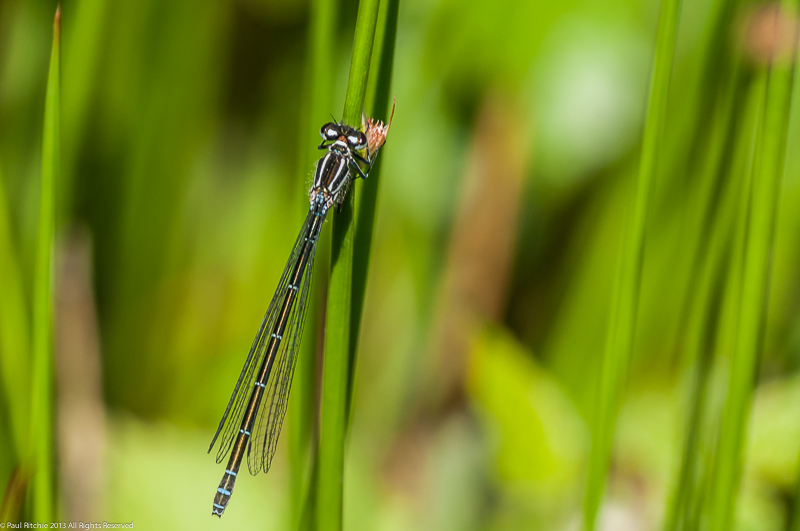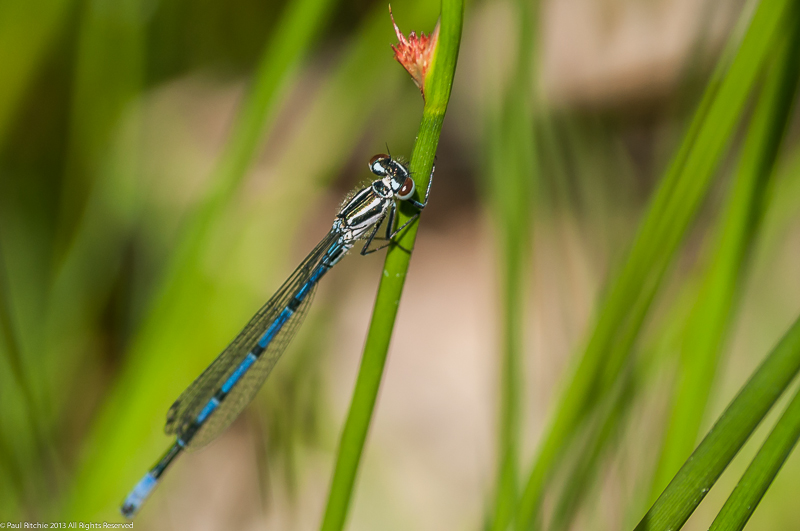 The path along eastern shore of the farthest lake was closed off; probably due to subsidence – it does suffer somewhat after heavy rain, and the precipitation we've had in the past few months has probably taken its toll. Back then through the meadows along the main path with more isolated patches of damsel activity.
Leaving the woodland path by the gate I was greeted by a Downy Emerald patrolling a small section of scrub bordering the path. I froze and watched as he flew back & forth, fully expecting him to fly off over the trees (they usually do) before perching in amongst the bramble.
My left hand signalled an oncoming dog walker to 'stay' while my right slowly raised the camera to fire a couple off before he rose and disappeared out of sight. Unexpected and gratefully appreciated.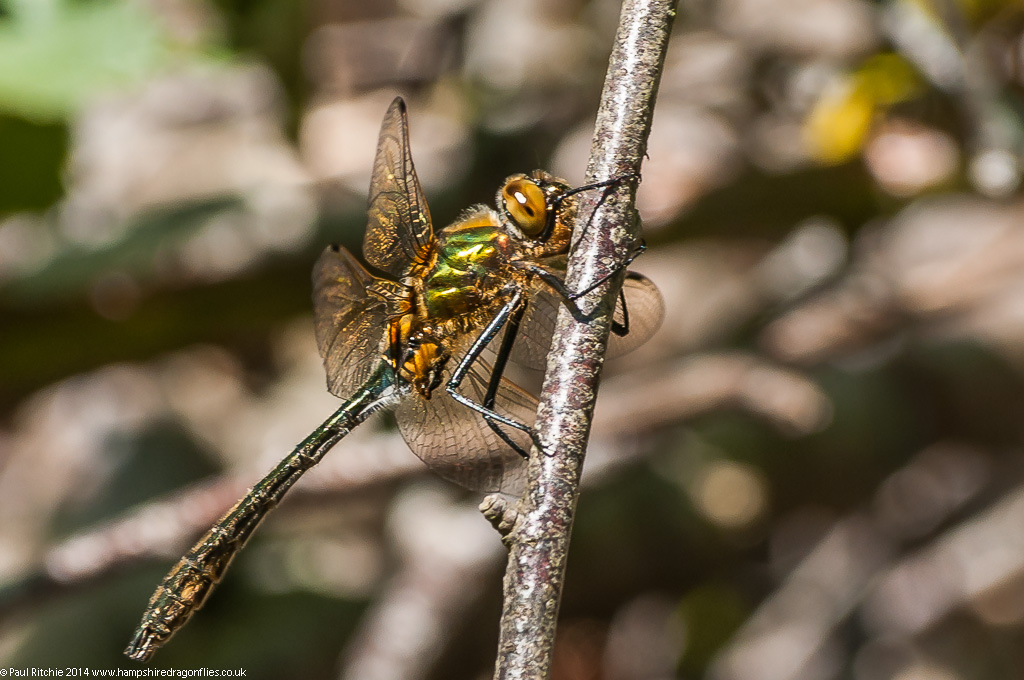 I'd have been quite prepared to go home satisfied after this encounter, but the day was still young, so after rechecking the centre lake and pond where more damsels were awakening to activity. Walking along the southern shore I noticed a fresh, teneral damsel flutter across my path to land in the grass briefly before letting the wind take him over the trees.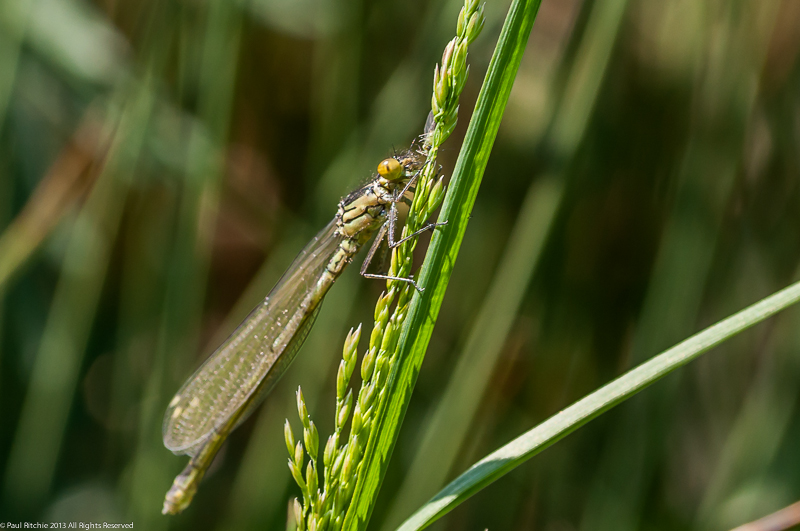 Another highlight then, being my first encounter with a Red-eyed this season.
Onto Durley Mill where I intended to visit a small, hidden pond situated in the woods on private land. Access to this pond was always fraught with a little adventure by navigation alone, let alone the chance of bumping into the land owner! Last year any hope of exploration was blocked by extensive tree-felling and coppicing, and last time I looked they'd blocked off the only access point with an impromptu fence. This time I found a way through and forced myself through challenging bramble growth before navigating a couple of barbed wire fences and more woodland. My reward was a few more damsels..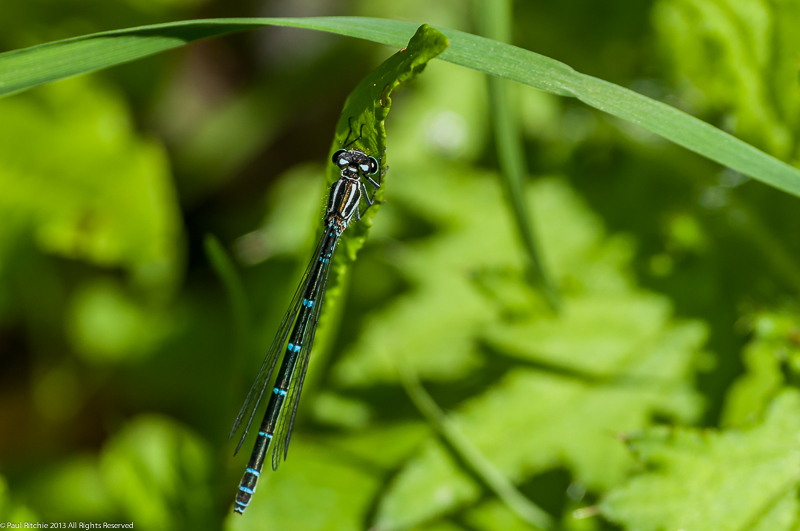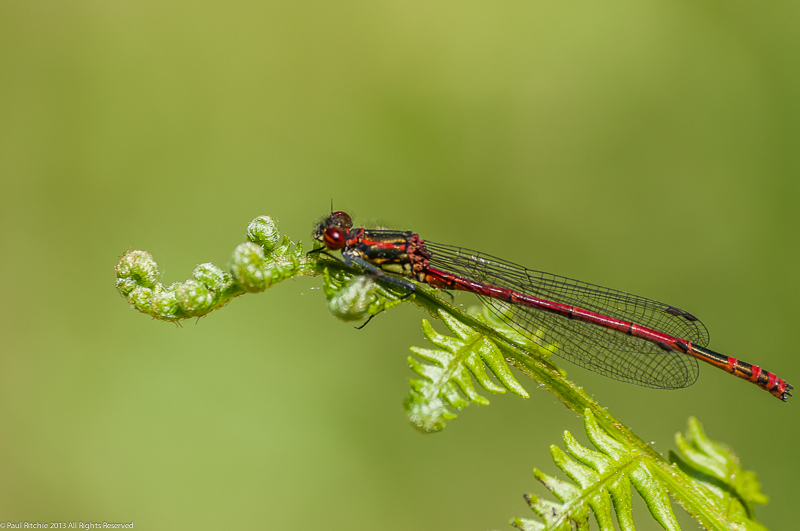 Back to the path for some more Beautifuls – dozens rising from the nettle and wild garlic adorning this wonderful steep valley; the majority flying out of reach.
My next scheduled stop was 'the pond' and on arrival I'd almost regretted my decision as a strong south-westerly blew away the foliage about my person I'd collected earlier. But I was here now, and a little wind wasn't going to stop the Chasers enjoying themselves. Several Broad-bodied and Four-spotted were patrolling, occasionally meeting in friendly tussles until a female BBC arrived and all hell broke loose! The victor carried her off across the bushes and I knew it would've been futile to give chase knowing that their coupling would be brief.
I did a round of the pond and noticed the wing reflection of a recently-emerged Broad-bodied Chaser deep down in the gorse close to shore.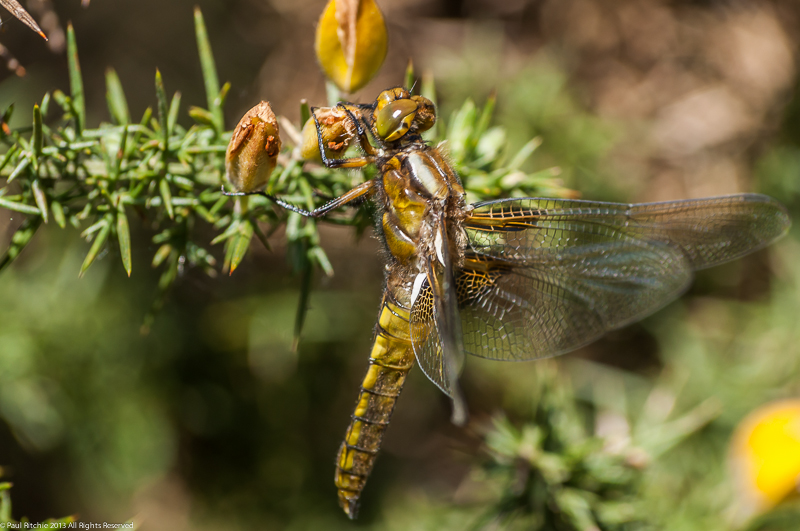 I made a mental note to search this bush thoroughly in the future as its close proximity to shore may reveal more emerging wonders.
After this discovery I did the obligatory search of the gorse thicket before sitting on the south bank content to just sit and watch the aerial acrobatics of the Chasers.
A fine end to a productive weekend.