A fabulous Saturday afternoon at the pond. No walking miles over uneven ground hoping to flush out a prize; just a mellow, sunny afternoon watching the aerial acrobatics of Chasers and Downy Emeralds. Heaven! A perfect opportunity then for practising the in-flighters.
Chasers are one of the more difficult species to capture in flight. Fast and unpredictable – way too fast for the camera's auto-focus to cope with – even in 3D tracking mode. I knew the only way I'd get any results were to switch to manual focus; a method I don't normally use with the 70-300. It took a while to get used to, and when it worked I appreciated the extra reach.
But those Chasers! The first one I managed was a female Four-spotted while she was in the process of ovipositing.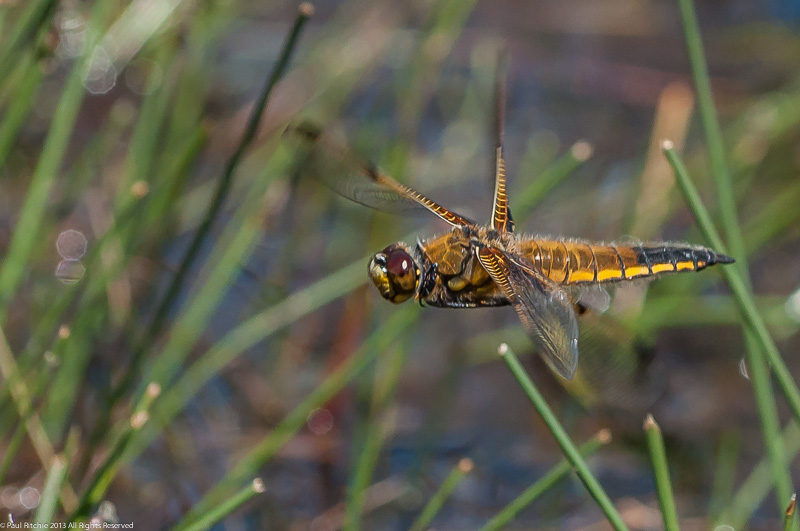 Now those Broad-bodied. Best chance I had was a female ovipositing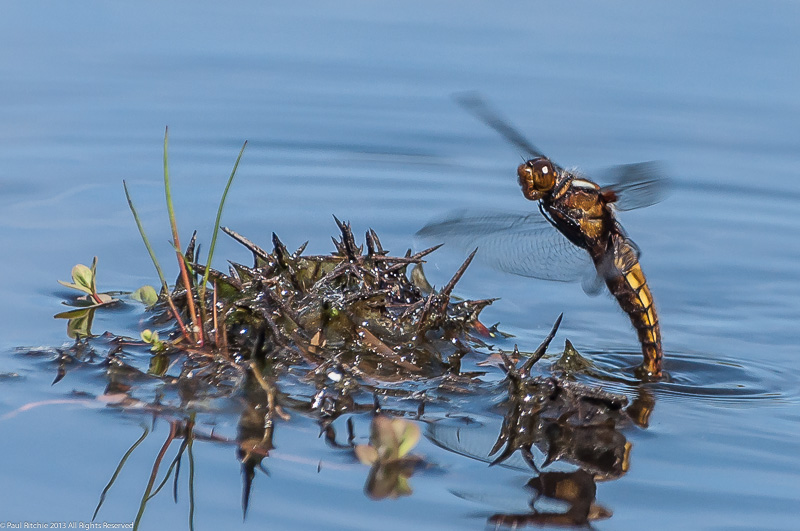 While this was going on, there were several pairings. Useless to jump up and chase after the opportunity because as soon as they couple they take a meandering flight devoid of any apparent planning. They remain locked together for around 15 seconds or so, so any attempt at capturing a mating pair has to be quick and, above all, lucky.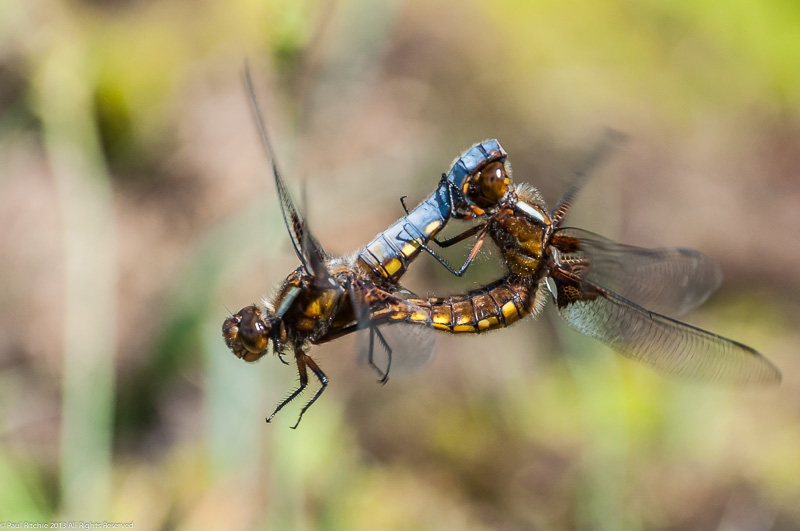 These shenanigans with the Chasers came to abrupt halt when we spotted a Downy Emerald skirting the island. Knowing their preferred territory, I hopped across the pond and sat and the shore with my feet in the water, watching, waiting and hoping one of the two males sharing this patrol would offer a chance.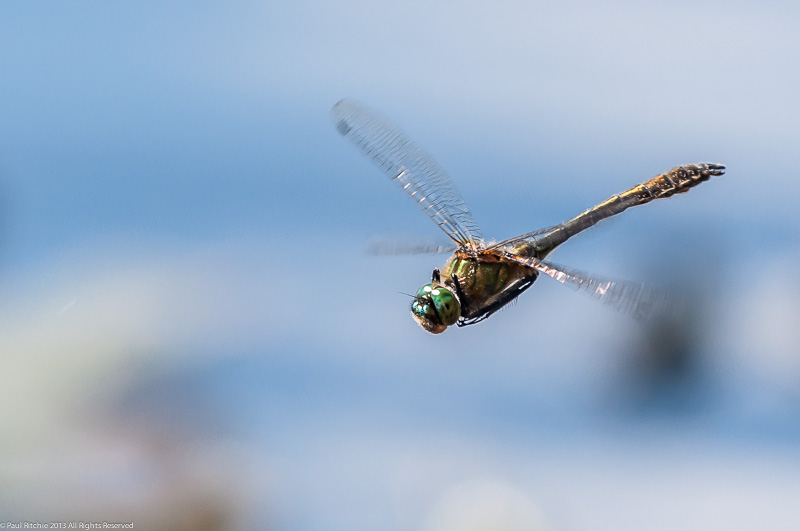 Time and again they would fly over the water with their rear end to the sun, returning by tracing a circle around the bush and behind us to start the circuit again Luckily they did give a chance of a perched shot.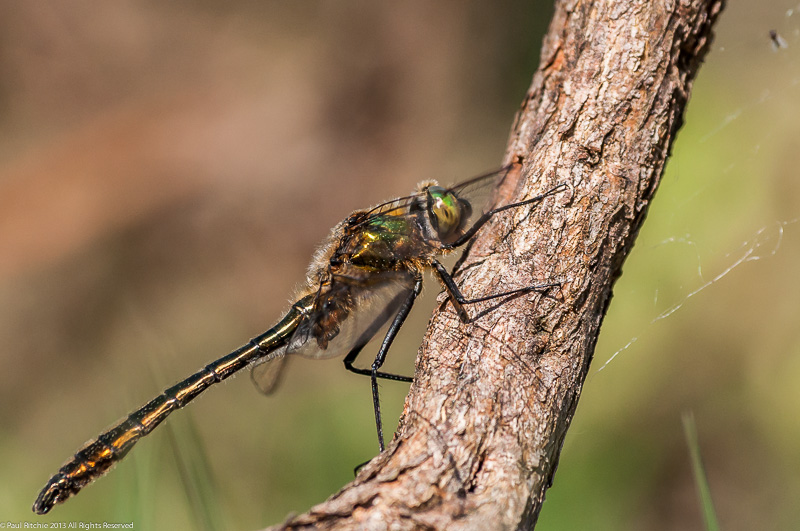 By 4.00pm things were starting to wind down, probably due to exhaustion more than conditions
Towards the end of our stay we noticed some action within the reeded island margin. A female Downy had come to oviposit, the first time I've seen this and probably the first time I can remember seeing a female on her own. She weaved in and out of the reeds mostly in shadow, making it very difficult to get a shot.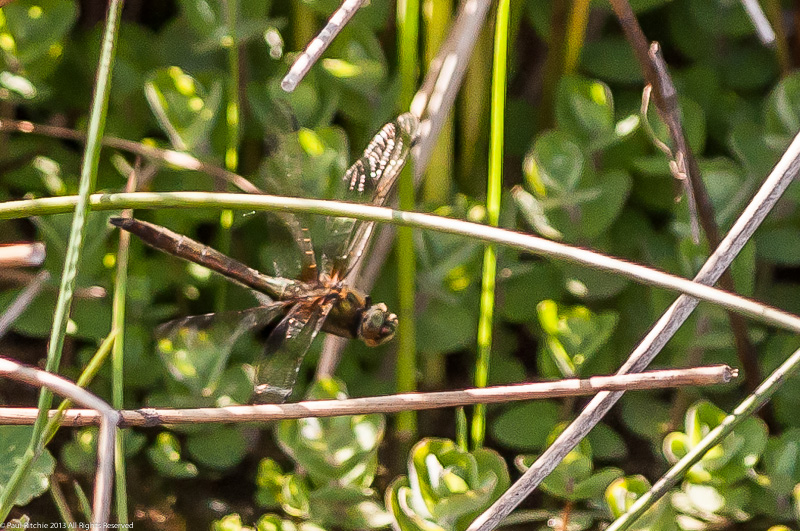 We returned Sunday, but the Downy's were still proving difficult.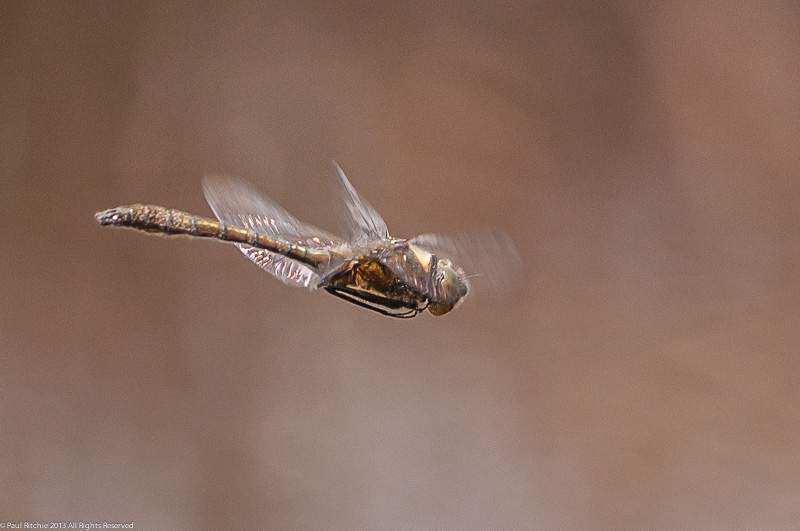 While I was attempting and failing to grab some more shots, the unmistakeable sound of coupling turned my head just in time to notice a pair of Four-spotted Chasers were heading in my direction locked in the wheel position. FSC's are even quicker on the job than BBC's – about 5-10 seconds before they separated. Just before they parted they almost flew up the barrel of the lens. Far too close to get them all in frame, but I'm happy with this.