Priddy Mineries
Saturday 27th July
For three years we've been meaning to visit Priddy Mineries – specifically Waldgrave Pool – in Somerset, primarily for the strong populations of Moorland (Common) Hawker. On Saturday Doug, Sue and I finally got our chance.
Constant longing through the experiences of friends (mainly Jerry and Mike from the UK Dragonflies forum) and study of Google maps hadn't really prepared us for the treat in store.
Our impression of a reclaimed industrial landscape didn't at first appear to offer a particularly tranquil experience, despite it being an SSSI, but how wrong can first impressions be? An anomaly in the limestone terrain of the Mendip Hills turned out to be an unexpected paradise.
Unfortunately neither Jerry or Mike couldn't provide a guided tour on this Saturday due to other commitments, so we had to make our own discoveries without the benefit of local knowledge, but it wasn't long before we found the prizes this fantastic site had to offer.
I had expected the causeway to be a concrete structure bordering a reservoir with little access to explore much of the shoreline, but this proved to be far from the truth as we headed for the western edge where are target were seen in an abundance we'd never experienced before – including the fabulous Gower Peninsular in South Wales.
At least five males were patrolling the bare and shallow boggy area, weaving in and out of the reeded scrub along the shoreline seemingly not bothered by the lack of water, constantly dipping into the peat and rarely rising above a few feet from the surface.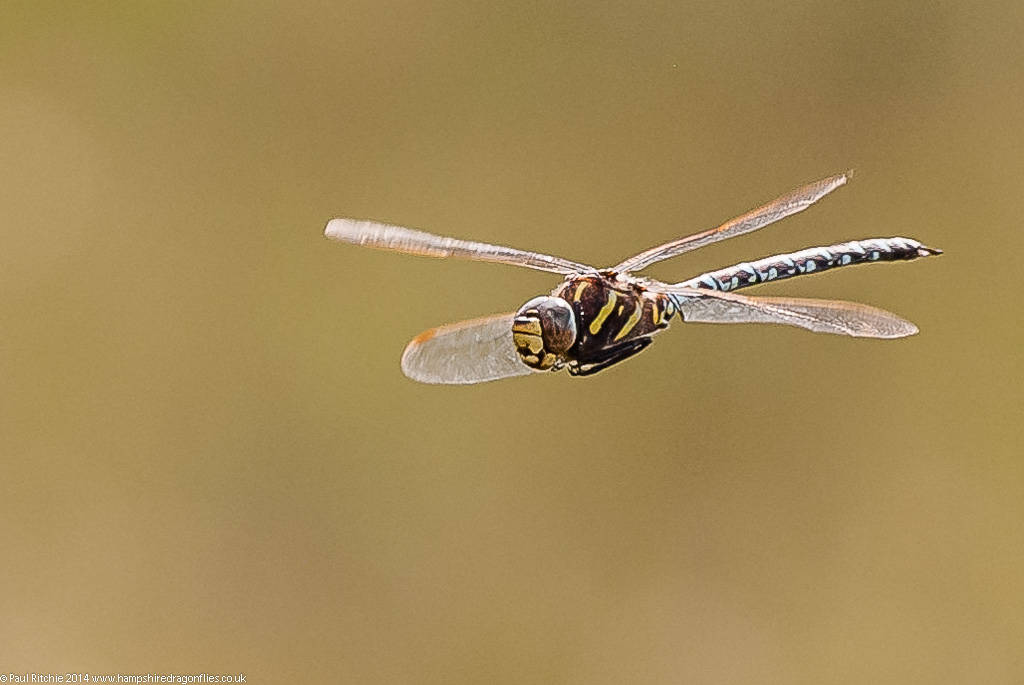 The first thing which strikes you about this magnificent hawker is its inquisitive nature; very much like its cousin, the Southern. Constantly flying close in and circling , making it a challenge to get an in-flighter with a long focal length. On several occasions I considered switching to macro.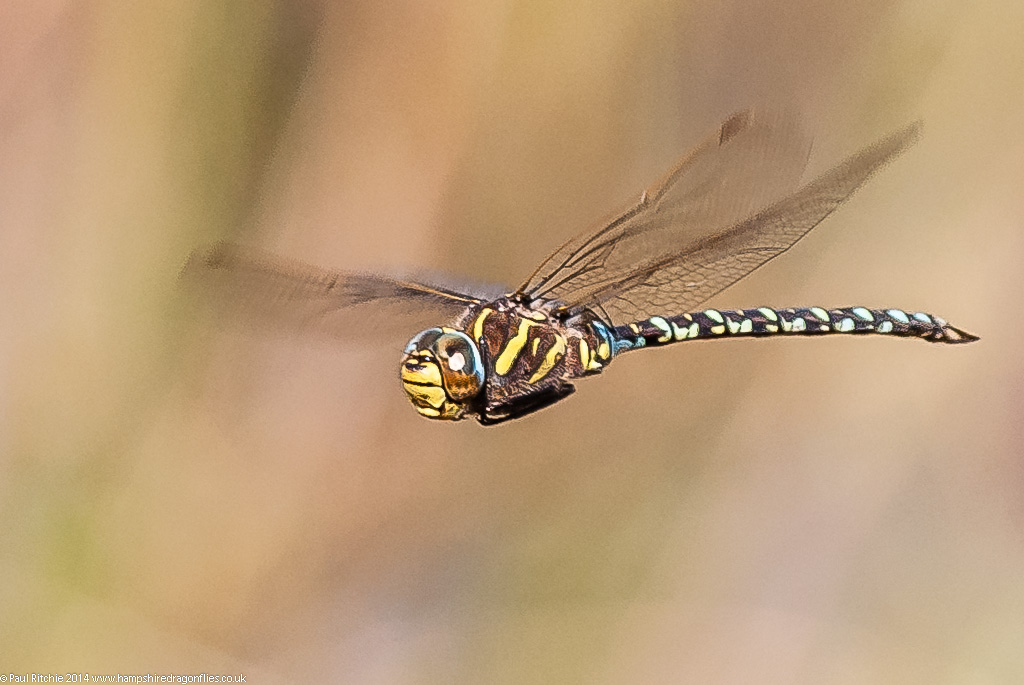 The second thing, and somewhat surprising, was the sociability of the species; several males able to tolerate each other and share space with little or no aggression towards each other. This made for a very fine display; one of the best dragonfly displays I've seen.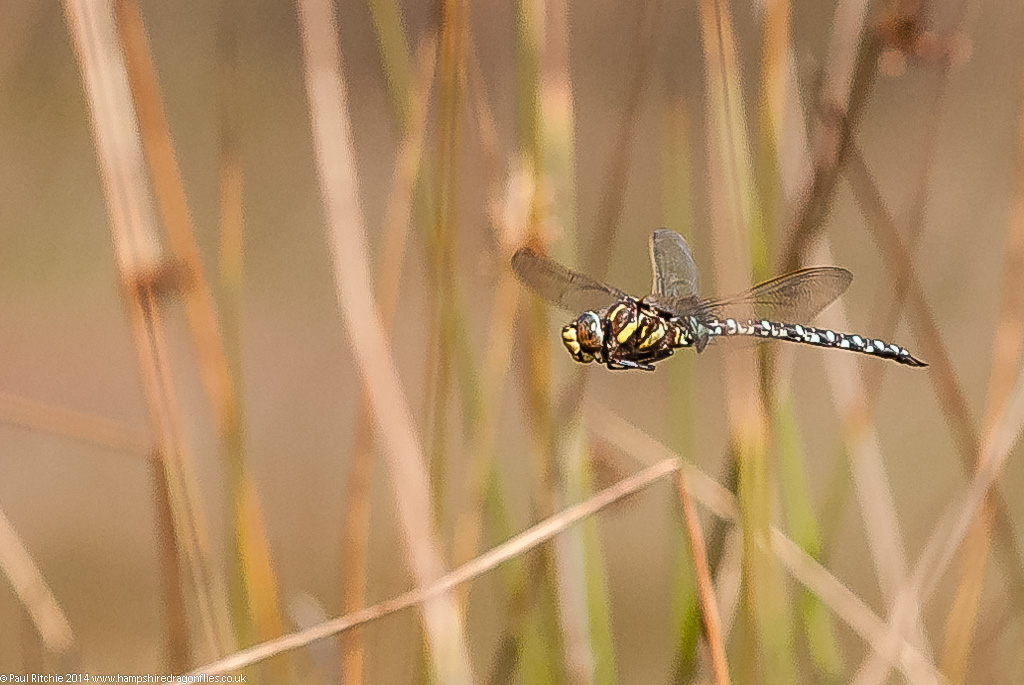 We also had three females fly in to oviposit, one in the bare brown boggy surface. The only gripe we had were the sight of several pairings rising from the pool and disappearing up the hill at a distance to far to follow, and the seemingly endless flight of the males not once offering the chance of a perched opportunity – yet.
Among the other species present were good numbers of Black Darters, Common Blue and Emerald Damselflies, a few Emperors and a couple of Brown Hawkers, one of which surprisingly took out one of the male Emperors, dunking it in the water with such violence that we thought he was finished.
Defeated and exhausted he managed to rise from the surface and retreat to a nearby perch to catch his breath before returning to his own patrol some distance away.
A good five hours was spent at this fabulous pool, and when the action began to slow down at 5.00pm we reluctantly made our way back to the car, and then I noticed one rise from the pool to land a short distance away head-height in a tree.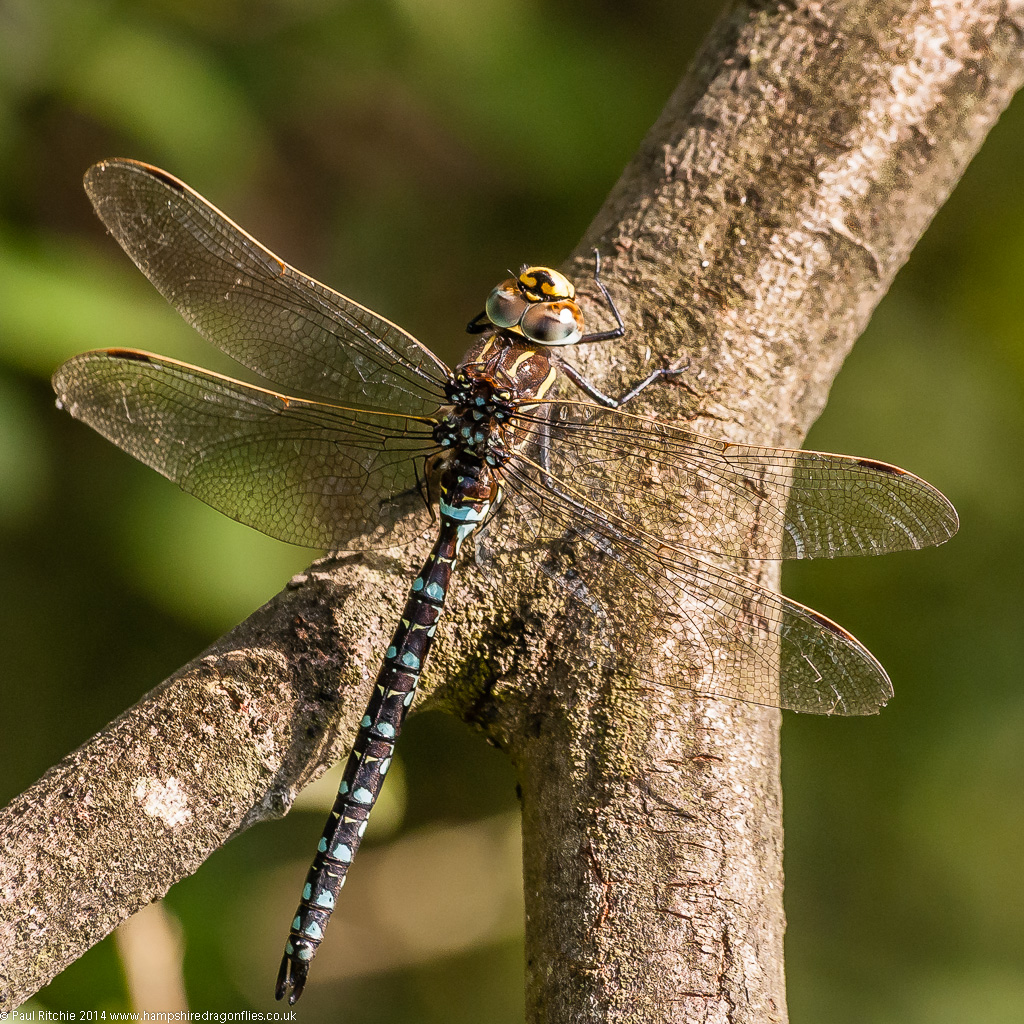 He even allowed us to get in closer for a different angle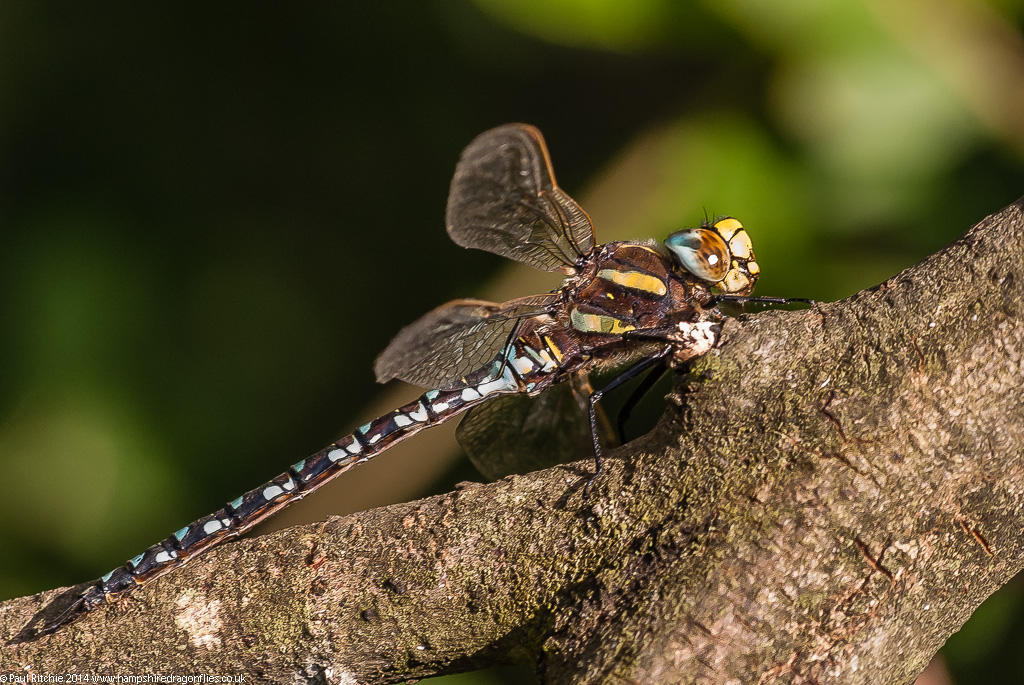 What a fabulous end to a fantastic day. We will return…