With the onset of more familiar weather, and what appears to be a lull in proceedings with many favourite ponds dry, I'm having to consider my options.
As August is prime hawker time I decided to set myself a little challenge on Tuesday – to attempt to get photographs of all four late summer hawkers on my own patch in one day. This was a big ask, but achievable – even if it meant some were in-flighters.
In the case of the Brown and Moorland, this may have been my only option – provided of course I could find them all in one day. The Migrant and Southern should've been the easier of the four, although the latter proved surprisingly hard to pin down.
I started at Christchurch Common, a favourite location of mine where potentially I could bag all four species. It didn't take me long to find the Migrant, as I had two warming up on the gorse along one of the tracks.
And then, totally unexpected, what I at first thought was another Migrant turned out to be a most welcome sight indeed.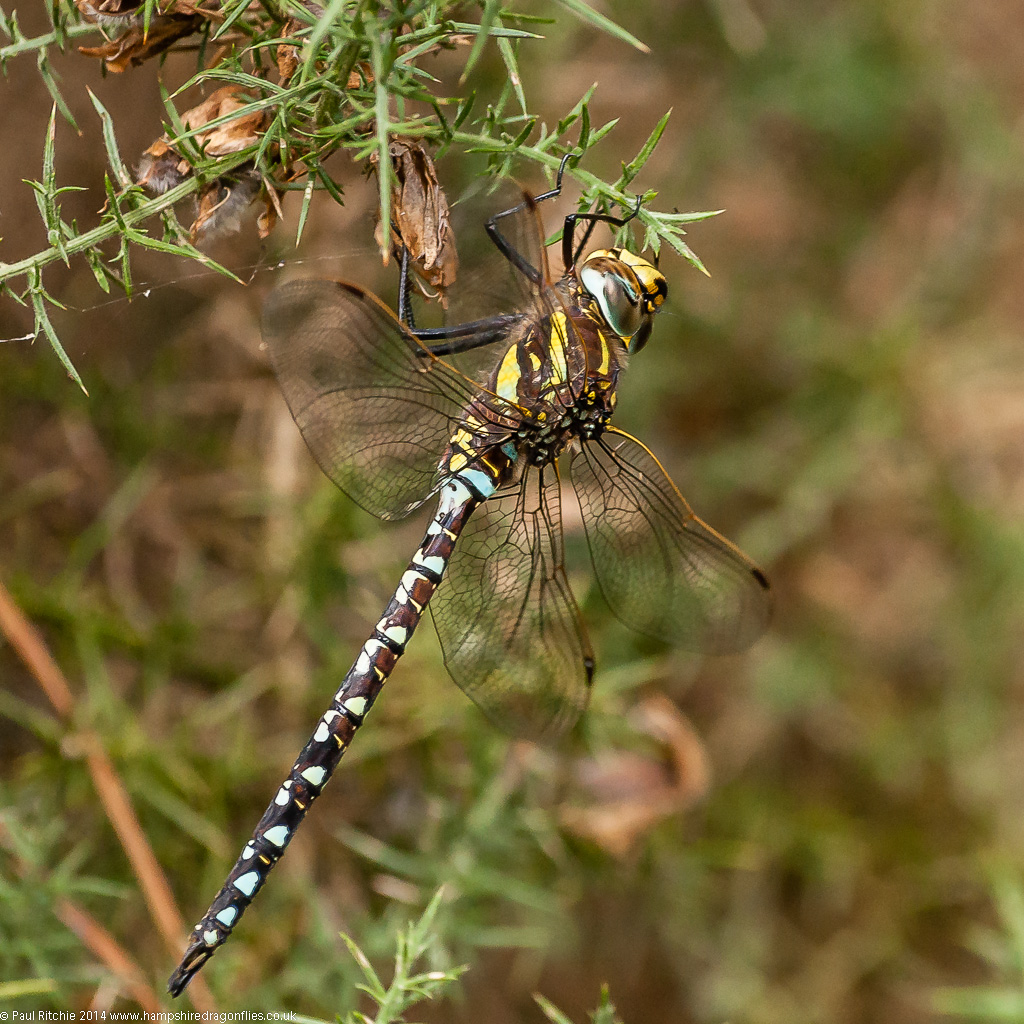 What an unbelievable start! Here, teasing me while warming up his wings for a first flight, was the Moorland Hawker. Perched! The challenge was on.
This stroke of good fortune spurred me on, along the full length of the old railway track where I hoped I'd at least find a Southern, but it wasn't to be. Neither did I see any more Migrants, but I did spot a Brown disappearing at my approach.
As per usual this was going to be the real bugbear I would face, having spent the past few weeks unsuccessfully trying to pin one down at Blashford, where at least there are good numbers.
However for the time being I continued my walk around Christchurch Common, filling time with a few Black Darters and Emerald Damselflies, in lower numbers than recently, but this could've been down to the unfavourable conditions. A stiff breeze and the odd shower curtailing most activity on the water.
Of some interest was the constant hovering of a police helicopter overhead. Having seen the main Bournemouth road come to a standstill, I presumed there was a major accident, but an unexpected meeting with an out of place bobby across the road at Ramsdown confirmed the reason was a 'psychotic cow' on the carriageway!
Still, an interesting interlude brought to a conclusion after three hours with the offending animal caught and returned to pasture. It certainly brightened up an unsuccessful foray around Ramsdown.
Next stop Troublefield, where surely I'd find the Southern? Nope. Not even one patrolling the ditch at the far end. Only a lone Migrant hawking the meadow, and no sign of the expected swarms I've happily seen in previous years.
On then to Blashford, beginning at the back track behind Ivy Lake where I've recently found a few Brown hawking. Just the one, and he didn't stay around.
By the time I reached the hut clearing it was 3.00pm, and I was fast running out of time. My energy levels were surprisingly still high, despite nearly five unproductive hours. Still hungry, I tiptoed along the bramble looking for a tell-tale spot of blue, and there in front of me, bold as brass, was my target.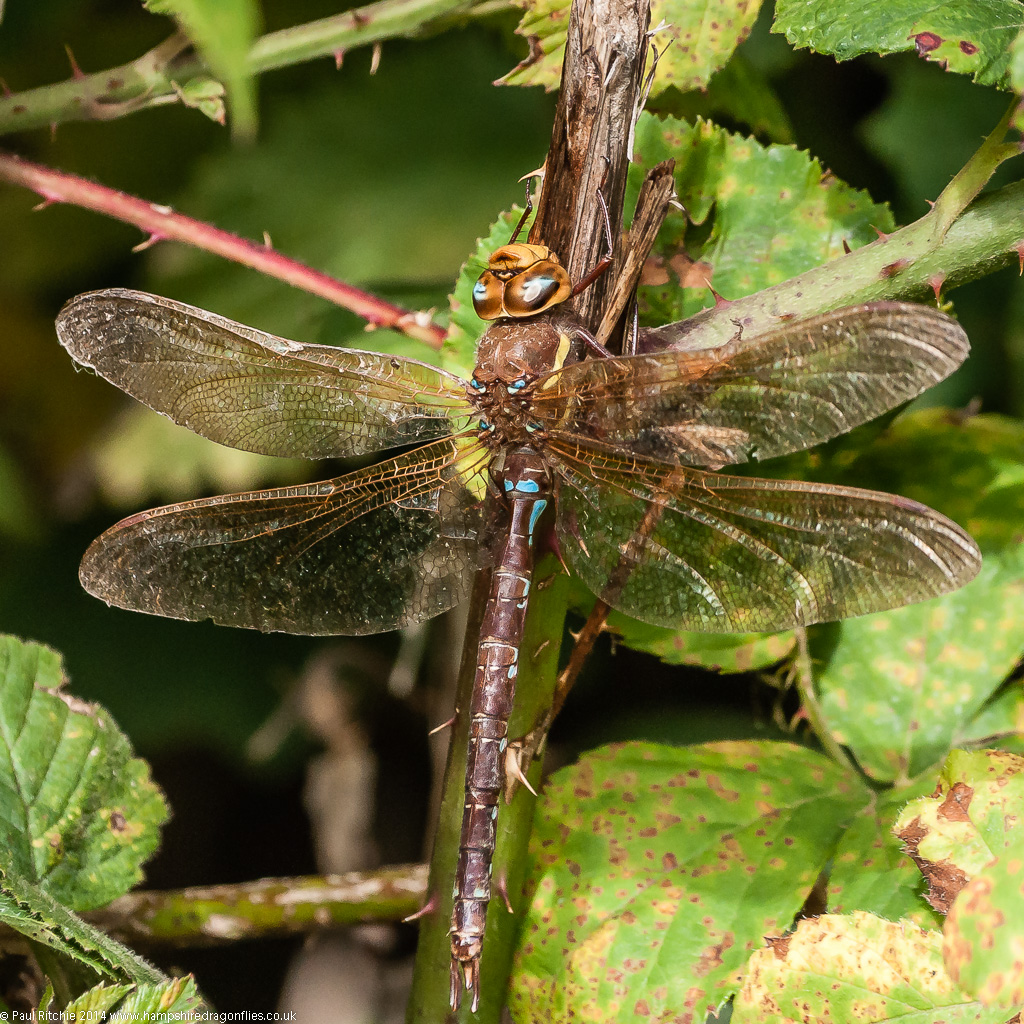 I couldn't believe my luck! He hadn't seen me! Had I found the first blind male Brown Hawker? Seems he was apparently day-dreaming, or whatever the insect equivalent is, as he continued to stay put long enough to rattle off a couple of shots and only noticed me when I attempted to change position.
Instead of immediately flying off into the heavens, he 'flipped over' and landed behind a lower leaf staring straight at me, obviously surprised (and maybe a little embarrassed) he hadn't spotted me earlier.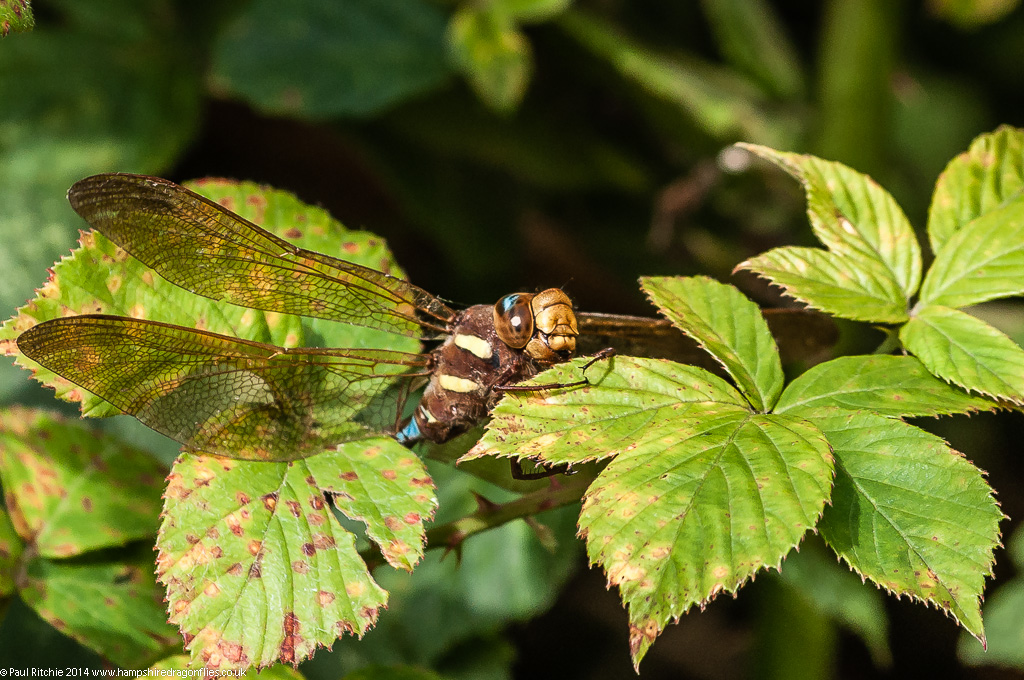 Once he caught his breath and composed himself as best he could in this position, he freed himself and disappeared well out of sight as per normal.
Three down and one to go, and with an extra spring in my step I continued on, doing the full circuit in search of the surprisingly elusive Southern. After circling Ellingham Pound and returning up the middle track, I almost admitted defeat.
Almost…
I still had enough time to try across the road, searching in vain along the track towards the first hide before back-tracking and doing the full circuit around the furthest reaches.
As I headed back to the car, defeated but still elated at getting three out of four, I caught sight of a hawker a few metres before the gate.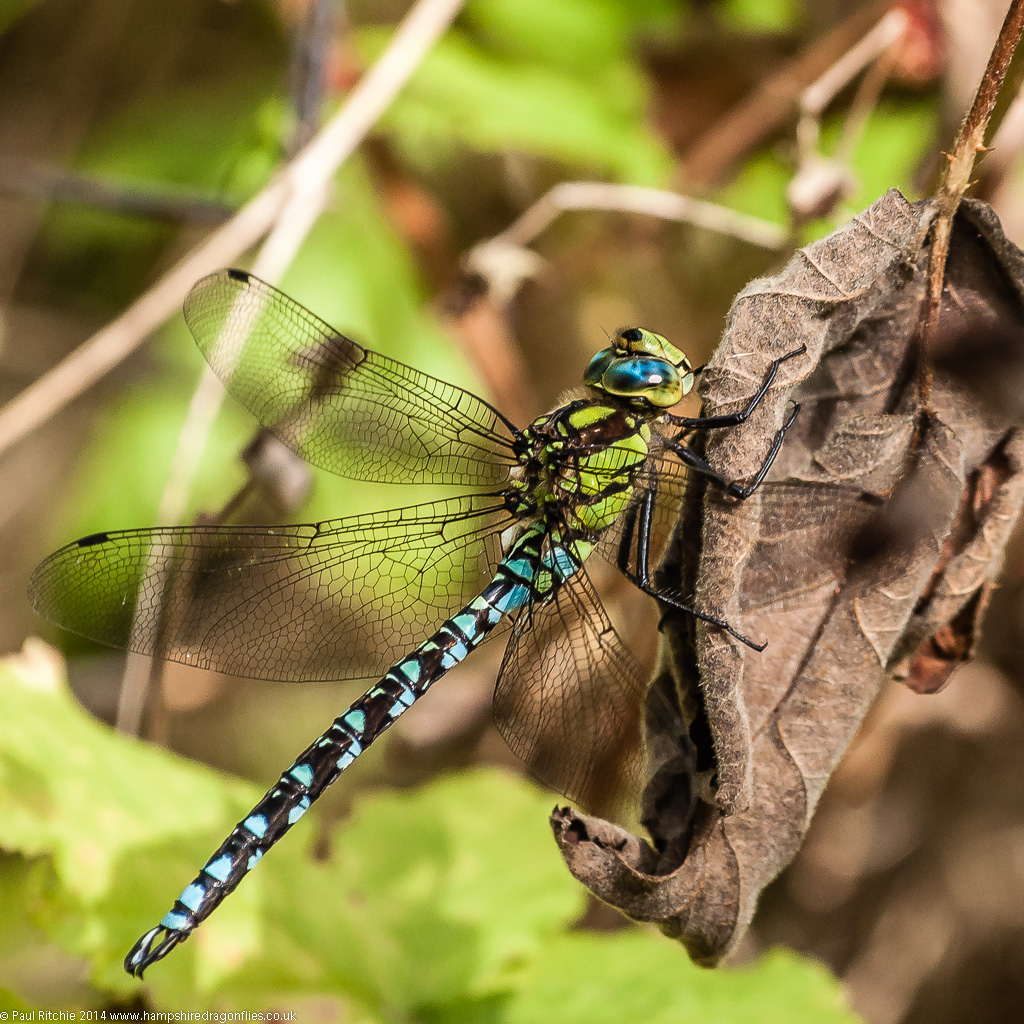 I knew the Southern wouldn't let me down. I think I actually punched the air and screamed 'yes' at achieving what I set out to do, however challenging and potentially fraught with failure.
The glorious twelfth indeed!