Wednesday 3rd June
Old habits die hard. Engaging auto-pilot at the first blast of June sunshine, I decided a ramble around Ramsdown was in order, possibly followed by a jaunt across Town Common.
Let's nip that one in the bud, shall we?
Sensibly choosing Ramsdown first, the lack of action over the (newly-replenished) pools decided Town Common wasn't worth the walk.
The first pond had a couple of Four-spotted Chasers battling for territory, the second only had Azure, and the pond on Sopley Common had a male Broad-bodied Chaser. A female Four-spotted Chaser was ovipositing in the new pool, beginning the life phase in what I hope will turn out to be a valuable addition to the landscape.
The heath didn't throw up any of the expected surprises. I would've hoped to see a bevy of Scarce Chasers, a resting Emperor or two and possibly an early Golden-ringed, but not this day.
That's settled then – let's go to Troublefield!
Thankfully the recent heavy rain has delayed the cattle introduction (unless of course they've changed their policy?) and the sight that greeted me was a lush, verdant growth of Spring water meadow.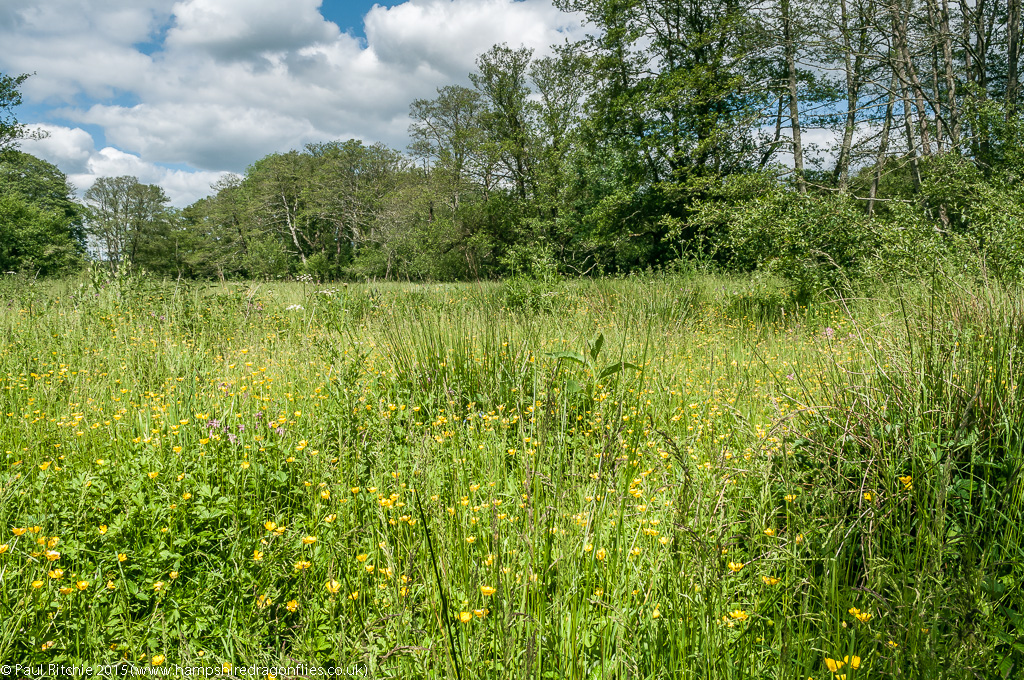 Fantastic! Put that damn bag down and explore!
On such a wonderful day the meadow had far fewer Demoiselles than of late, but still enough Banded and Beautiful around to provide colour. The Brown Argus (looking a little faded now) were joined by Common Blue, Brimstone, Peacock, Small Tortoishell and Small Copper.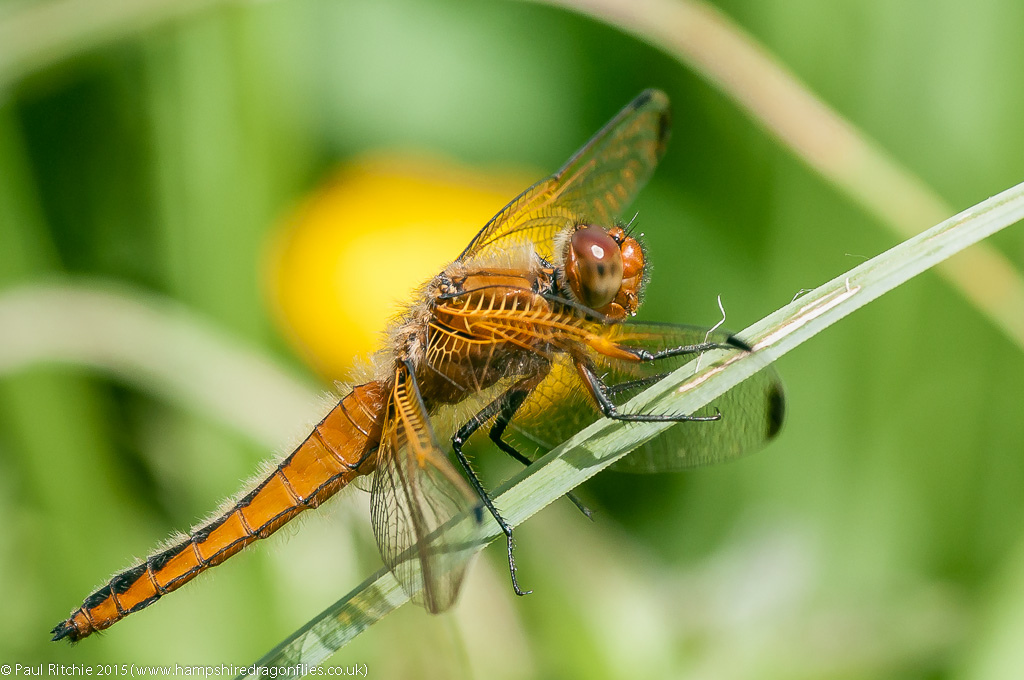 Besides the Demoiselles, the only other Odo's present were Large Red, a timid Broad-bodied Chaser and did I mention Scarce Chaser?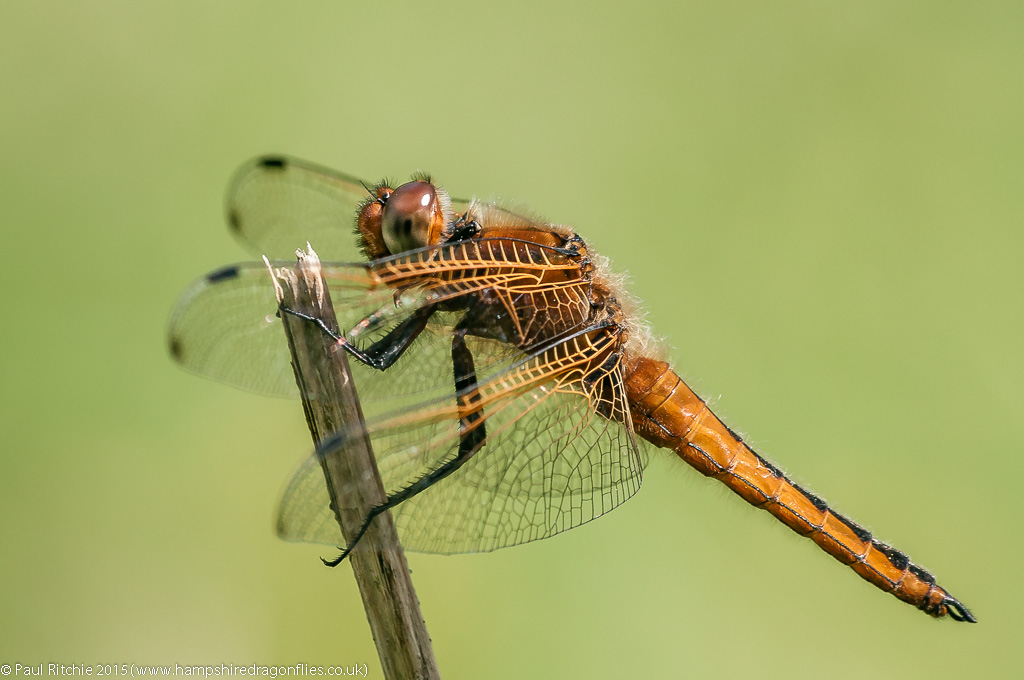 Yes, the beautiful, fresh citrus sparkle of half-a-dozen Scarce Chasers were the real highlight of this afternoon; the best showing I've had since Somerset. I normally scour Ramsdown for these, and still did earlier, but I needn't have bothered.
The setting of a water meadow far exceeds as a background than dry heath, and is more in keeping with their natural environment. It's also far easier to pursue them!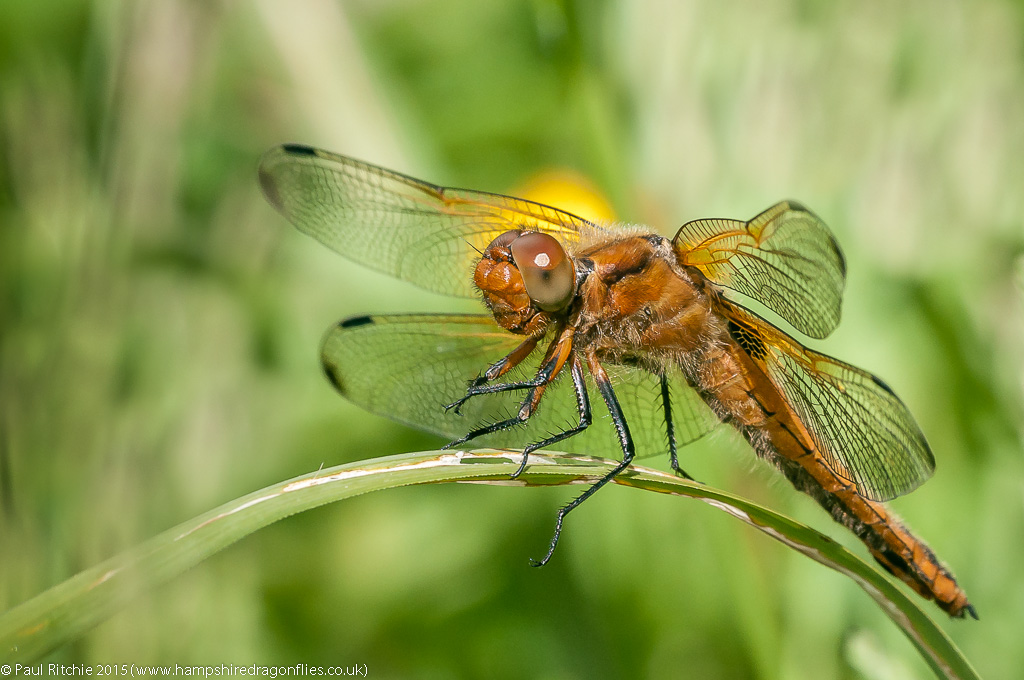 Towards the end of my stay, I noticed a fellow in the corner, followed by two companions. Paul (and Helen) Brock were here in search of beetle delights, showing an enthusiast from West Riding (John, if I remember correctly).
A brief greeting and chat before continuing on our specific searches, and a conclusion of a pleasant afternoon when Paul pointed out a rather rare Click Beetle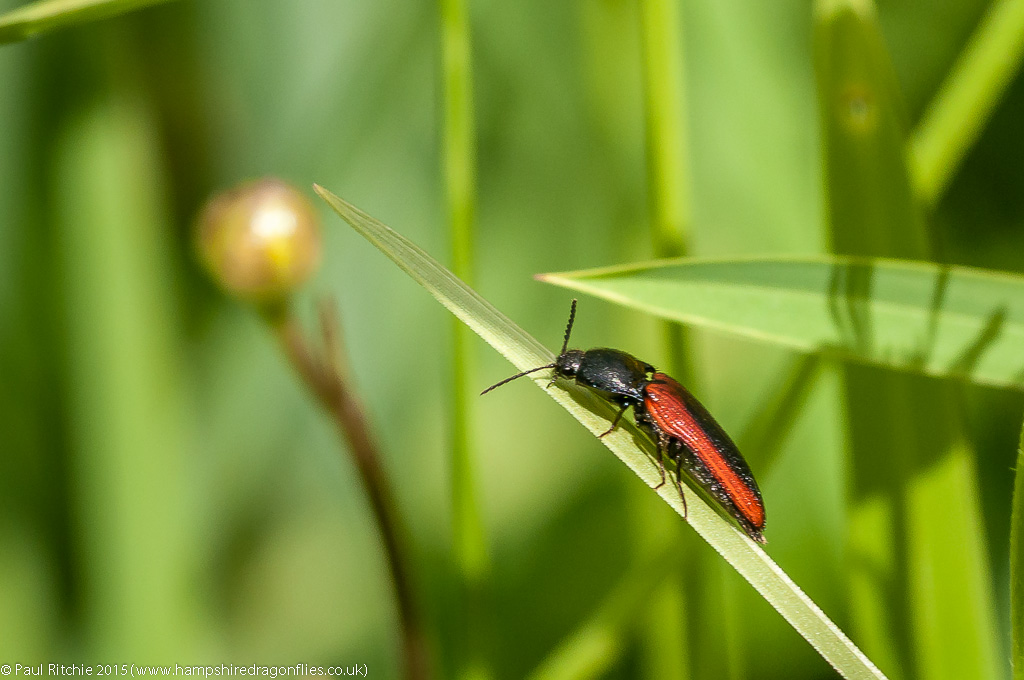 It's hard not to get enthusiastic when in the company of an expert. Books, TV and websites are all very well, but enthusiasm and infection in the field are the foundations of successful education.
A good day!