Tuesday 23rd June
A repeat visit was in order to check on the Scarce Blue-tailed situation. Although they've been out for a fortnight at Badminston, the cooler conditions here obviously affect emergence, resulting in a later showing this season.
The populations of other species helps to confirm this theory, with Keeled Skimmer still surprisingly few. The main stream still isn't showing any Golden-ringed, and the Demoiselles are only slightly more numerous than last week.
I didn't see any male SBT in any of the flushes on the walk in, but neither did I see much else, so it was a nice surprise to come across my first aurantiaca relatively early. A nice teneral, almost pink before the diagnostic bright orange.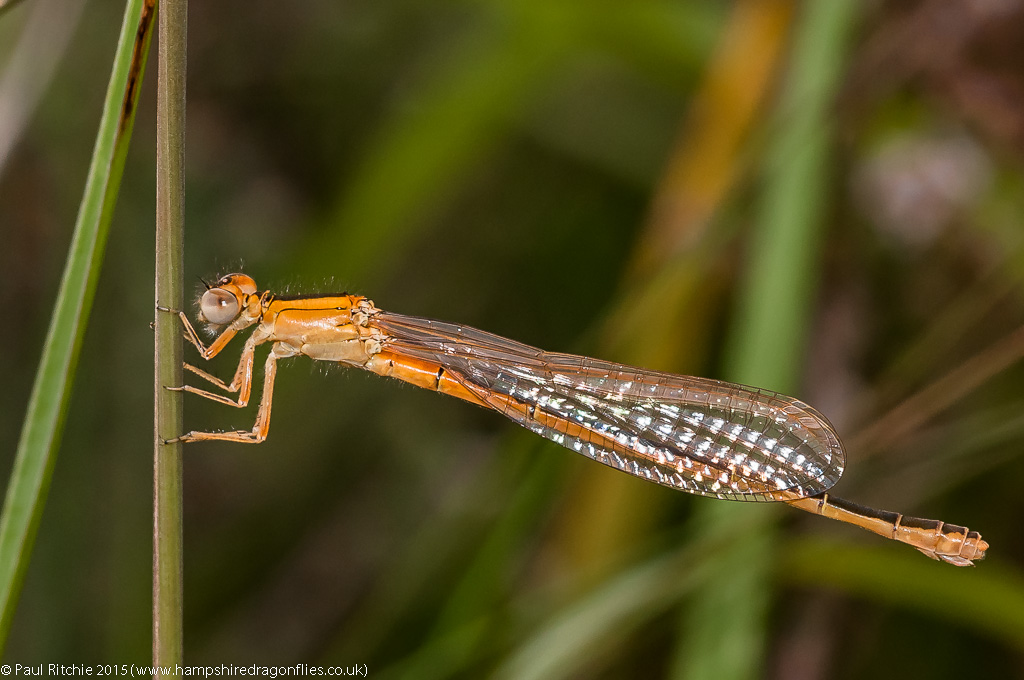 As with last Thursday, Small Red were the dominant species; the Southern being surprisingly few with only the one male seen within the scrub. Not to worry – I was very single-minded today, and, despite the lack of males, that striking bright orange of the immature female form provided another welcome opportunity.
Now I could quite happily post one after another, but I thought I'd post a selection of the various female phases. They start off pink then quickly turn to orange as in the above photos. Next they reach a transitional phase when they start to lose that striking orange.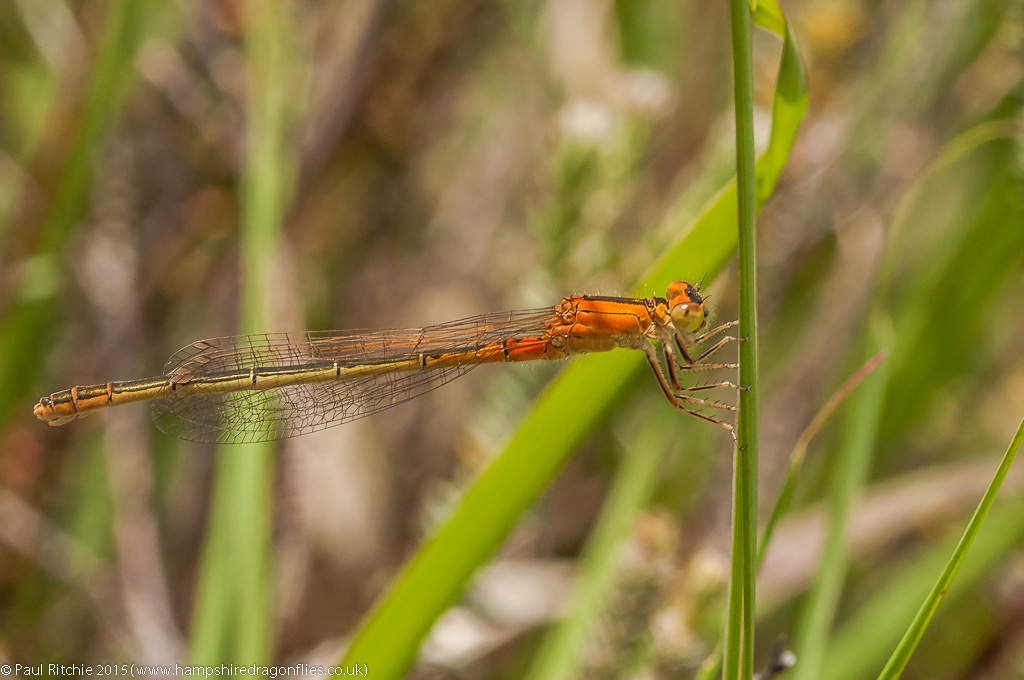 Finally they mature into a rather drab green, which I think is a shame, as we could all do with a little more colour in our lives.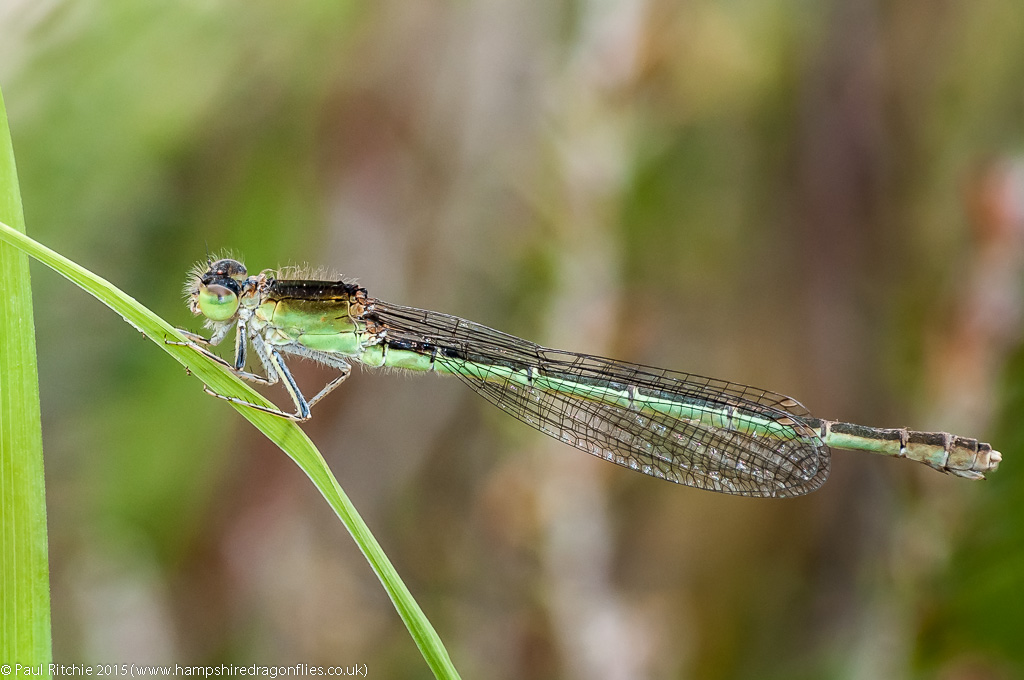 As stated the males were very few, but numbers did increase as the day went on, with a few occupying some of the lower channels near the main flow of the stream.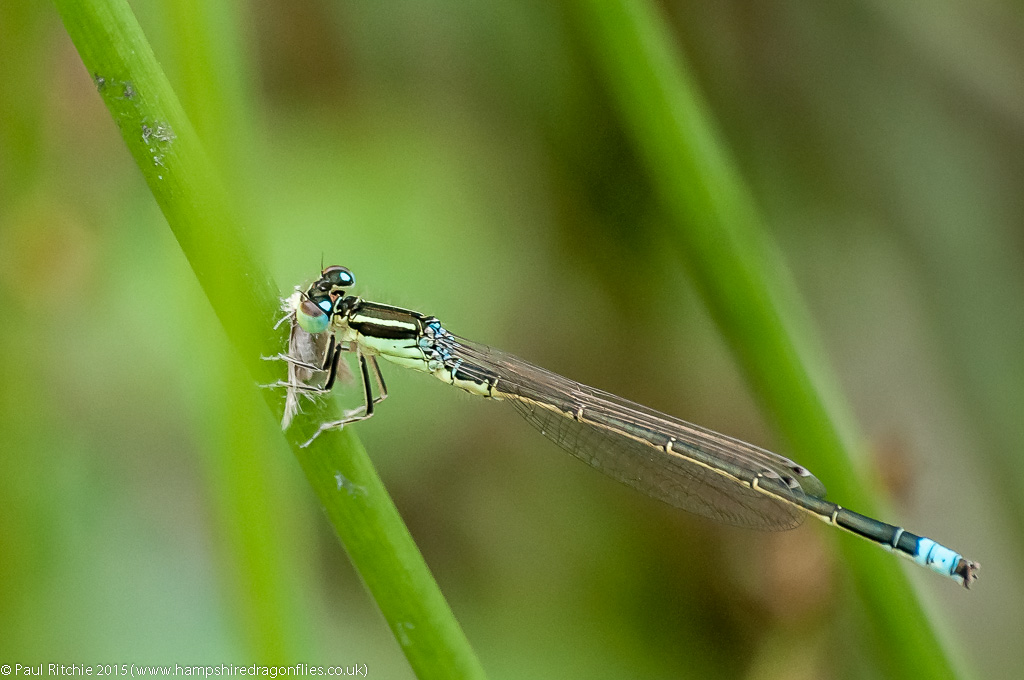 Now regarding that stream. Latchmore Brook is in the process of some 'redevelopment' – reverting the main stream to the meandering course it took before being 'straightened' as an aid to pasture.
I have looked repeatedly at the proposals and as far as I'm concerned these works should benefit the resident odonata population by returning this stream to its original course.
At the moment the main stream is mostly devoid of emerging flora and by association resident fauna. One only has to look at Ober Water to see how it should be. Allowing the stream to return to it's original course will remedy this, and we should see a greater diversity and higher numbers along its length.
The only problem I can foresee is damage caused through ignorance by the contractors, which I hope can be avoided by having an expert on site to advise. This has been arranged through a consultation involving several bodies brought on by the 'Friends of Latchmore Brook' campaign group.
Our 'friends' should be happy with this, but in the spirit of all nimby activists they are never happy, and will never be until all prospected works seize and leave their beautiful dog walking patch alone.
Personally I will be a lot happier if I can take a stroll down Latchmore without bumping into one of these doom-mongers accosting me and chanting 'the end is nigh'. Respect my time and my peace and I will respect yours. I don't need politics on a country stroll.
When all's said and done you might be able to chant 'I told you so'.
Then again, you might not…