Saturday 22nd April

I spent all Friday afternoon cursing the cloud cover, and, despite checking four locations, only managed to see two Large Red – a female at Troublefield and a fresh riser on Town Common.
Today I cursed the weather forecast seeing the teasing sunshine through the window, so decided to take the short drive to Durley in the hope the Beautiful Demoiselles had emerged along the upper Hamble.
After half an hour of searching the river bank I noticed a fresh male rise to my left, leading me a merry, but stealthy, dance up the bank where he refused to land in sight before rising even further where I finally managed a distant shot.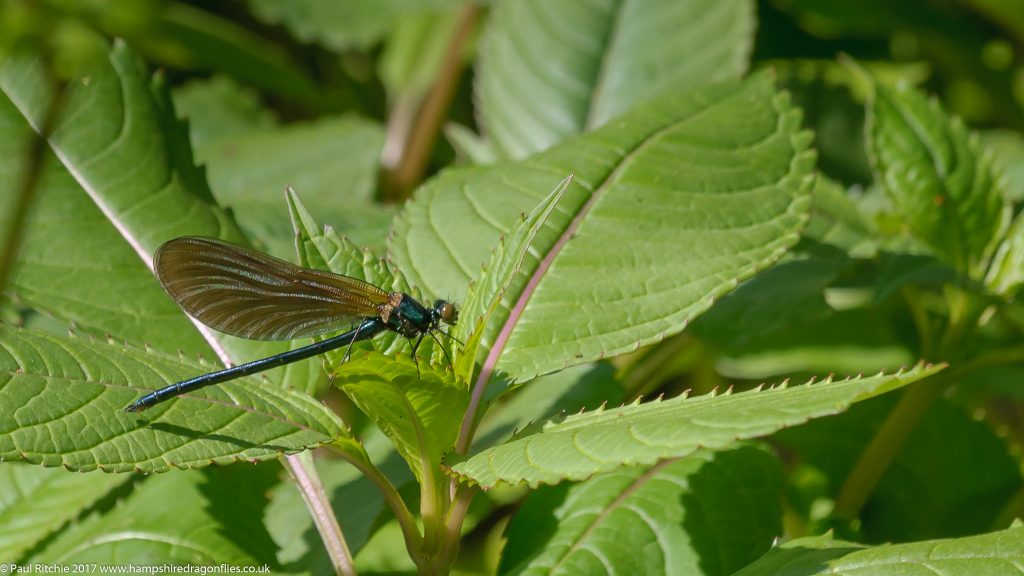 The disappointment of not being able to get any closer dissipated as I continued the search with a new sense of hope. Crossing over the river I spotted my second – a female – rise from the grass into the nettles before escaping to the trees.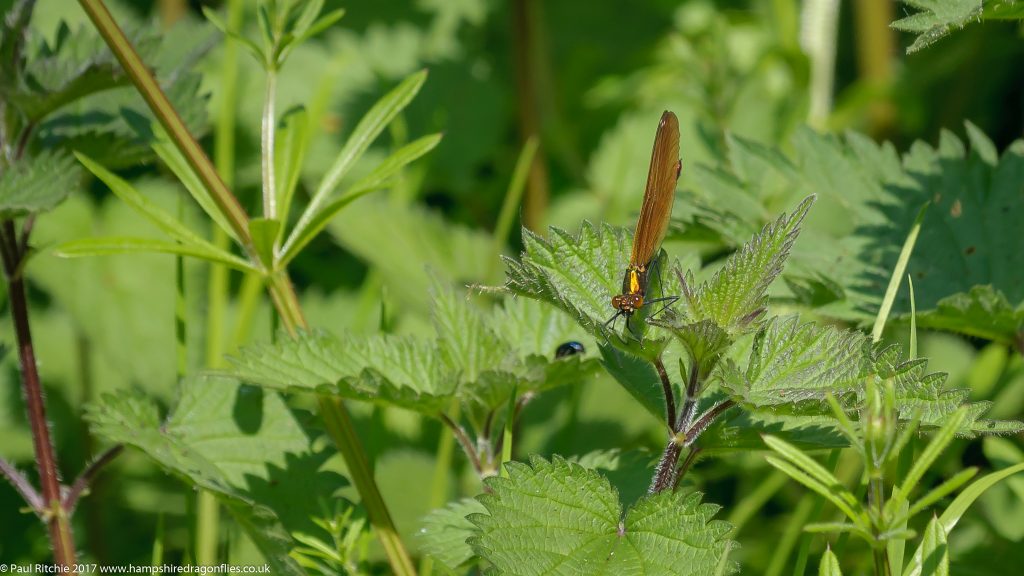 Only two, and both refusing to allow me to get any closer, but at least they're here.
Sunday 23rd April
I had an itch to scratch, and that itch was Bentley Wood. Looking back on last season I noticed Bentley took its time catching up, but it was worth a look regardless.  I'd have settled for an Azure, and after half an hour of fruitless searching I found one.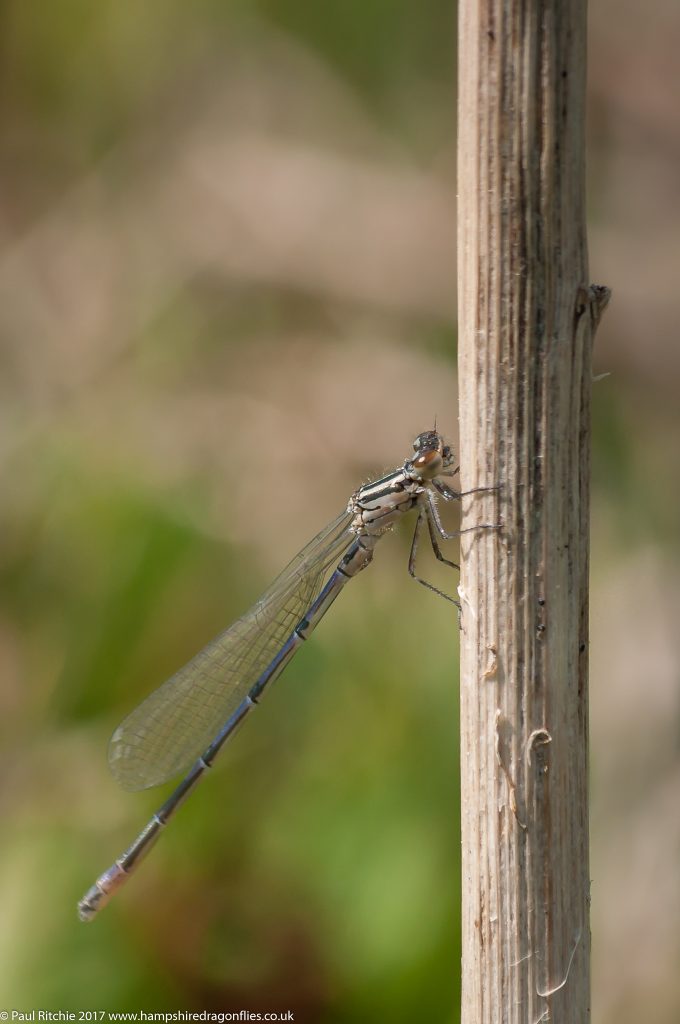 Just the one, and a real needle-in-a-haystack discovery who impolitely sodded off after my one & only shot while I attempted to change lens. I did look for him, but had to settle for this brief encounter. A little later I spotted a Large Red. Again, just the one.
I decided to take the long walk to the central ponds where I found a party of people searching the undergrowth, some with cameras. I asked if any damsels had been seen and they said 'not one…it's too early'. A minute later I spotted a teneral Large Red rise from the pond and pointed it out, but was met with complete disinterest.
Shortly afterwards another rose to land close by.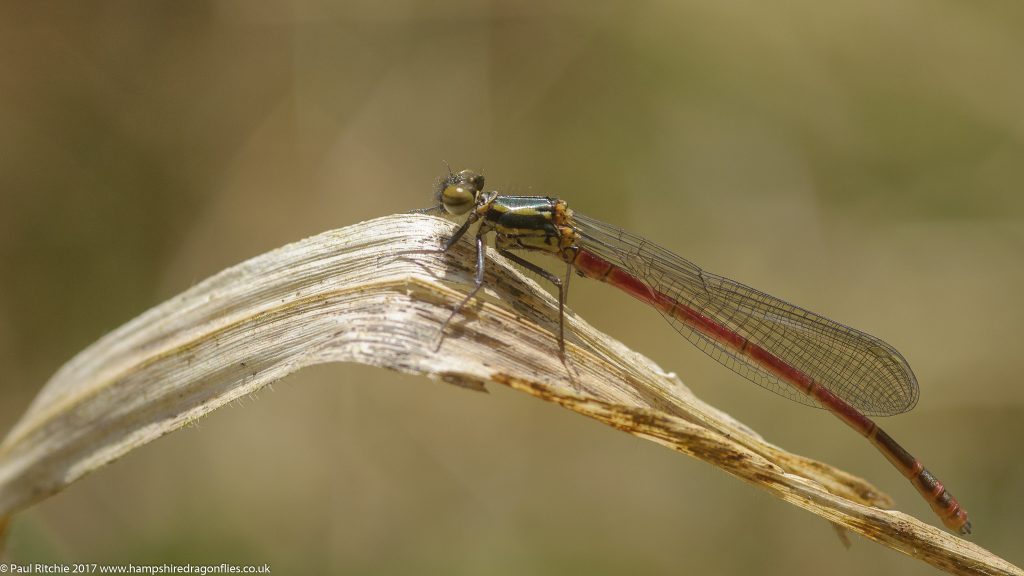 I hadn't visited these ponds for a couple of years, and last time was pleased with some cutting back they'd done. During the course of winter another pond has been dug between the two, already showing tadpoles but at least a couple of years away from establishment. I shall look forward to that.
Completing the five mile walk without another sighting I decided to head over to Broomy just in case, but increasing cloud cover meant only a couple of Large Red were seen. A distinct chill was in the air, preceding a return to winter temperatures, frosty mornings and even snow in places.
This isn't unusual for April; in fact it's pretty predictable. Another good reason never to jump the gun. Thankfully we'll be returning to more productive temperatures at the end of the month.
Just in time for May when the real business kicks in.