Just because it's called Hampshire Dragonflies doesn't mean I restrict my locations, and Dorset is a very special place for dragonflies as well as being a top County for wildlife and habitat in general. So I paid a long overdue visit to Studland today in search of the Hairy Dragonfly, among others.
The Hairy is a magnificent beast and sorely lacking from most of Hampshire. There are a few spots where a sighting is almost guaranteed, but there had been a report of sightings in Studland along with some excellent photos over the weekend. So armed with a grid reference, off I went.
As is typical with me, having found nothing at the location (still early at 10.30am I guess) I went on a trek around 'Little Sea'. Biting off more than I can chew as usual; but I did disturb a couple of Hairy's a good way further down the south side. No chance of a photo though.
After a long and tiring walk I found a busy and productive little area on the north side of the lake where I spotted and photographed my first Downy of the season.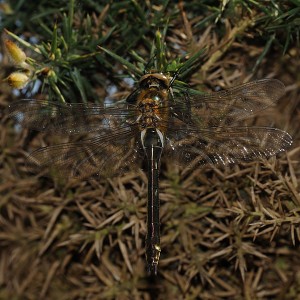 Major excitement and payoff for the hard slog, but she wasn't perched in a very good place to begin with. High on gorse and in shadow. Luckily she moved a little to the left with the sun upon her and I grasped the opportunity, hoping I had a result.
Also in this patch were several Large Reds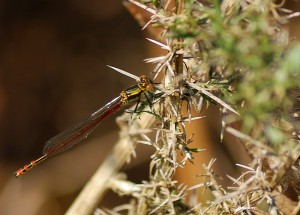 and a good number of teneral Blue-tailed damsels, another first for the season.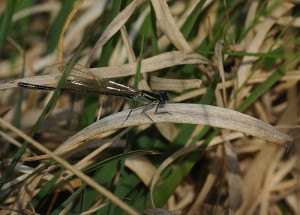 Further along the track and in a small clearing I spotted a rather pristine and mature Four-spotted Chaser. Just enough time to rattle off one shot before he took flight.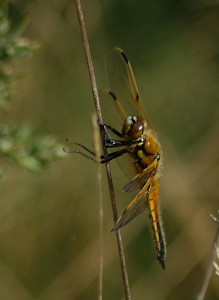 Tired and thirsty I finally made it back to the car park and partook of some much-needed refreshment, but as it was only 2.30pm I decided to look again at the original grid reference and disturbed another 2 Hairy's, neither of which would settle. So they're there, I just need some luck! But then they never were an easy subject to photograph!
Four new species for the season and three photographed, so it would be very churlish to complain. As well as dragonflies I spotted a Common Lizard, a female Sand Lizard, an Adder and a huge and very fast Grass Snake.
So despite the self-inflicted exhaustion it was a fantastic day, and a site I can highly recommend.
Just be aware that there is a charge for parking at the designated car park (although there is free road-side parking if you're early and lucky), the cafe charge extortionate prices, in season it is overrun with tourists and day-trippers and be advised that the eastern end of the beach and heath allows nude sunbathing!