Sunday 14th May
After dining out on Somerset for four days I needed to get out again and with moderate winds, occasional showers and those all-important sunny intervals another visit to Bramshill was needed to get away from it all.
No Downy along the first path this time but the Beautiful Demoiselles were showing well, skittish as usual, filling the glade with bronze. The ponds were likewise empty except a few damsels brave enough to challenge the breeze.
The pond clearing had a few Four-spotted Chasers taking time out and I had the briefest glimpse of this year's nemesis, the Broad-bodied Chaser. I had another fleeting glimpse later on but couldn't relocate either of them.
The scrub also had a rather good showing of Grizzled Skippers and on the way out a European Hornet was busy inspecting the bark of the one of marker trees.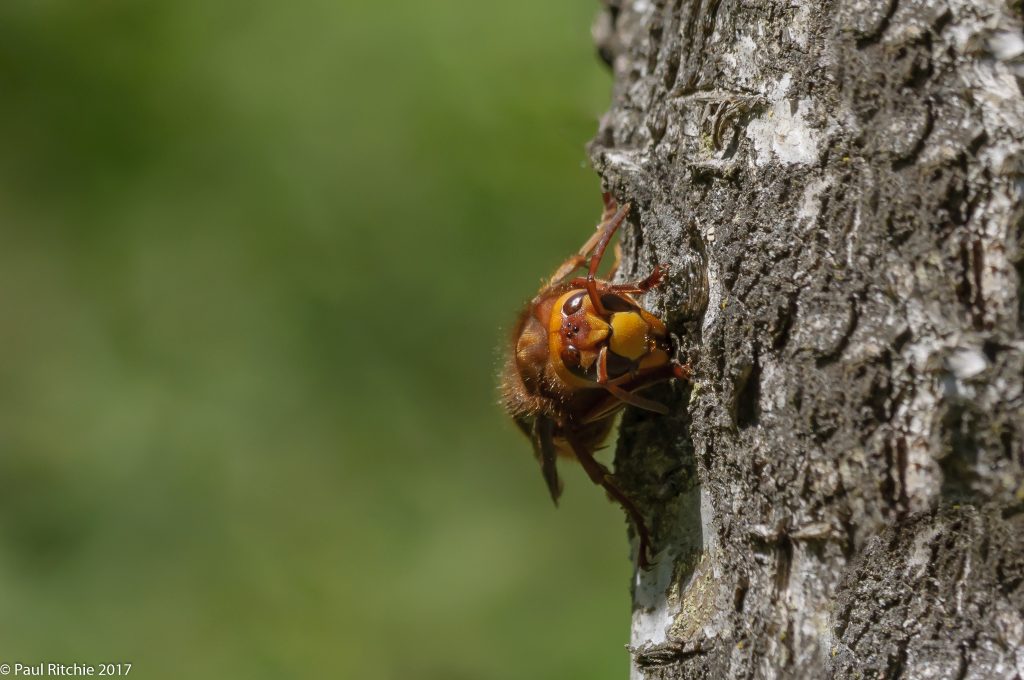 Towards Long Lake we caught sight of a couple of fresh Four-spotted Chasers letting the wind take them and surprisingly choosing to stay low out of the breeze.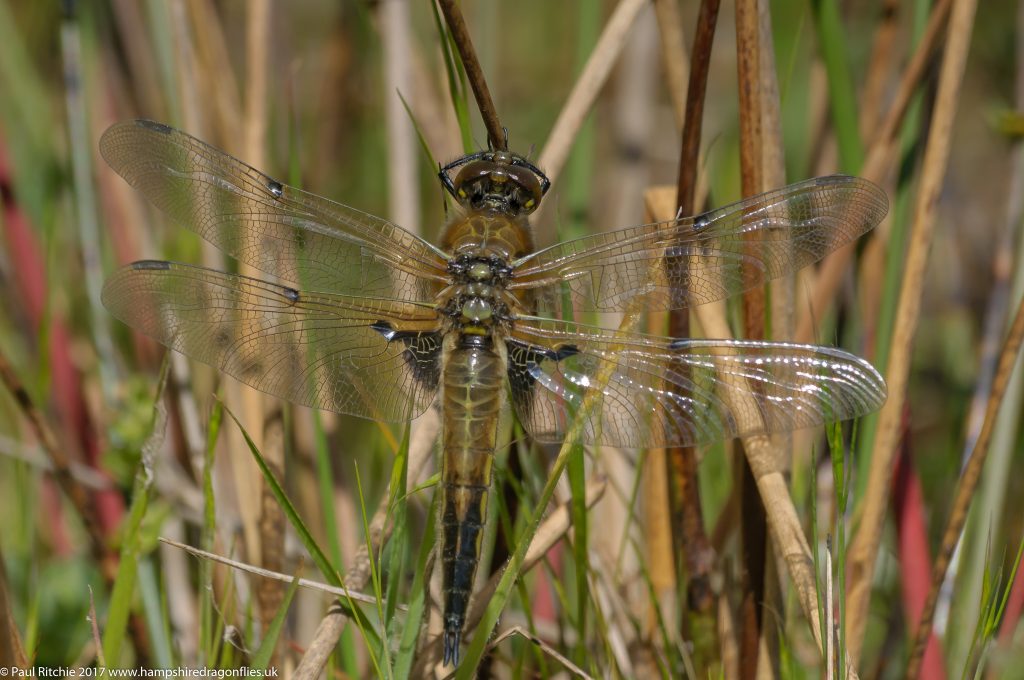 It was along hawker alley that Sue spotted what turned out to be a fresh female Black-tailed Skimmer, rather early as has been the way this season and a delight to see. Again staying low she landed perfectly of a small branch allowing me a little indulgence from ground level.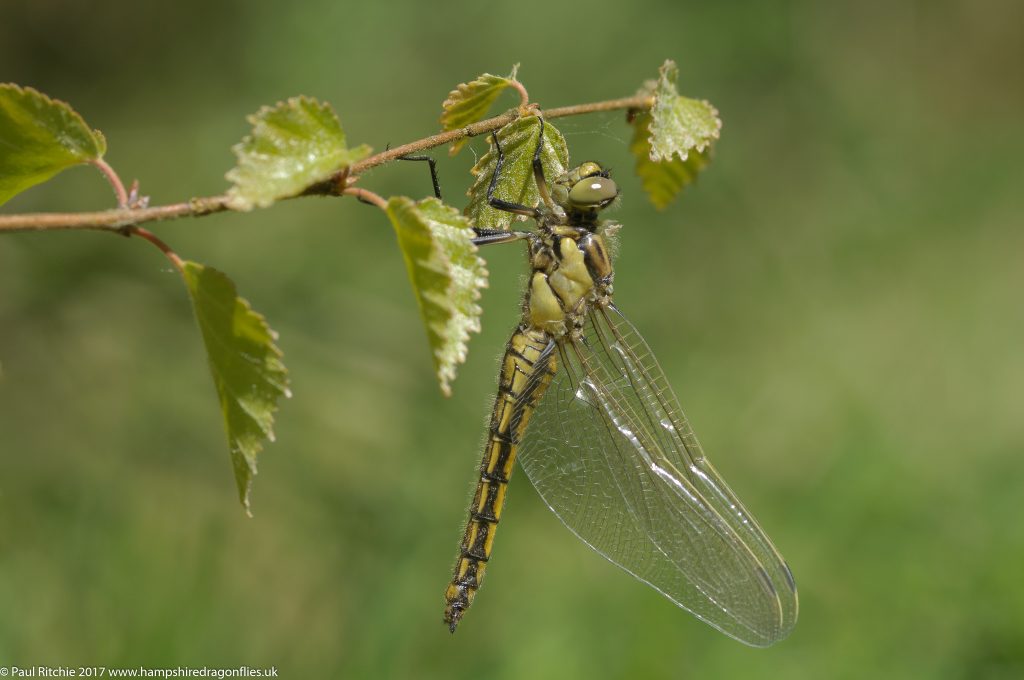 After this unexpected showing I said 'Downy next then' and within one of the scrubby gaps I disturbed a young male who rose briefly and thankfully landed unusually on the same sapling, breathing rapidly through his abdomen in an attempt to gain the energy to escape this interloper.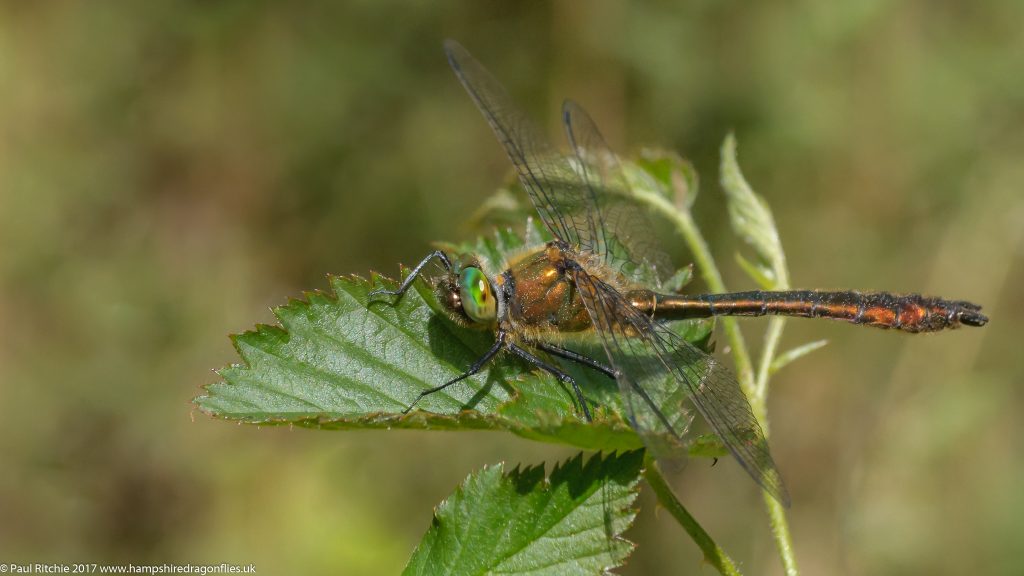 Beyond the gate Sue spotted a male Hairy get up and land in the same bramble bush and for the life of me I couldn't spot it. I did when he rose and flew off though! On the walk to the central ponds we spotted a couple more Downy choosing to perch high and at the stream the second Broad-bodied teased while the clouds drew in.
Dark clouds with the threat of rain, and everything fell silent. We didn't see the sun again for some time, it's presence prompting a small level of activity at damsel corner before once more disappearing under grey. The temperature had noticeably dropped too and I we were both alarmed at how much time had passed.
It had been three hours since the Black-tailed Skimmer and only a few Damsels to show since the Downy. Peaked way too early, but I'm not disappointed. As I've said on many occasions so long as you get that one shot everything else is a bonus.