Continuing good weather over the Bank Holiday meant a visit to Crockford was on the cards. Crockford Stream is well known as a mecca for odonata enthusiasts but IMO the best times to visit are in May & June. These are the months that activity is at it's finest and species counts are at their highest.
However Monday's visit surprised me with probably the best selection I've seen for a while. Beautiful Demoiselles are still on the wing, although numbers are low. Common Darters are plentiful and even the odd Keeled Skimmer put in an appearance.
For me though the highlights were the first Golden-ringed seen for a while, a male & female Southern Hawker and a few Migrants. There was even a few Small Red Damsels to be found including a mating pair.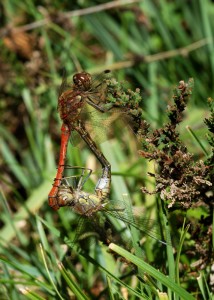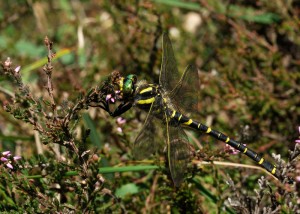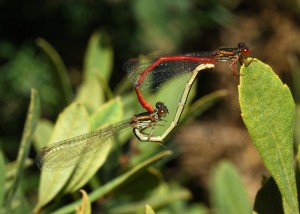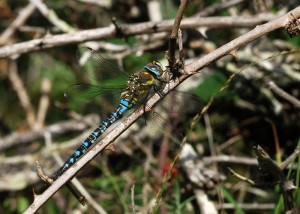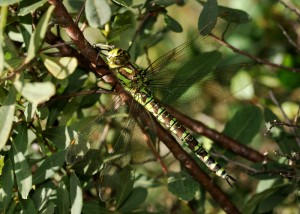 Once we'd had our fill we moved on to the pond at East End which only produced a few Common Darters and a few Migrant Hawkers patrolling the treeline. We called in briefly to Holmsley where surprisingly nothing was seen.
We decided to visit Whitten Pond as a last call and were rewarded with a pair of Brown Hawkers patrolling the shore and feeder stream. The female was particularly amenable and gave us a chance to grab an in-flight shot or two. However the best opportunity came when she landed on the gorse.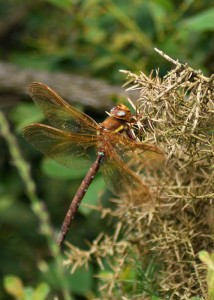 The good weather continued into Tuesday and I returned to Crockford only to be presented with a couple of Golden-ringed's and a Migrant Hawker among the Common Darters. There were however a couple of Beautiful's on the wing, a lone Keeled Skimmer at the marshy end and a lone male Emperor paying a brief visit.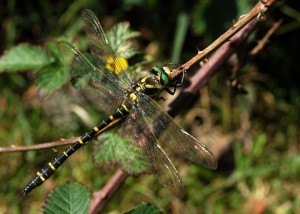 I then decided to visit Tiptoe, a site previously shown to me by Doug Overton. This proved to be more prolific than Crockford with four Migrant Hawkers spotted and four Golden-ringed's among the inevitable Common Darters.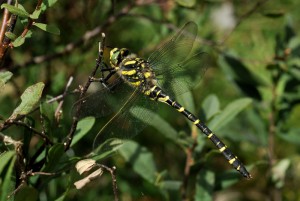 Two of the Migrant's were patrolling a small clearing and eventually one landed so close I had to move back in order to get a shot.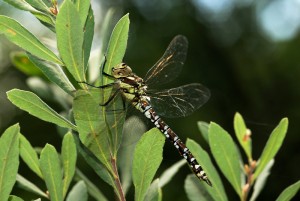 With the little time I had left I decided to revisit Whitten Pond in the hope of seeing those Brown Hawkers again. A large grey cloud was hovering reluctant to move in the minimal wind, but eventually passed over allowing the sun to appear. Sure enough as soon as the sun appeared the Brown Hawkers came out of hiding. I stayed and attempted to get an in-flight shot, but had to leave before I had a chance to find them perched.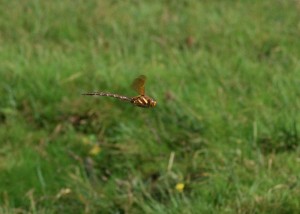 Tuesday had the promise of another fine day and I promised myself a return visit to Troublefield. On the way I called into a few New Forest ponds but activity was minimal except for a few early flying Emerald and Blue-tailed  Damsels. My first Hawker sighting was at Linford at around midday, but more were to come on arrival at Troublefield.
I arrived at approximately 1.00pm and did a quick reccie of the northern fields where I spotted the odd Common Darter, Beautiful Demoiselle and Golden-ringed.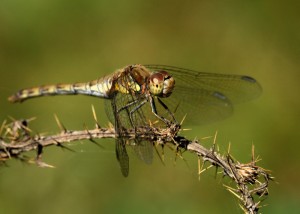 I then concentrated on the main meadows to the south. This was where the majority of the main Hawker activity could be found. I counted over 40 Migrants and Southerns with regular bursts of half a dozen flying overhead.
Along the eastern edge there is a small leat backed by trees with plenty of bank-side vegetation providing ideal perching places, and this was where several opportunities presented themselves. Walking the whole stretch revealed yet more Migrants, Southerns and even some Golden-ringed.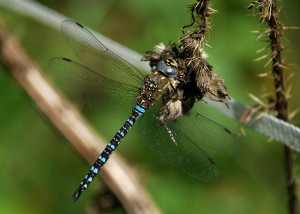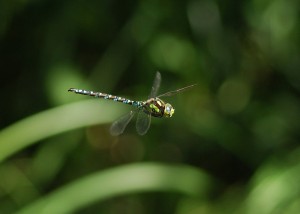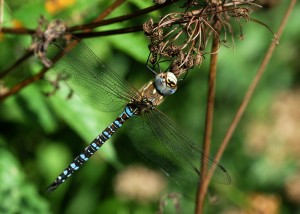 This has to be the best display of Hawkers I've seen anywhere.
Thursday I had a plan to visit Badminston in the hope of finding a Red-veined Darter. Alas, none to be found, although there were hundreds of Common Darters and surprisingly a Ruddy, ragged, but a beautiful deep red.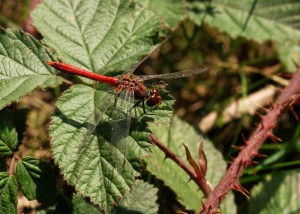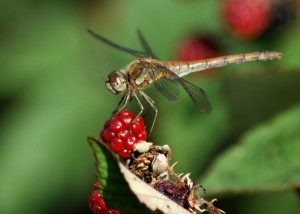 I visited Mopley Pond while there, where again Commons were ever present along with the odd Southern & Migrant Hawker. It was the surrounding heath which provided the best results. One little clearing in particular was alive with Hawker activity – almost on a par with the previous day. In that one little clearing I counted around 30  patrolling the margins.
Alas, having spent more time there than I'd planned, I decided now was the time to move on as I had a plan to visit my favourite pond on the way home. There had been a report of Small Red-eyed Damsels there and sure enough several were spotted on arrival, including a couple of mating pairs. The latter were proving difficult to pin down for a photograph, but the single males provided a few opportunities – yet even they were skittish and it took a little patience and observation before a shot or two could be achieved.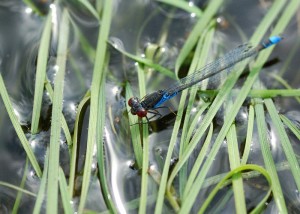 This is apparently the first year this species has been recorded there and is excellent news, proving once again that this is one of the best ponds in the forest for diversity.
Also doing the rounds were Common Blue, Blue-tailed, Emerald and Red-eyed Damsels, Common Darters and Southern and a Migrant Hawkers.
The Southern at least provided an ideal opportunity for some in-flight shots.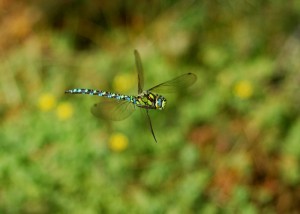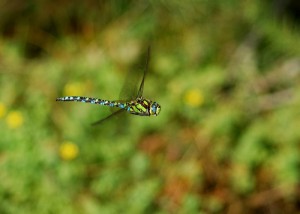 I revisited the pond on Friday and spent a good 4 hours there. As usual the Emerald Damselflies were first on the wing followed closely by Common Darters.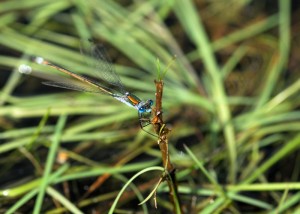 Also seen were Blue-tailed and Common Blue Damsels, Black Darters and the welcome appearance of a male Common Hawker and two sightings of a female Common Hawker ovipositing, although this could have been the same individual paying a couple of visits. Far too fast to obtain a photograph though!
So I amused myself with getting a few more in-flight shots of a patrolling Southern.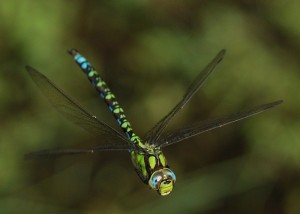 On Saturday Sue & I joined Doug at Longham to be shown around the private riverside and lakes by a guide, Dominic Couzins. There were quite a few Common Darters and Common Blue Damsels including a beautiful purple male.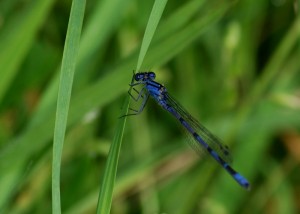 Along the rides there were a few Southern and Hawkers, while the lakes provided yet more Common Darters, Common Blue Damsels and even some Blue-tailed.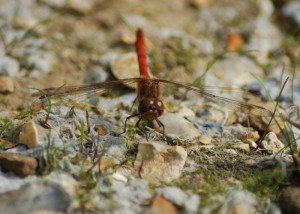 Conditions were hazy and very windy so we decided to move on to Troublefield where the weather prevented a repeat of the previous displays. At least there were a few Migrants on show along with perched and patrolling Southerns and a lone Golden-ringed and Beautiful Demoiselle among the inevitable Common Darters.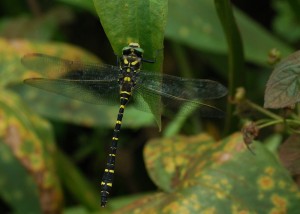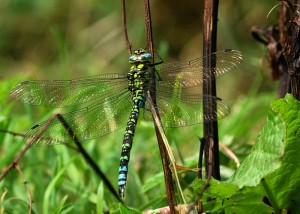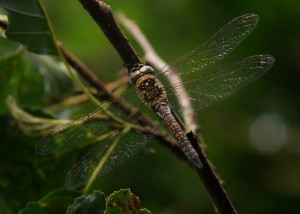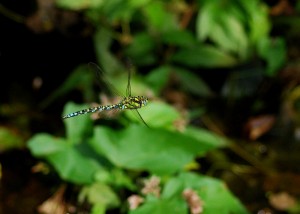 All in all a very successful week, especially the sighting of those Common Hawkers and Small Red-eyed Damselflies at my favourite little pond, Brown Hawkers at Whitten Pond and those wonderful displays of Hawkers at Troublefield and Badminston.