Firstly many apologies for the lack of posting recently. The combination of family commitments, camera failure and making the most of sunny days in the field are my excuse, but I hope I can make up for it with this post.
On the 22nd of September the weather was reasonable but dragon sightings were minimal. I called into a reliable pond where there were a few Common Darters and Migrant Hawkers on the wing, but little else. Crockford Stream was even less successful with only one sighting of a lone male Southern Hawker along the stream. Only one poor in-flight Migrant shot that day.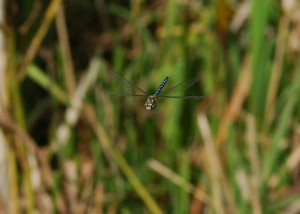 Saturday 25th proved much better with fine weather and plenty of Migrant activity along with the mating and ovipositing  Common Darters. There was even a lone male Blue-tailed Damselfly among the foliage, but he shot off before I could get a photograph.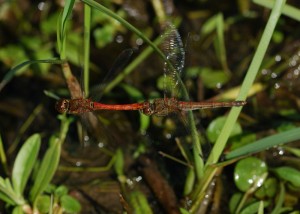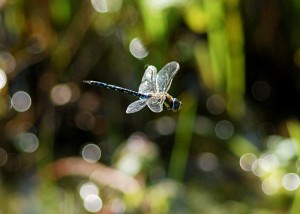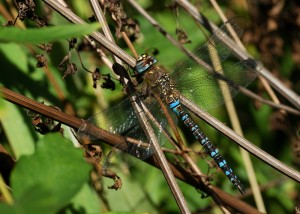 Besides patrolling males, there was also a lone female ovipositing among the bank-side vegetation. She even perched for a short while allowing a decent photo opportunity.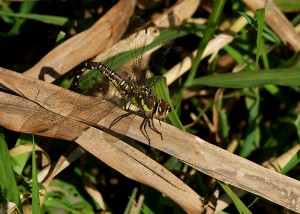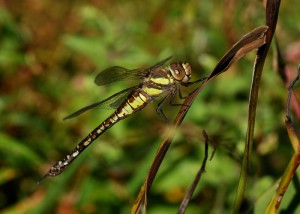 The next day I ventured out with the camera,  Wednesday 28th September, proved to be a much better day than the forecast would have you believe. Reasonably calm wind and a welcome burst of warm sunshine.
After a morning of autumn foraging, I decided to pay a visit to a small, almost insignificant pond on the northern edge of the New Forest. This was the last dedicated location I had visited the previous year in search of dragons and on that occasion I witnessed one male and one female Southern Hawker.
Today's visit didn't disappoint either. Besides a couple of tandem pairs of Common Darters, there were a pair of Southern Hawkers. Most of the activity came from the patrolling male, but on three occasions the female would come in and they would attempt to couple – usually ending up in more of an aerial battle.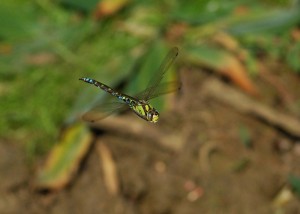 The male proved to be extremely active and one of the more difficult individuals I've ever had the chance of photographing. Indeed the only opportunities were with me stood in the pond attempting to get some in-flight shots.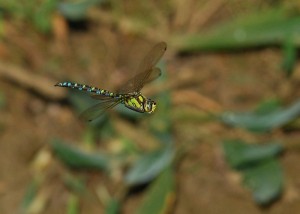 Unlike most of the other male Southerns I've attempted to photograph in-flight, this individual refused to hover, preferring to circle the small pond in unpredictable staggering flight. Nevertheless I persevered and managed a couple of decent in-flight shots before disaster struck.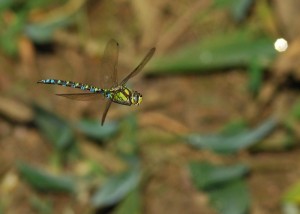 My camera's shutter mechanism had failed. The first warning came with a noticeable slowing of the shutter until about 5 shots later it failed completely. That was the end of my photography for the day and the near future so I returned home early.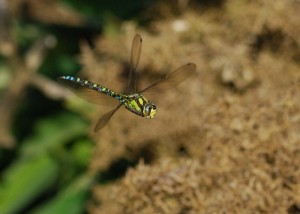 My one consolation was the results of what proved to be a worthy adversary, but the season isn't over yet! More soon…