Warren Heath (Tuesday 23rd July)
It's a telling tale when you can spend two hours at Christchurch Common and have more fun than five hours at Warren Heath. Warren Heath is all well and good, but on Tuesday it was a tad disappointing.
Sure, I had a few moments with the Brilliant Emerald, and even had one perch twice, but to be brutally honest, the experience wasn't anywhere near as good as the two days I spent at Ashdown Forest.
Certainly on my visit things were very much subdued compared to last season. At this time of year I expected to see at least half-a-dozen male Brown Hawkers and equal amounts of females ovipositing, but not this time.
I was pleasantly surprised to bump into Chris Brookes – a long-time dragonfly enthusiast and photographer – who informed me that 10 years ago Warren Heath used to be superb, but had gradually gone downhill to neglect, and if anything Bramshill Plantation is the better choice these days.
The stream apparently used to produce at least half-a-dozen Golden-ringed, but the foliage had increased to a level which was uncomfortable for both dragonfly and human; the path more or less concealed making every footfall precarious.
A saving grace was the clearing which still managed to provide Black and Common Darters, Keeled Skimmers, Beautiful Demoiselles a few immature Common Darter and a patrolling Brown Hawker. Chris kindly pointed out this perfectly-perched female Black Darter.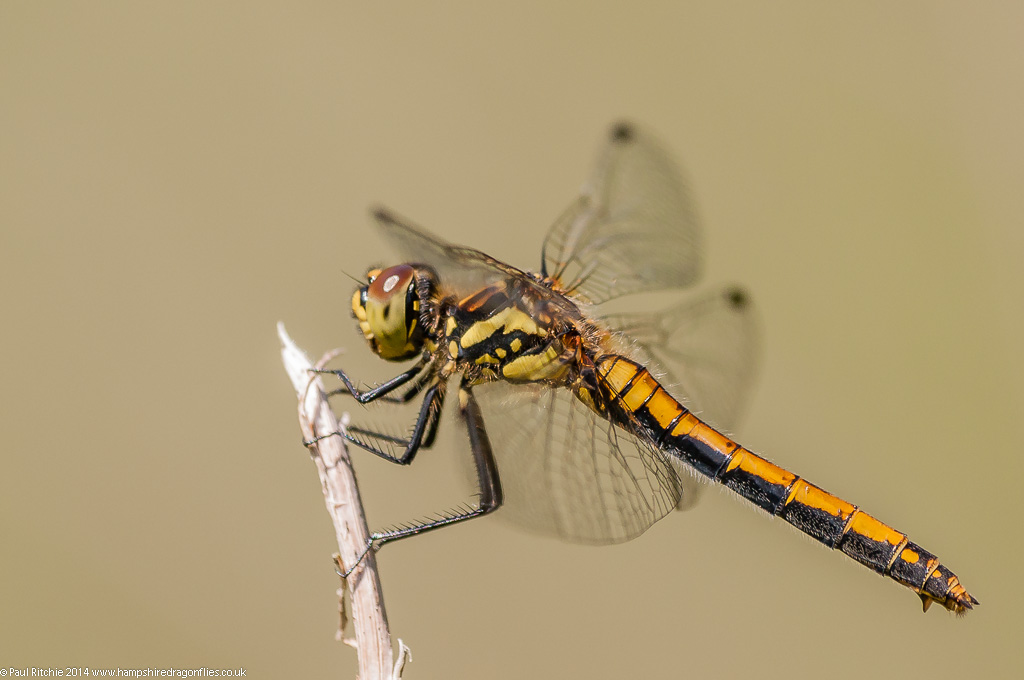 A male Southern Hawker appeared briefly over the reservoir, and Downy were still (annoyingly) present ready to scare off any appearance from visiting Brilliant. A bonus were the Small Red-eyed damsels which I kept an eye out for after being informed by a regular visitor.
Christchurch Common/Ramsdown (Wednesday 23rd July)
Christchurch Common was a far more enjoyable experience; very hot and humid with little shelter, but still plenty of Black and Common Darters and Emerald damselflies to keep me amused.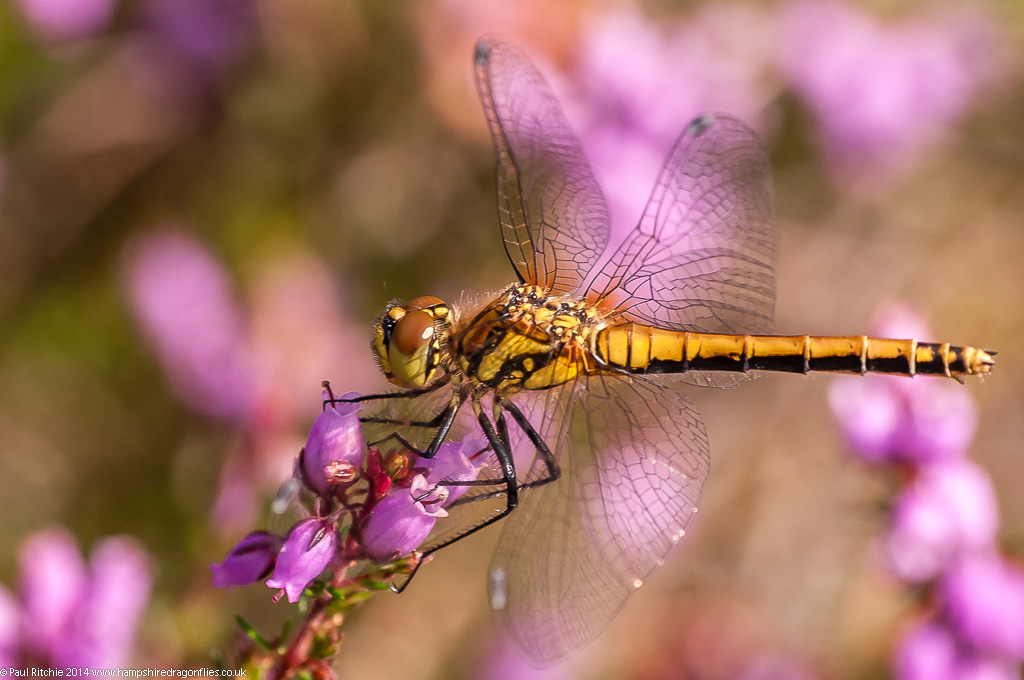 Some of the pools were close to drying out completely, but this didn't seem to bother the pleasing displays of all the above plus Four-spotted and Broad-bodied Chasers and at least one male Emperor on each with the occasional ovipositing female.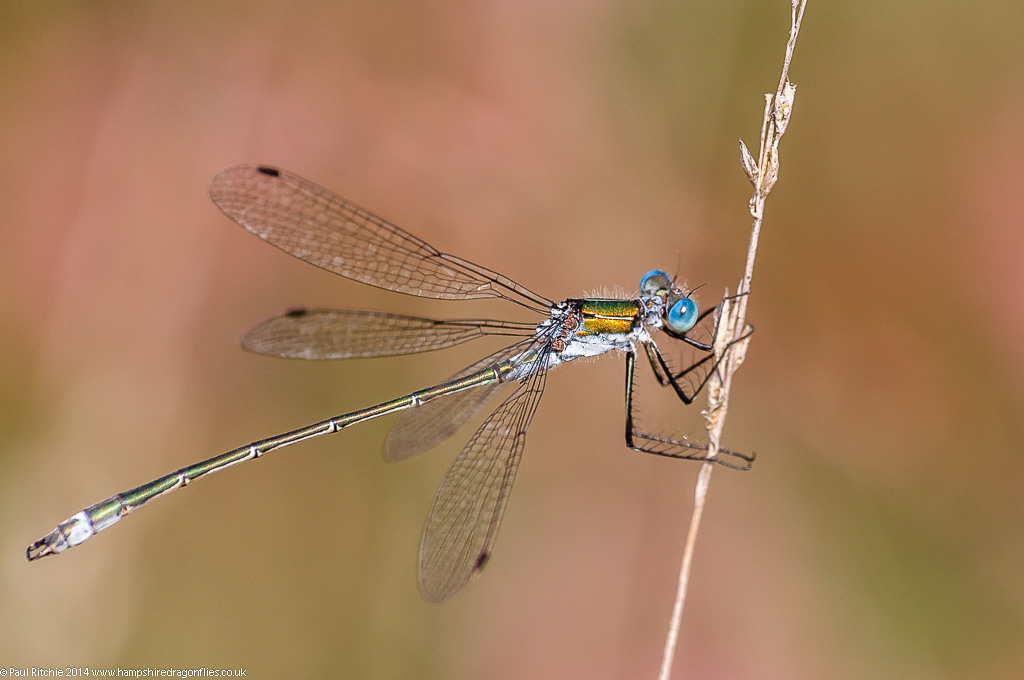 Small Red damselflies were scattered throughout the heath, and a pleasing sight were yet more male Emperors and the occasional Brown Hawker hawking across the heath itself.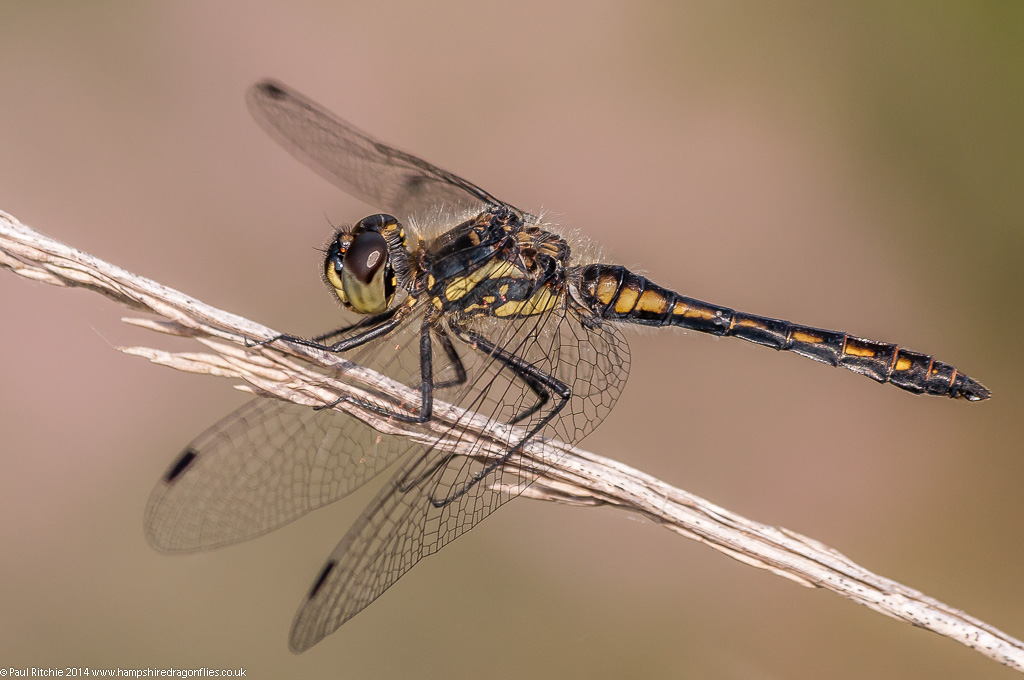 I'd promised myself to keep the walking down to a minimum, but couldn't resist a stroll to the far end to take in the bulk of the old railway, being greeted by crossing Common Lizards and a Buzzard who was just about to perch on a telegraph pole before spotting me at the last minute and changing its mind.
Further along an immature Migrant rose and disappeared, and back at the crossroads an immature female Southern Hawker kept me busy as she chose a perch almost perfectly concealed within the branches of an overhanging tree.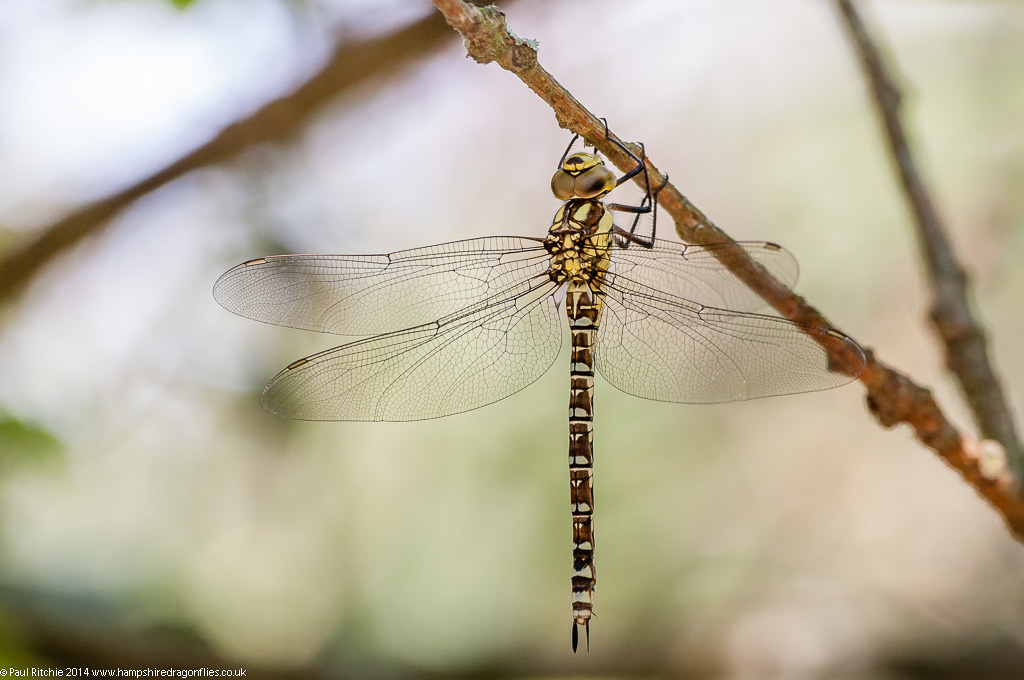 I called in to Ramsdown afterwards for a gander, hoping a few hawkers would be feeding in the clearing, but maybe it was still too early in the day – or indeed the season – for the spectacle. The pool below Ramsdown Hill offered the best activity with a repeat of the species listed above, including a higher and healthier population of Small Red damsels.
A brief call in at the all but dry pool at least provided a male Common Hawker to complete my local species list for the year.