This week has seen a change in the weather with grey skies, rain and strong winds putting pay to most dragonfly activity. On Sunday I wandered out briefly to a local private pond near the River Hamble and although nothing was flying I did disturb 3 Male Southern Hawkers.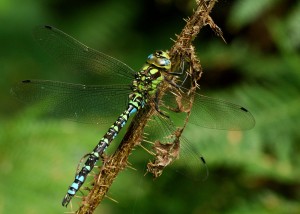 A walk along the riverbank also produced a female flying low to the ground before disappearing off into the undergrowth.
Monday wasn't much better. Nothing at all flying at Troublefield, but there was a lone male Beautiful Demoiselle hovering around the margins of nearby woodland.
It was Thursday before the weather held off enough to venture out again. I met Doug at lunch hour at Troublefield and there were a few Common Darters and Migrant Hawkers appearing during the brief sunny spells. A female perched for a short while allowing a photo opportunity.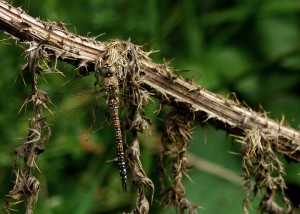 We did a quick reccie of the northern fields before Doug had to return to work, but nothing much was stirring except a couple of female Common Darters.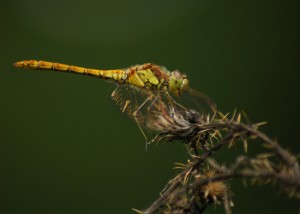 I stayed for a further hour and a half in the hope of seeing more. There were more Hawker sightings to be had when the sun made those brief appearances with male & female Migrants patrolling the field and even a couple of male Southerns holding their territories further up the leat.
A nice surprise was seeing a male Beautiful Demoiselle among the reeds and a female perched on the bramble.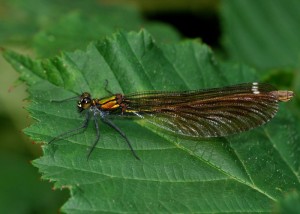 That's it I'm afraid. A disappointing week, but at least there are a couple of good days forecast for next week. I'll let you know how I get on.