I'm a little late with this latest update – for which I apologise.
After the delights of the weekend before last, I ventured out again on the Wednesday (well, Monday actually, but it was a total disappointment!) to make the most of a break in the weather.
I had decided on Ramsdown (Town Common officially – but the name conjures up scenes of local chavs!) and left it until midday to allow the chance for warming up.
After the 15 minute walk-in I was greeted by my first Southern Hawker of the day – a male who got up and perched a few yards away, allowing me my best opportunity of the day.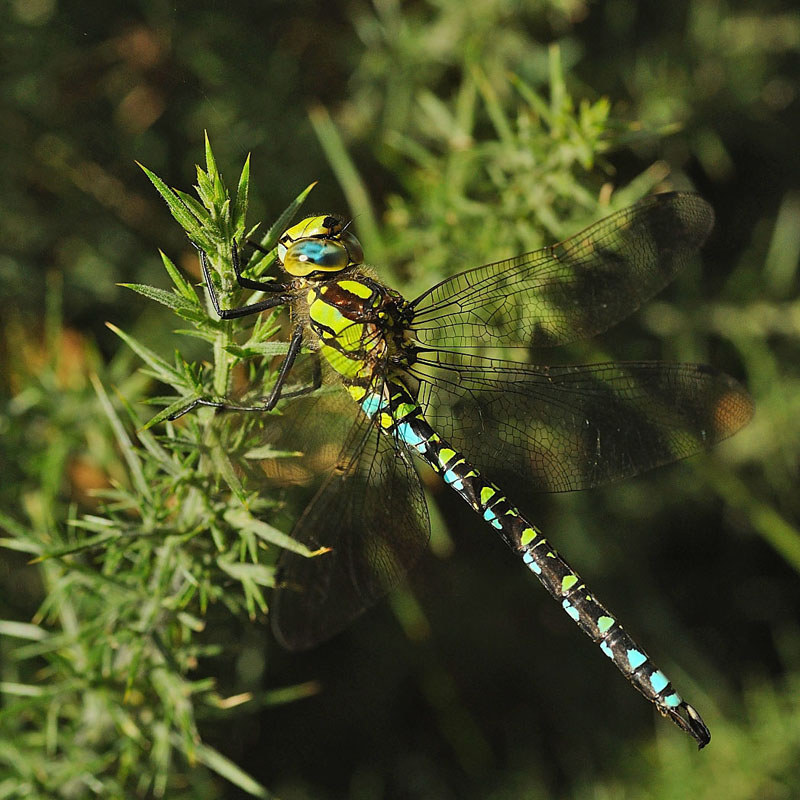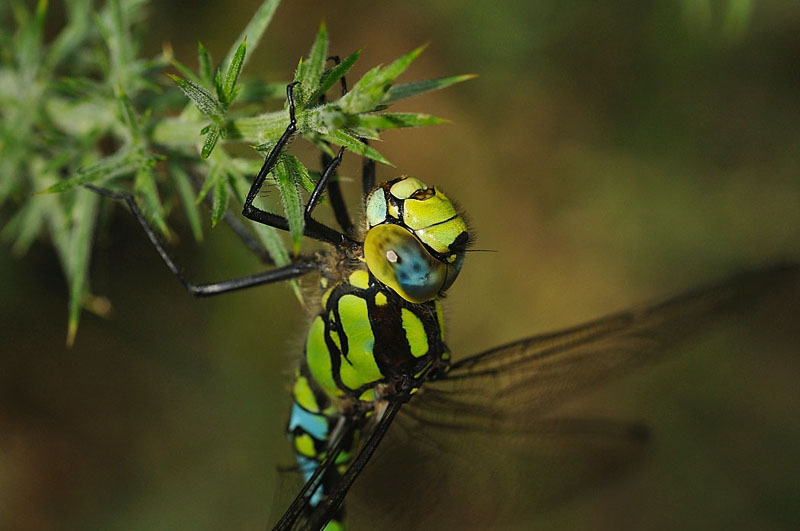 Knowing the preference for Hawkers (especially Southern) to choose sheltered forest rides, I walked the length of the old railway track crossing the heath and was rewarded with another 2 males, a female and my first Common Hawker of the year (a male) who completely failed to offer me a photo opportunity.
I hung around in the vain hope of catching another glimpse , but it wasn't to be. I continued down the track and veered off right following the path and diverting back until I found those other ponds I've seen on the OS map.
Successfully finding them, and spending probably less than enough time exploring them, I continued back, retracing my steps along the main track to see a male Southern – probably the same I'd seen earlier, before veering off left to tackle the track which had now become a small pond.
Making the most of this temporary water body were a few Common and Black Darters and a few Emerald Damselflies.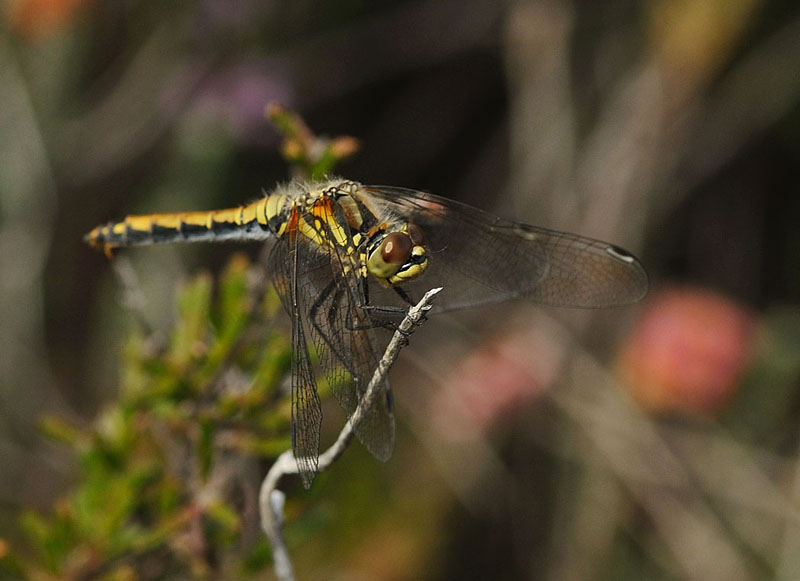 Further along this sodden track I saw a few Migrant Hawkers fly up and disappear before venturing left to check the gorse & heather where there were yet more Black Darters, Migrant Hawkers and Emerald Damsels disturbed by my presence.
The ponds had been replenished to the extent that navigation became difficult, but perseverance revealed more of the same and a lone female Brown Hawker which, would you believe, disappeared out of reach.
After a good 2 hours exploring the whole area I called it a day after the winds became too annoying to continue, which was a shame because in uninterrupted sun and calm breezes this area is frankly superb.
On to Troublefield for a quick look and the results were unfortunately unsatisfying after the previous weekend. A few Beautiful Demoiselles hanging on, a few Common Darters and a few flighty Migrant Hawkers making the call in worthwhile.
I ventured out again on the Thursday taking the opportunity to find those 'elusive' ponds around Furzley I tried to locate a couple of weeks back, I did achieved my objective after a long walk-in and approaching from the other direction.
The main pond is surprisingly close to a forest track, fenced off but accessible through a gate, and surrounded by trees. Despite there being a little sun there was no activity over the pond, possibly because of the wind or due to the light being unable to penetrate through the tree cover.
There were a few Black & Common Darters in the surrounding foliage, so maybe a visit on a hot, calm day may produce more results.
I went in search of a smaller pond but found my progress hampered by extensive and untidy forest works. This whole area had been purchased by the National Trust with the intention of returning it to wetland heath – a process which will inevitably take time but eventually may prove very promising.
I did eventually find the small pond, hidden amongst the rubble and currently inaccessible unless you're as stubborn as I am. Again, lacking in light nothing was flying, but hopefully with regeneration this pond could prove to be promising in years to come.
Satisfied with this discovery I paid a brief visit to Stagbury Pond on Cadnam Common where there were a few Common Darters, Emerald and Common Blue Damselflies and a fleeting visit by a male Emperor., but unfortunately no photos of the latter.
It was Sunday before I dare venture out again. Bank Holidays are a time I usually like to stay away from the New Forest, but, more importantly, the weather really wasn't playing fair.
Sunny spells said the forecast, and I suppose they could get away with it. A few glimpses of sun, but not really enough to raise the temperature to any degree where any self-respecting dragonflies would venture out – a bit like me really!
I sort-of knew it was going to be a waste of time and petrol, but headed over to Troublefield anyhow just to get out of the house.
We scoured the ditch at the back of the reserve in the hope we;'d find a few roosting hawkers, and did indeed disturb a few Migrants, one Brown Hawker and a few Beautiful Demoiselles.
Back at the gate I decided to get out the bins and scour the foliage around the ditch and found a single male Migrant perched, albeit not in the best condition, and, in the lack of any other opportunities, took a few shots.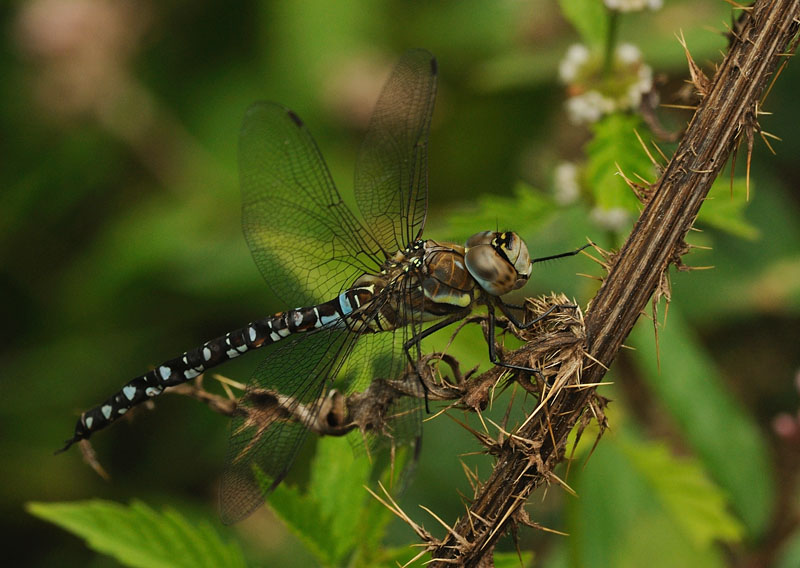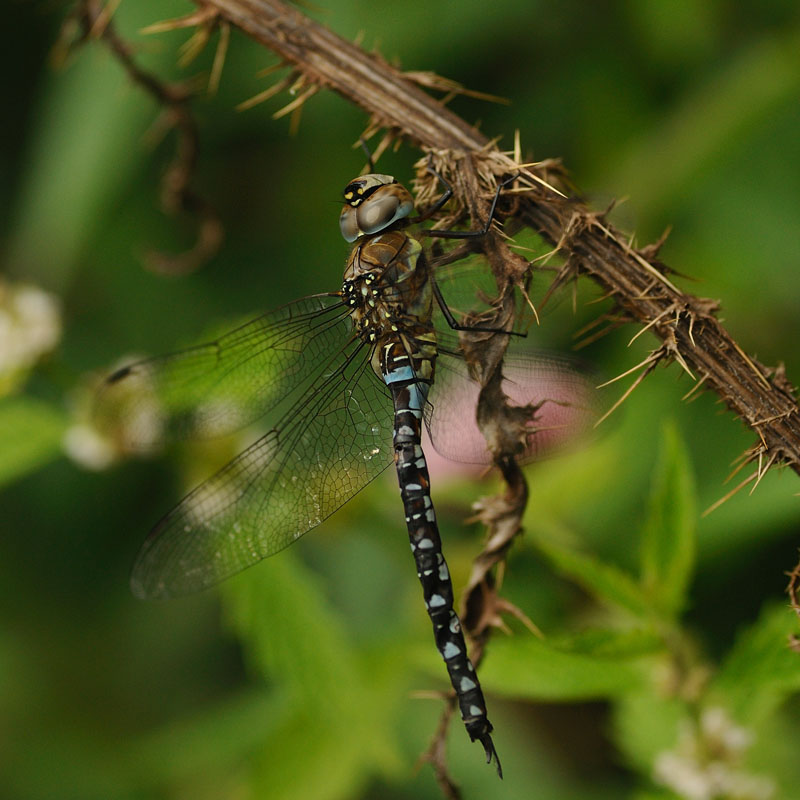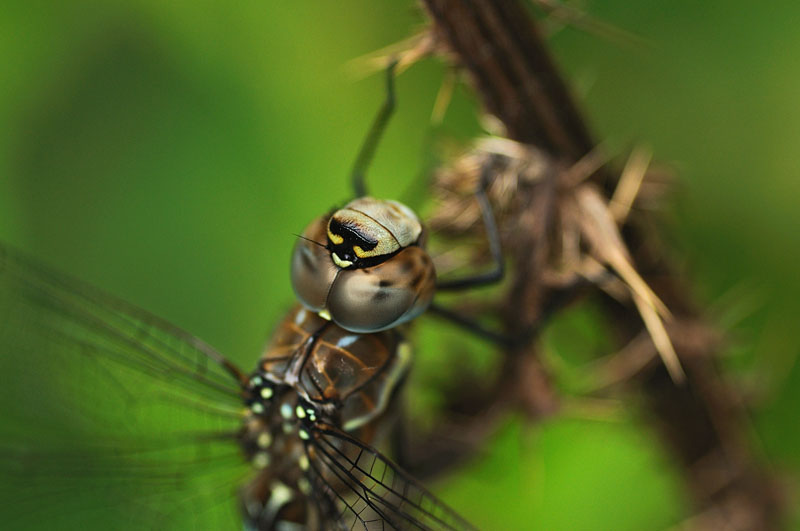 That was it. Saw no point in searching further and instead made our way across to Ramsdown in the hope of flushing out a few more.
We did, but the only opportunity was a Common Darter.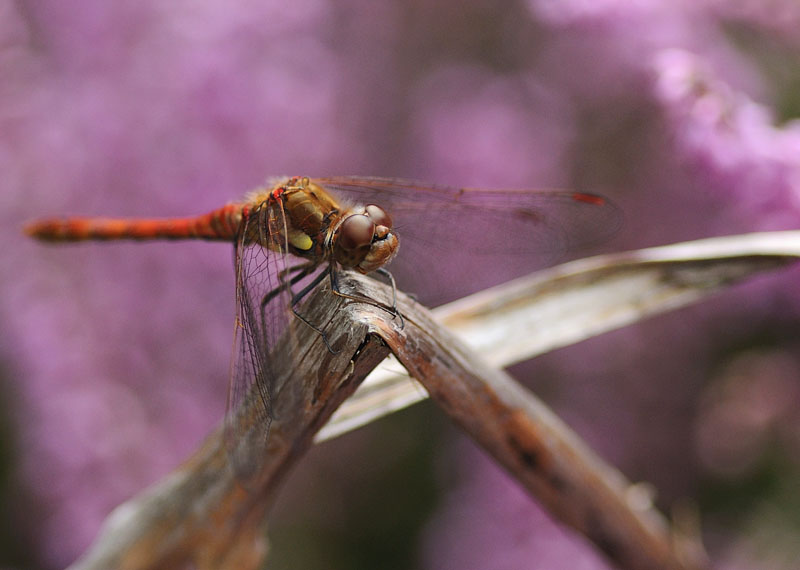 There were a few Hawkers flying off in the distance, but too far away for ID.
Such is my displeasure with this summer that I'm seriously thinking of emigrating! Temperate climate we may have, and we have to accept what we're given, but come on! No real summer and no real good weather since spring! Things have to change – not for me, but for the dragonflies.
Such was my disappointment with the weather I didn't venture out again until Tuesday. I decided to concentrate on a small section of the River Stour and despite the cool & cloudy conditions managed to disturb 8 Brown Hawkers.
Interesting to observe was their tendency to roost low down, almost ground level, in the grass and nettles. which made them difficult to see and even more difficult to photograph should I have spotted them.
In fact my only realisation they were there was a rustling of wings as they took flight at my presence. Further proof that this is indeed the most frustrating species to photograph.
I popped in to Troublefield on the way back and saw nothing – not even a Banded Demoiselle. So a disappointing end to August – a month where good days proved few & far between.
Let's hope September proves better. Traditionally my favourite time to take a holiday, and usually good for hawker activity.