Wednesday 31st May
Every season I visit Latchmore Brook to connect with the Scarce Blue-tailed damselflies; usually in mid-June, however as all species except the Large Red have jumped the gun this year I managed to connect with my subject in late May.
A prospective foray last week produced just the one immature male a return visit was planned for this Wednesday. It wasn't too long before I spotted my first pre-aurantiaca phase female close to the mire, the beautiful and delicate pink hues of the teneral stage just beginning to change to the vibrant orange.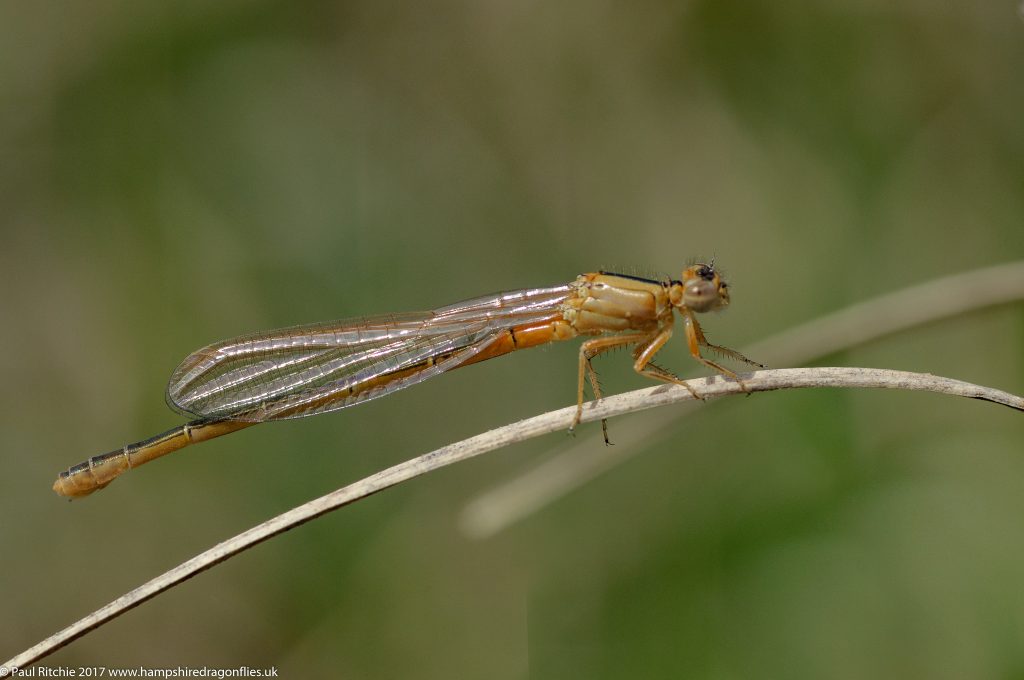 Despite a fair amount of light cloud early on I was surprised by the lack of males; I didn't see one until on my way out mid-afternoon. I did however connect with my first Small Red of the year, satisfyingly bringing my season species total to 20 before May had turned to June.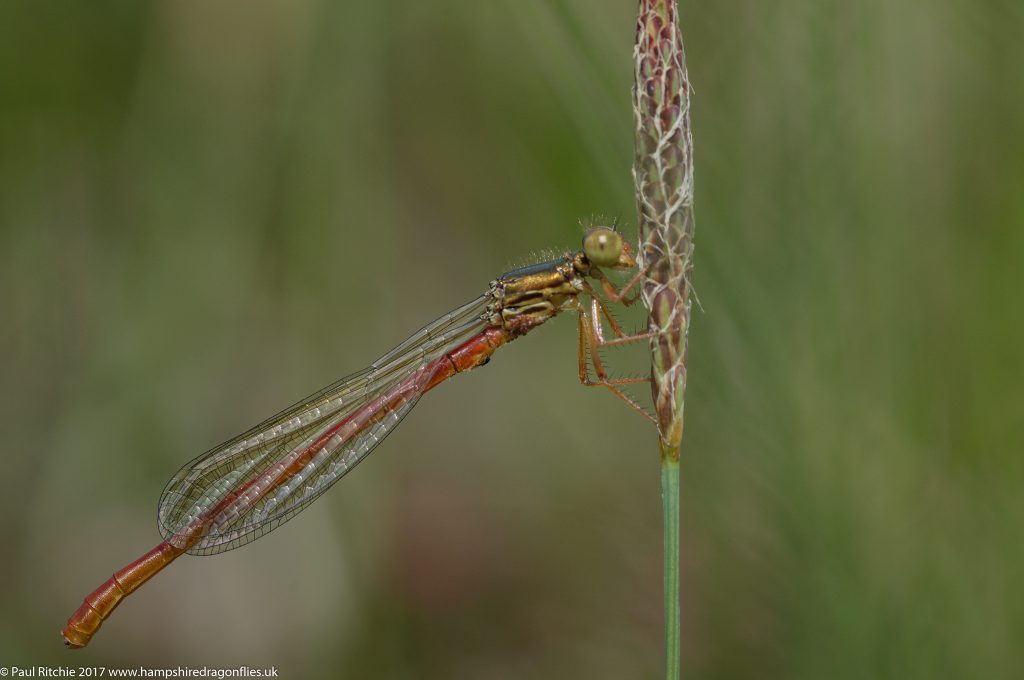 Another pre-aurantiaca caught my eye and offered a better opportunity when she landed low down on a stem. I ditched the monopod and lay on my belly to find the best angle, which happened to be from slightly underneath, perfectly isolated with a background of sky.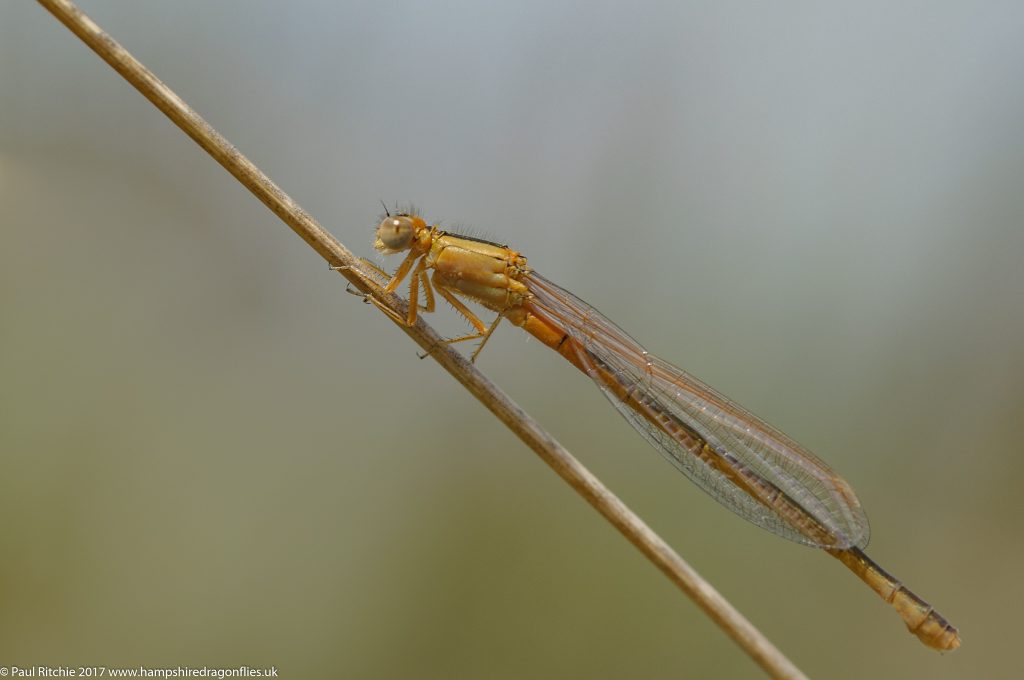 While searching for the more orange version I happened upon a male Small Red. One of the pitfalls of macro photography with such a small subject is the slightest breeze can cause immense frustration, with even the fastest shutter speed unable to cope with even a 7mph average.
I waited what seemed like an age for a break in the breeze but it wasn't to be. In the end I had no other alternative than to spray & pray using manual focus. Auto-focus or indeed the use of a tripod wasn't going to help here.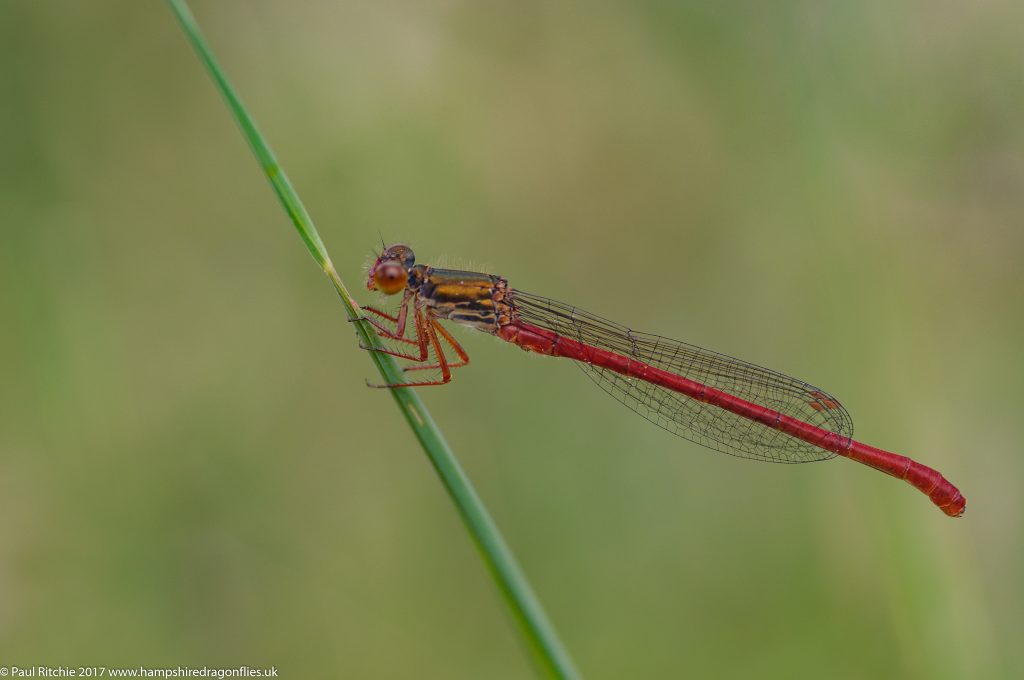 Still not as sharp as required, but it'll do until more chances arrive later in the season. I had to wait until lunchtime until I finally managed to secure a true aurantiaca, the vibrant orange impossible to miss against the green of the grass.
Thankfully this one was happy to stay in her own chosen sheltered hollow, happily feeding. I was content enough just to watch as she rose from her grass stem to take another small fly out of the heather above.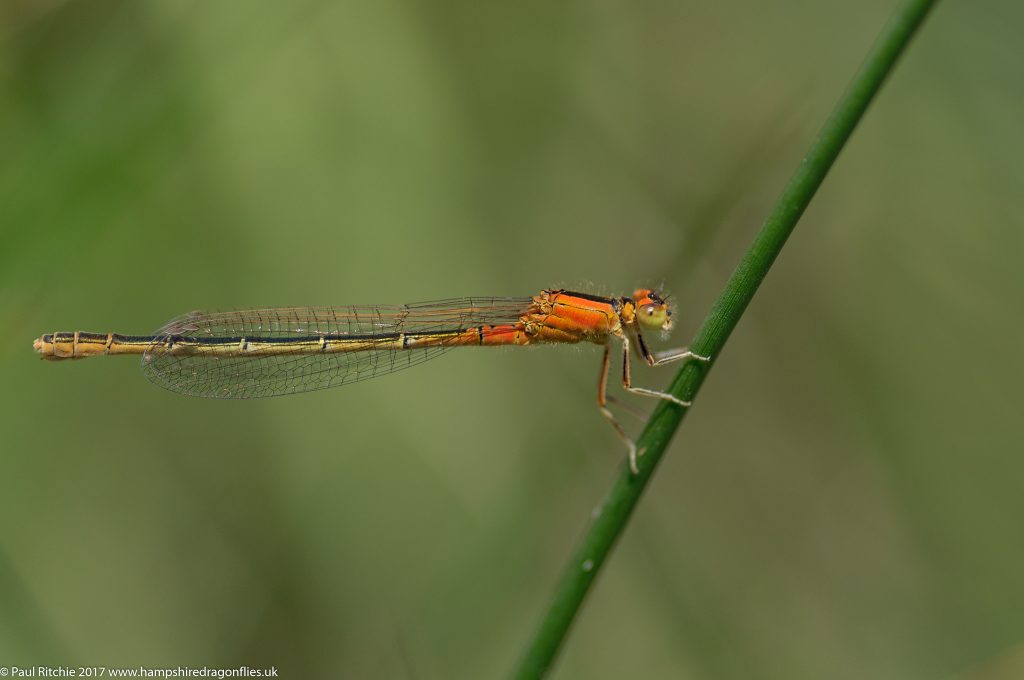 After securing my prize I took a walk up to Gypsy Hollies and descended the stream, taking the opposite route to last week. Before the stream turned I noticed an almost fully mature green female busy ovipositing into the shallows.
Following the stream as it ran parallel to the main brook I came across quite a few Southern and another aurantiaca along the shoreline, quickly disappearing out of reach. No worries, I was happy just to wander along paths not previously trodden, frequently having to back-track to avoid the boggy areas.
I found two more aurantiaca before calling it a day and finally a male patrolling the first flush near the lawn. There'll be better opportunities on another day.