The continuing high pressure promised a good weekend so Sue & I took a trip to our favourite pond late afternoon in the hope of seeing a Southern Hawker or two (we did) and maybe, just maybe a Common Hawker (there was).
On arrival at the water's edge, we saw our first Southern Hawker, ideally placed and behaved for some in-flight shots.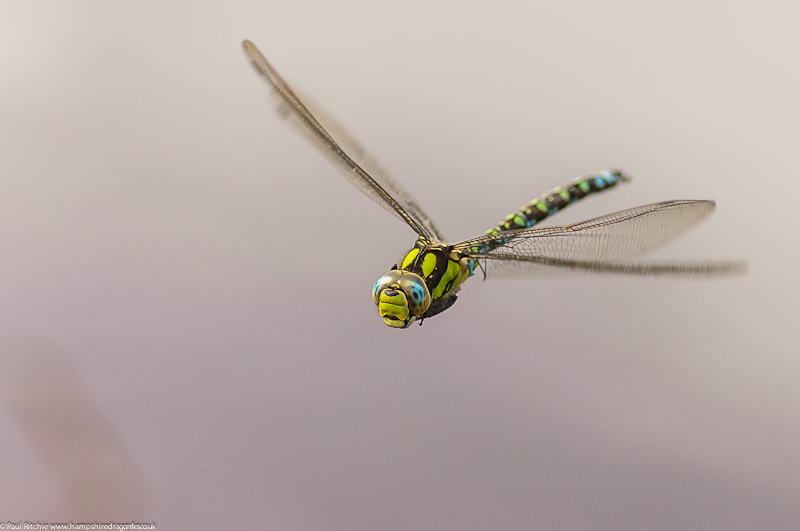 At the puddle by the bridge another Southern Hawker was protecting his untypically small territory, while in the corner an Emperor reigned supreme, occasionally straying into Southern Hawker territory where evenly-matched battles ensued.
Common Blue and Emerald Damselflies were present over the water and pretty much everywhere, and the reeds showed Small Red. Common Darters were outnumbered by Black Darters, bouncing from the reeds, flying over water and even dispersed among the ferns & gorse with some resting Emeralds.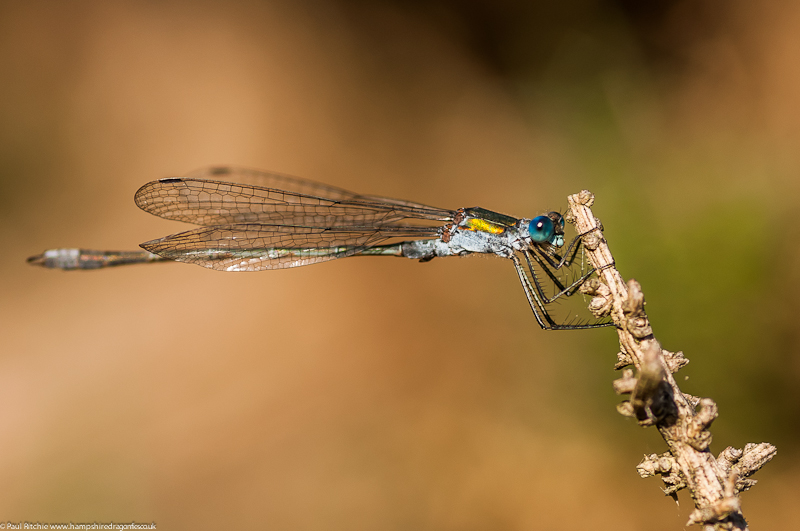 Sue had found a male Broad-bodied Chaser at the far end which appeared later to give us all a glimpse, and Paul W spotted a male Common Hawker in the (now dry) basin to the north.
Sunday started fine and gradually worsened with heavy winds and a huge band of grey cloud coming in from the west. Nevertheless we still continued on to Pennington where it proved to be another Migrant frenzy.
Several males were found perched on foliage, at least one pair in cop, although they could've been separate couplings, and a female ovipositing into the dry reeds a metre from the water's edge.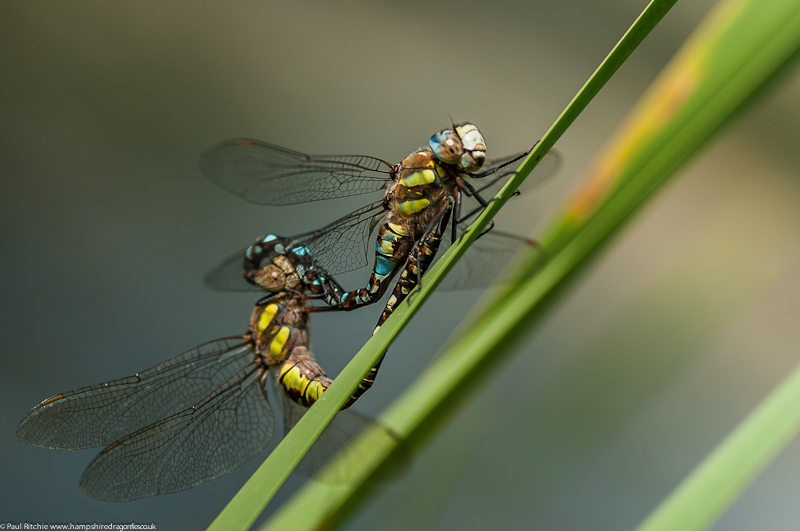 Our rounds also produced Blue-tailed Damselfly, Beautiful and Banded Demoiselles hiding in the scrub while a brief moment of sunshine revealed several tandem pairs of Small Red-eyed across the water.
More male Migrants were patrolling the far end of the pond and one female was ovipositing among the reeds.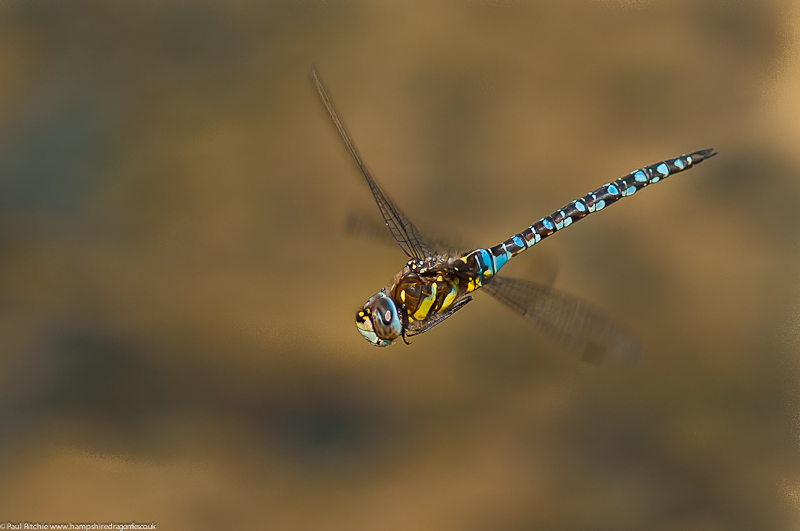 A walk along the river through the two rides produced several dozen Common Darters and at least a dozen more Migrants.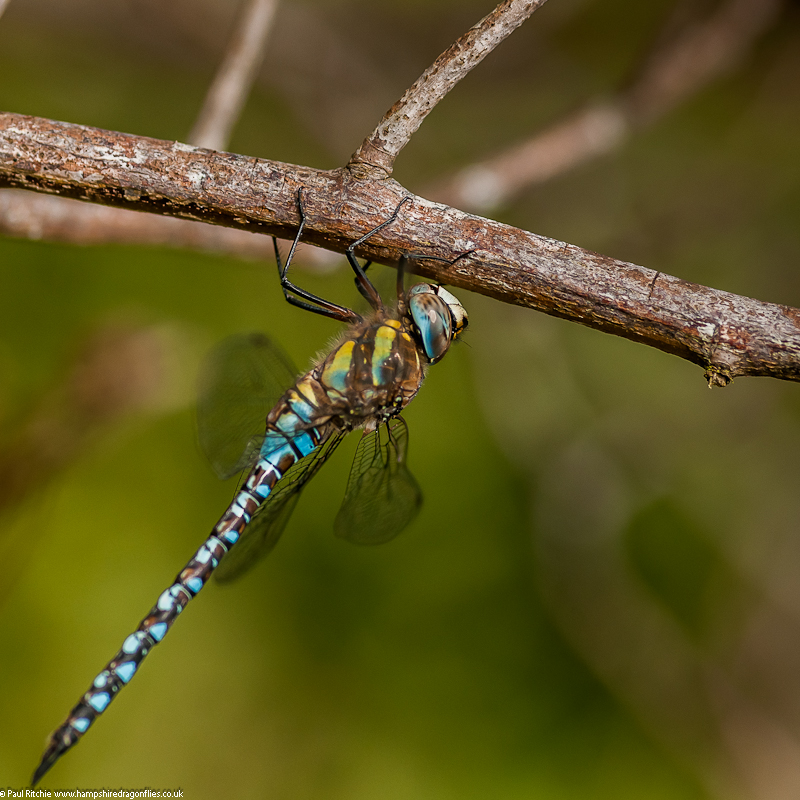 We were a little disappointed not to find any Southerns, and although we could've searched harder we thought it best to leave before the rains came.
Doom & gloom from the forecasters meant this week was going to be touch & go, but a bright Tuesday morning beckoned and I made my way to my favourite pond to grab the last of the sunshine. A stiff breeze kept temperatures down and nothing was flying over the pond until a belt of sun rose the levels enough to wake the Common Darters, arriving as single males and several in tandem pairs.
Black Darters frolicked around the reed edges and Emerald Damsels woke from their perches to join the few Common Blues and lone male Blue-tailed. The Small Reds were seemingly staying put on the island out of view.
I was starting to become a little bored and contemplated moving on, but the arrival of a male Southern Hawker changed my mind. This one wasn't as playful and decided the whole pond was his territory, circling the island checking out every nook & cranny, presumably in search of a female.
And then I saw her! Not a Southern or a Migrant, but a female Common Hawker seeking out a place to lay her eggs. She flew low along the reeds and disappeared out of sight for a while until returning to oviposit in one of the island inlets.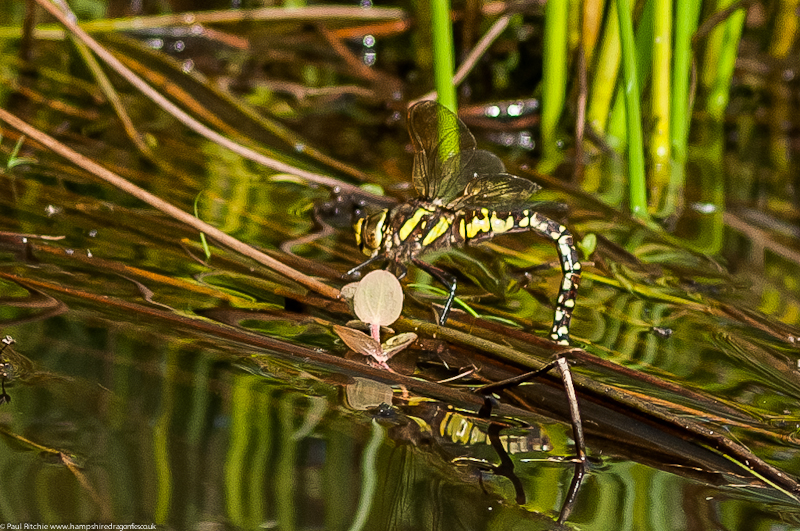 That settled it – I wasn't going anywhere. I sat down along the narrow channel with the (somewhat obscured) sun behind me and awaited her return, and had the male Southern pass by and engage with what was quite obviously the female about 5 metres away.
Sure enough, it was her – this time choosing the corner to oviposit. I tried and failed to get close. Very nervous, as soon as she was aware of my presence she was off like a rocket over the heath! Southern and Migrant females are usually unperturbed by your presence and I've had both attempt to oviposit onto my boots on several occasions. Brown Hawkers too. But this little lady was very shy.
She appeared again further down the channel and at first unseen rose at my approach, hovered briefly then moved swiftly on. In all she appeared sporadically over the course of an hour and in those brief moments allowed me a glimpse of her behaviour, so subtly different from her cousins.
On Thursday I decided to check out the small pool on Duck Hole Bog for the first time this year. This small insignificant pool has previously provided a few surprises, but there were only Common Darters and Emerald Damselflies in attendance during my hour stay. One of the former decided I was as good a vantage perch as any throughout my stay.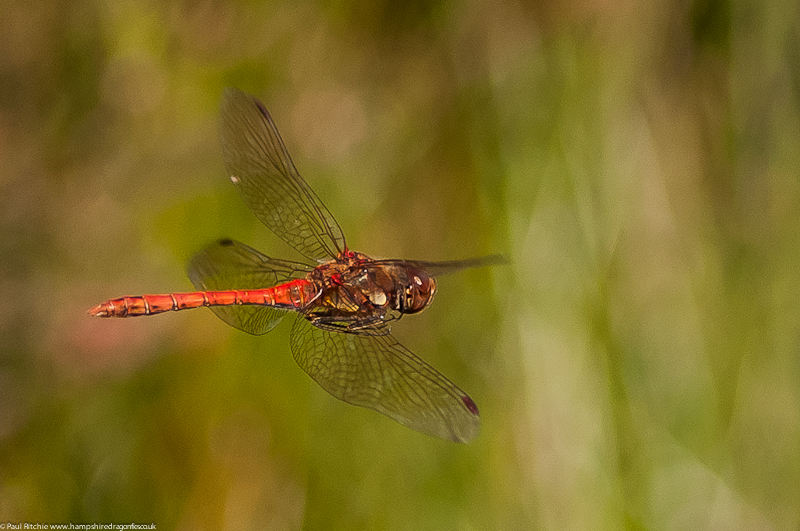 I moved on to Christchurch Common where I failed to see one hawker. At least there were a few aging Emerald Damselflies among the heather and several Common and Black Darters.
Recently I've approaches Troublefield with mild trepidation, often driving past without stopping. However during September it usually bears fruit being a favourite hunting and roosting ground for swarms of Migrant Hawkers. There were a few flying out of reach, but the stars today were the Southerns. This individual was perched awkwardly just inside the gate.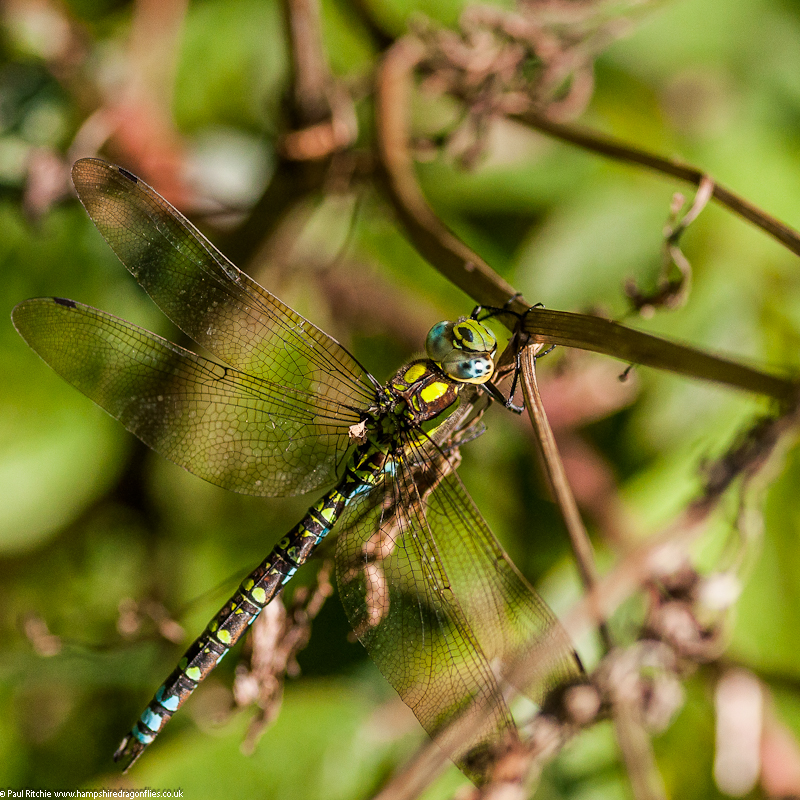 Further down towards the end of the second meadow is an open section of this murky channel where two more males were patrolling either side of an ovipositing female.
By Friday my internet went down for the second time this month and after a morning of frustrating and fraught conversations with androids I had to get out.
The pond was the only place close enough to offer me a place of peace and sanity and  After the usual circling of the pond and gorse thicket, I sat with the sun behind me looking over the narrow channel to the island. Despite the stiff breeze a few sunny spells were enough to kick-start some activity with Common Darters appearing in one's and two's to patrol or oviposit.
On the island Black Darters bounced here and there in the reeds while at the margins Emerald and Small Red Damsels were making short tentative forays.
The appearance of a male Southern – quite possibly the same individual from earlier in the week judging by his patrol.His unusual meandering path around the reed margins and slightly nervous nature made in-flights a challenge. Usually they choose the outside pond edges as their preferred patrol and are a lot more inquisitive.
My thought was disturbed by him rising up fast to clash with another hawker, taking the battle high and wide until he reappeared. This had me curious. Who was this challenger? Sure enough a few minutes later while the Southern was busying himself a few metres away, a male Common Hawker came cruising down the channel.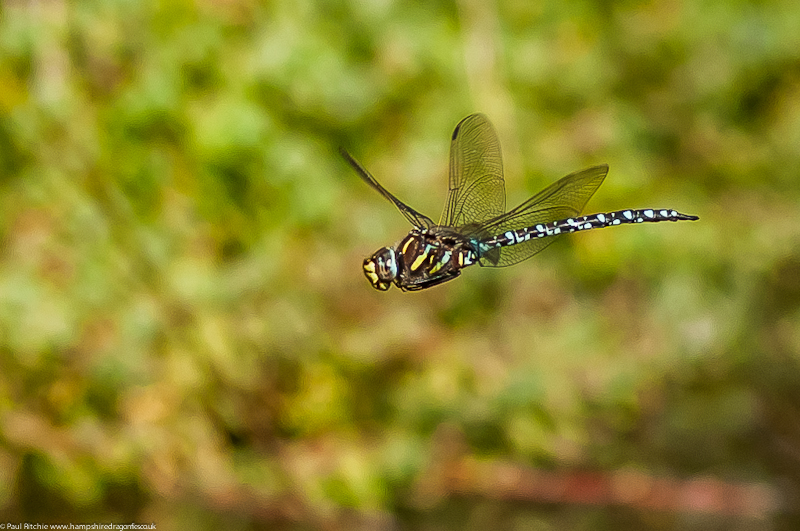 This is the first time I've seen one actively patrol this pond so was a joy to see. It's almost as if the Welsh trip had opened the doors on this most elusive hawker. Sightings are sporadic in the New Forest, and to have both a female and a male in the same week at my favourite watering hole is a real pleasure.
Having both Common and Southern patrolling the same pond allowed me compare and recognise on sight and to note the subtle differences in their flying patterns. The Southern is predictable with almost set boundaries, while the Common is more investigative, rising up and down the reeds while keeping within the height of the surrounding flora and occasionally trespassing on Southern territory where another dogfight would ensue.
Sue & I returned to the pond for a couple of hours on Saturday afternoon in better conditions. The Southern was still in attendance and offered better photography opportunities than he had all week.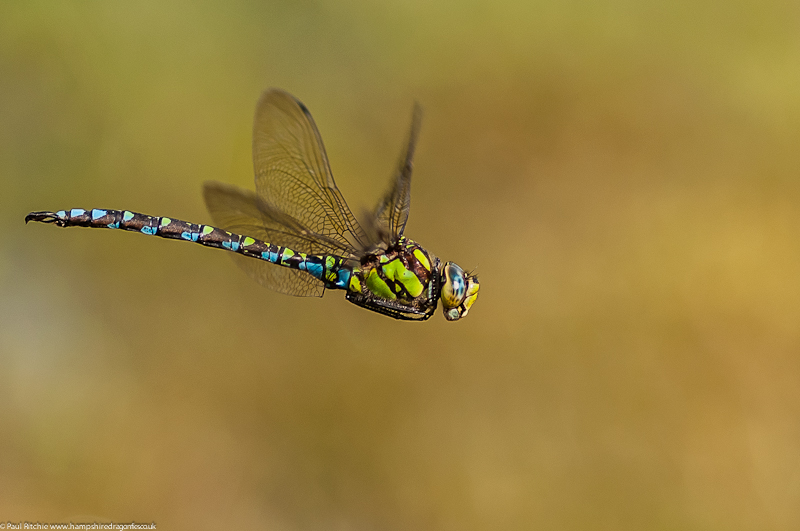 So was the male Common, giving Sue a chance to observe this fine specimen on our favourite pond.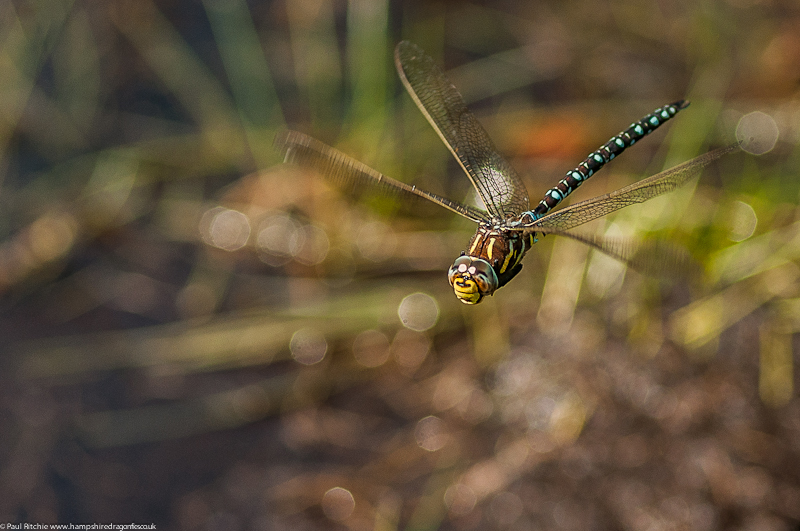 The Small Reds were certainly more active today with several pairings, and Emeralds were busy across the water. Black Darters were braving the outer margins of their island sanctuary, seemingly in higher numbers than the Commons.
Today however we had another visitor. The female Common Hawker (at least I assume it was the same one) was back briefly to oviposit before the Southern drove her away.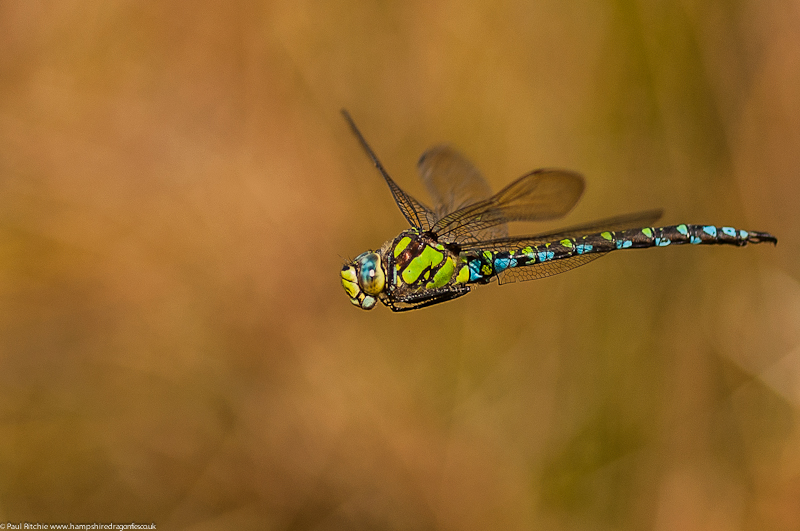 So Tuesday I had a female Common Hawker, Friday a male, and Saturday we had both. Truly the pond which keeps on giving.