Continuing on home turf I revisited one of my favourite spots in the New Forest on both Tuesday and Wednesday of this week. I still maintain that Ober Water will provide all species found at Crockford Stream, albeit over a larger area.
A walk from Puttles Bridge to Markway Bridge – or indeed vice-versa – will take you through a myriad of environments in relative peace away from the main tourists traps.
After parking up on Tuesday at Puttles Bridge, I crossed the bridge and headed across the road to follow Silver Stream. Nothing was flying here at this hour and the cool, windy conditions didn't help.
I therefore decided to recross Ober Water and make my way across the heath until I reached the bridge below Rhinefield House. I searched the north bank downstream for a short distance in the hope of finding a few White-legged Damsels among the grassy area, but none were to be found. There were however some Beautiful Demoiselles waking up along the stream.
I continued upstream following the banks until I came across my first White-legged tenerals and Southern Damselflies among the Large Reds and Azures.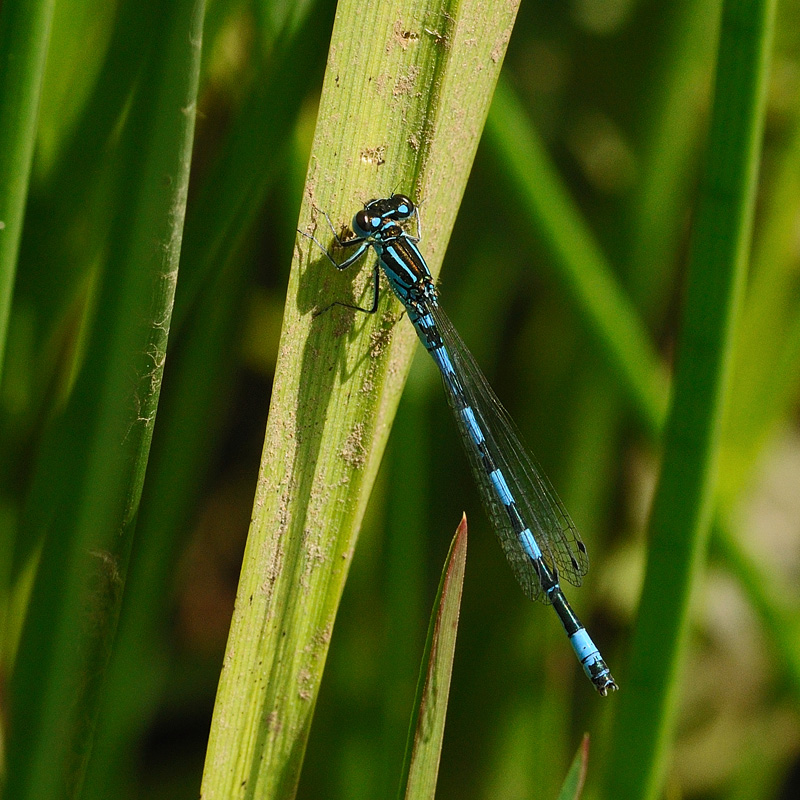 Continuing upstream until I reached the area where the Scarce Blue-tailed can be found, I crossed the stream and waited for the sun to appear. Patrolling the junction were a male Downy Emerald and a male and female Broad-bodied Chaser.
At just after 11.00am I spotted my first Scarce Blue-tailed among the few normal Blue-tails and Azures. All males, they were patrolling the banks of the main stream, stopping briefly to perch on the emerging vegetation.
I spent a couple of hours at this spot, following the SBT's and waiting for some photo opportunities.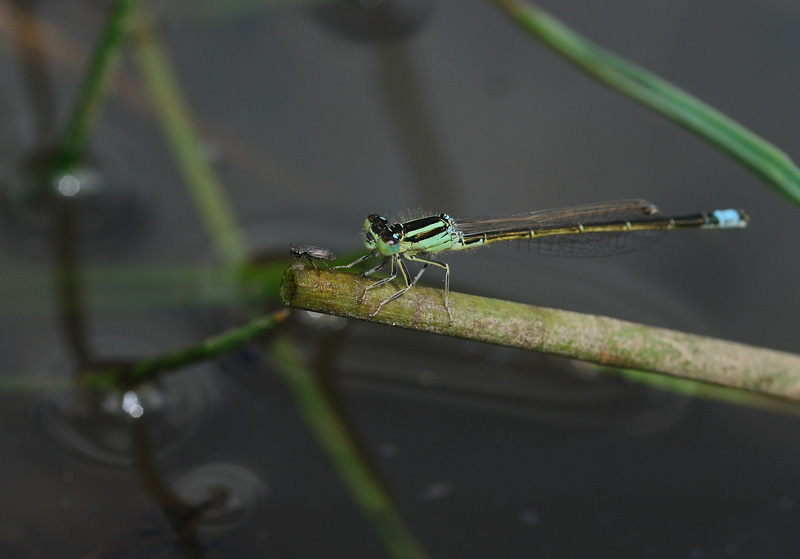 Also patrolling the banks of the main stream were a few 'normal' Blue-tailed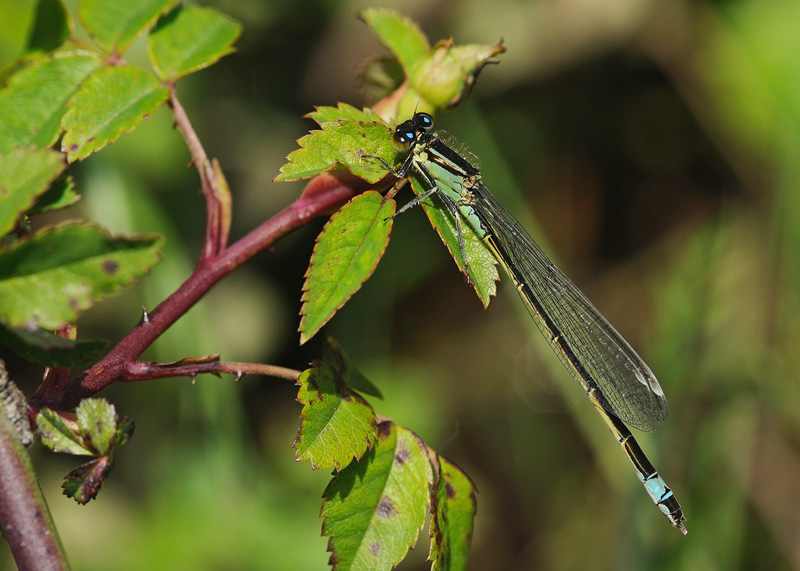 Returning downstream the banks had woken up considerably with Large Red, Azure and Southern Damsels – some in cop – among the increasing numbers of Beautiful Demoiselles.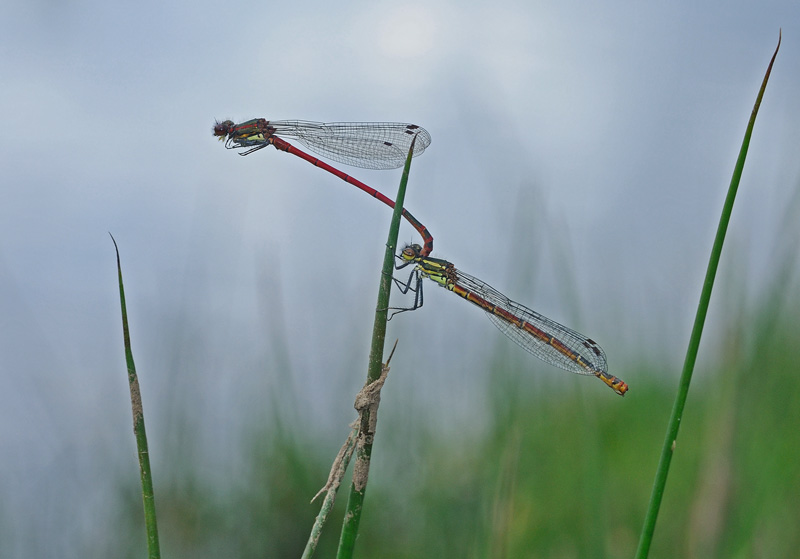 Back at the bridge the wide pool had patrolling Four-spotted and Broad-bodied Chasers and a single Golden-ringed. Further on still there were several teneral Keeled Skimmers and even a few mature males patrolling the boggy seepage's.
On Wednesday morning I returned to Ober Water, but this time started at Markway Bridge. I walked downstream until I reached the area where I knew would provide some early activity. I was rewarded with my first photo opportunity – a recently-emerged Large Red still attached to the exuvia.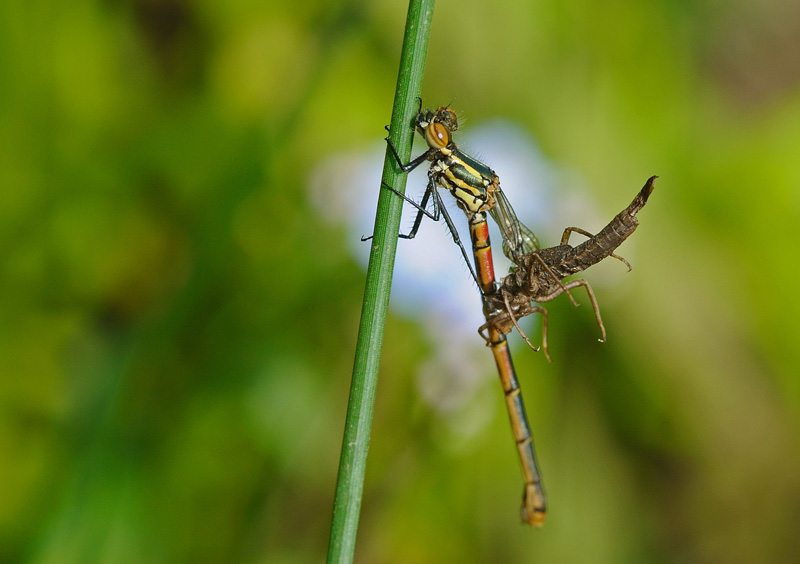 Unfortunately the exuvia had detached from the grass stem and the teneral was well coloured up before the wings had a chance to detach. However she was actively walking up & down the stem and even onto surrounding foliage. I did return to note any progress on my way back and found the discarded exuvia at the base of the stem with no sign of the teneral.
Further downstream I rescued an unfortunate teneral Keeled Skimmer from the stream. I placed him on some heather to dry out.
At the bridge pool once again there was a Golden-ringed holding territory with the Chasers. Returning back upstream I noticed that the Keeled I rescued earlier had moved on, and there were several more tenerals dispersing in the breeze.
Returning upstream revealed increasing activity along the banks with Large Red,Southern, White-legged and Azure Damselflies and Beautiful Demoiselles.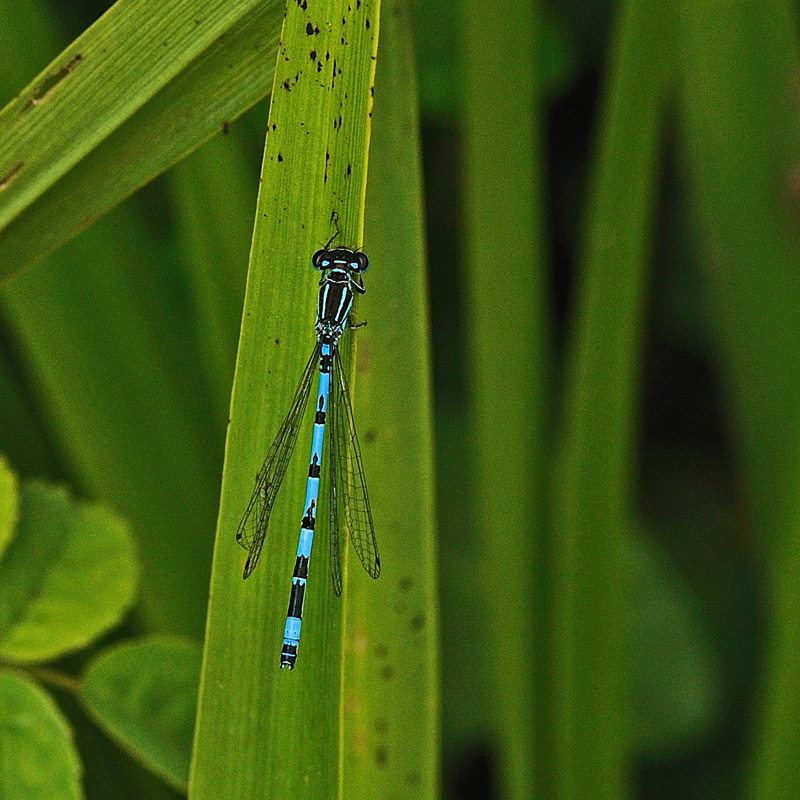 Returning to the junction the Scarce Blue-tailed were now on the wing and I grabbed a couple of opportunities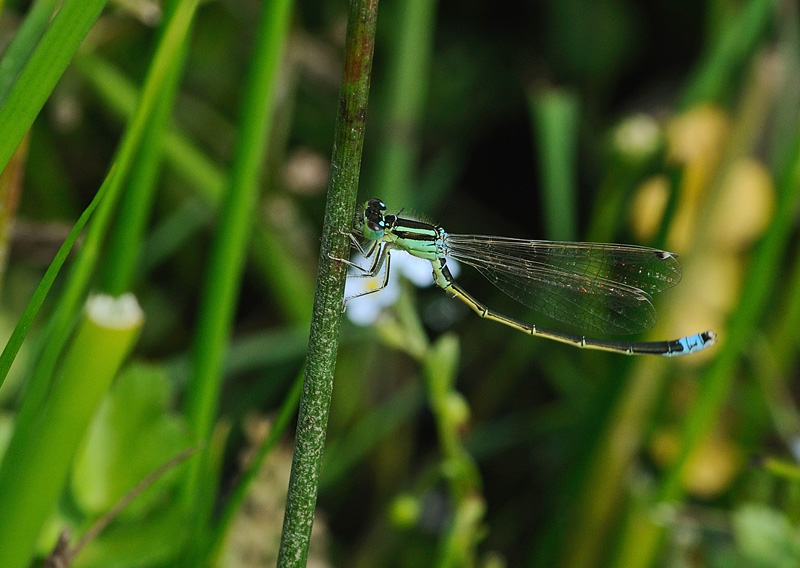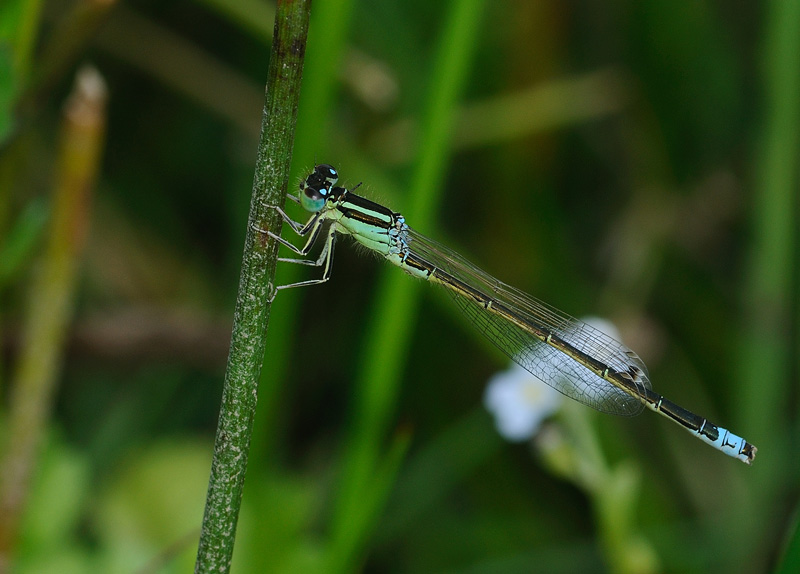 Catching my eye was what I'd assumed to be a Large Red teneral carried by the breeze. Further inspection revealed it to be a teneral Small Red.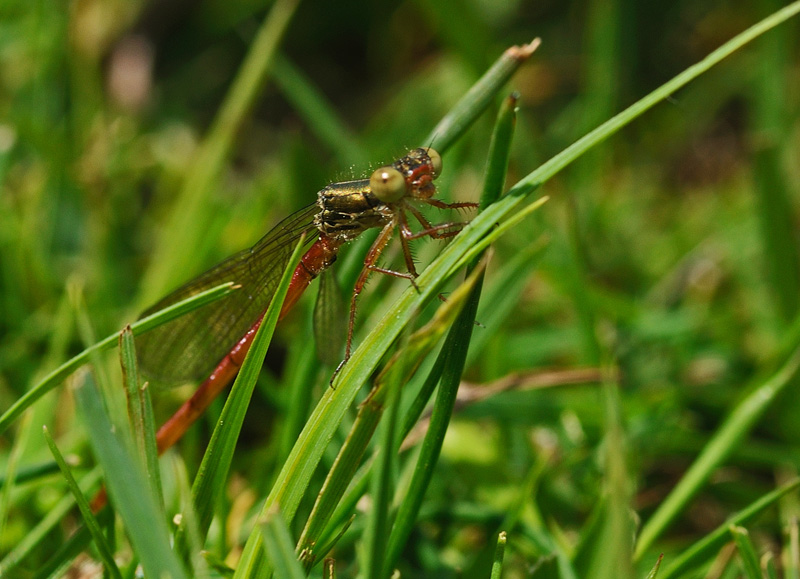 The promise of reasonable weather meant a return in the afternoon with my partner Sue. As usual on arrival the sun had disappeared behind a blanket of cloud. Along the banks was a single female Red Deer, not normally found this far upstream.
Despite the cloud cover it was still warm enough for damsel activity and the first opportunity that presented itself with a Blue-tailed feeding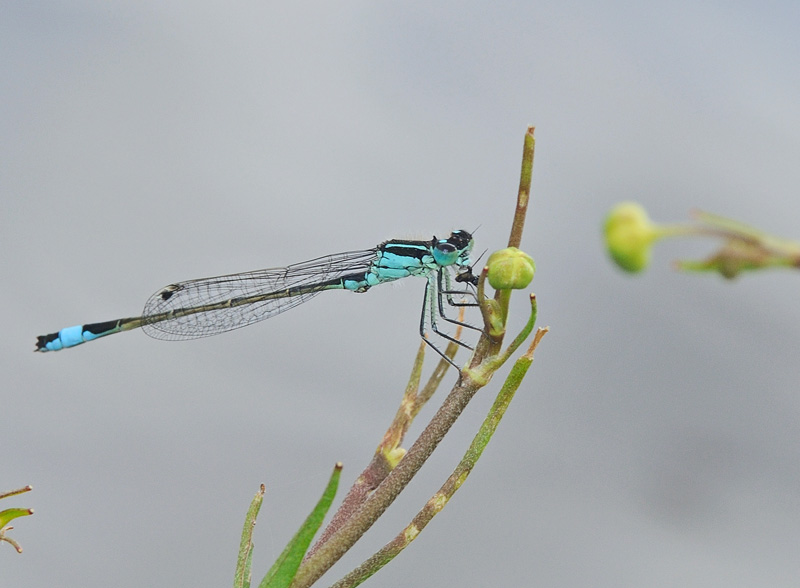 Shortly after we caught a glimpse of our first male Scarce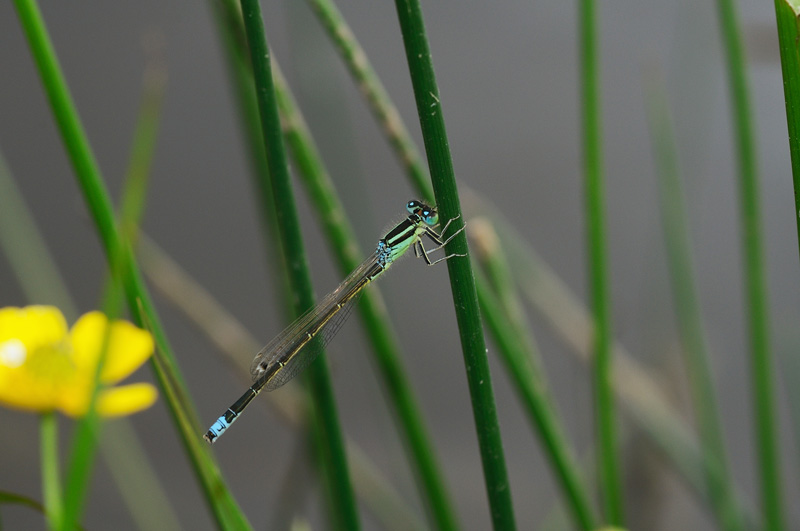 Careful inspection of the stream revealed what e thought were our first females, difficult to follow and almost impossible to see among some vegetation. However these turned out to be female Blue-tailed. Still I wasn't prepared to leave until I had at least one photo in the bag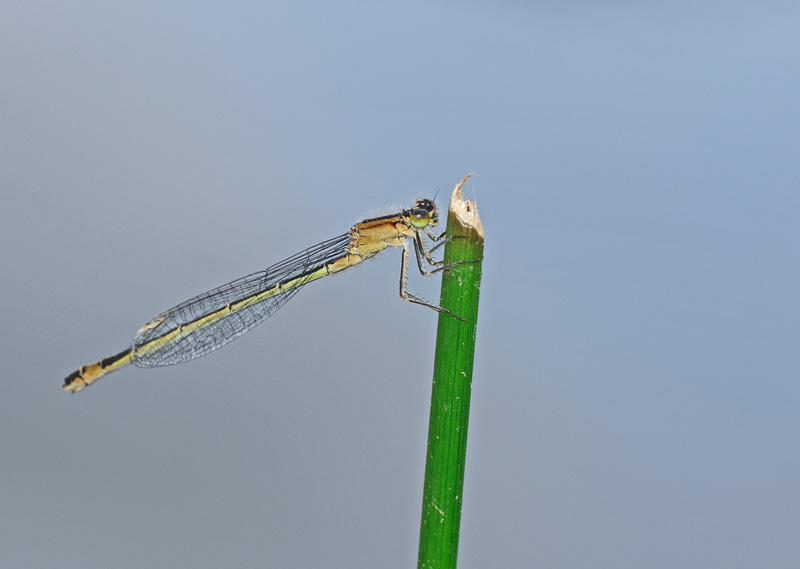 Returning to the car we spotted a large herd of Fallow Deer ahead of us and watched as a young bullock chased them off, bellowing in triumph.
Bold from his bullying success he attempted to do the same with the ponies, who ignored him totally, so he turned his attention towards us! Bellowing loudly and cantering at a good pace he came to an abrupt halt before sauntering off in a sulk, deflated after his earlier triumph.
Shortly afterwards a group of 4 colts came charging through at a gallop, circling the fillies and crossing the river at great speed in a display of testosterone. This truly is a magical place….