On Monday 26th I was delighted to join Paul Brock – an authority on insects of Hampshire and the New Forest – and another dragonfly enthusiast Graham Hoggard at Burley. Although our main objective was dragonflies. it was interesting to observe and learn about all the other six-legged creatures beneath our feet.
Our first objective was Whitten Pond in search of Hawkers, but on arrival we had noticed the pond itself had receded at least three metres from the bank. Worse still was the total absence of water in the lead-in stream, sight of most activity during the season. The dry conditions have certainly had a bad effect on most of the ponds in the New Forest and this in turn has affected the dragonfly populations.
Disappointed with Whitten, we crossed the road to inspect the ponds on Burley Heath. Conditions were a little bleak, if warm & humid, and we had to search hard for odonata. Careful inspection of the heath produced a few Small Red and Emerald Damsels and we disturbed several Keeled Skimmers among the heather.
All was not lost as we did discover what I consider to be the largest single Small Red population in the whole of the forest. A glorious sight to see. There must have been over a hundred individuals of both sexes along the banks of the old railway.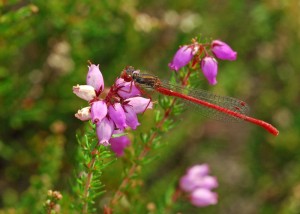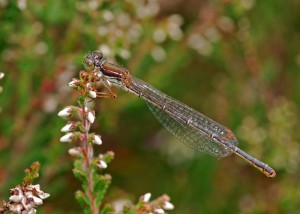 We then visited Holmsley to inspect a private meadow with several small ponds which provided plenty of Azures, Large Reds, Common Darters and a surprising sighting of a mature Male Ruddy Darter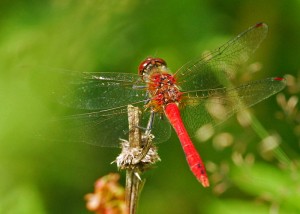 Our next destination was Duckhole Bog on Wilverley Plain, a site which I had stumbled across before but according to Paul a prime site for Common Hawkers, which are usually scarce in the forest. On reaching the bridge there were several Keeled Skimmers including pairs in cop and females ovipositing, along with our first and only Golden-ringed sighting of the day.
The small pool further along the bog provided what was to be our best opportunity with several Keeled's, a circling male Emperor, an ovipositing female Emperor and a welcome sight of a female Southern Hawker which was laying her eggs in the bank-side.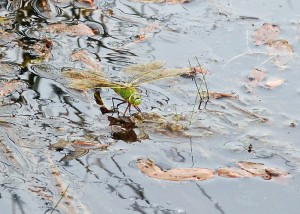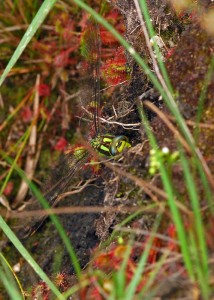 There was also a lone immature Common Darter which I rescued from the pond after being taken out by a hungry Keeled Skimmer. Damaged but intact and obviously grateful for the rescue, it remained perched on my finger reluctant to move away from the welcome heat.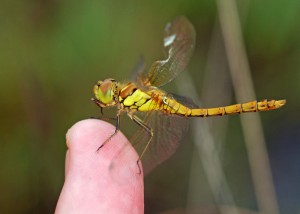 All in all a very interesting day despite the lack of Hawkers. I have to say a good soaking is needed to return the forest to a more sustaining environment if we are to witness the activity experienced at the same time last year.