Ashley Hole contains a smattering of bomb craters left over by intensive target practice during the second world war. At first glance it resembles an ugly scar on the face of the New Forest, especially the huge circular dead scar on the plateau. Add to these the target crosses and the smashed and uneven ground you could be forgiven for thinking you had entered somewhere where you really shouldn't be.
I hadn't visited for three years, partly due to the long walk in, but mostly due to the resident dragonfly species being present elsewhere, somewhere more desirable and picturesque. Still, it needed a revisit, especially as these small, shallow ponds are ideal for the locally rare Common Hawker.
On my visit most of the (visited) craters are now dry, or merely puddles after the welcome heatwave we've been experiencing. A good many are seemingly 'dead' pools with no emergent vegetation, although the Keeled and Broad-bodied Chaser appeared to be well at home. Careful exploration can reveal some hidden gems, healthy with oxygenating growth upping the count to include Common Blue, Azure, Large and Small Red and Emerald Damselflies. Black Darters are also present here, although I didn't see any today.
What I did find at one of these hidden gems was a female Common Hawker ovipositing into the emergent vegetation.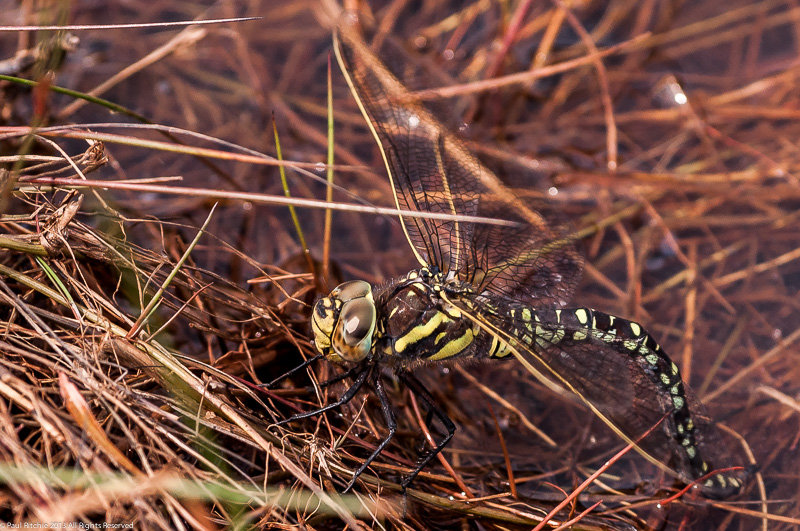 I should perhaps have called it a day then, or at least stayed out in case a male appeared, but my wanderlust had me seeking out a pond near Pitts Wood which I completely failed to find, losing myself in the wrong woods in the process.
When am I going to learn?
After escaping from my hot & humid hell, I returned to 'the hole' to seek out a few more craters, some quite busy with the occasional Emperor holding territory, before running out of vital liquid refreshment.
I should also mention that the (mostly dry) stream at Black Gutter Bottom had a fair few Keeled, Broad-bodied and Large Red making use of the remaining pools. Still, a fine result with the Common Hawker and good reason to revisit over the next couple of months.
After refreshing myself at the car I called in to the small pool at Turf Hill where there were several Common Blue damsels and male and female Emperors.