At the end of last year Sue & I promised ourselves a trip to Scotland in search of the Northern Emerald and Azure Hawker. The Northern Damselfly could wait for another time. We gave ourselves three days in the hope that at least one of those days would bless us with sunshine. Friends of ours chose three weeks!
Our first two days of the holiday involved the long journey up; stopping over near Loch Lomond to take the scenic route to Gairloch the next day. Arriving late afternoon we took the short drive to Flanders Moss under dull & windy conditions.
The circular route along the boardwalk includes a couple of ponds and several shallow boggy pools which would be ideal, however nothing was flying under these conditions at this hour.
Monday 26th June
We saw our first Odonata during our drive at the top of Loch Lomond – just a Large Red perched above a small burn at the back of a car park. The drive up through Glencoe and Glen Shiel was exhilarating with fantastic mountain scenery throughout. A bonus was an Osprey chasing Oyster Catchers over the loch at Strath Carron.
Our wonderful day soon disappeared into farce when we found our chosen hotel was less than perfect. Beautiful enough, but tired and jaded with possibly the worst Wi-fi reception and no phone signal!
Tuesday June 27th
Having no phone meant we couldn't connect with John & Carol who were staying at a campsite in Poolewe, so we took a drive out in the morning to find them walking down the road to the local cafe! A perfect serendipitous moment.
After greeting over a cuppa we went back to their caravan for a spot of lunch and drove out to Laide Wood, a bonus location Sue & I had found about about via Gairloch Tourist Information.
The weather was far from perfect with a wicked wind, but the sun did appear briefly and we had a sighting of a Highland Common Darter female along the path.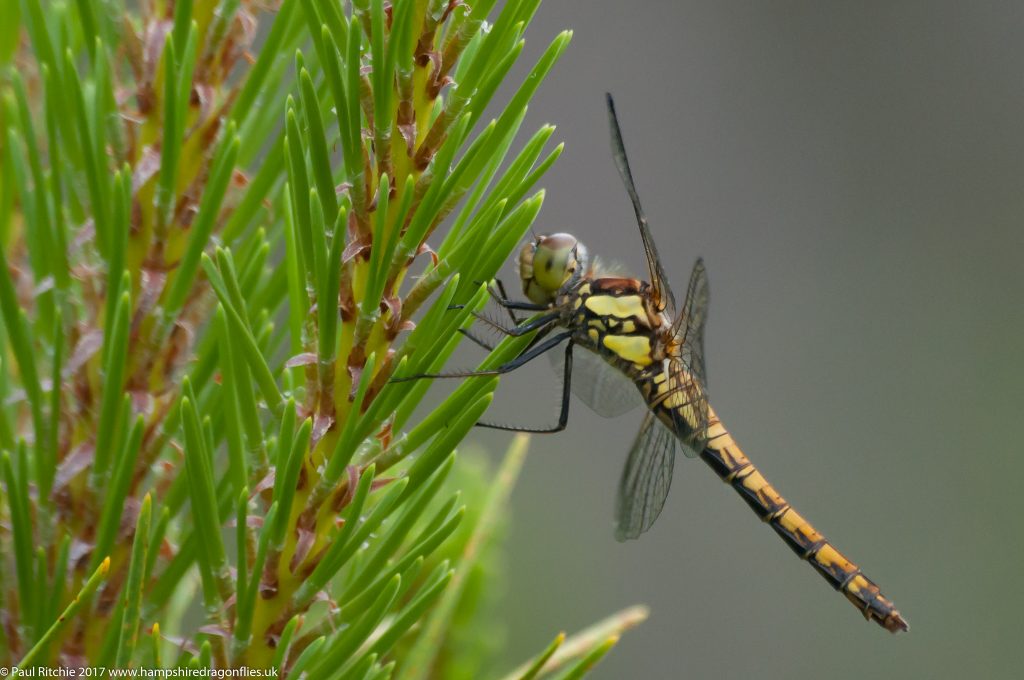 Our walk brought us to a pond surrounded by conifers which produced a few damsels and carried on to a fabulous pond where we found another teneral female sheltering in the heather.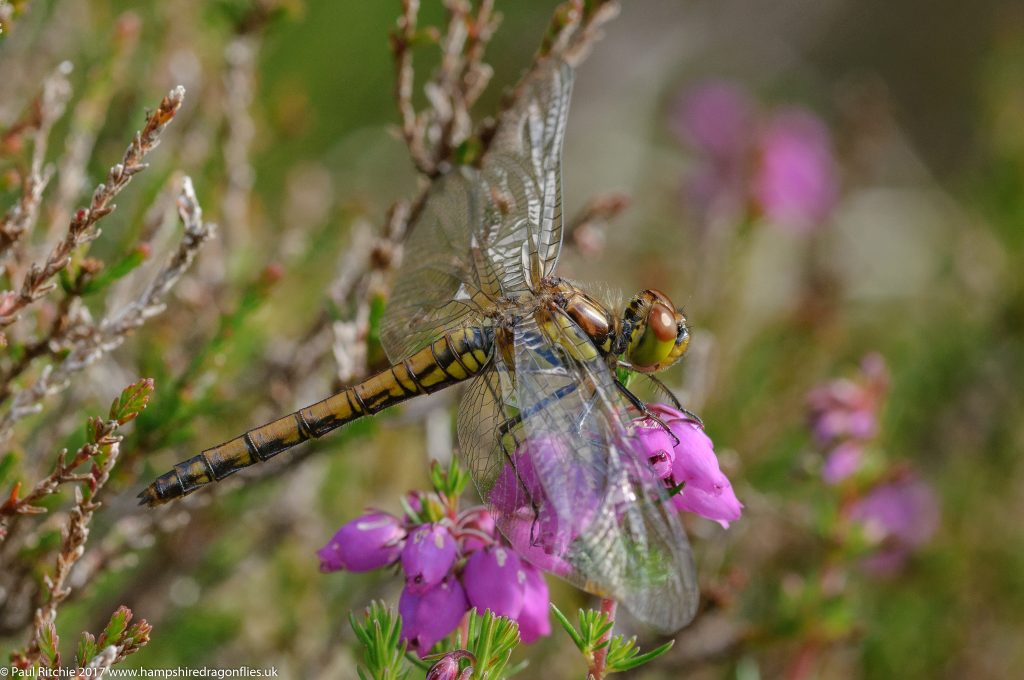 Such was the strength of the breeze passing through the trees that she was swaying uncomfortably, so I gently coaxed her onto my finger to find a more sheltered spot before leaving her be.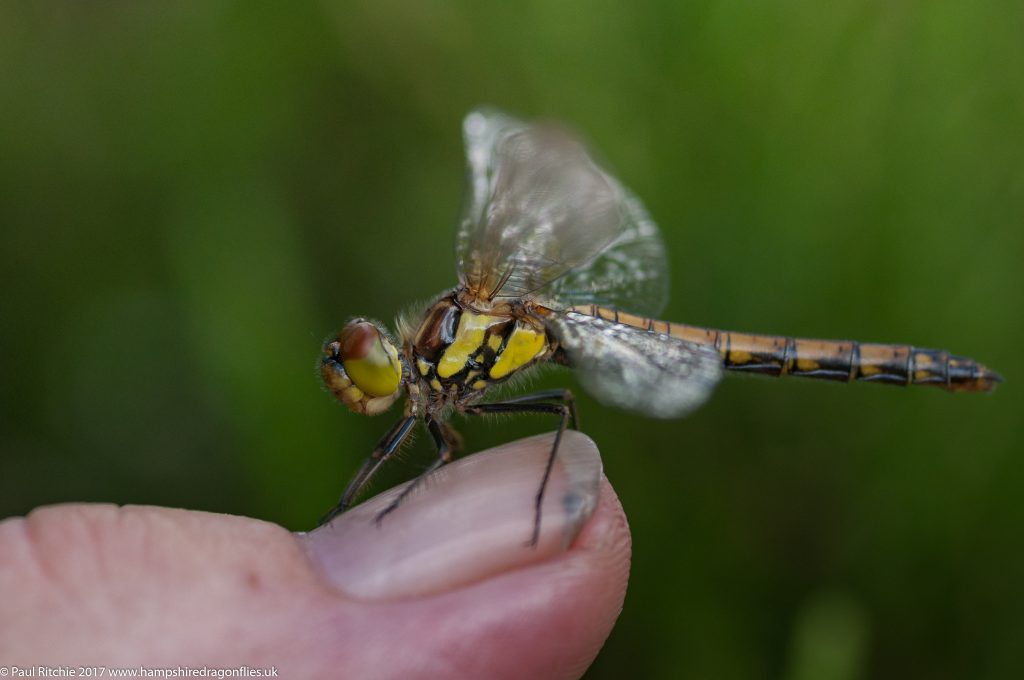 We had another Highland Darter before getting a glimpse of a Common Hawker flying erratically around the margins feeding during a rare sunny spell, and waited impatiently for another. Shortly afterwards we encountered a pristine young Golden-ringed perched on the pine saplings.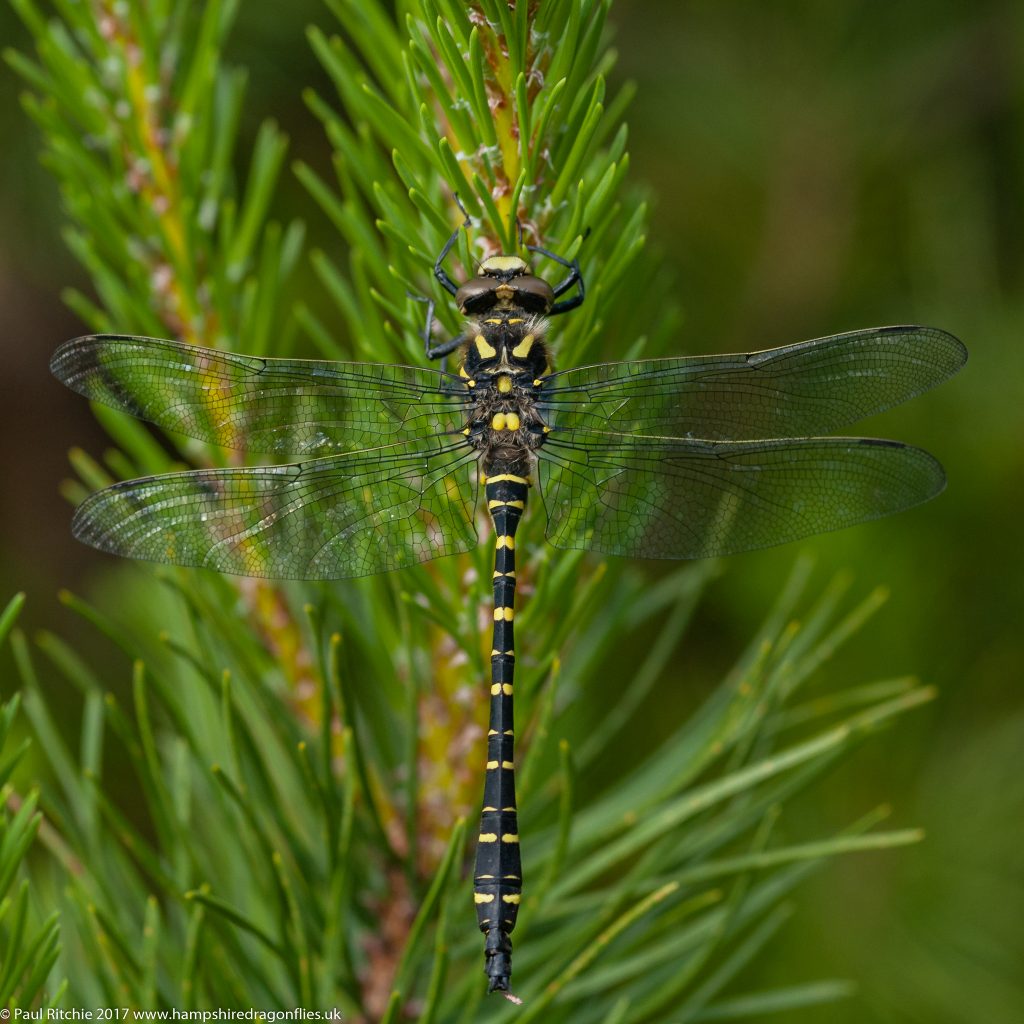 It's a large dragonfly. It's a Golden-ringed. It's perched and we were short on opportunities!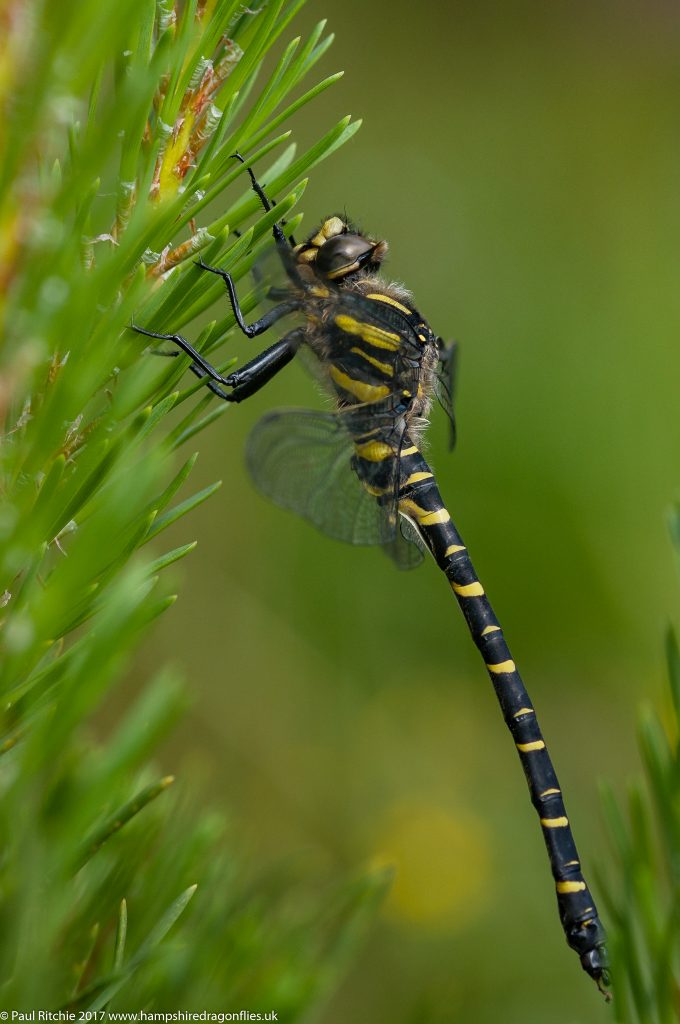 By now it was getting late and just as frustration set in we had a hawker fly in for a marvelous, fast and elusive display before he perched just long enough for Carol to grab a shot, which later turned out to be another Common Hawker. We wished we'd had better conditions as this place is just perfect to spend a few hours.
Reluctantly calling it a day we retreated to Poolewe for a celebration pint and plan for Wednesday, because on Wednesday there would be more sunny spells…