Wednesday 17th July
(Perhaps foolishly) I've been trusting to karma a lot more. Another navigational blunder in the New Forest on Tuesday threw up some interesting finds but nothing worthwhile. Certainly a lot less than you would expect on such a 'dragonfly-perfect' day.
The only thing I came home with were tired limbs, a little sunstroke and a clearer knowledge of where I should've been. Perhaps I should've stayed home? Or maybe the disappointment was preparing me for something better to come.
An early start on Wednesday was ruined by a standing traffic jam at Lancing, pushing back my arrival an hour. More unwarranted stress and disappointment, but I remained positive that the pay-off would arrive soon.
After the navigational blunders on my last visit, I headed to 'the right footbridge' over 'the right stream' at Old Lodge Nature Reserve in Ashdown Forest. Already I had seen Four-spotted and Broad-bodied Chasers at the upper pools, and it wasn't long before I spotted the first Golden-ringed.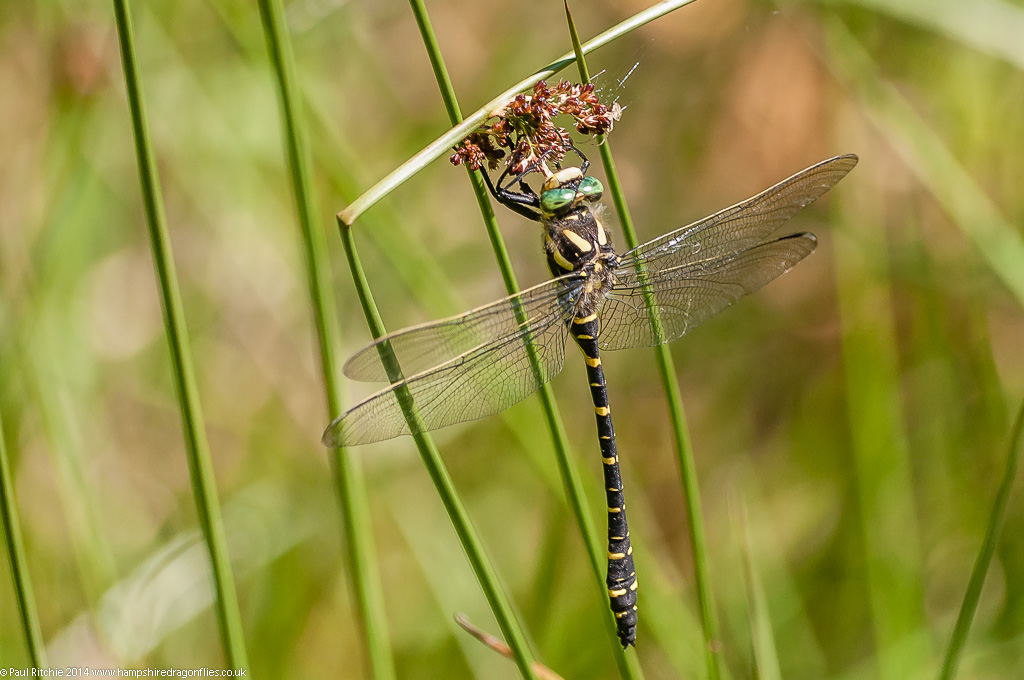 At the 'key' pool was a patrolling Brown Hawker; in my opinion one of the hardest to capture in-flight, let alone perched. I had a go anyway to get used to what I hoped would be a rapid-fire day.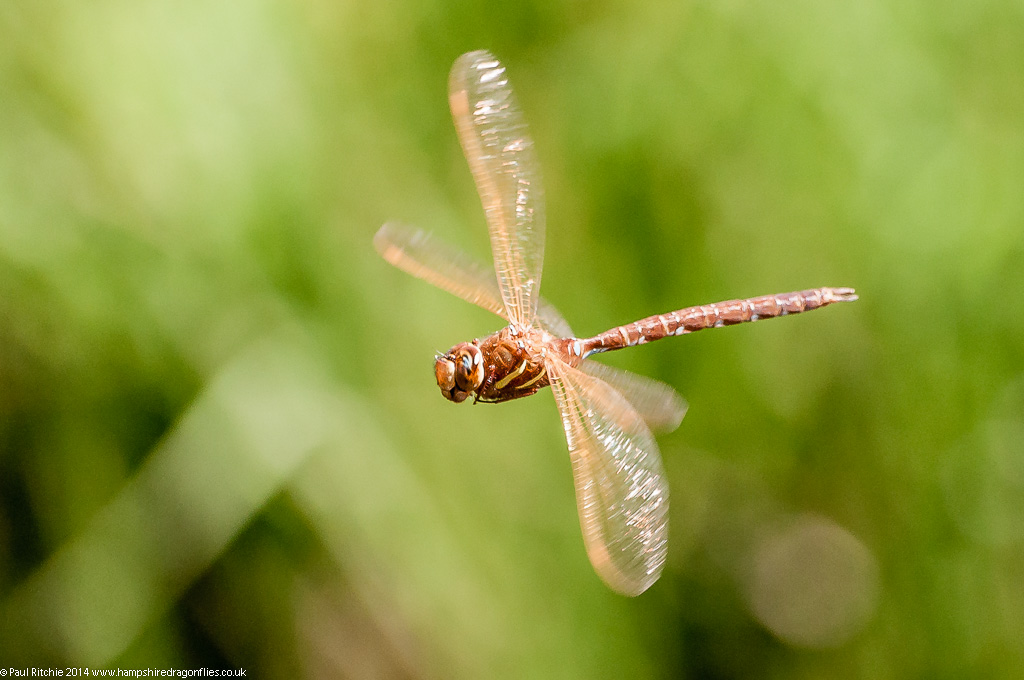 Although this little pool wasn't spectacularly alive, there was always something to look at -whether it be a reasonable choice of damsels, a passing female Emperor looking for a spot to lay her eggs, several passing Golden-ringed, or indeed the target species I was specifically here for today.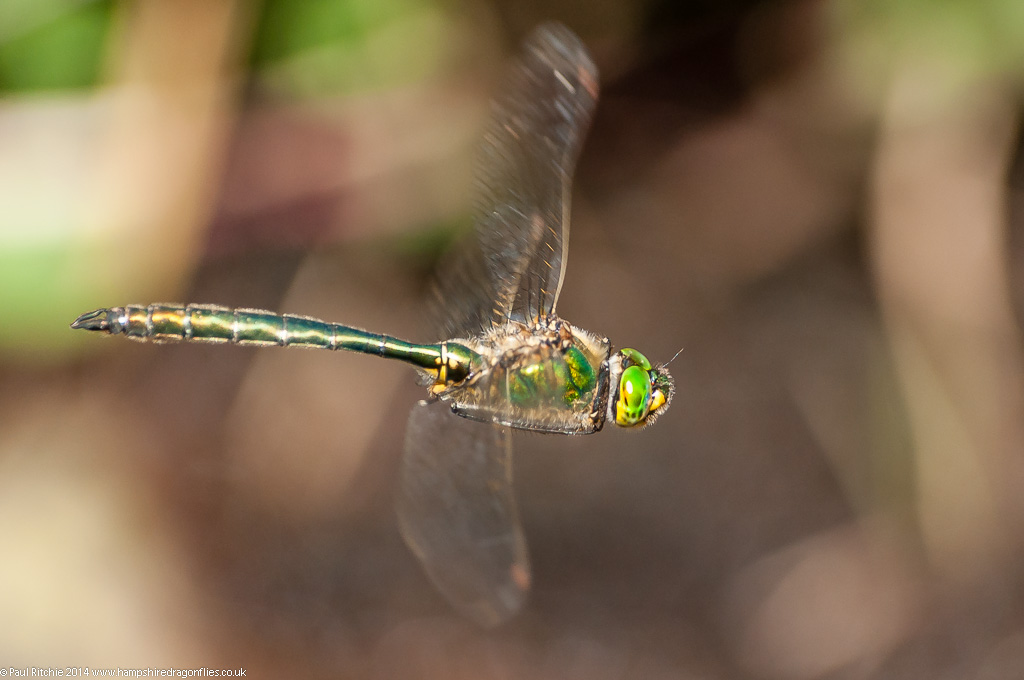 I had been at the pool for two hours before this fleeting glimpse; just enough to rattle off half-a-dozen shots before he disappeared upstream somewhere.
While I waited for his return I walked back and forth along the stream to see if I could spot him, but the only larger species were more Golden-ringed or this male Southern who once again was choosing the dingiest, darkest pool to patrol.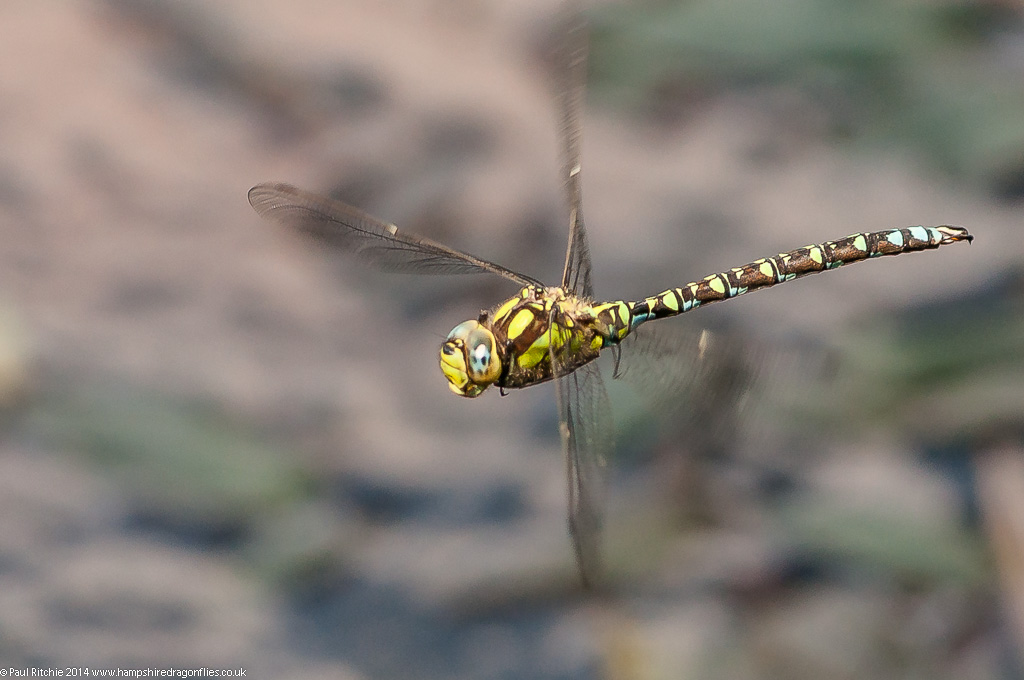 On the subject of Golden-ringed, while walking along the narrow path I had a male spring up from the heather and land on the arm of my t-shirt. I coaxed him onto my finger and studied his delicate beauty at close range before placing him back on the heather – no easy task as he found my finger comfortable enough.
From one perfect moment to another as my target reappeared, this time spending fifteen patrolling low down along the pool. The good thing about this small pool is he didn't have far to go, which made him easier to keep in view.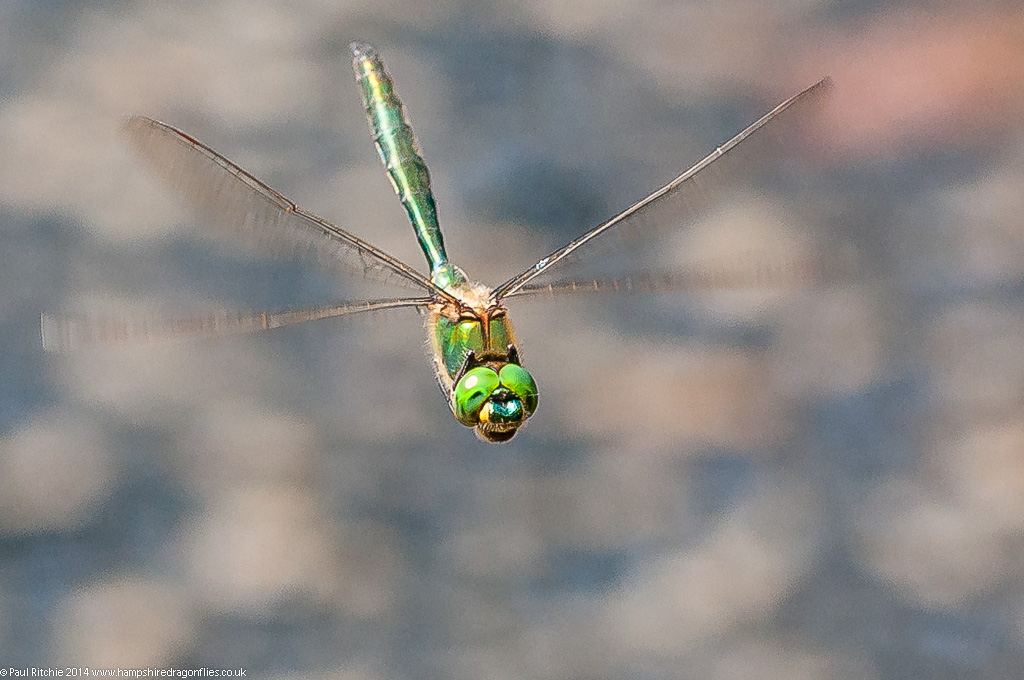 After fifteen minutes of grabbing more or less the same shots, he disappeared underneath the bank-side heather – and didn't come out. Slowly I rose from my vantage point and carefully peered over the bank to spot him perched!
Such was my excitement I quickly grabbed a couple of shots, completely forgetting to adjust from in-flight mode; a schoolboy error I soon corrected as I twisted myself into a better position.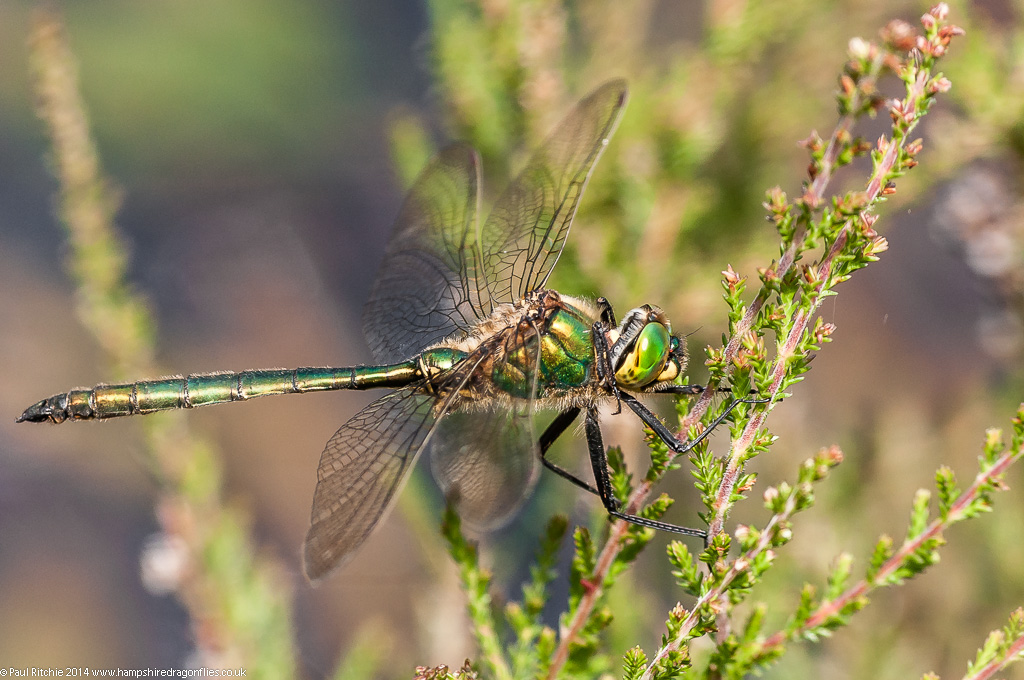 I'd waited three years for this opportunity, and couldn't quite believe my luck. The close encounter with the Golden-ringed had already made my day, but this was the proverbial icing.
He rose to do a couple more circuits before disappearing upstream again, and as it was three o'clock I thought I'd take a slow walk up the steep hill back to the car, calling in at the pools on the way, but as I reached the bridge I found him taking residence usually favoured by the Southern.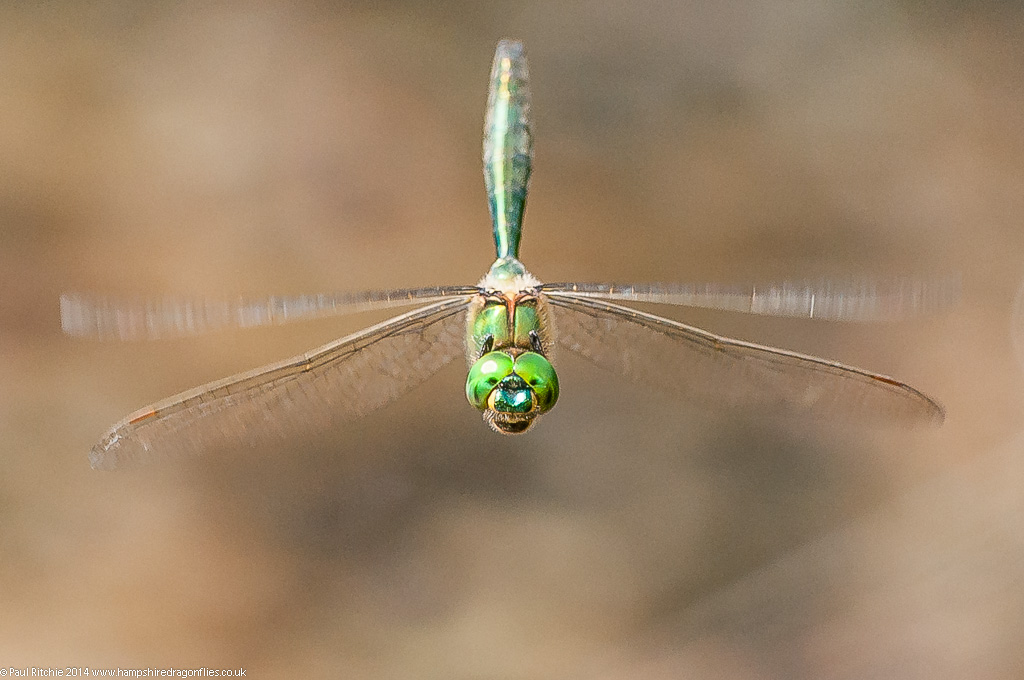 It was almost as if he didn't want me to leave, and I obliged with a couple more in-flighters before he disappeared across the heath.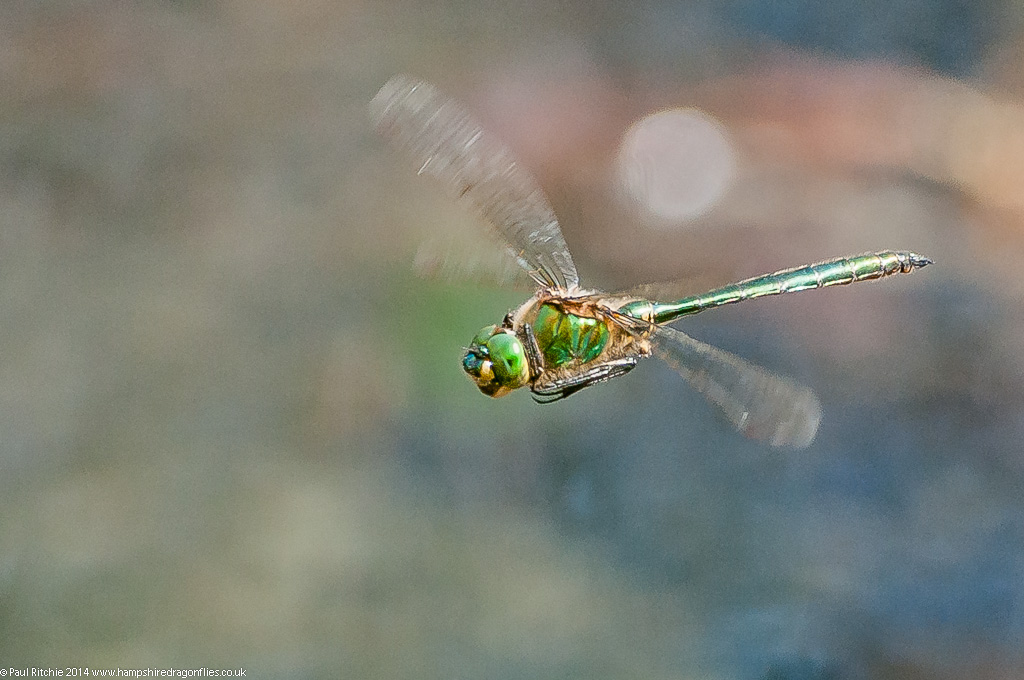 Needless to say I only gave the pools a passing glance, fully satisfied and probably grinning at my luck today. Or was it karma?