Christchurch Common/Ramsdown
Wednesday 20th
A thoroughly enjoyable day spent in the company of Chris Dresh, the Ranger for both Christchurch Common and Ramsdown, exploring and discussing the habitat and what improvements (if any) are necessary for species diversification with the emphasis on odonata.
Just prior to our meeting I called in at the clearing in Ramsdown to see if I could rustle up any early risers. A couple of Black Darters were present in the heather and sheltering in the gorse were a male Emperor – the first I've seen for a couple of weeks – and a male Migrant.
After meeting Chris we scoured the first path for signs of further roosters, but none were showing today. A full traverse of the reserve was carried out with several more Black Darters, some Common Darters and a few Emerald Damselflies present.
We didn't really get our first glimpse of any hawkers until we walked the length of the old railway track, where we found a couple of Migrant, along with a male and a female Southern.
Next we called into Ramsdown where Chris pointed out a newly-dug pond on the heath which, as with all the other heathland ponds, was currently dry – but will show real promise next season.
Afterwards we spent a little time in the clearing watching a few hawkers feeding along the tree line, a male Migrant, a male Moorland and a Brown.
Moving uphill to the sunken pond which thankfully still contained a good amount of water with several Black and Common Darters, some Keeled Skimmers, and plenty of Emerald and Small Red damselflies. A real delight was the presence of a Kingfisher – the first of two sightings that afternoon.
Chris informed me that this pond was created some years back especially for dragonflies from an old brick quarry , and has certainly proved to be one of the best ponds in the area with both male and female Moorland Hawkers present last season.
A little work is needed to improve access from the encroaching Birch, but the sheltered position means this pond should continue to impress during the drier times.
Next he introduced me to another pond close by created from an old brick pit, one I had previously failed to notice before. Again, this pond benefited from a good sheltered position with plenty of emergent and marginal vegetation – ideal for the Moorland Hawker.
Once again a Kingfisher was present – possibly the same individual from earlier.
Thankfully a short moment later the sun broke through and we noticed a hawker patrolling the far bank. We waited until he made his way across to our side where we could confirm it was indeed a male Moorland.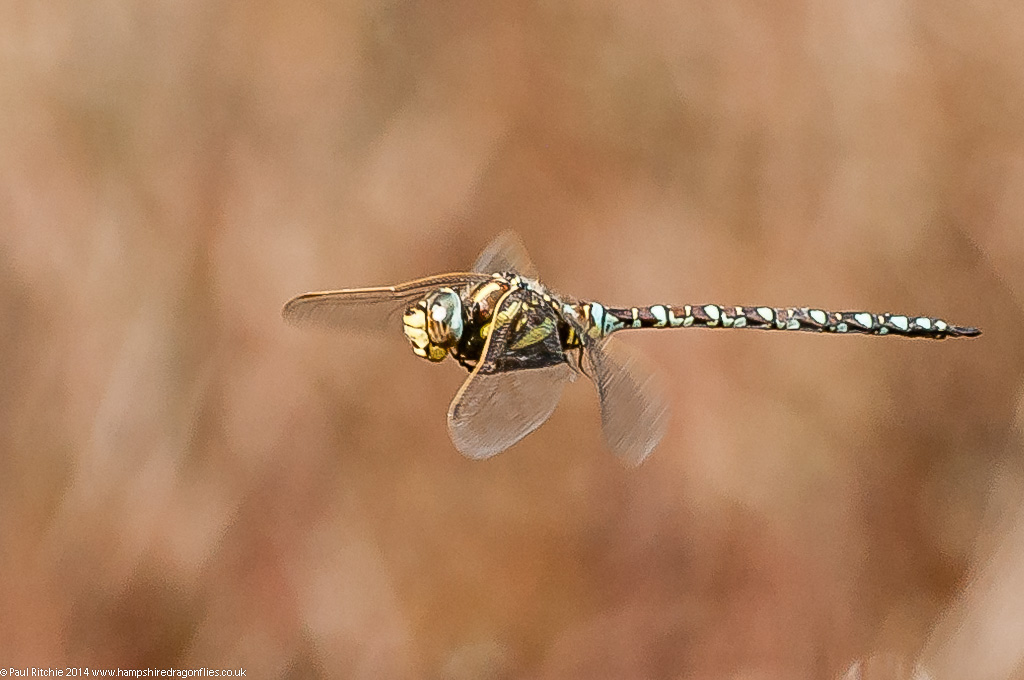 This was the moment we had been waiting for and our subject continued to patrol in and out of the reeds and provide excellent views and in-flight opportunities.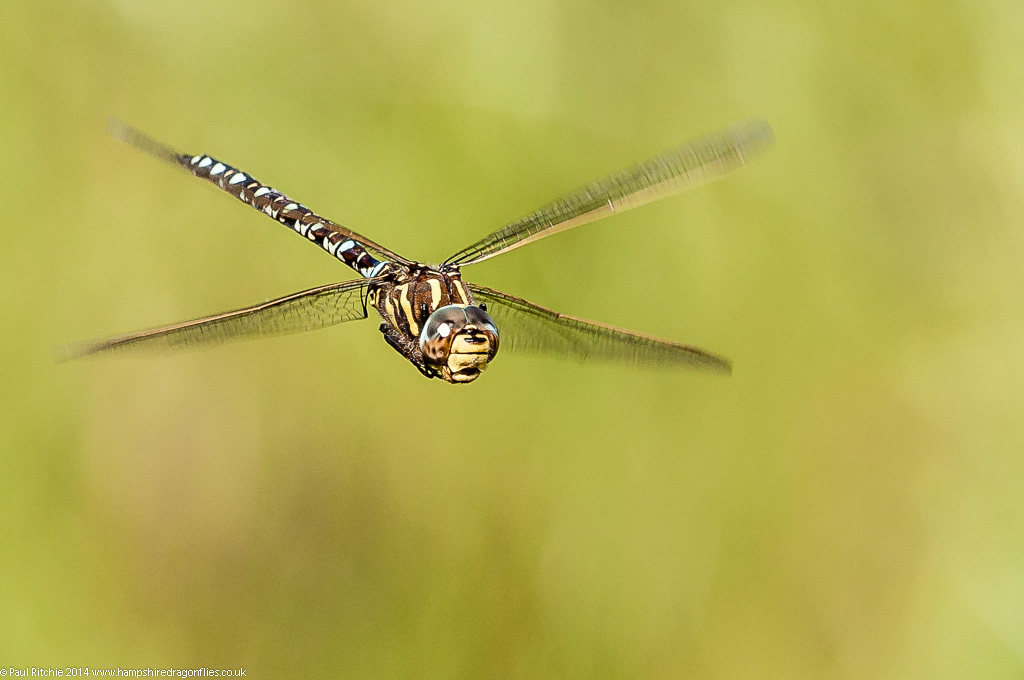 Not since Priddy have I had as much fun indulging in my favourite pastime, standing at the side of a pond enjoying the spectacle and photographing a willing subject.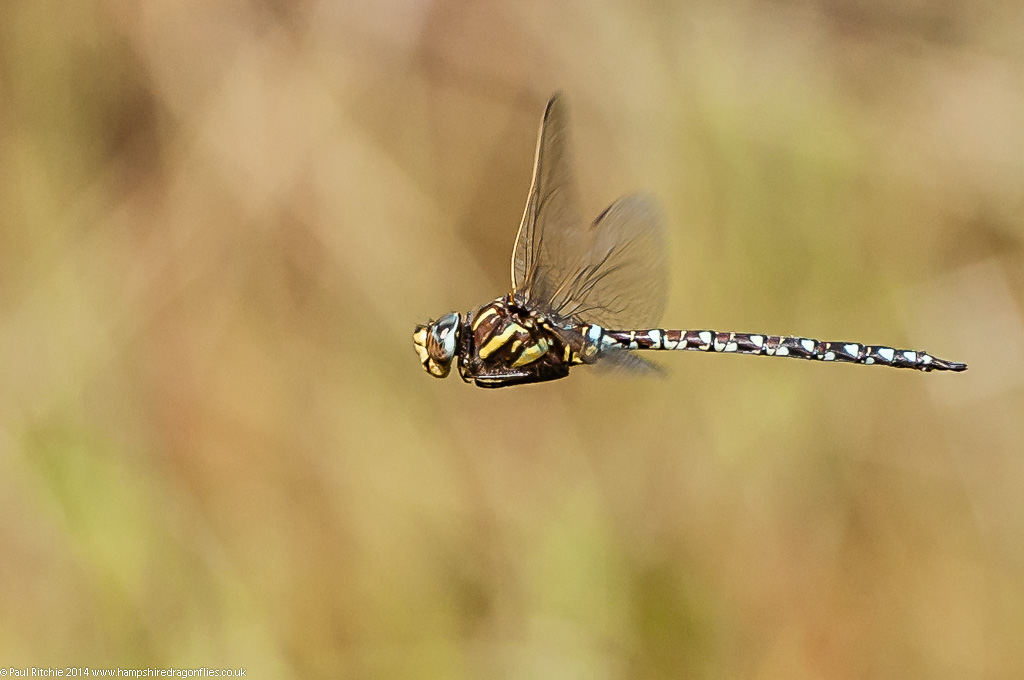 Another highlight to an interesting and very informative day. Thank you to Chris for providing good company and the chance to gain new insights into one of my favourite sites.
Blashford Lakes
I could have stayed for a while longer, but had promised to meet up with Robin Proctor at Blashford if I had time. We only had a short time in the clearing, but did at least get a glimpse of a couple of hawkers, including a distant Brown.
No perchers though.