I enjoy the freedom of solitary dragonfly excursions, especially when it comes to photography. My mind (and lens) is more focused and there's no doubt I acquire some of my best images without the distractions or responsibility for anyone other than myself.
If I miss a shot or fall in a water body I only have myself to blame.
I also fully enjoy the companionship of like-minded souls who share the passions; whether it be with a regular friend or acquaintance, or a small group all after the same goal. Four eyes are better than two (or one in my case!) and more are even better, allowing opportunities which would otherwise be missed.
Like most things in life a passion shared is infinitely more enjoyable. We learn far more through interaction, especially in the field. I've certainly learned more about dragonflies and photography by being hands on from those who can actually teach you something practically rather than academically.
On a few occasions during the season I like to share my local knowledge and lead trips for visitors to the area. and again I get immense pleasure from helping provide the opportunity to bag a New Forest special or visit a prime area in what can be a daunting environment for the unfamiliar. There is no substitute for local knowledge and I'm grateful for every opportunity I've had in the presence of someone who knows the territory.
When I lead my photography usually takes a back seat, unless of course something special appears – and when it does I panic, hoping I can break out of the snapshot mentality and concentrate on grabbing the moment satisfactorily.
On Saturday I met up with John Curd, a friend from UK Dragonflies who I first met at Goring 3 years ago. John and his wife, boss and companion Carol had booked a fortnight in Hampshire Everglades/The New Forest and hoped to meet up for a drink and maybe a successful dragonfly foray. Already acclimatised after a week of typical Spring weather, closed car parks, unfriendly terrain and so far only Large Red to show for his trip, we arranged to meet on a sunny, if chilly, Saturday.
When John first mentioned the dates I worried he may go home somewhat disappointed as it doesn't normally begin to kick off until mid-May. Luckily the unusual Spring we've experienced has allowed for some early emergences and thankfully the scout I'd done during the week meant we should at least observe 4 or 5 species.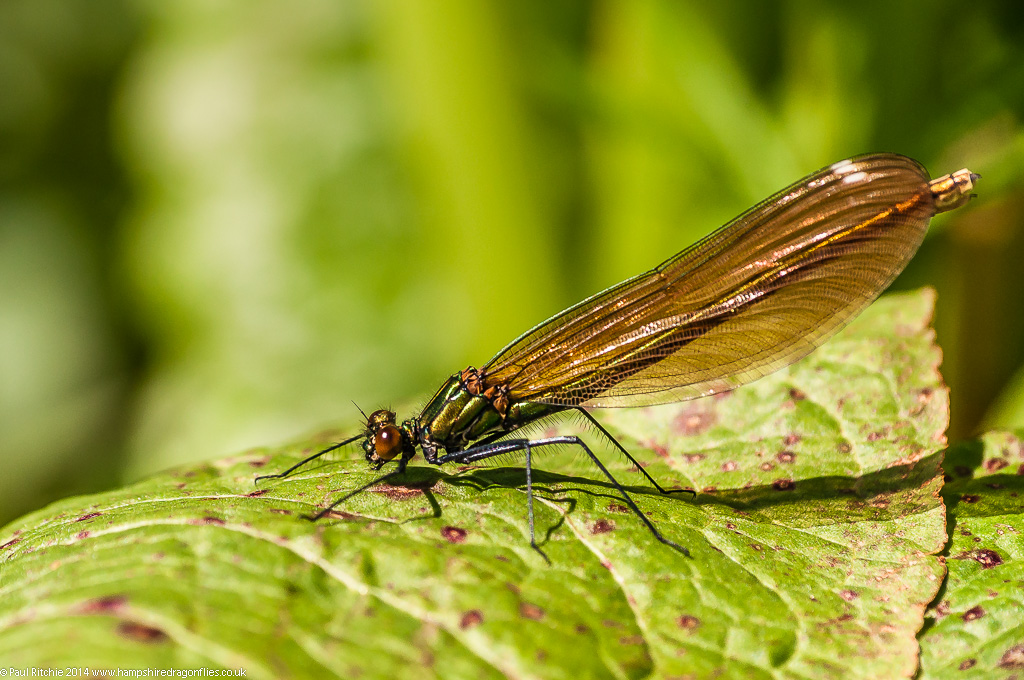 We met in Lymington for a tour around the Keyhaven area where we clocked up Large Red, Azure and Beautiful Demoiselle in the first five minutes, shortly followed by Blue-tailed and Red-eyed – the full cast from Wednesday only in greater numbers. Especially surprising were the amount of female Red-eyes. I normally come across one or two off-water during the early season, but obviously timing is a factor.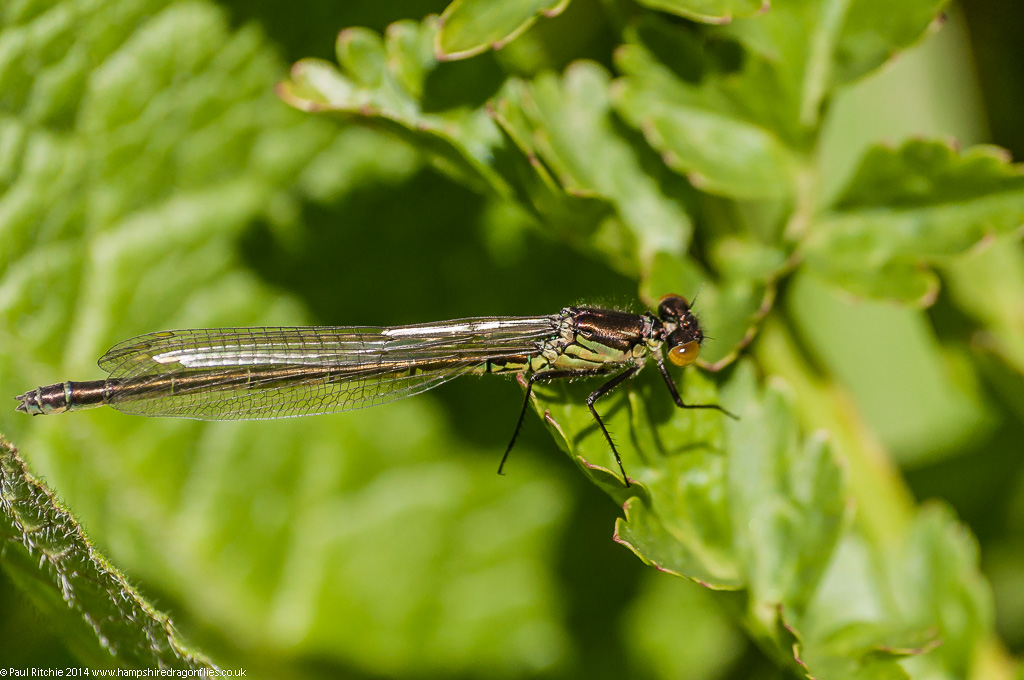 A good two hours in the undergrowth provided more than enough photo opportunities for John and Carol while I searched the undergrowth and shoreline for something different. However it was John who spotted the Hairy, which flew up and over the stream before he had a chance to grab a shot. Species number 6 though!
We broke off for tea before initially deciding on Crockford in the hope of finding a Broad-bodied Chaser or two. While we took our break I had a text from Doug who wanted a report and we agreed to meet up at Hatchet Moor, a location I'd intended to finish the day with.
As it was we didn't have to muddy our boots at Crockford, as the sight of our first Broad-bodied Chaser, closely followed by another offered species number 7. Greater quantities of Common Blue upped the count to 8.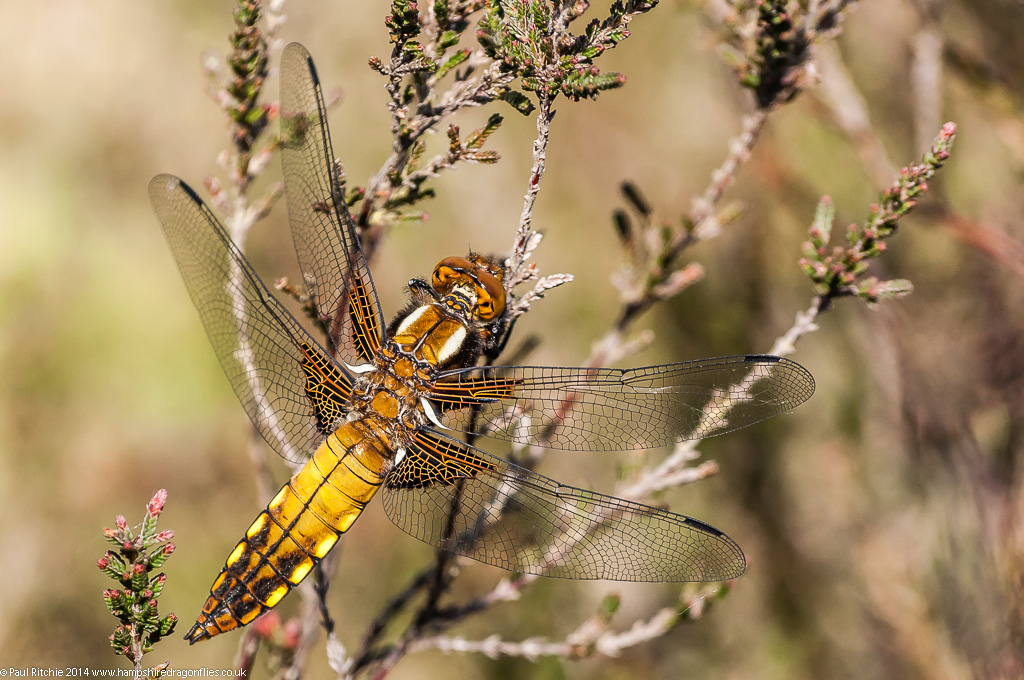 Doug joined us just after we spotted another BBC, and Sue & Carol had spotted a couple of Downy Emeralds. Species number 9, but we had no photo opportunity. We did a circuit of both ponds and shortly before we returned to the car park Doug spotted a Downy which flew up and threatened to perch in the trees, but luckily circled and came down to land on the ground before us. Just enough time to rattle off a couple of shots before rising again and disappearing for good.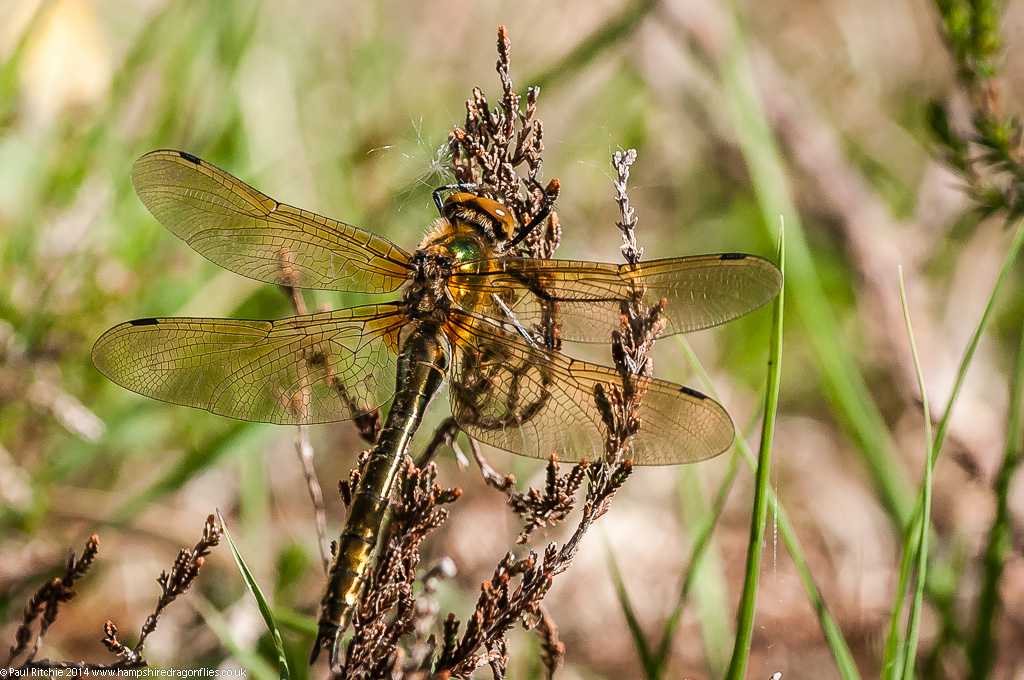 All in all a cracking day in good company with quite frankly a cracking result for the beginning of May.