Friday offered the least wind of the weekend and the sun was in danger of showing itself. These are the type of days I'd normally choose to rest during a 'heatwave' – tabloid speak for anything over a day of continuous sunshine. Besides after three days of lousy weather cabin fever had set in.
I needed to revisit Troublefield and Ramsdown to check progress, especially Troublefield which I hoped was still cattle-free, although I was ready for disappointment. Thankfully the meadows were still far too wet for grazing, but not too wet for wellies. I tried the northern meadow first, hoping there would be some fabulous undergrowth to explore. I was in luck!
There were plenty of nettles and some disagreeable couch-grass, but there were also a good showing of wild flowers. The scent given off by the profusion of wild mint calmed the senses, counteracting the roar of nearby jets taking of from Hurn Airport.
This was what I hoped to see. Still too early for the full spectacle, but it's a start. The butterflies were certainly making the most of it with good showings of Green-veined White, Small White and Orange-tip. There were even a few Peacock strutting their stuff and a single Small Copper – so fresh it immediately jumped to the safety of ground level at my approach.
However the real stars of the show were the profusion of Beautiful Demoiselles; some fresh and satin-like on their first flight from the river and both male and female adults shimmering in the humid haze.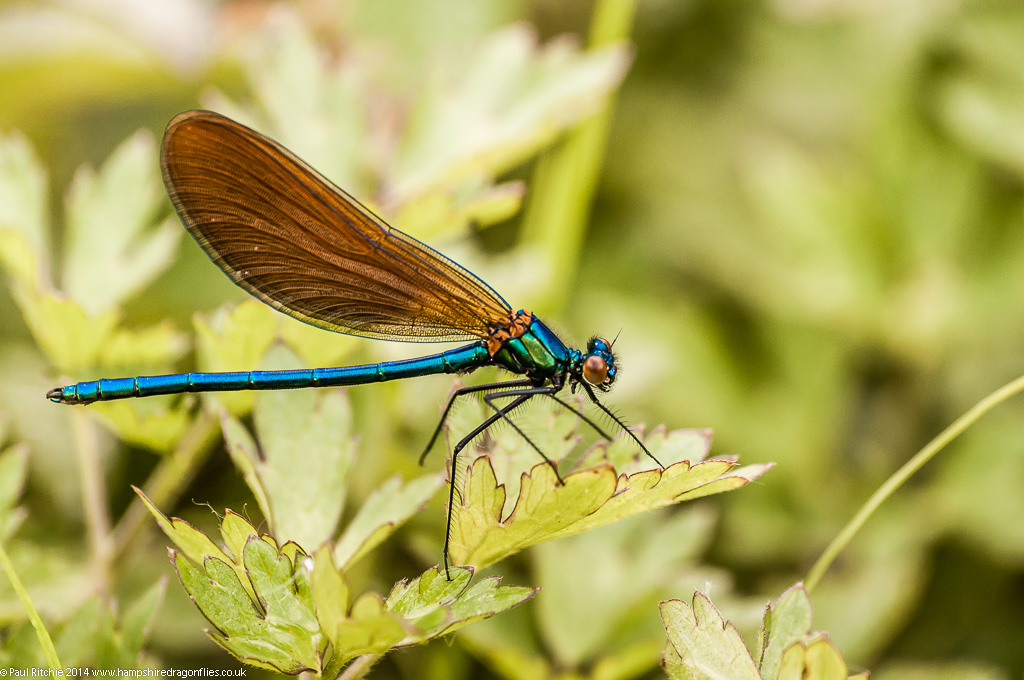 The changeable conditions made photography challenging, especially for control freaks like me who have their camera set to manual. Just as I'd get perfect exposure on my subject the sun would appear, or indeed vice-versa. The wind didn't help either, but these days can be almost as enjoyable as wall-to-wall sunshine.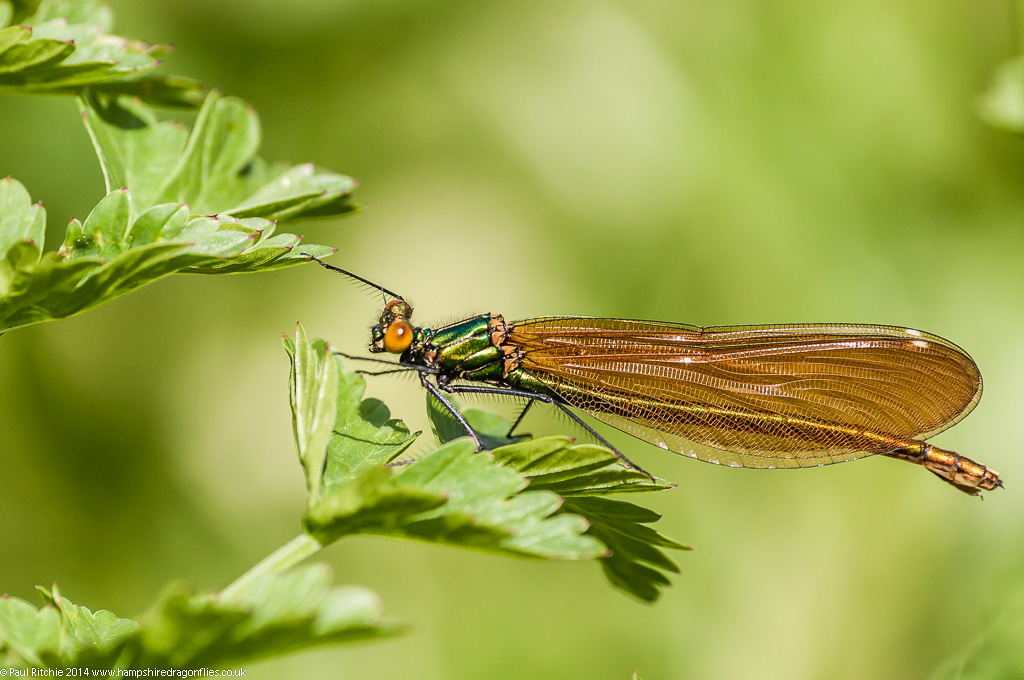 Activity was also favourable in the southern meadows, with more Demoiselles, a good showing of Large Red and reasonable numbers of Azure.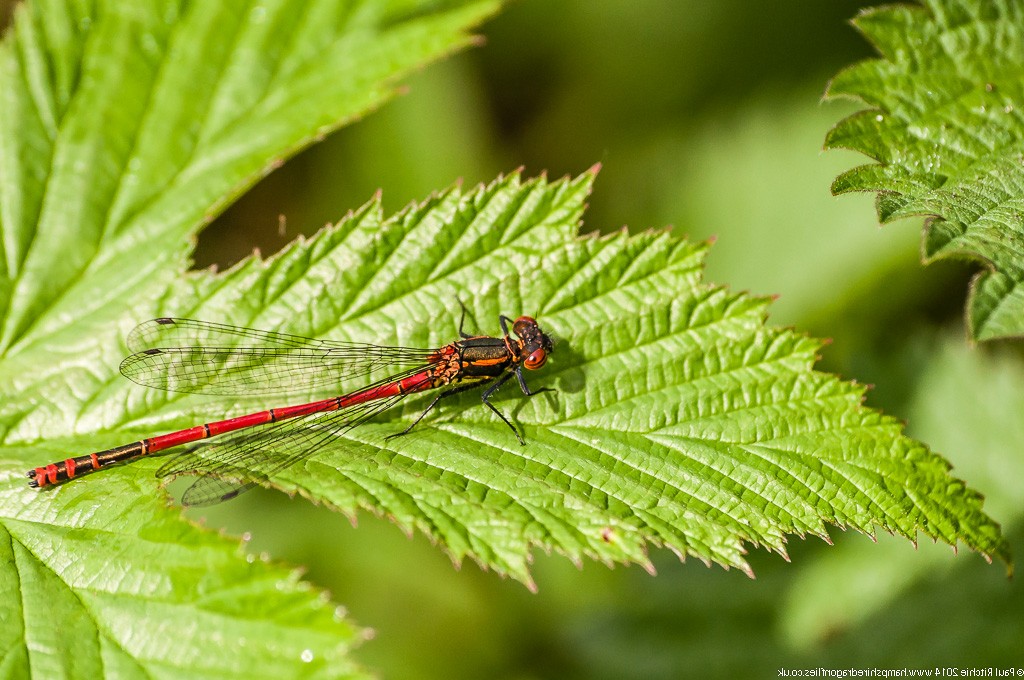 I had hoped to find something larger, but considering they are just emerging it may take them a while longer to discover these bountiful feeding grounds.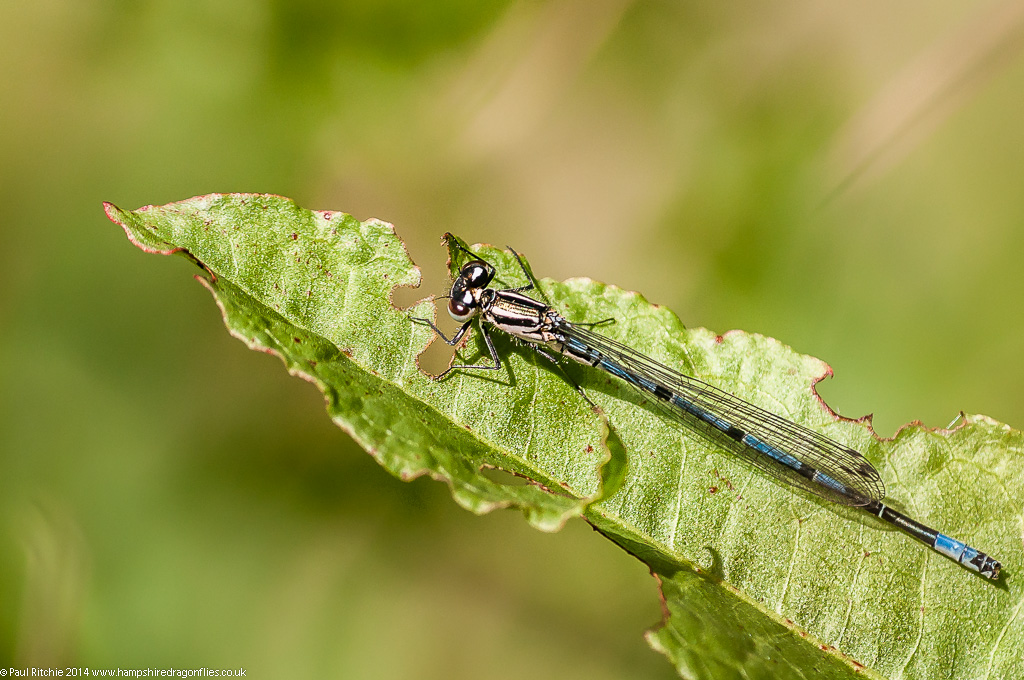 I decided to explore a little closer to their watering holes, choosing the heather-clad hillock and small, peaty ponds of Ramsdown. If their were any larger species around they would certainly show themselves here, but that wind…frequent heavy westerlies sneaking through the trees and suddenly I was transported from paddy-field to bleak Brontë country.
I did find a few sorry-looking Large Red eager to get down low, which is probably where the rest of them were, and disturbed a Downy – the first (I think) I've seen here – who headed high across the trees.
No Four-spotted, no Broad-bodies and unsurprisingly no Scarce Chasers anywhere in sight today. Instead I spent some time fighting the breeze and the gymnastics of a Black-headed Cardinal Beetle.
A little exhausted with uneven terrain and paddling, I decided against Blashford and instead chose to have a look in on Cadnam Common. No sooner had I reached the pond than a mature male Broad-bodied flew across in front of me – the first familiar splash of powder-blue this season.
The wind was pretty strong here, so the pond didn't have any action. A few weeks from now and these gusts would act as a form of hyperspace for the chasers, but for now they were keeping low in dead fern or high in gorse, feeding up in readiness for the big party.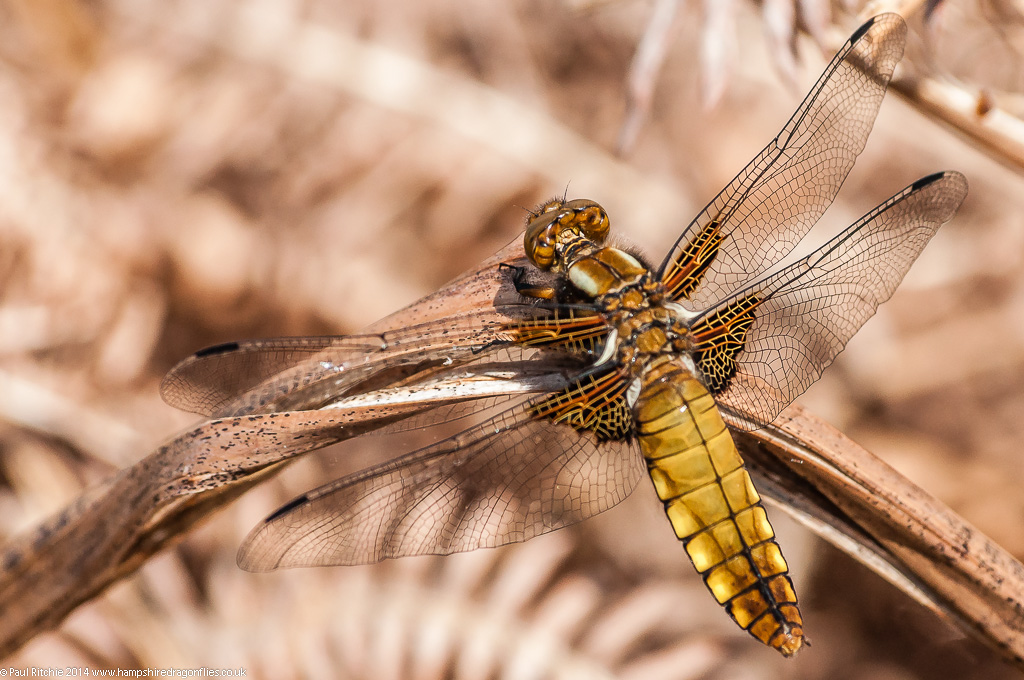 Broad-bodied outnumbered the Large Red I could see, and at last a couple of Four-spotted Chasers making an appearance.
We all like warm, sunny days to indulge in our passion, but there's a lot of enjoyment to be had when conditions aren't 'perfect'. In this country we rarely have a choice.