Those of you who follow may have noticed a new appearance to this blog lately. Hope you like it as much as I do.
Incidentally the locations page on the main website is taking shape nicely and if you haven't already had a glimpse click on the link on the right-hand side of this page.
Still the summer skies are dull, if warm and lacking in the annoying wind we've had to suffer these past months. Still burned by Sunday's disappointments I decided to wait until there was at least a chance of prolonged sunshine and warm temperatures.
Thursday 28th looked promising, so I took my first walk of the year along the upper reaches of Ober Water, starting at Mill Lawn. I had barely stepped out of the car at 9.30am and had my first (female) Golden-ringed ovipositing in the main flow.
I took the south side of the stream to take in the numerous side channels and seepage's, although it was perhaps a little too early to see much activity. Nevertheless Keeled Skimmers were in good numbers around the boggy pools.
Back along the main stream Beautiful Demoiselles were plentiful and a few Azure Damselflies were present. About halfway I encountered my second Golden-ringed in a gorse thicket close to the bridge.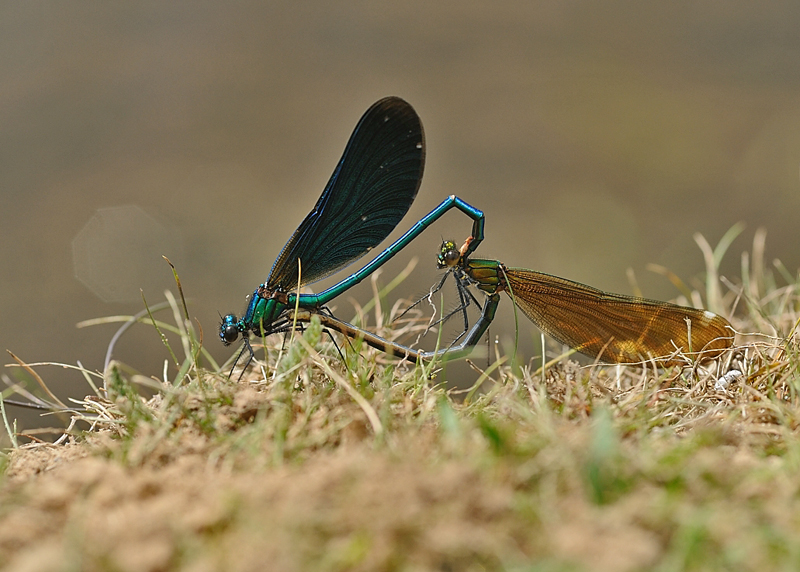 I continued towards Markway in the hope of seeing some White-legged, but the spot where they were plentiful last year failed to produce any this time. However back along the stream the Beautifuls were cascading in impressive numbers and every now & again a Golden-ringed would pass on patrol.
I encountered 9 Golden-ringed during my 2 hour walk – improving on Monday's total.
By midday the clouds had rolled in and I paid my first visit of the year to Whitten Pond in the hope of maybe seeing a Brown Hawker. No such luck! The feeder channel has dried out so the first signs of activity were on the pond itself with a patrolling male Emperor and a few Black-tailed Skimmers.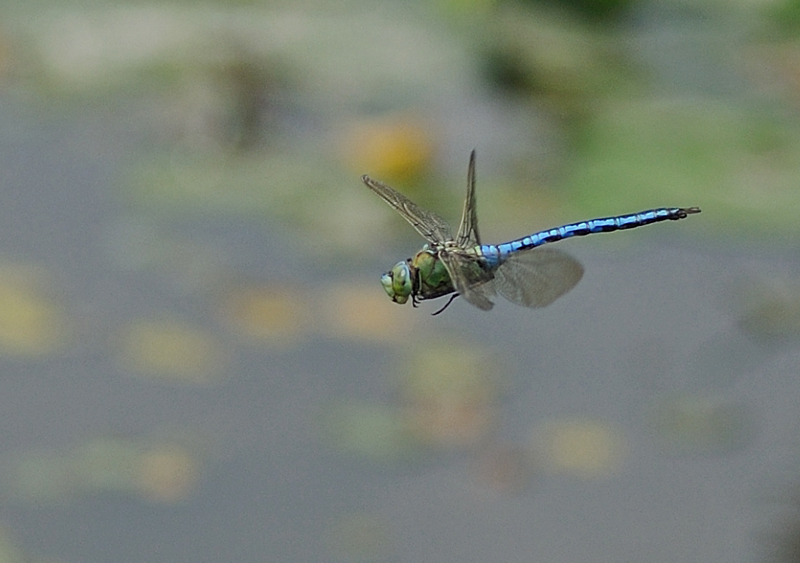 On the walk back to the car park I encountered a couple of Common Darters but nothing else. I decided to take in a nearby pond and even here activity was muted with just a few Common Blue, Emerald and Small Red Damselflies, Common Darters, Keeled & Black-tailed Skimmers, the inevitable patrolling male Emperor and an ovipositing female.
One more pond visit on the way home produced exactly the same as above except for a female Emperor.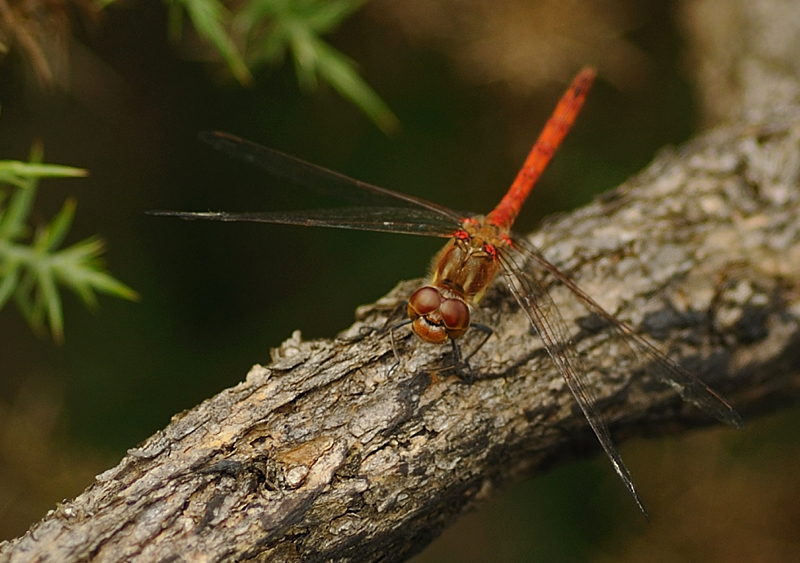 Good old British Summertime hampered progress until Saturday when the promise of a good afternoon beckoned. Besides, if nothing else, I desperately needed some location photos for the website.
With 3 locations in the south of the forest pencilled in, we headed to Pennington just in time to see the cloud lift. Activity was muted at first until the odonata realised the sun would be sticking around. First on the wing were the Emperors – at least 4 males and an ovipositing female.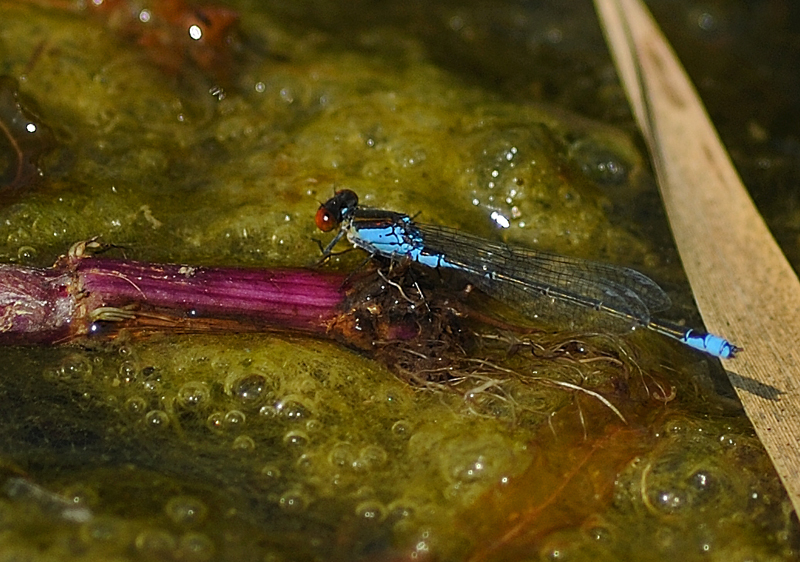 Once the warmth set in the pond was alive with damsels – Azure, Blue-tailed, Small Red-eyed and even an Emerald – the first I've seen here this year. Common Darters joined the patrols and not long after I had my first sighting this year of a Migrant Hawker.
Just the one male, but a pleasure after so long. A few weeks from now no doubt I'd have had my fill of them! I doubt it though – hawker season is always one of my favourite times.
Two Golden-ringed were also spotted patrolling the back stream, but I settled for a little in-flight Emperor play before it was time to move on.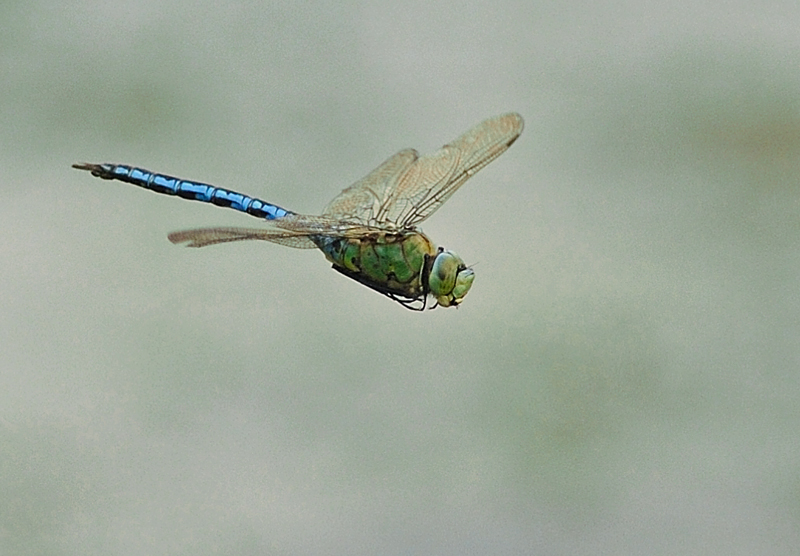 Next stop Crockford Stream, which unbelievably I hadn't any location shots of. Our visit produced the usual disappointment so often witnessed this season, but at least there were a few Beautiful Demoiselles, a few Southern and even fewer Small Red Damsels.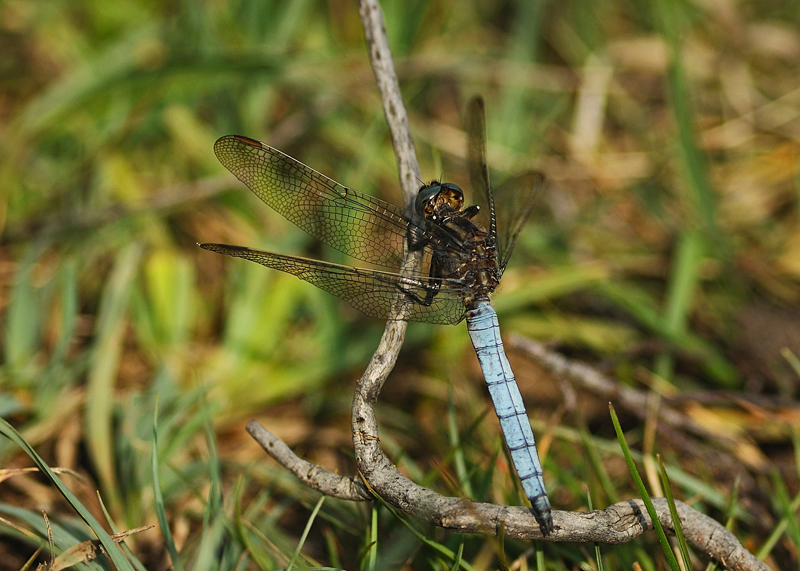 Besides the damsels there were a few Keeled Skimmers and after careful searching 3 Golden-ringed, settled in for a late supper – wasp being on the menu.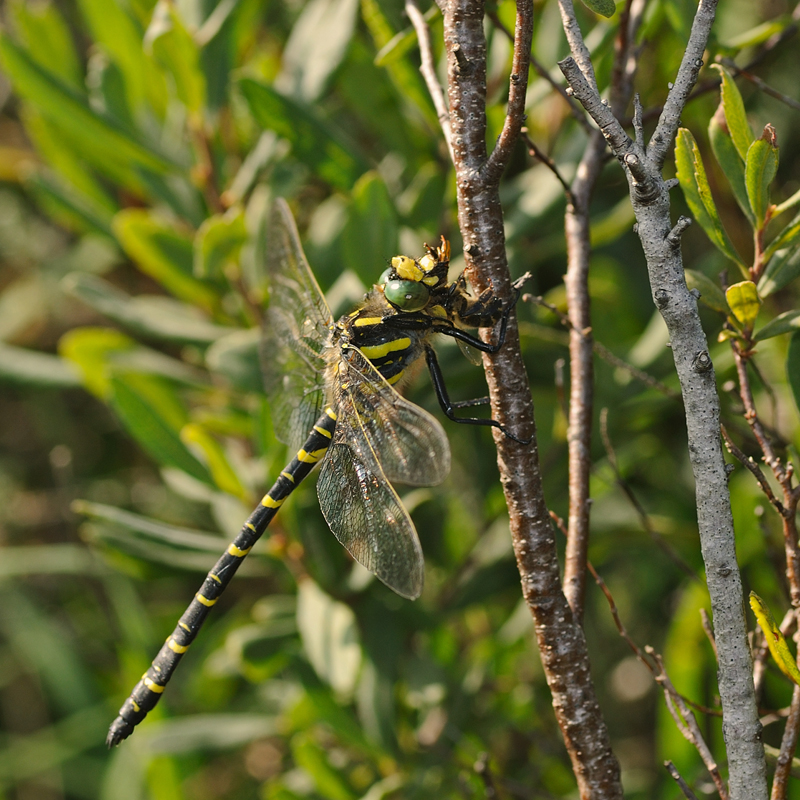 The sad part is the pools which are usually so full of life were empty. No Emperors, swarms of Keeled Skimmers or Southern Damsels so often a feature in previous years.
On to Hawkhill, a site which recently suffered my wrath after the devastation caused in the name of commerce by the forestry commission. However I needed a location shot so decided to give it time just to see what could still be found.
At least the 'garden' still exists, but for how long? Hopefully the forestry commission will leave well alone so it can continue to be a haven for insects with it's wealth of wild and introduced flora.
The 'garden' has been a prime spot for feeding and roosting dragonflies in previous years and at least today there were a few Common Darters, Keeled Skimmers and Golden-ringed partaking of it's glories. There was even a (late) female Broad-bodied Chaser taking refuge.
We (reluctantly) took a walk down the old ride just to see if my suspicions were justified. Unfortunately so. No swarms of Common Darters – just the odd one or two – and no roosting hawkers. Maybe the late hour and fading sunlight was to blame, but somehow I doubt it. I'll give it another shot in a week or so – you never know.
Still, a productive day – especially with the Migrant Hawker. That leaves just the Common Hawker on my list for this season, but I'll be out making the most of Hawker season for what's left of the summer.
Sunday was more of the same – visiting locations primarily for shots of the sites, but noting species while we were there.
First up, Eyeworth Pond. Ive already mentioned this place should be avoided on weekends and today Fritham was in a state of overspill. Somehow I managed to park, get the shot and observe the patrolling male Emperor, Keeled Skimmers, Common Blue, Blue-tailed and Red-eyed Damselflies making the most of the sunshine.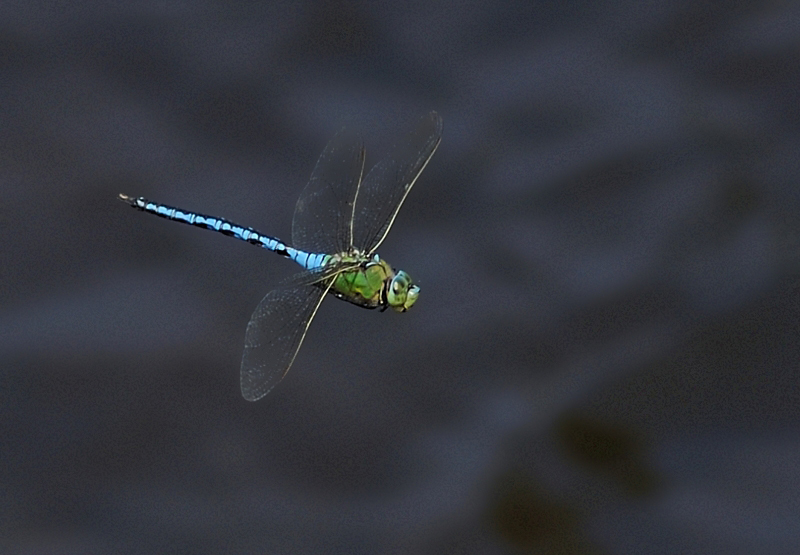 Next port of call was Slufter's Pond – not a favourite of mine as it's always blowing a gale whenever I'm there. No change today then! Bright sunshine ruined by that persistent wind. Still, there were a few Emperors, Common & Black Darters, Keeled Skimmers. Common Blue and Emerald Damselflies.
On to Broomy Pond, in my opinion much better than Slufters and containing all the above species except Black Darters, but with Azure and Small Red Damsels to make up for it.
While we were over on the north side of the forest we decided to call into Blashford Lakes for a glimpse of some Brown Hawkers. We weren't disappointed – 7 in total flying high around the sunny clearings and occasionally landing high up in trees.
No other dragons to be seen, but there were swarms of Common Blue damsels, including hundreds of tenerals.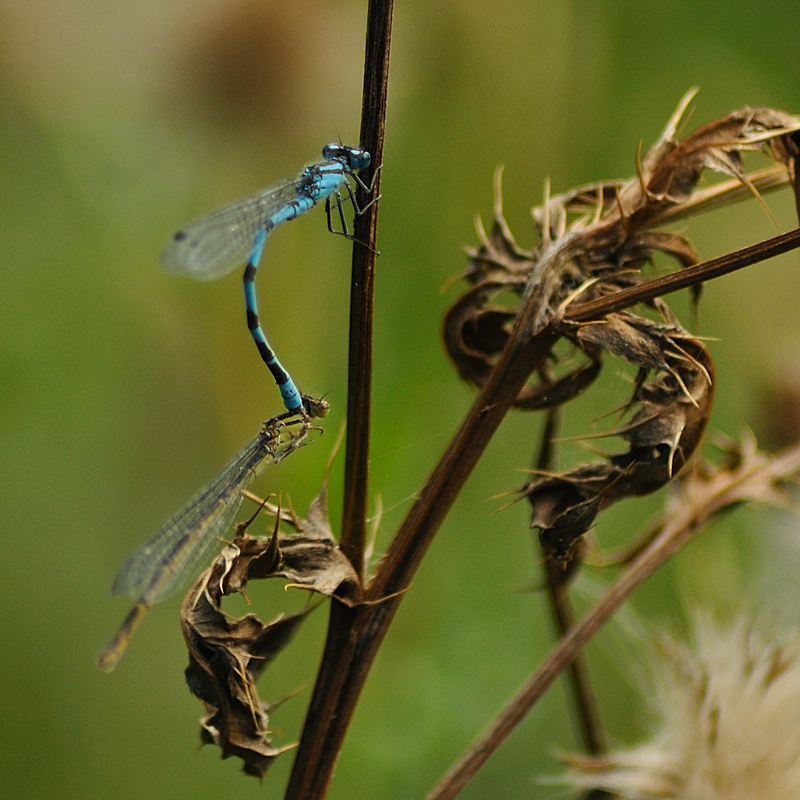 By now the cloud had drifted over and our sunny day was at an end, but we decided to call into Troublefield anyway. No hawkers, just a few Beautiful & Banded Demoiselles.
The good news is the weather forecast is looking better for the coming week, and, after witnessing the sheer numbers of tenerals this weekend, it looks like the damsels are once again back in force.