I often ponder on the similarity dragonfly photography has to fishing. First you have to find your location, wait for your target to arrive and hopefully catch something you can take home with you.
So I went fishing.
I'd done my research; choosing the location based on plenty of sightings and photographs through Flickr, Facebook, Google and anything else I could gather. Their southern territory stretches only from Berkshire through Kent, including north Hampshire but populations are greater it seems further south-east, with The Weald being a hot spot.
Steve Covey suggested I give Damian Keith a call, as he works close by and knows the area. He could make an extended lunch hour, so I arranged to meet him at Old Lodge. I'd been given instructions on how to reach the footbridge, stream and pools, but typically a wrong starting point can throw you completely!
I turned left into a car park, obeying the sat nav for once, changed into my wellies and headed through the stone gates towards Old Lodge itself; a mistake that only became apparent once I'd reached the bottom of the mettled road.
Frustrated that I'd had to retrace my steps – up hill in the heat before I'd even started – I decided to return and start again, stopping for a detour when I noticed the very small gate in the fence to the Old Lodge Nature Reserve.
I turned left, went down the (rough) hill and realised it didn't look right either, so I slogged back up hill again and returned to the car park. After a well-needed slug of water I skirted around and found a gate onto the heath where I'd seen some photographers. Surely this is the right place?
After walking the wide path for a while, I realised this didn't look right either, and finally had some sense to remember all streams are usually in the base of valleys. So I turned right and headed down hill where eventually I found a foot bridge over a stream.
Convinced I was at the right spot, I settled in and stayed put when I saw my first dragonfly of the day – a male Golden-ringed patrolling the stream.
However my second dragonfly of the day was my target; a superb showing of a male Brilliant Emerald hunting across the ferns in a clearing above a small open area of the flow.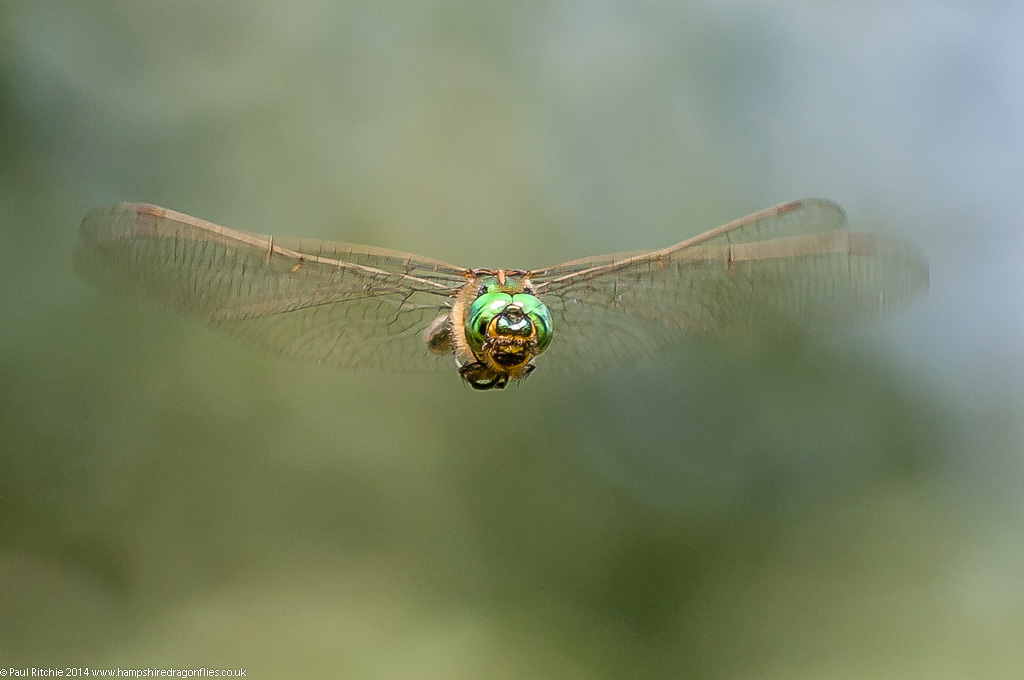 A spectacular sight as he circled above, below, up high, down low, far off and almost close enough to touch. This was in complete contrast to the individual we encountered at Warren Heath last season; that one was very low, barely a foot off the water as he skirted the bank.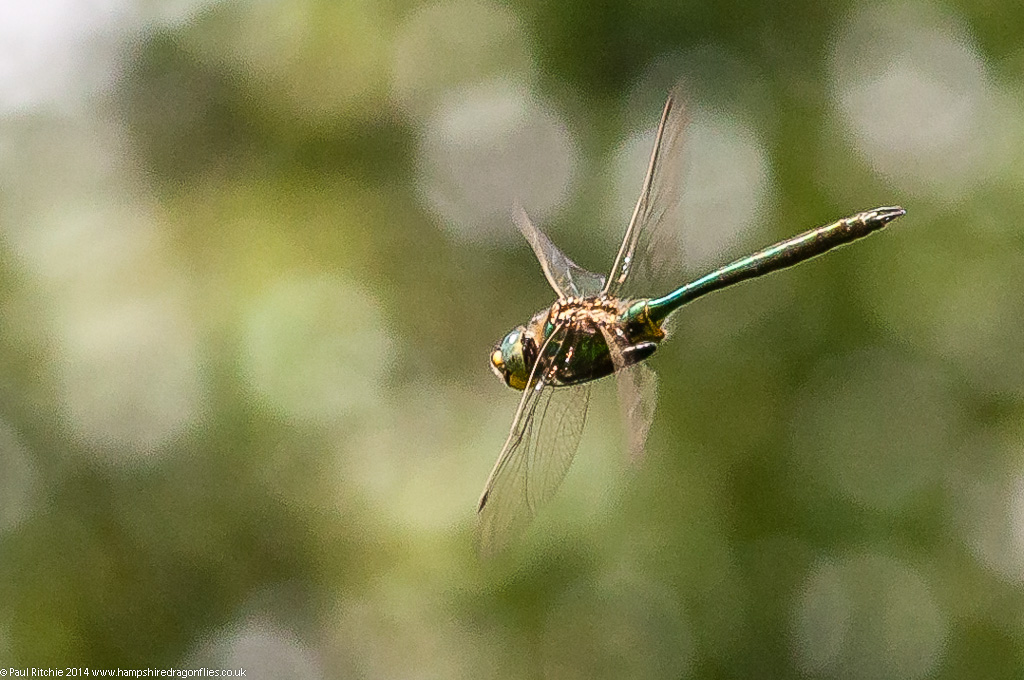 This one was more like an Emperor or Migrant, constantly flying overhead offering not-to-perfect views of the underside, reaching the treetops and dropping to the stream gully. His comfortable circling height appeared to be around nine feet above ground level.
Emperors and Migrants however are a lot easier to predict.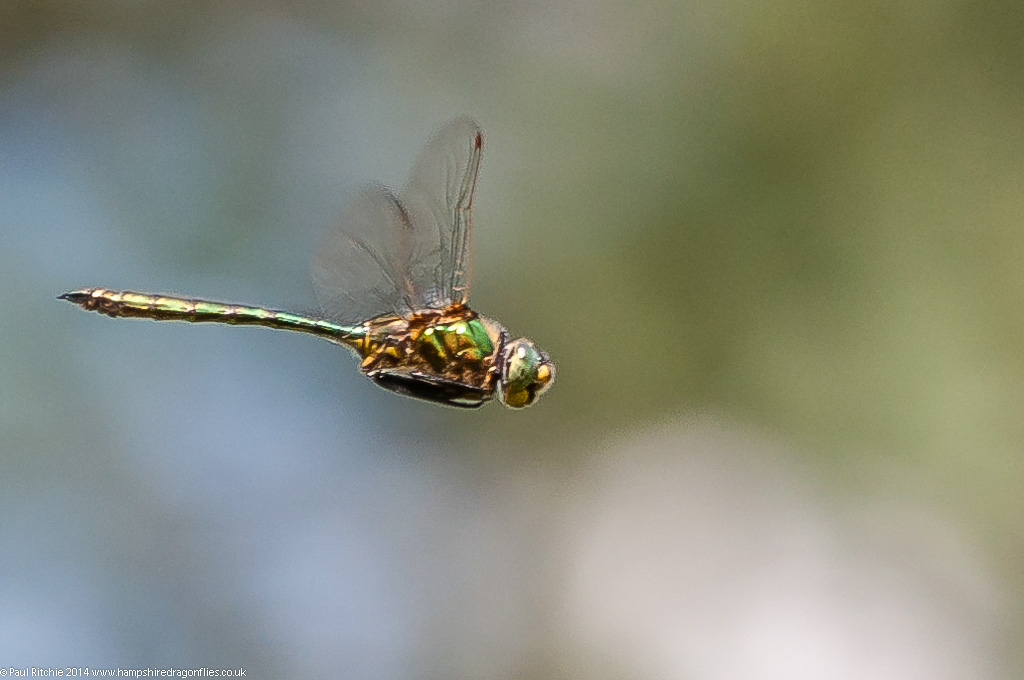 Each hunting session lasted around 15 minutes until he drifted off and returned to delight another three times before I received a call from Damian who said he was on his way.
While I waited I crossed to the other side of the bridge to see the Brilliant was patrolling back and forth along a short section of open stream, albeit at the same three metres or so above the water, following the line of fern while a male Golden-ringed patrolled the same patch at their usual height – about six inches above the flow.
Shortly after a female appeared from nowhere and perched among the heather.
She rose and headed down towards the stream, where the male found her and they both retreated to the safety of the tree canopy.
Having not heard from Damien, I called to find he was at the correct footbridge over the correct stream in the correct part of the reserve; half-a-mile uphill, further up the road and half-a-mile down! And he had one perched…
I probably risked a heart attack as I puffed and panted up that hill to the road. I'm a big chap and hadn't ran for thirty years. Apparently I'd parked at the wrong place too! Somewhat annoying to find the correct car park was merely a few metres further down the road.
Through the gate, bear left with the path and continue down hill were my written directions. I found myself in a state of deja-vu as I realised I ended up at precisely the same place as earlier; inside the reserve proper but again on the opposite side of the 'usual' path.
I didn't give up this time, and when I'd gone as far as I could without trespassing on Military ground, back-tracked a little to a side path and – once again – headed downhill where a stream would logically be.
And there was Damien!
Unsurprisingly his perfectly-perched prize had left not long before I arrived. I mean, come on…did I really expect it still to be there? Damien was apparently feeling more guilty than smug, but I take the philosophical approach to a missed opportunity. There will always be another chance.
Our meeting was brief as by now he was beyond late back, but enough time to show me a couple of hot-spots and confirm my earlier individual was indeed a Brilliant. So you could say I'd achieved my goal.
After he left I had a few more sightings of a patrolling male before the cloud appeared. When it left (the cloud and the Brilliant) an unhealthy yellow haze dimmed the light, leaving only a couple of hardy Four-spotted Chasers and a female Emperor searching for places to shed her burden of eggs.
Time to call it a day, and as I crossed the correct bridge over the correct stream to the correct path I noticed my first male Southern Hawker parading the small, dark area to the side of the bridge.
I'd seen my first the previous day – a female hawking around the trees above Ober Water, but she disappeared before offering me a shot. I wasn't going to leave without a record, and upping the ISO to a ridiculous 2500 I had a go.
Today was a perfect lesson in misunderstood directions; a metaphor if you will for the job that is hardest is the one which is never started; or in this case, not started correctly. It's all very well having directions, but paths can be very deceiving and look correct in unfamiliar terrain despite instructions gained through local knowledge.
I'd been here before, in Berkshire and many other places, and I'm sure I'll be here again. But despite my navigational mistakes I found my prize at another stream. Near another footbridge.
And a perfect stream it turned out to be. Not to the activity standard of Ober or Crockford, but a place I'd gladly spend a few hours any time.
I'm already planning another visit…