Compared to the the preceding week, the last week in August proved altogether disappointing. I did a few scouting trips around the nether reaches of Crockford Stream and popped into Blashford briefly. Neither provided much to write home about.
I didn't venture out again until Monday 3rd September, where a late morning visit to Badminston proved a good choice with better numbers of Migrant Hawkers this time, although they proved hard to approach. The Ruddy Darters were pretty much the same, but this female provided a decent opportunity.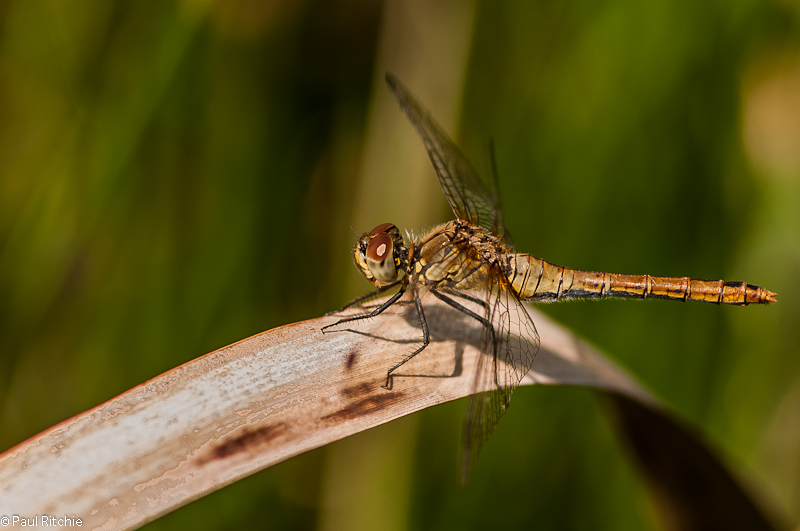 The large 'lake' towards the back of the site had male and female Emperors, Common & Ruddy Darters, Common Blue, Blue-tailed and Small Red-eyed Damsels while the corner had yet more Migrant Hawkers.
Back at the RVD breeding pool I had a female Migrant and female Emperor ovipositing.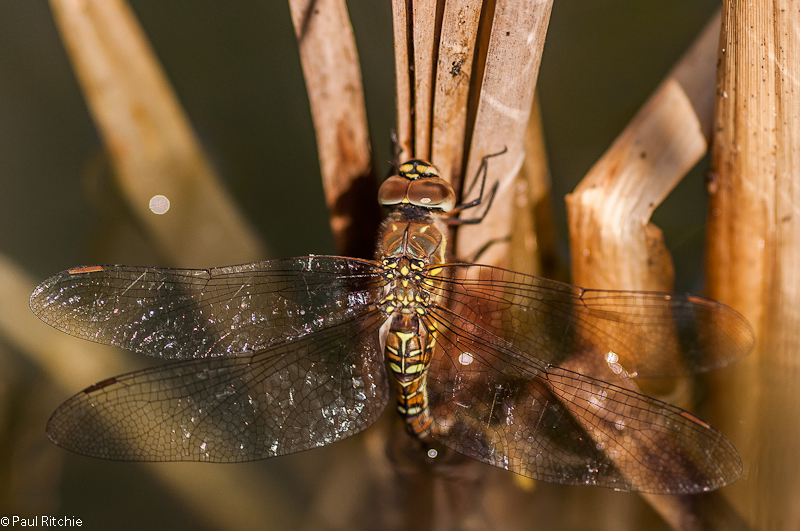 A short distance away I found my only Red-veined Darters of the day.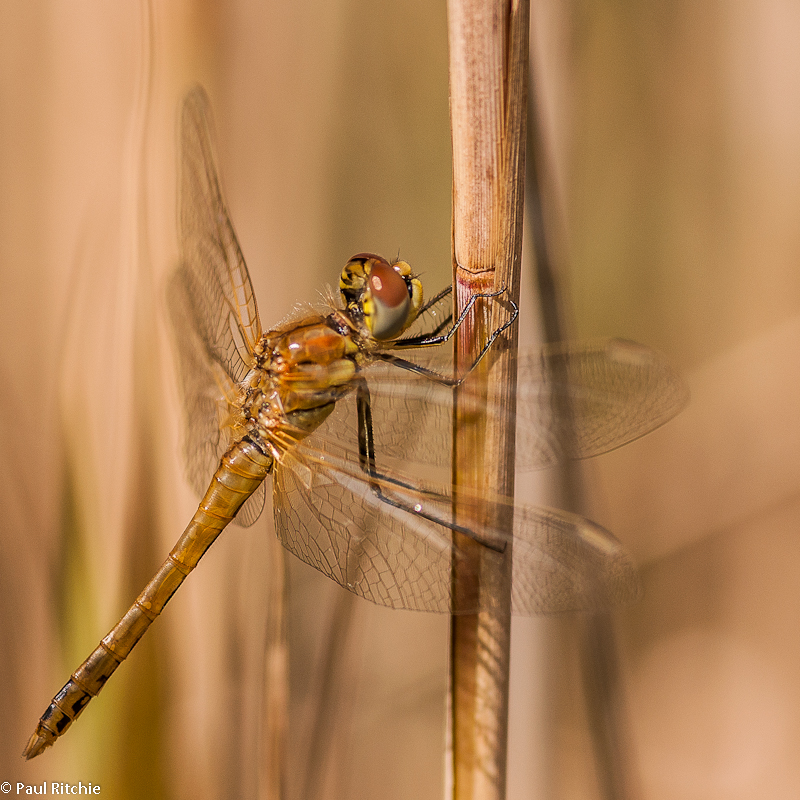 I headed north to the pond and wished I stayed put at Badminston! A little disappointing as far as large species, with only one slightly battered male Emperor holding court. At least some Common Darters provided a spectacle while the surface of the water was alive with Emerald Damsels while among the reeds were several Black Darters.
Tuesday provided a relaxing moment following a male Southern Hawker around a small pond at Ramsdown. He chose the shadowy end as his main patrol, but occasionally would venture out into the light and close enough for an in-flight.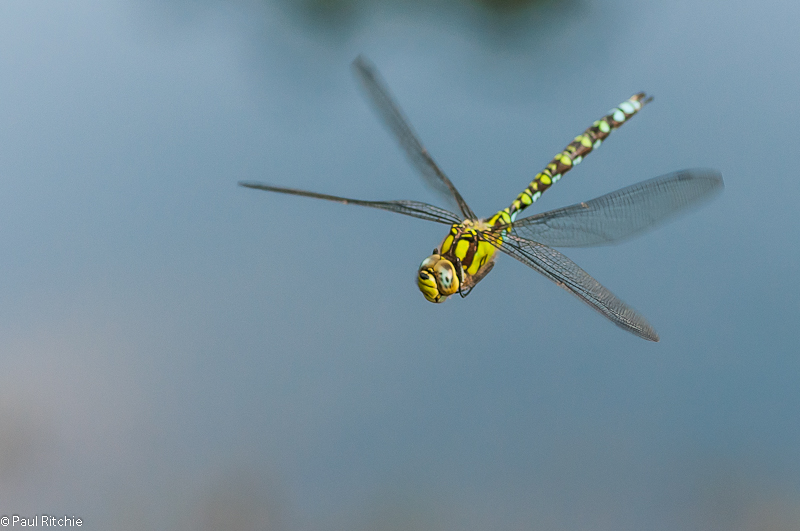 On several occasions another male would fly in and they'd take their fight high & wide before my male returned. One episode involved a third party – possibly another Southern although it was too far away for a positive ID.
Black and Common Darters, Emerald and Common Blue Damsels provided all other activity on this small but popular body of water.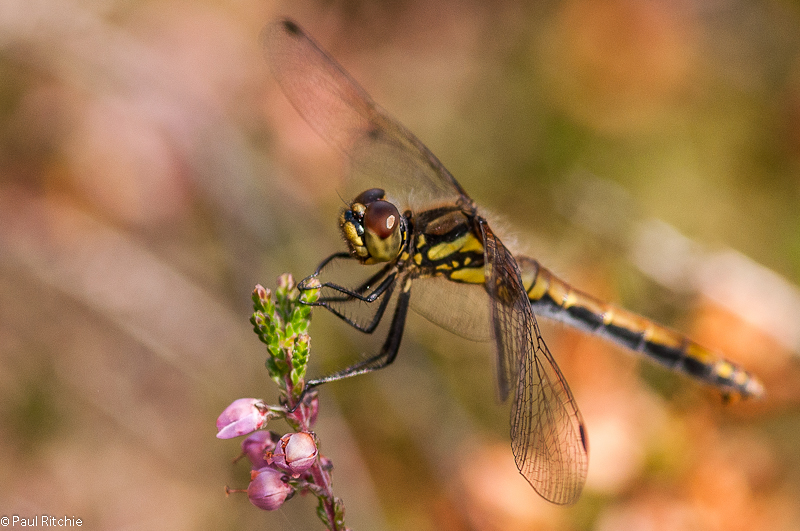 I hadn't visited Thursley for a while, so taking advantage of the sun and putting up with the wind, I arrived just after noon on Wednesday. A male Southern Hawker greeted me on the Moat pond but proved to be the only one I saw that afternoon. Neither did I see any Brown or Migrant Hawkers.
The boardwalks however were alive with Common and Black Darters, several in cop and several more in tandem across the water joining the Emerald Damsel activity.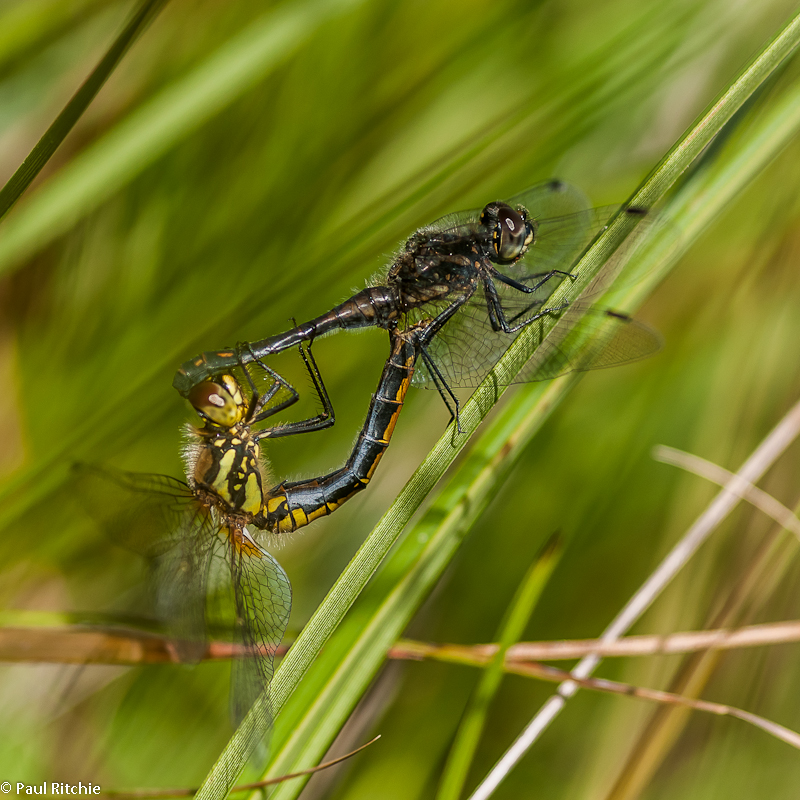 The back ride provided more of the same, but still no hawkers until I arrived back at the platform pool…this time a Common Hawker! Ironic considering they've been my number one priority this year.
So here I stayed, watching as he flew back & forth, high & low and attempting to get some in-flights – but this one wasn't as friendly as the Welsh ones! Must be a southern thing…
The problem I had was the platform faces the sun, and I needed the sun behind me. This was soon remedied with the discovery I could walk around the pool on a narrow previously trod path.
While on this side I noticed he briefly perched opposite me on a small bloom of heather, and also on a larger bush the other side of the platform.
On his disappearance I did another alternative circuit in search of other treasures, but was soon led back to the pool where he was patrolling again.
This time I positioned myself close to the bush and after spending time trying to get a decent in-flighter, he perched.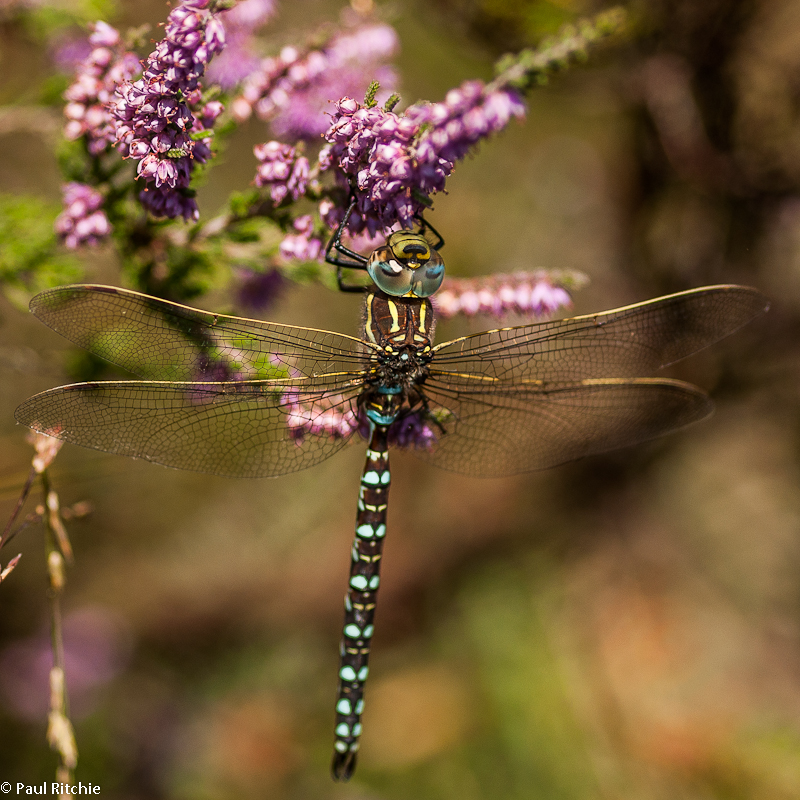 I attempted a few more in-flighters but didn't get anywhere near the quality of those Welsh shots
Although I'm positive I've seen the odd one patrolling the rides here before, confirming at least a couple here today made the day. Surprisingly I saw no Emperors.
On Thursday I took a walk around Burbush and did see Emperors – one patrolling Brown Loaf pond and one at Whitten. The only other large species encountered were Migrant Hawkers at the former.
The feeder stream for Whitten Pond is dry again, which usually rules out rich pickings being the preferred place of Southern and occasional Brown Hawkers. Besides the sun being hazy and subtly obscured by an annoying belt of white cloud, the whole experience filled me with dismay when I foud as well as clearing a belt of woodland at Dur Hill, the forestry commision in their infinate wisdom had burnt a huge swathe of heather, wiping out a substantial colony of Silver-studded blues along with a healthy reptile population.
Onwards to Troublefield which is starting to live up to it's name over the past two years. At least today there were a few Migrant Hawkers to make the visit worthwhile.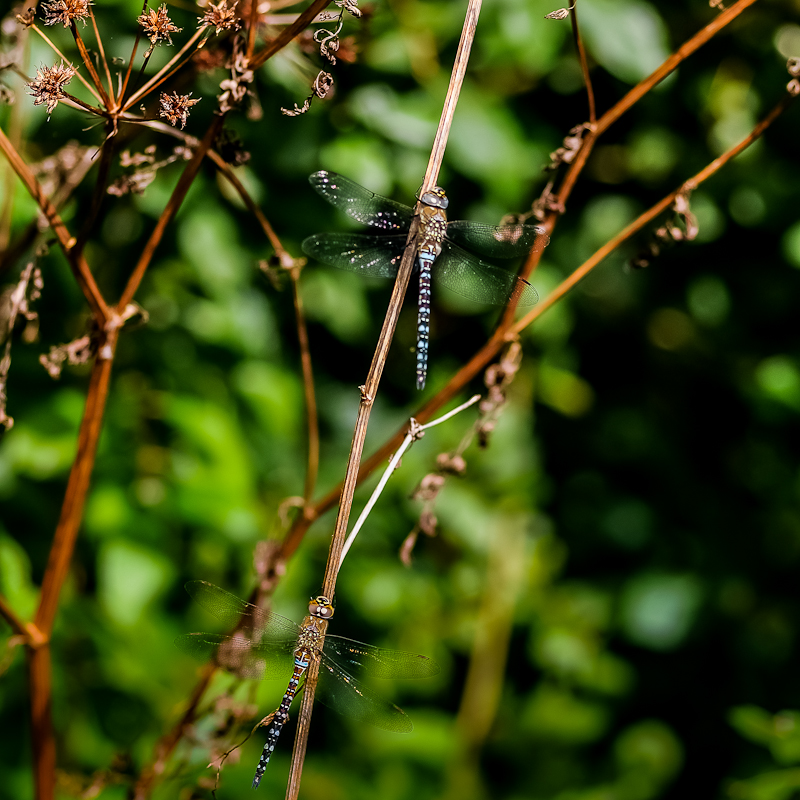 Friday was much better. Glorious sunshine and wonderful heat, hampered somewhat by a stiff breeze, drove me back to Badminston. Only one confirmed Red-veined Darter among the Commons and Ruddys, but Emperors were still strong here.
To get out of the wind I headed for the sheltered action corner for the best activity. More Emperors, a passing Southern Hawker and at least a dozen Migrants, including an ovipositing female.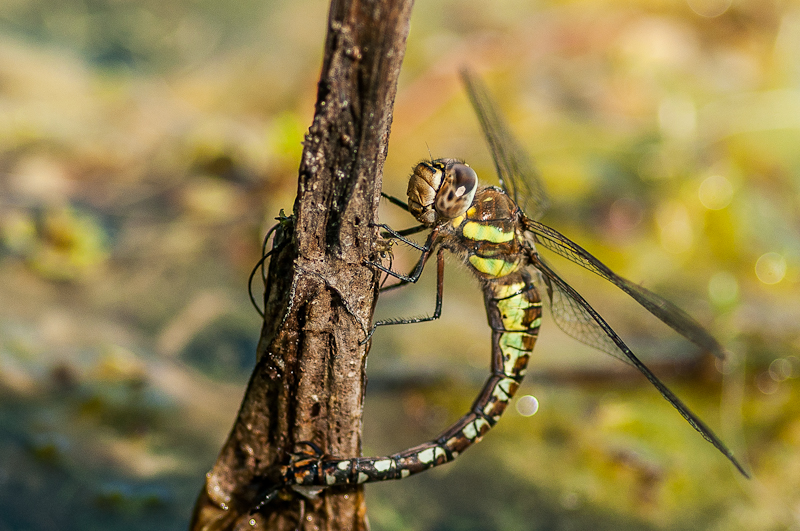 I concentrated on the latter and found an ideal spot around the reeds for capturing some in-flights and perched opportunities.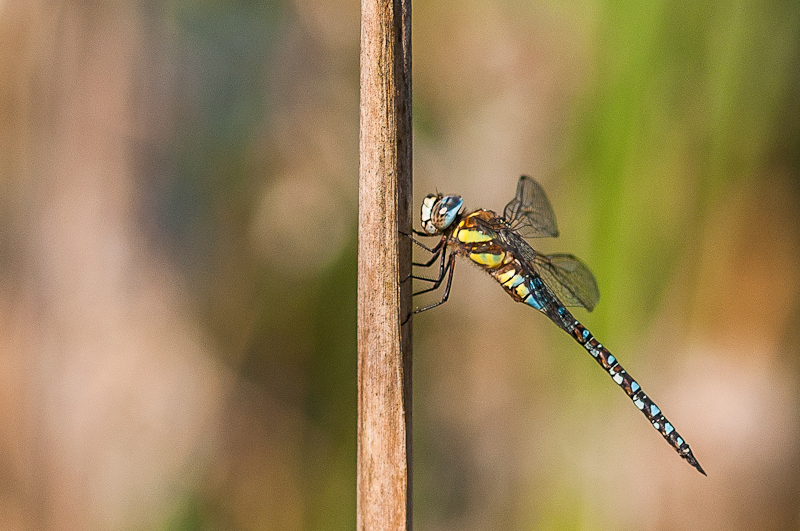 The Migrants seem to prefer these vegetated margins and at least three males were weaving in & out of the reeds, often seeking out the lower reaches and rarely flying above 3 metres.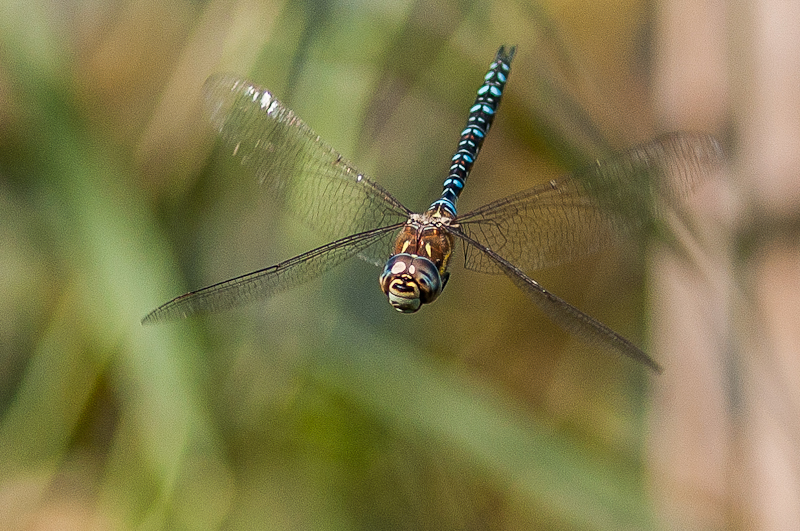 Unlike most hawkers several males shared this small area seemingly in harmony as territorial battles were few and generally passive.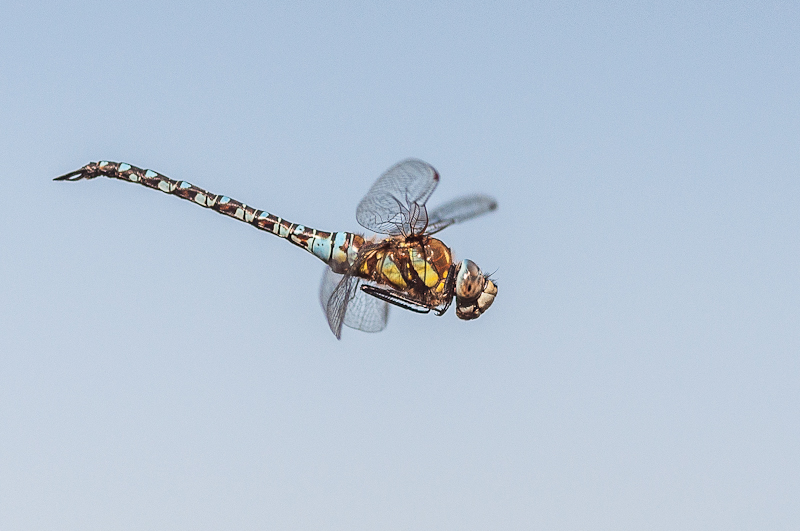 Today was definitely Migrant day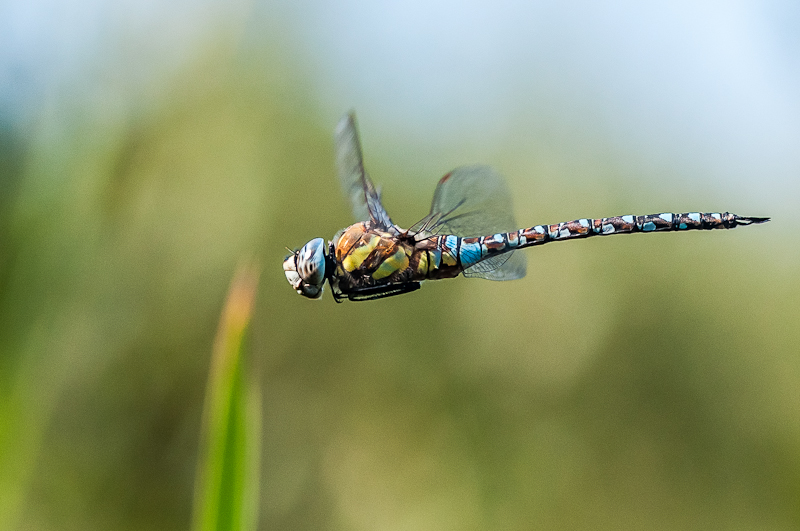 Afterwards I called in at Crockford briefly where I saw three Golden-ringed, a few Beautiful Demoiselles and even fewer Southern Damsels.