Titchfield Haven is a reasonably local nature reserve which is national famous for it's birdlife. Yesterday they were hosting an open day – without charge – in an effort to draw in more visitors. We were expecting swarming hordes, but there were surprisingly few visitors during the 3 hours we stayed.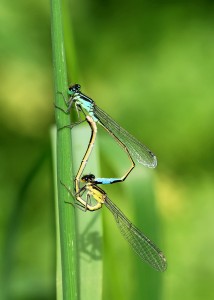 Our main reason for being there was for the Hairy Dragonflies which are approaching the end of their season, and has proved a reliable site for me previously. On a recent visit I was lucky enough to photograph two 'perched' – which is a real bonus as this species is reknown for constantly being in flight and landing out of view.
On arrival there was plenty of damsel activity with hundreds of Large Reds, Azures and Blue-tails. Banded Demoiselles were also on the wing. An increase in temperature and a brief glimpse of the sun brought out the dragonflies with Four-spotted Chasers being the first on the wing followed closely by the elusive Hairy's and joined by a very active male Emperor.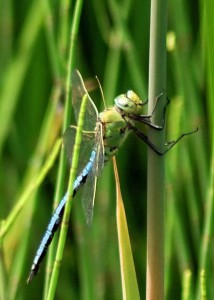 There was also a female Emperor in attendance laying eggs among the reeds and careful searching provided a fresh and very vibrant Four-spotted Chaser drying off among the reeds.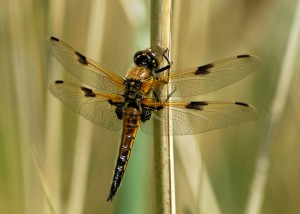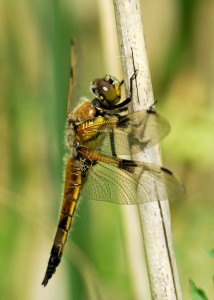 The highlight of the day was a chance to observe and photograph two Hairy Dragonflies at rest among the willow away from the pond. They stayed there long enough to break out the macro lens and we both went away very happy indeed to observe these fantastic hawkers at close quarters.